This SUGAR COOKIE RECIPE comes together in just minutes, does not need chilling, holds its shape, and doesn't spread, perfect for any shape cookie cutter. It rolls out easily, can be baked days ahead and cookies can even be frozen before icing.
This post is not short, there is lots of information the printable recipe is at the bottom of the post.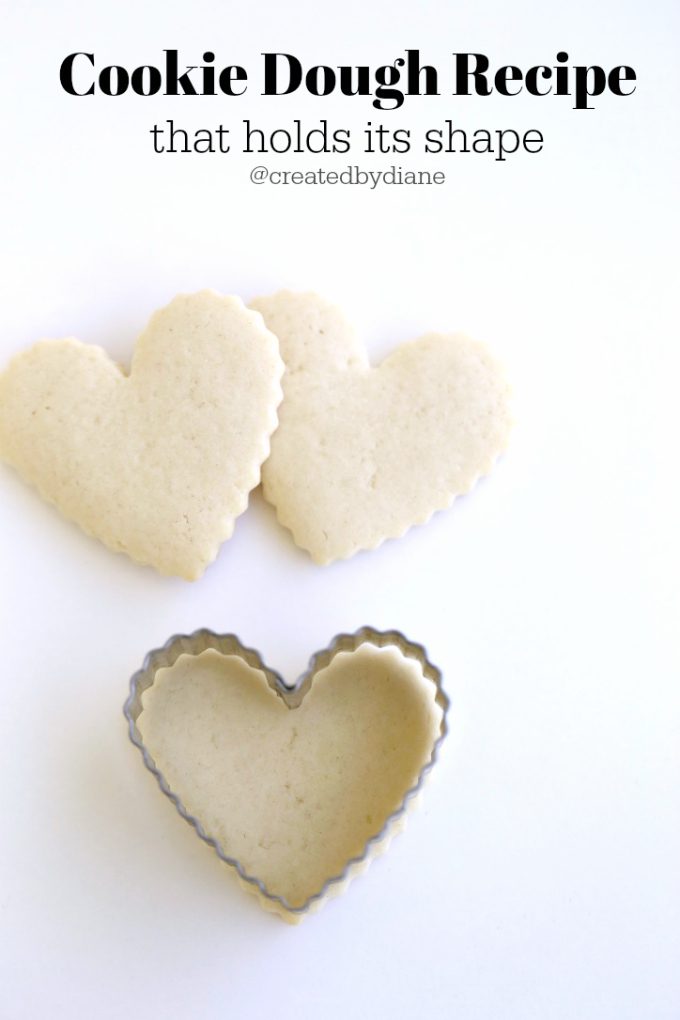 The best sugar cookie recipe
These cookies are great all year long, you don't have to wait until December to make Christmas Cookies with this recipe, but it's also a perfect time for them too!
You will fall in love with this sugar cookie recipe.
The cookies are light and tasty without being heavy or tough.
They are not overly sugary, they taste great alone or with a thin or thick glaze icing on top.
This recipe makes approximately 3 dozen 2 1/2 inch cookies rolled about 1/4″ thick ( of course it will depend on the shape of the cookie)

Ingredients
 butter (salted or unsalted) I explain in more detail below
powdered sugar
large egg
vanilla extract or vanilla bean paste
all-purpose flour
baking powder
salt 
This is the best no spread sugar cookie recipe. I've made thousands of cookies using this recipe. Be sure to make sure your dough is not soft, the butter is not warm, and you don't roll the cookies too thin, and when you press your finger into the dough it should be tender, but not "squish" too easily. If it is too soft, mix it a bit longer. If it seems soft or "greasy" add a tablespoon or two more flour, but be careful you don't want the dough to be dry, it would crumble and not look smooth. 
Best no spread sugar cookie recipe!
Save yourself from headaches:
My best advice when trying a new cut-out cookie (or any cookie recipe for that matter) is to bake 1-2 cookies on the baking sheet you'll be using in the center of your oven and time it so the cookie is firm on the edges, the bottom is golden. The oven should be well preheated before you open the oven door, don't pop the tray in as soon as you heat it comes to the temperature. You'll open the door and the temp will drop. These cookies bake at 400° for a shorter amount of time than other cookie recipes. If you follow the directions you'll end up with beautiful cookies, that hold their shape!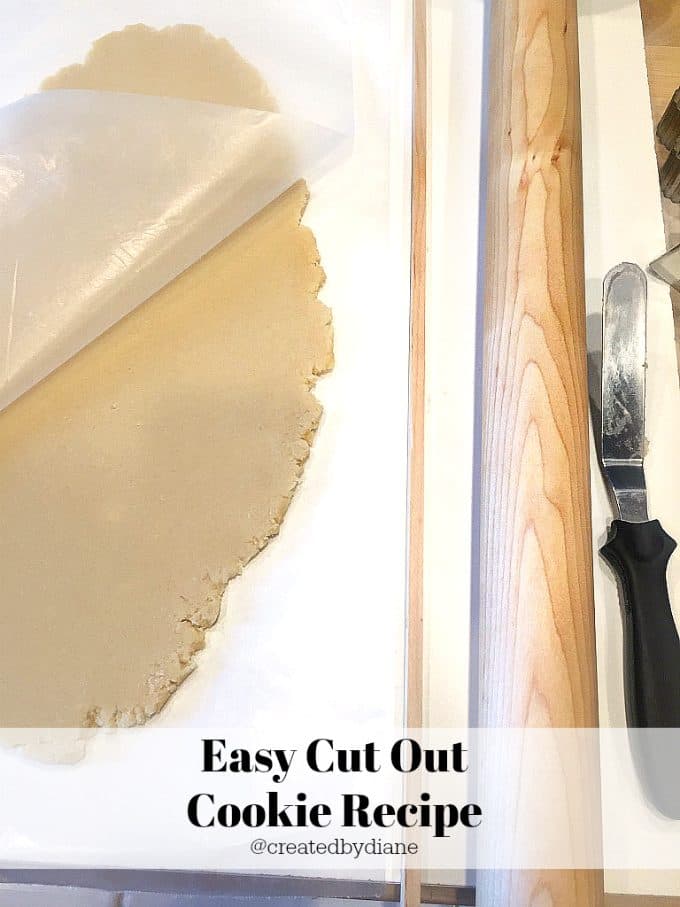 Be sure to have the right tools for rolling out even cookies. If the rookies are all the same size and thickness, they will bake evenly. Do not overcrowd the pan, allow 2 inches between each cookie.
You'll most likely fit 12 cookies on a rolled edge 12×16 1/2 cookie sheet pan, which is the best cookie sheet to bake on, they are thick and baked evenly. The type bakeries use, but half the size as the larger sheets won't fit in most home ovens.
Use 1/4 in wooden dowels to ensure each cookie is the correct thickness. MORE on rolling cookies here. As well as all the baking supplies I use. How to freeze cookies, and much more!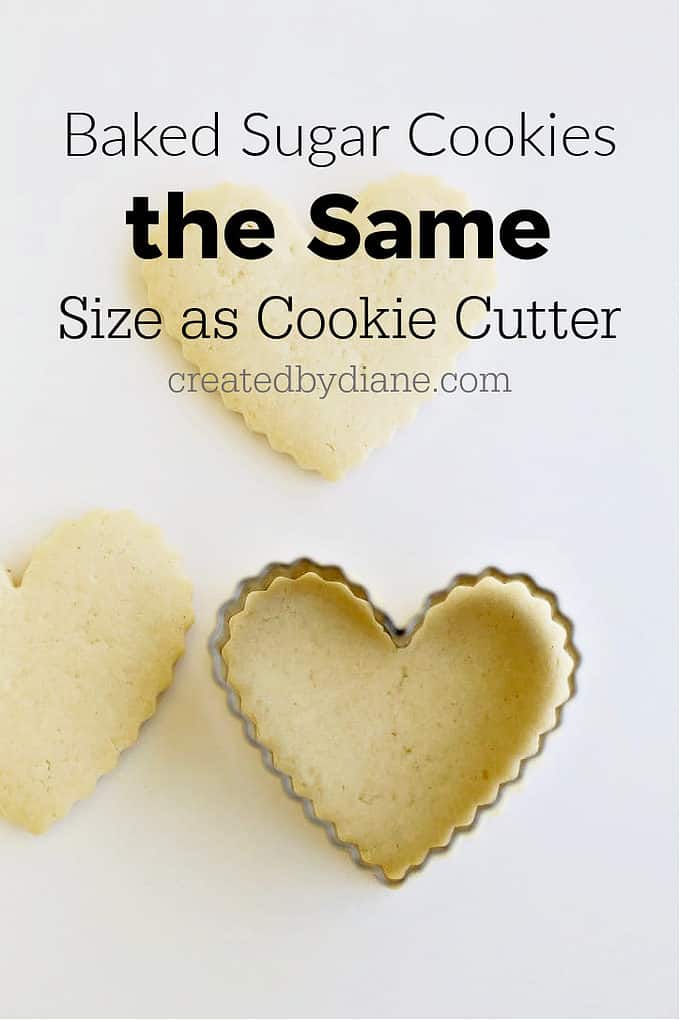 I bake my cookies without allowing them brown and let them cool on the baking sheet completely. Golden coloring is good, but no brown edges or bottom. This method has many benefits. There is no risk of the cookies getting messed up when transferring them like the traditional method of moving them to a cooling rack.
If you're making lots of cookies the trays stack easily by alternating one in the opposite direction. The "edge" of the cookie sheets stack nicely without crushing want cookies.
Plus you can decorate the cookies right on the baking sheets ad restack the sheets until the cookie icing dries. Saving space, keeping things need and fewer crumbs all over the kitchen… making for easy cleanup.
This cookie recipe really holds its shape so when baked the cookies come out of the oven in the shape they went in!
to get more info be sure to check out THIS POST too. It has lots of tips on cut-out cookies.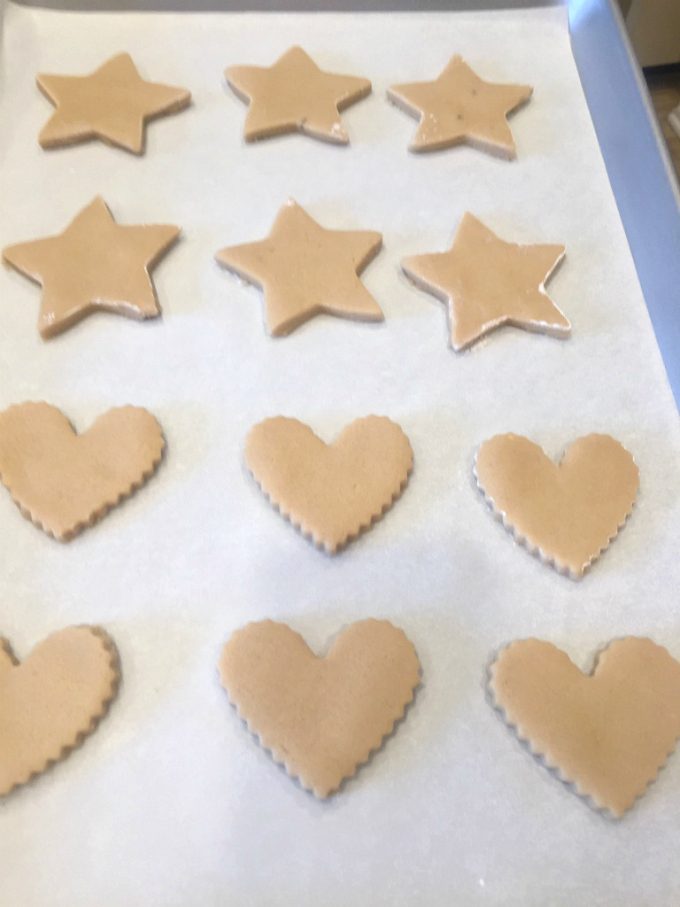 Three tips to remember
Be sure the butter is at room temperature but not warm.
Measure your flour by scooping the flour out of the container you have it in, then into the measuring cup and leveling it off.
Don't pack the flour in or you will have dryer dough and tougher cookies.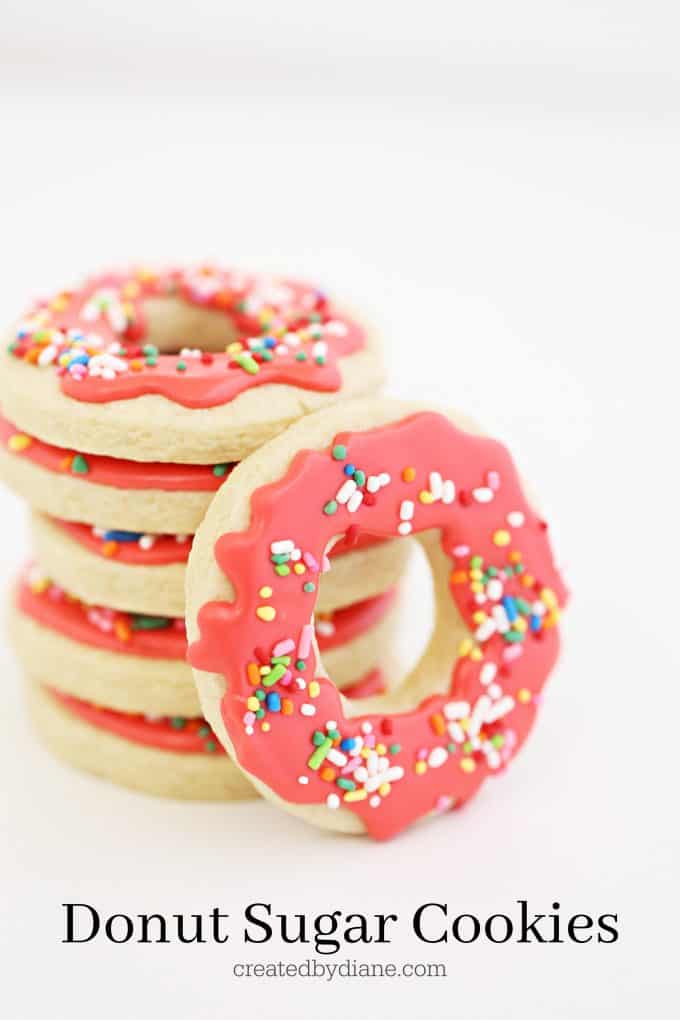 These fun Donut Cookies can be the star of the show on your next celebration, use any color icing and fun rainbow sprinkles.
And don't forget a donut cookie cutter shape makes a perfect wreath for the holidays!
I like my cookies and baked goods to have a great balance of salty sweetness, I often use salted butter and yes still add salt to the recipe.
If you are in doubt and do not like salty-sweet, use unsalted butter, and add half the amount of salt to the recipe.
Be sure your baking powder is fresh.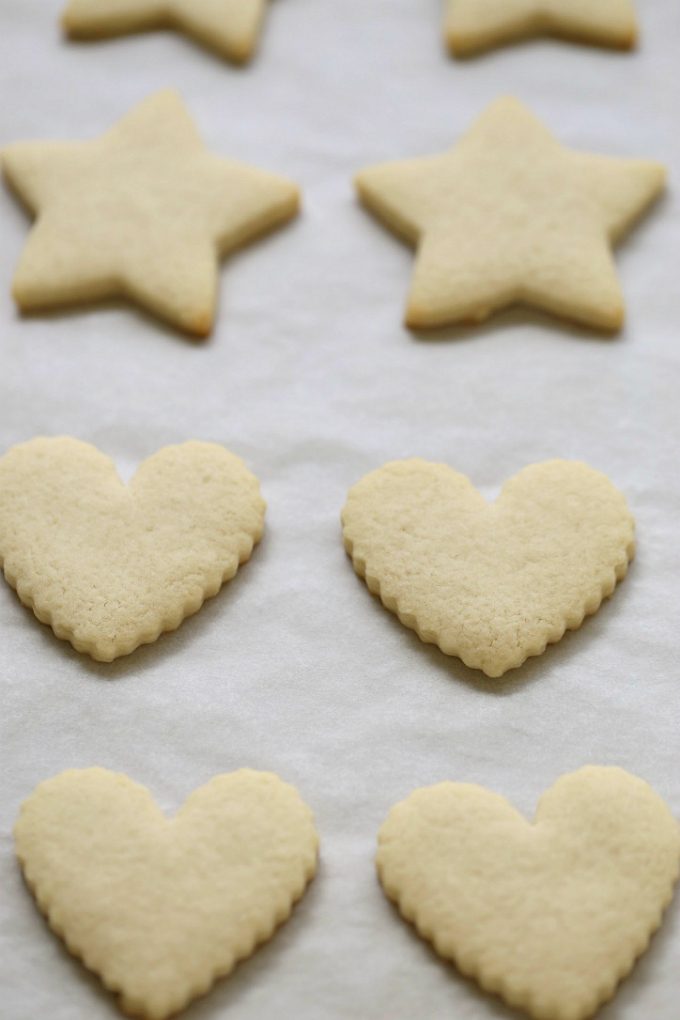 Now my rant on vanilla…
BUY the best vanilla you can.
It really does make all the difference in baked goods.
We've all popped a cookie into our mouths at some time or another expecting it to be delicious and it just lacked flavor, the flavor of cookies like cut-out cookies, and even chocolate chip cookies rely on vanilla for the flavor.
These cookies can be made to your liking, by adding some almond extract as well. Some people love the almond flavor in a sugar cookie. But I'm a purest when it comes to sugar cookies and prefer all vanilla!
Just because you CAN buy it in a big bottle at a great price doesn't mean it will result in the best-tasting baked goods. I can't tell you how many times I've purchased vanilla, put it in baked goods and it lacked flavor, completely. It's no secret the right ingredients make all the difference. Use the best vanilla you can afford.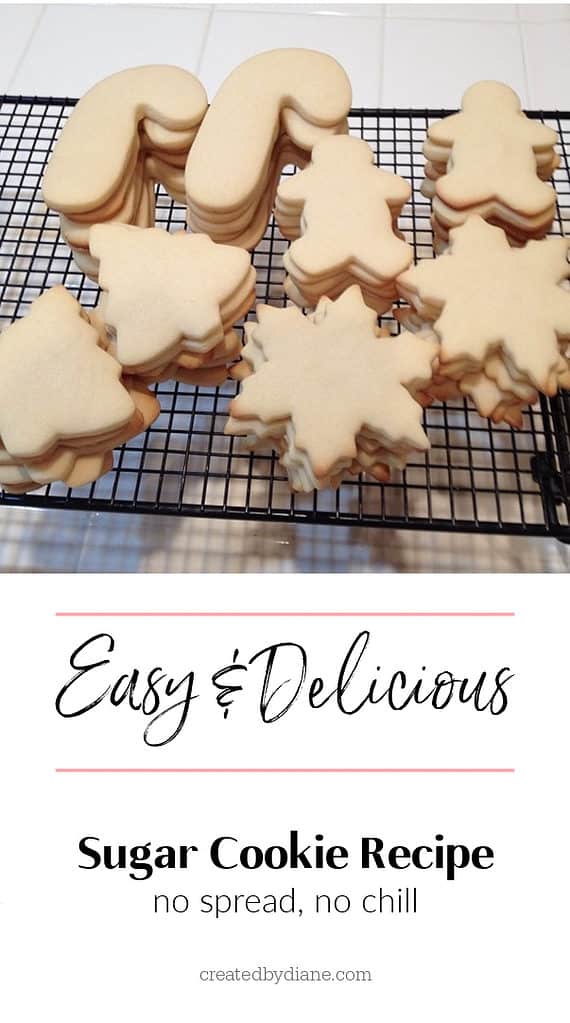 Since I wrote this post, the cost of vanilla has gone through the roof! I wish I stocked up on vanilla years ago.
Currently, I buy THIS, as I know I can count on the quality and order it anytime I need it.
I have vanilla that says Madagascar, Tahitian, and Bourbon, there are many brands like this, this, and oh my goodness don't use cheap or imitation vanilla you will not be pleased with the result.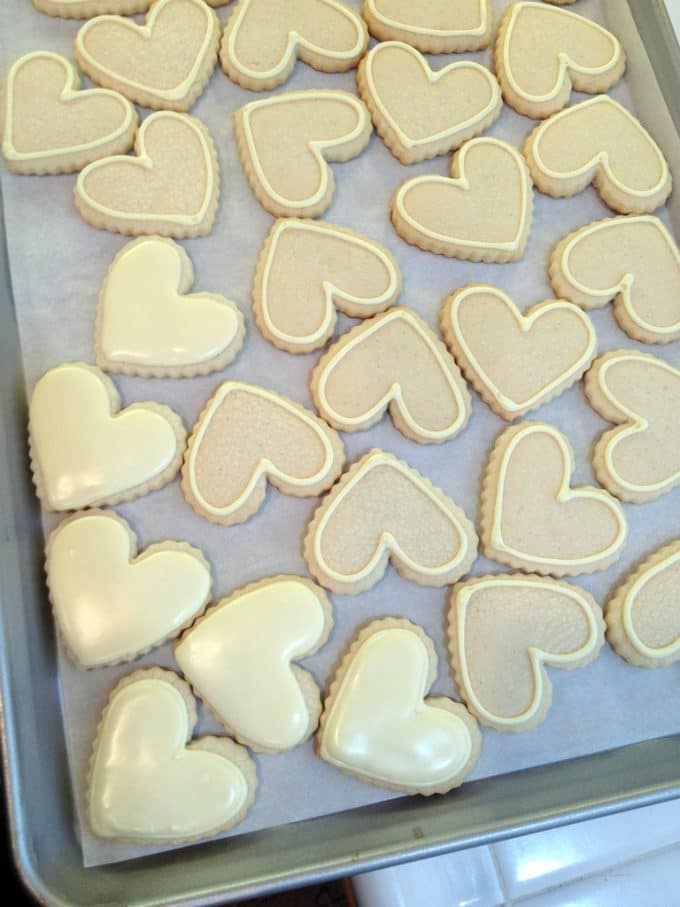 Here is my post on my foodie favorite items with baking sheets and other items I find essential in the kitchen.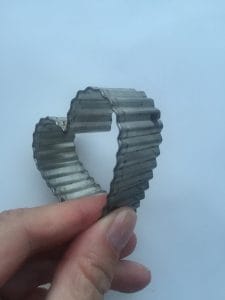 Here is an image of the cookie cutter I used for these cookies in the photo above.
It's 2 1/2 inches wide at the largest part of the heart.
Cookie cutters are readily available in stores and online. I love this round set that has both smooth and crinkle edges.
This is a heart set with both smooth and crinkle edges. The cookie cutter I used I could not locate the exact one, but I think the set might have that size in it.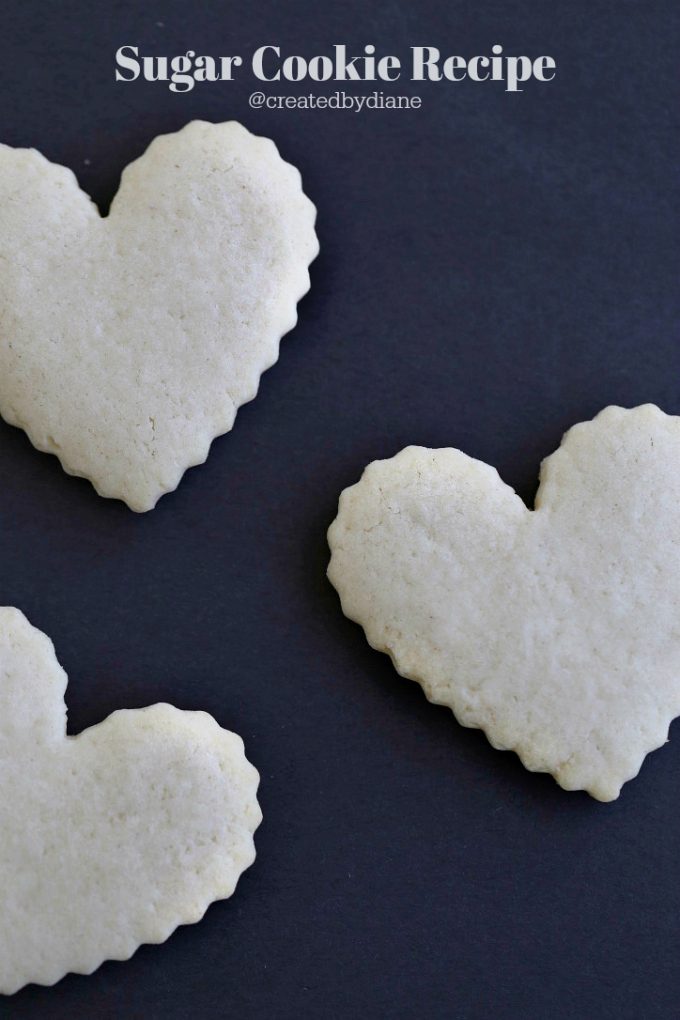 Heart shaped cookies are my favorite,
I have tons of heart-shaped cookie cutters,
and it's great to have a variety of sizes like these
Get MORE info on HOW TO BAKE PERFECT COOKIES here.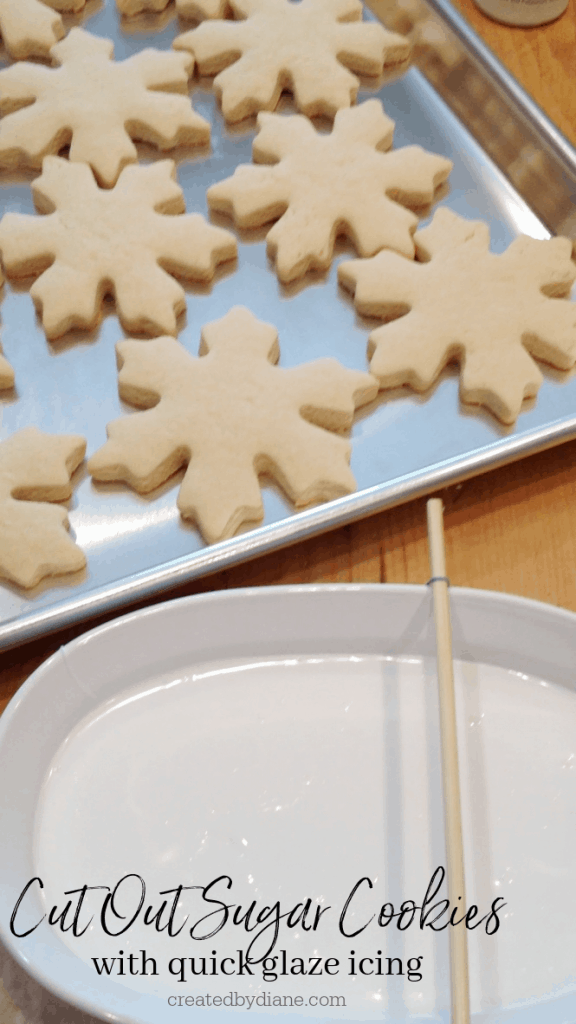 Sugar cookies are the best way to say hi, thanks, sorry, let's celebrate and I love you…. yes fresh baked cookies are always a good idea, no matter the reason!
So bake up a batch and add on some glaze icing. The dynamic duo is the best!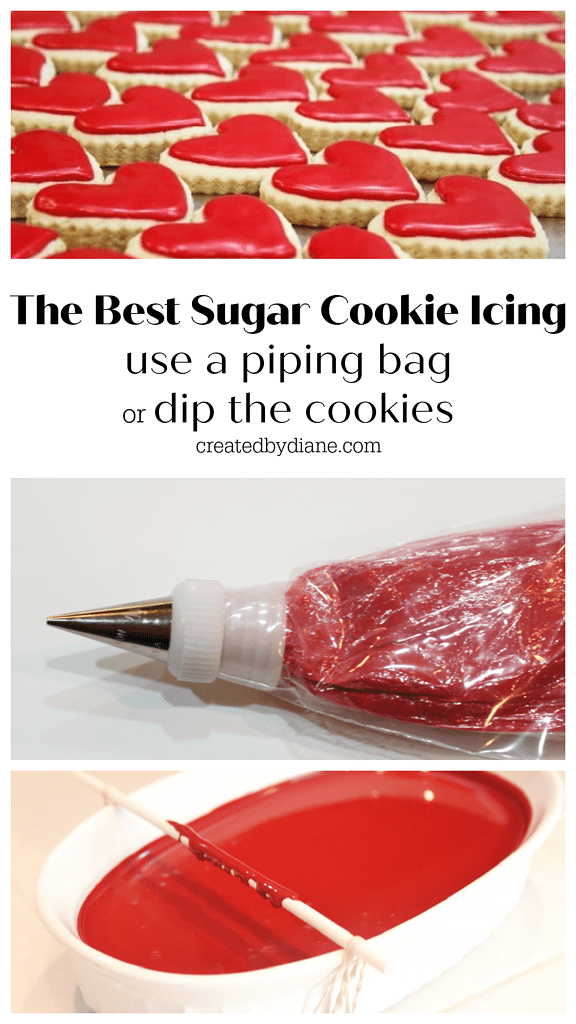 Take a look at more posts featuring icing recipes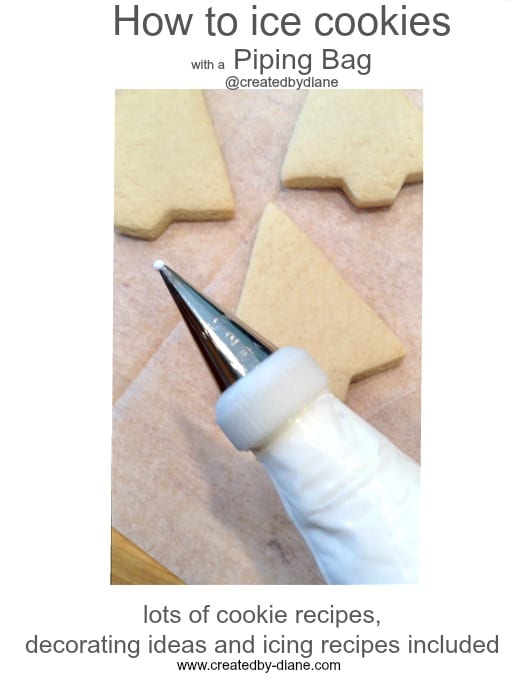 Icing Cookies with a piping bag – This easy no mess method of filling piping bags to ice cookies will have them looking professional after a little practice.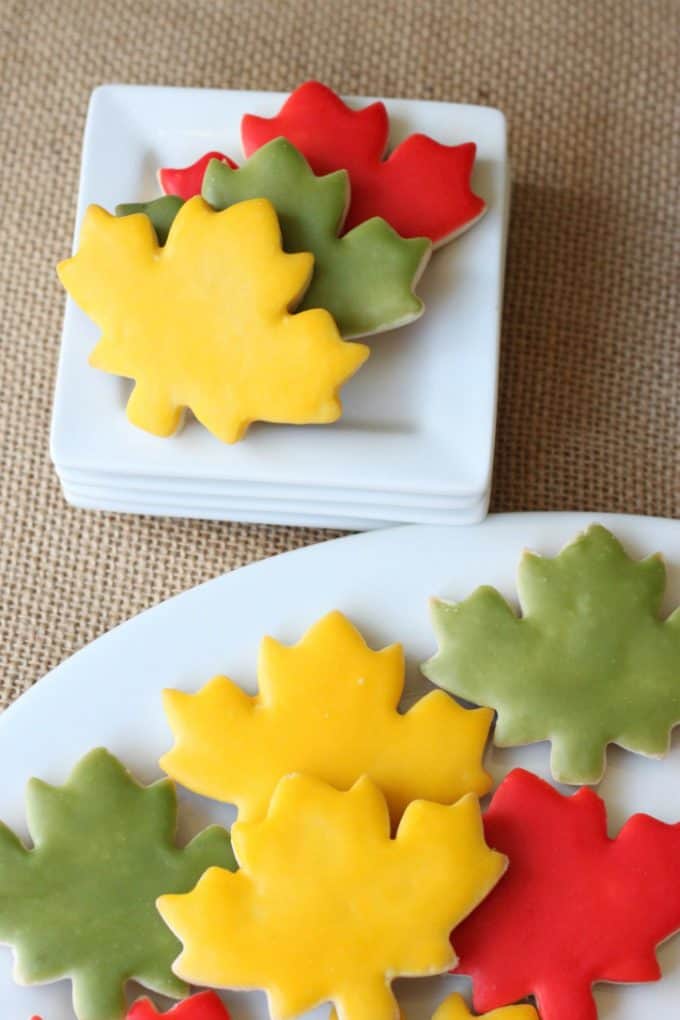 Once you see this, it'll change how you ice cookies especially if you're in a hurry!
Most posts on cookies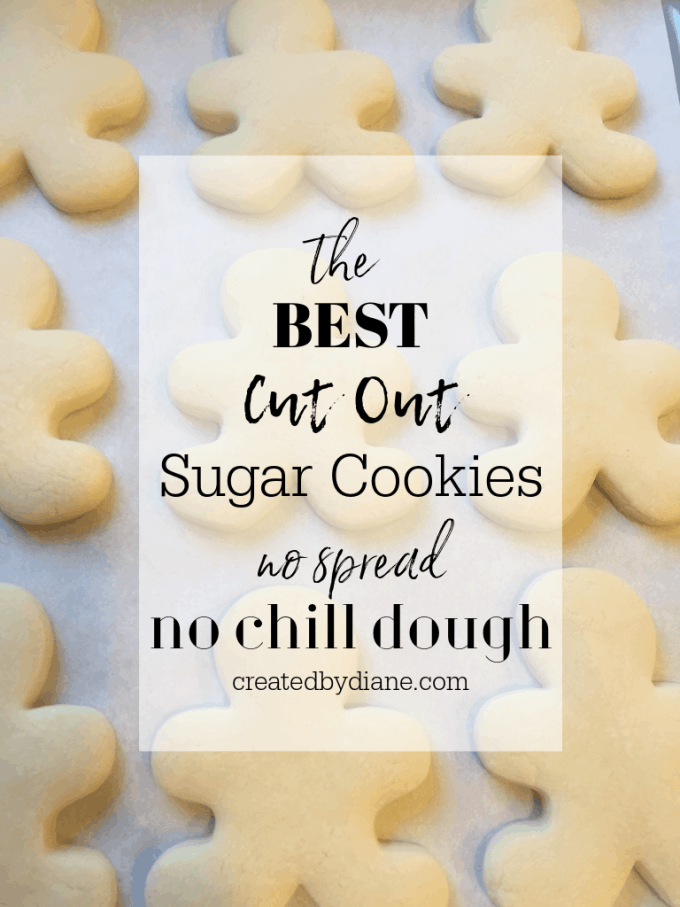 Iced sugar cookies are great all year long, perfect for decorating at all holidays and occasions here are some of my favorites: (lots of links to my cookies in the following list)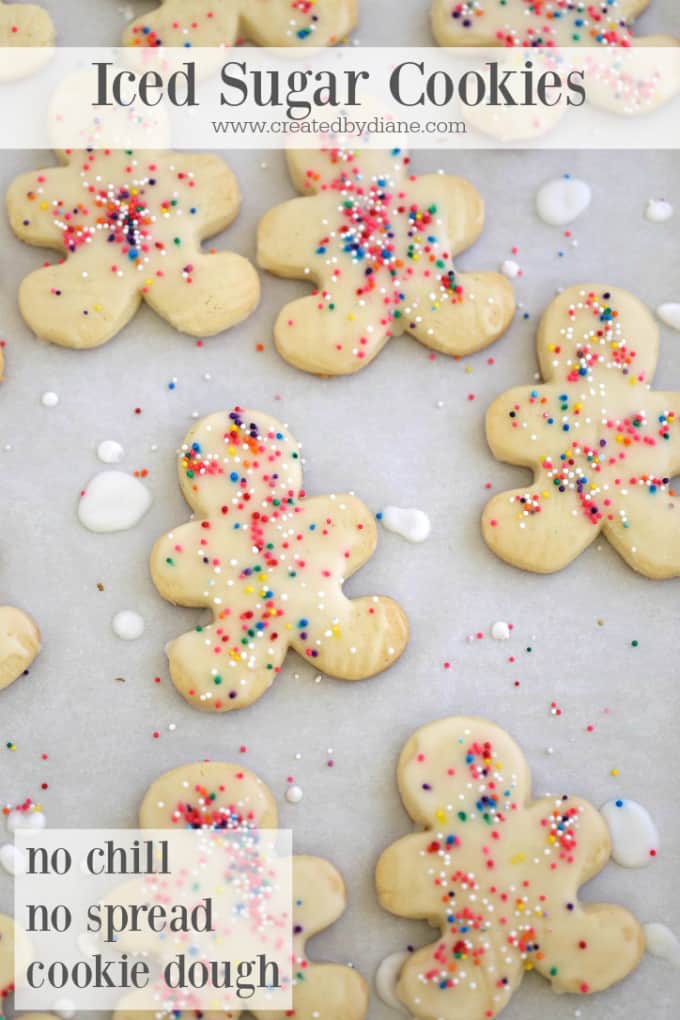 My BEST advice on baking cut-out cookies is
plan ahead
don't try to bake and ice a large batch without enough time. 
Bake a day ahead, it'll give you time to clean up and plan the decorating
Have a plan for the icing, what you'll do on the cookies, maybe draw it out on paper, you can trace the cookie cutter so you'll know just how it'll look. 
Doing too much in a short time will be fatiguing, you'll get tired and the cookies won't look like your best work. and then there is the mess to clean up. So plan accordingly so it's small, easy steps that will end in delicious and pretty cookies.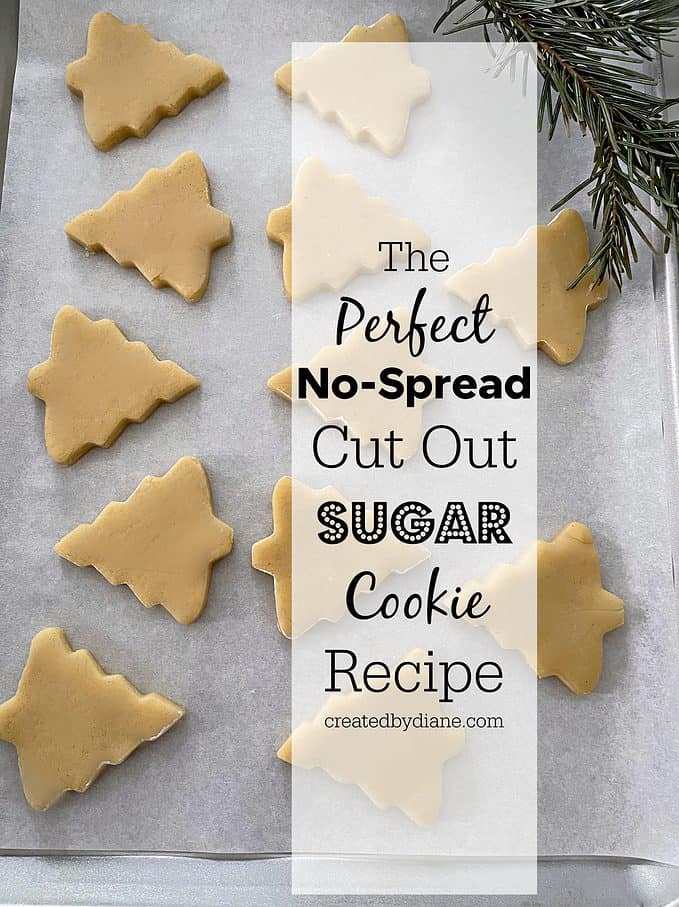 Do not roll cookies too thin, they don't hold their shape. 1/4″ thick works well. I always roll my cookies with a rolling pin on two wood dowels.
If you are baking a lot of cookies, or they are for a big party or event…
Start baking the cookies three days before you need them,
this gives you time to clean up, especially if you are making multiple batches of cookie dough.
Ice the cookies the next day and let them dry completely on baking sheets.
Don't move the cookies, you'll end up messing up more cookies by handling them over and over. Purchase extra baking sheets if you plan on baking lots of cookies. These are my favorite baking sheets I have bought many different brands, but these are my all-time favorite.
If you do mess up a cookies icing, be sure to have some sprinkles like these on hand, they can make cookies cute with minimal effort.
(keep scrolling down, there is a lot more info in this post on cookies you won't want to miss)
There are so many options with baking sugar cookies depending on the cookie-cutter, icing color, and sprinkles, and these taste AMAZING!
These cookies are great all year long!
If you'd like to see some of my favorite items be sure to check out these posts: They include items I use in the kitchen and other everyday items.
See more of my FAVORITES HERE and my FOODIE FAVORITES HERE
Sugar Cookie Recipe
this simple and easy sugar cookie recipe will become your go-to cut-out cookie recipe for all occasions. This recipe holds its shape, doesn't need to be chilled, and comes together easily.
Author:
Diane Schmidt, Created by Diane
Ingredients
1 cup salted butter
1 ½ cups powdered sugar
1 large egg
2 teaspoons vanilla extract or vanilla bean paste
2 3/4-3 cups all-purpose flour
2 teaspoons baking powder
1 teaspoon salt *if you prefer sweeter sugar cookies you do not need to add additional salt if using salted butter
Instructions
Preheat oven to 400°
In the large bowl with a mixer, cream together butter and powdered sugar, and mix until the butter is light in color and well blended.
Mix in the egg and vanilla.
Blend in 2 3/4 cups flour, baking powder, and salt. (only add the additional 1/4 cup flour if needed, the dough should be supple and soft not dry)
Mix until the dough forms a ball, on medium speed.
Roll out cookie dough in between wax paper sheets, or lightly floured surface.
Roll out cookie dough to 1/4" thick.
Dip cookie cutter into flour and press evenly into cookie dough, then transfer to a parchment-lined baking sheet.
Bake in a well preheated oven at 400° for 7-9 minutes, until the cookies are golden on the bottom, but the tops are not browned yet.
Cool completely before icing.
Notes
recipe in grams
1 cup salted butter (230g)
1 ½ cups powdered sugar (170g)
1 egg
2 teaspoon vanilla extract or vanilla bean paste (10G)
2 3/4-3 cups all-purpose flour (413-447g)
2 teaspoons baking powder (8.5g)
1 teaspoon salt (5.69g)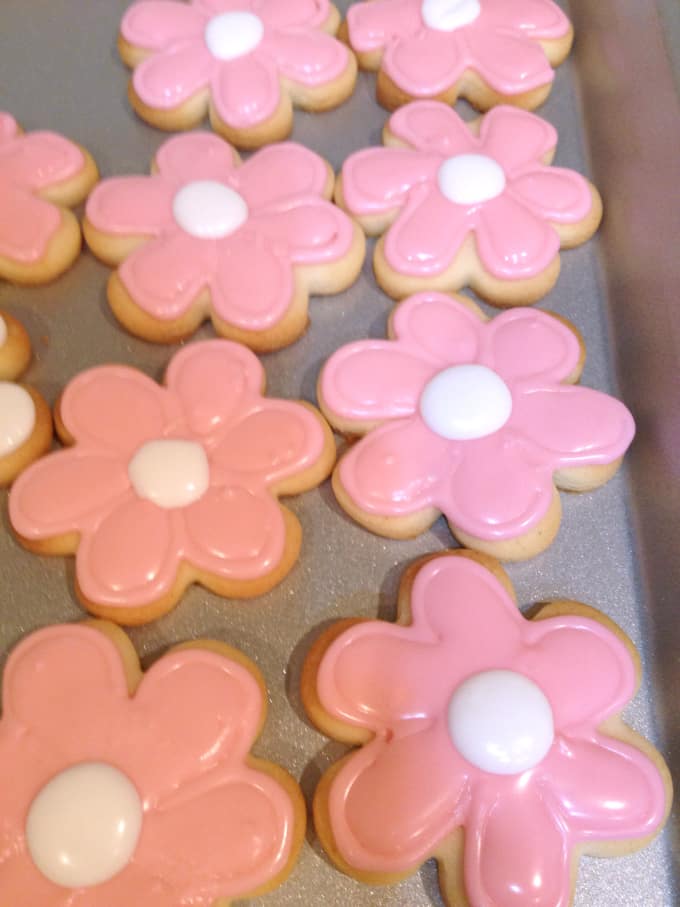 There are so many options when it comes to cut-out cookies, the shape, flavor, and the color. 
Cookies are perfect for EVERY occasion!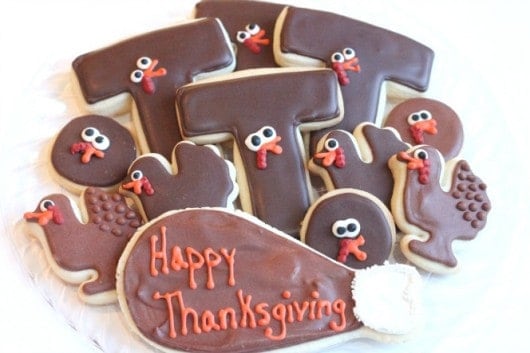 To make the eyes and other parts on the turkey's I made them with royal icing on parchment paper and place them on top of the icing, it's great you can make them ahead of time look here for the recipe and info on making the little add ons (royal icing transfers).
You can make cut-out cookies with colored cookie dough too, which is great if you don't want to ice them!
Check out these Cherry Cookies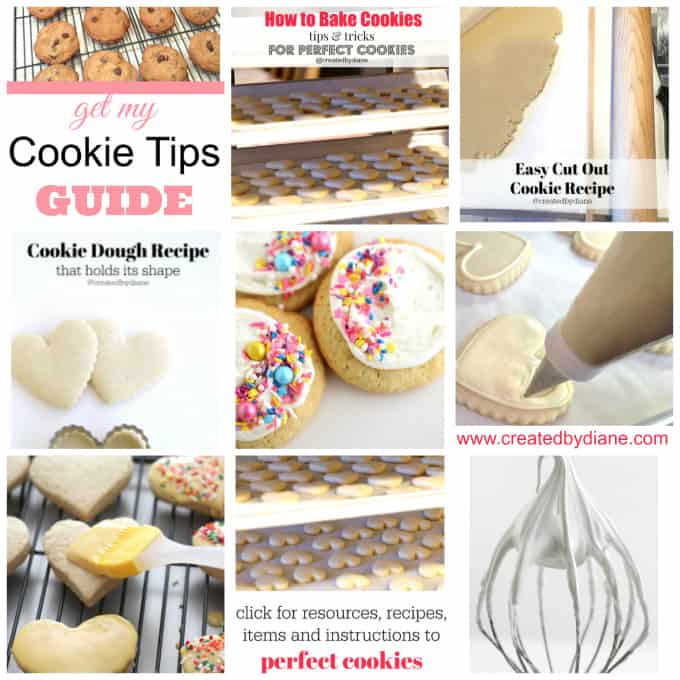 LOTS of info on baking cookies here: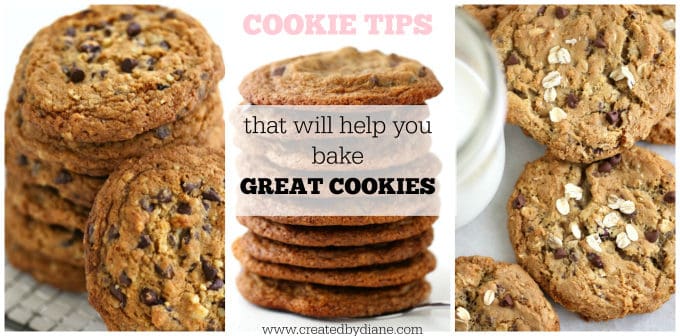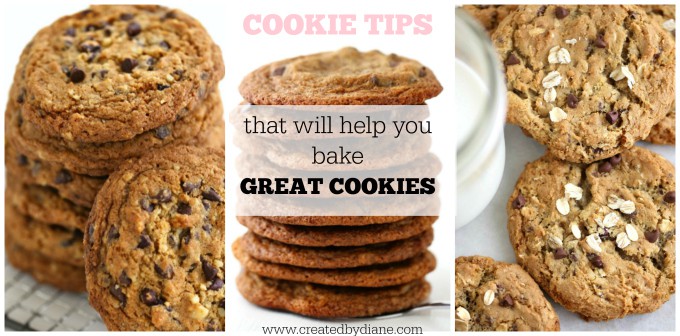 SIGN UP FOR MY FREE COOKIE GUIDE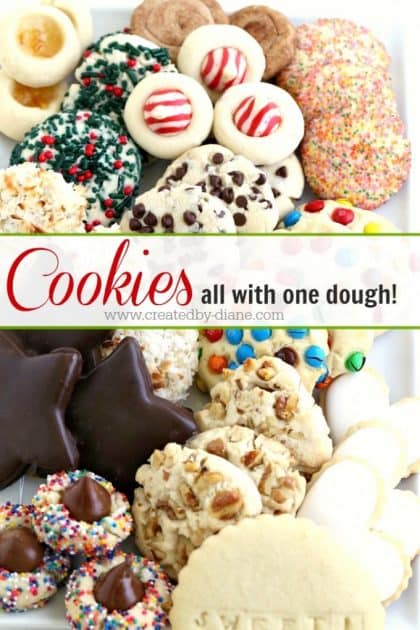 this is a must for any cookie lover! CLICK HERE For info on this great ebook!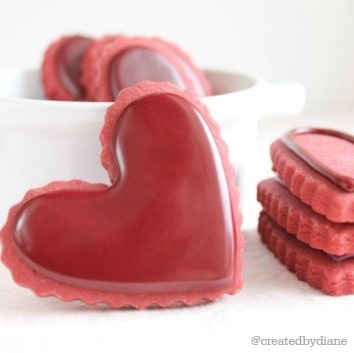 Take a look at these RED VELVET cookies too (Click HERE)
If you like this post feel free to check out more of my recipes HERE or click the recipes tab on the toolbar, and please share this post using the social share buttons at the top or bottom of this or any post. 
Thanks,
Diane