Double chocolaty delicious football player cookies that are NECESSARY to cheer on your favorite team!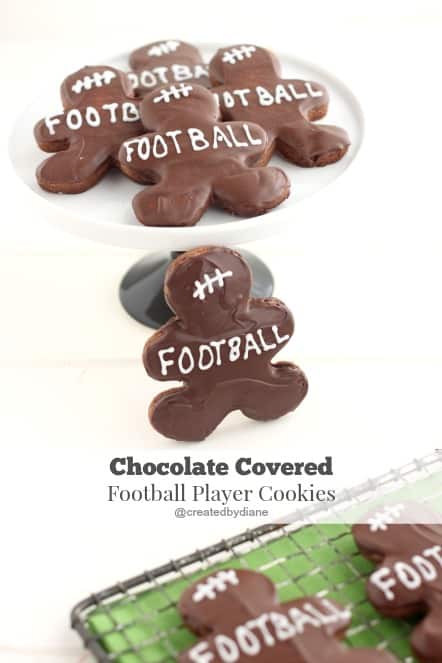 Do you sit in front of the TV and watch the game…..play by play until the whistle is blown?
or you are just listening to the big game in the background?
I'll give you one guess what I'm doing when the game is on…
and if you guessed baking and eating cookies, you guessed correctly!
Game days NEEDS cookies!
Taste testing goes without question.
These adorable football player cookies are a must make!
Rolling out cookie dough in between wax paper allows you to not dry out the cookie dough with additional flour.
Additional flour will make cookies have a dryer texture.
Placing 1/4″ dowels on each side of the wax paper will keep the dough at the same thickness so all the cookies are the same thickness and will bake evenly.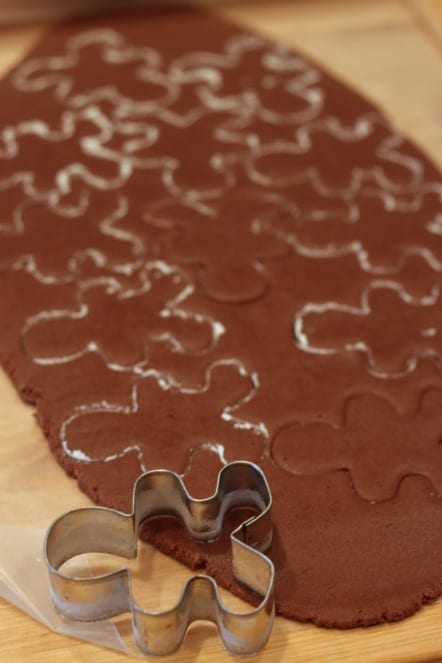 Dip the cookie cutter into flour so the cookie cutter doesn't stick to the dough and will make allow for clean lines on the shape of each cookie.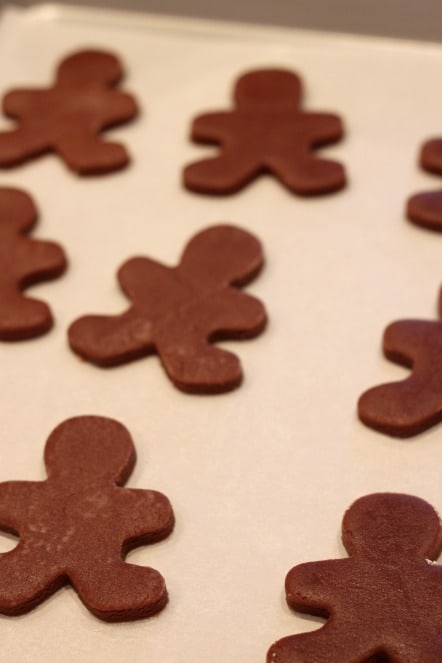 Dust off any excess flour with a silicone pastry brush.
Space the cookies out on the baking sheet, don't over crowd cookies.
These cookies hold their shape very well, but all cookies swell when they are baked and over crowding will cause inconsistencies in baking.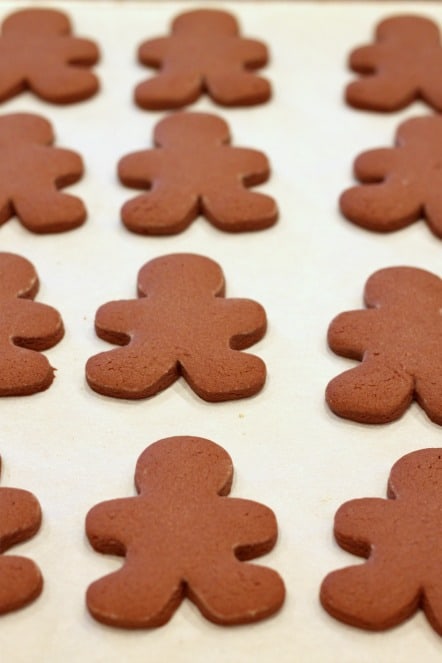 Allow cookies to completely cool before applying chocolate.
Spread a thin coating of heated chocolate candy melts over the cookies and smooth with a small offset spatula.
Place the tray of cookies in fridge to set chocolate quickly,
then pipe on some white glaze icing for the football laces and words.
Allow icing to dry completely before stacking.
Chocolate Football Player Cookies
Ingredients
1 cup unsalted butter
1 cup brown sugar
1/4 cup melted and cooled chocolate (Ghirardelli 60% Cacao Chips)
2 tablespoons cocoa
1 egg
1 teaspoon vanilla extract
3 cups flour
2 teaspoons baking powder
1 teaspoon salt
Instructions
Beat butter in mixing bowl until smooth
add in brown sugar and mix thoroughly
blend in chocolate and cocoa
on low mix in egg
then add in egg, vanilla
slowly blend in flour, baking powder and salt until completely combined and dough is pulling away from the sides of the bowl
roll out cookie dough in between wax paper and to get the dough even so all the cookies come out the same thickness, place 1/4 inch dowels on each side and roll a straight rolling pin across the dowels, than dip the cookie cutter into some flour and cut cookies.
I use a 3 inch gingerbread cookie cutter.
Bake cookies in a preheated 400 degree oven
bake for 7-9 minutes
allow cookies to cool completely
when cookies are completely cooled spread melted chocolate candy melts over the tops of the cookies.
Allow the chocolate to become firm before piping icing on top (placing chocolate covered cookies in fridge for a few minutes will speed up this process)
pipe on white glaze or royal icing to create the football laces and write football across the arm area of the cookies.
Allow to dry completely before stacking
Notes
Click here to find recipe for glaze icing https://www.createdby-diane.com/2012/01/how-to-ice-cookies-without-a-a-piping-bag-icing-the-easy-way.html

*chocolate candy melts will coat the cookies smoothly and easily, melted chocolate chips or the like are not recommended, they will not dry with a smooth pretty finish.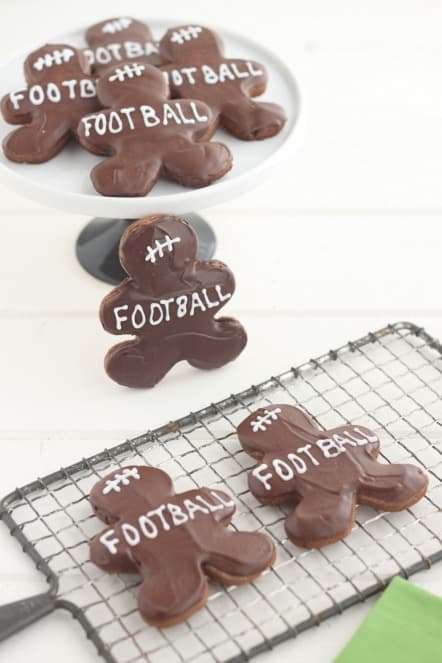 Let the games begin!