Cupid Cookies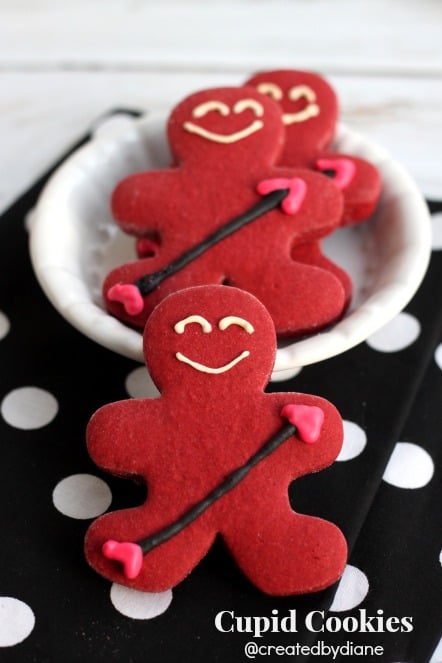 I'm a hopeless romantic,
did you know that about me?
My heart breaks when two people who should be together aren't
so watching movies when one person breaks the other persons heart is painful!
I'd like to say I have no first hand experience with that, but sadly that is far from the case.
Maybe I was looking for Cupid all along to select someone perfect for me, GEEZ…why didn't some Cupid like this come along years ago.
It could have saved me years of headache and tears!
Isn't that how cupid works,
he shoots someone with his arrow and it sends some sort of signal to their brain for you to see the person who is perfect for you? Well that's not very realistic, but sure would be nice to have someone on your side when dating.
Whether Cupid works that way or not, for sure these cookies would be PERFECT for Valentine's Day. To someone you like, love, your kids, or someone you think deserves a little fun and love in their life.
I love Gingerbread Boys so much I decided to make them into Cupids just in time for Valentine's Day. Cute huh?
These cookies are made from my favorite Red Velvet Cookie dough and I iced them with a bit of royal icing to give them the cuteness they deserved. (Links for recipe below)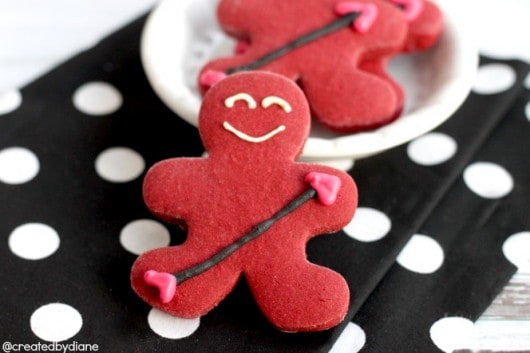 Red Velvet Cut Out Cookie RECIPE
I love the Gingerbread Cookie Cutter so much, I made a Mike Wazowski Cookie, Frosty the Snowman Cookies, Chocolate Pumpkin Flavored Mummies and Chocolate Peppermint Ghost Cookies.
I have plenty more ideas for this cute cutter….stay tuned for more fun to come on Created by Diane. And don't pack away that Gingerbread Cookie Cutter!