Brownies are just about the best chocolate dessert ever. These Brownie Cookies have all that BIG chocolate flavor but in perfect cookie form.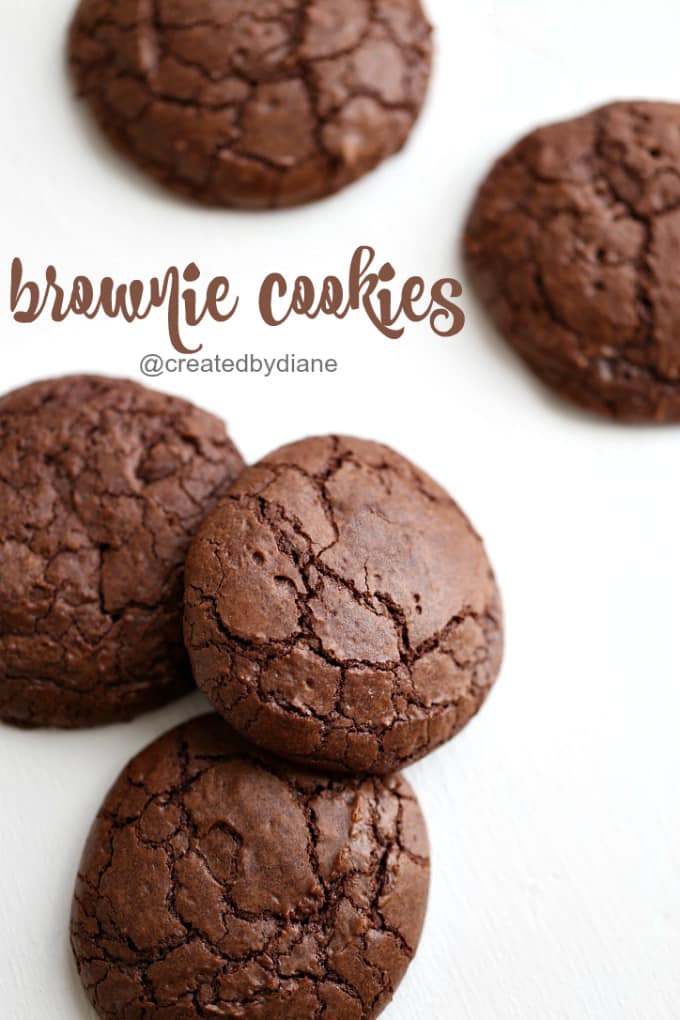 Mmmm, chewy, dense chocolatey goodness with perfect crisp edges… it's why we LOVE brownies and why they're one of America's most favorite desserts.
it's why we LOVE brownies
and why they're one of America's most favorite desserts.
These brownie cookies will WOW everyone!
Whenever my mother asked what special treat she could make when I was a kid,
my brother and I would shout out,
"BROWNIES!"
I love to spoil my kids like this, too, which is so much fun.
I wanted to make that same wonderful flavor but in a cookie.
It's just enough of a twist on a traditional brownie to make them totally addictive!
Take a look at these fun BROWNIE items too, HERE, HERE, and HERE.
You'll find more of my favorites HERE.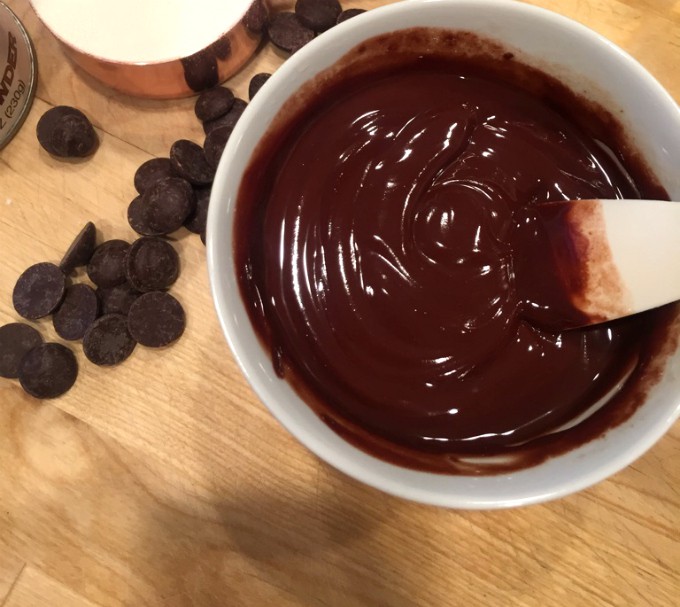 Let's talk chocolate for a minute,
my FAVORITE chocolate to melt down and put into delicious chocolate desserts is Ghirardelli 60% cacao chips.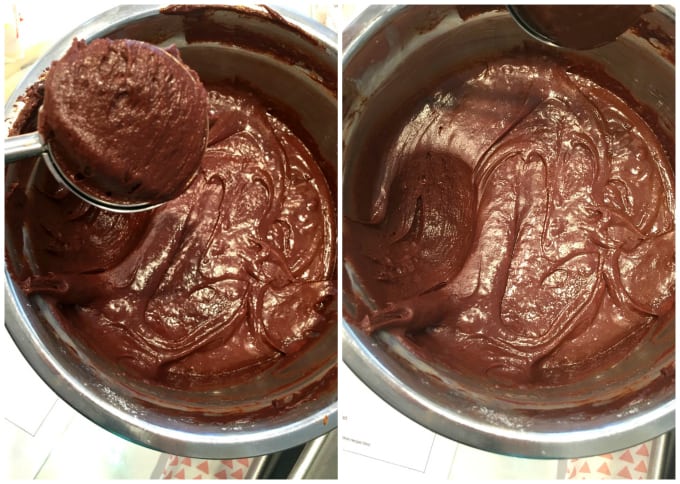 They have a rich delicious flavor and I totally recommend using delicious chocolate not just any chocolate chip you may have lying around as the chocolate flavor in these is KEY to how the brownie cookie will taste.
These are perfect for holiday cookie trays and gifts, too.
I like to keep a supply of clear cellophane bags and pretty ribbon on hand for gift giving because it makes such a nice presentation.
Now, who wouldn't just LOVE to receive a stack of these beauties as a great thank you, a get well wish, they are fun for a birthday or any occasion. These brownie cookies will become you FAVORITES, they taste great and pack well!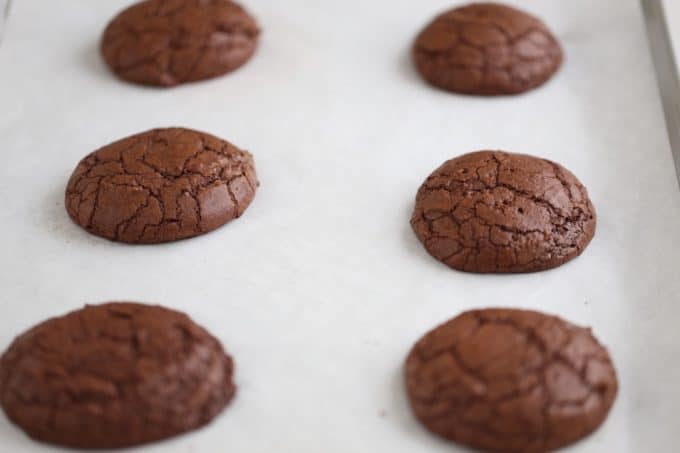 Well, my cookies never made it to the holiday tray or as gifts since they were gobbled up immediately,
except for the fistful my son brought over to his friend's house to share.I'm sure they didn't last long there, either.
I'm sure they didn't last long there, either.
These turned out so great because the cookies have that light crispness all around (not just on the edges like a brownie) since the surface area is more exposed and is a bit thinner than a traditional brownie.
So what you get is that wonderful crispness as you bite into the cookie,
followed by the soft chocolate brownie interior.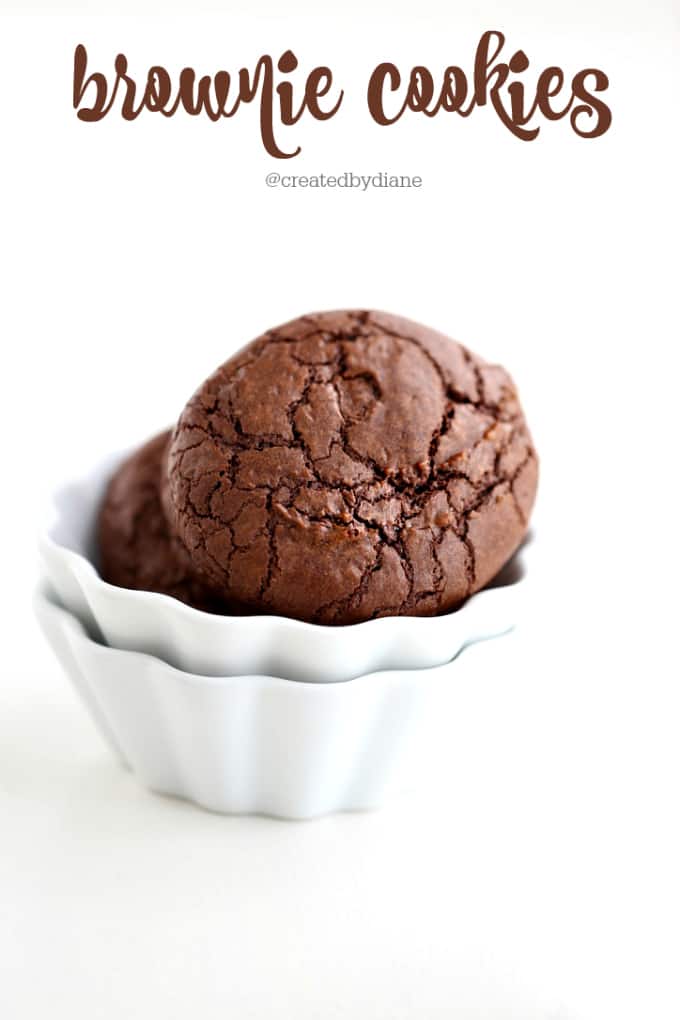 My friend loved these so much,
she said I've ruined her for traditional brownies! Nope, she wants THESE instead from now on.
Nope, she wants THESE instead from now on.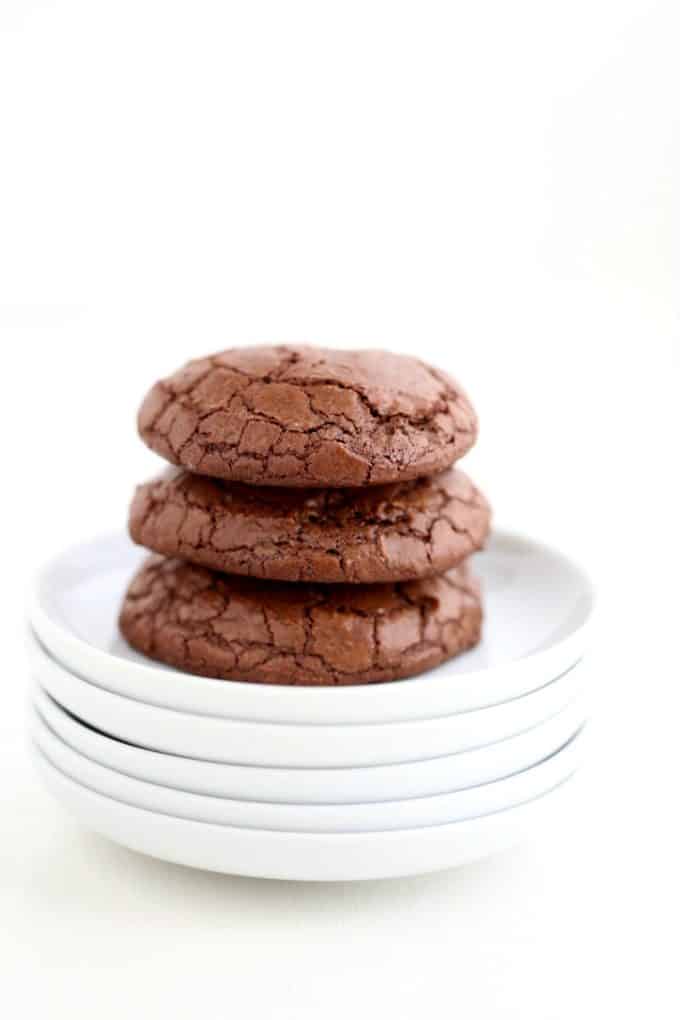 Really,
they are the PERFECT texture and flavor and couldn't have turned out better.
One of the best thing about brownies is they're so easy to prepare
No decorating or cutting out, refrigerating or rolling.
It's a simple drop cookie that is a snap to make.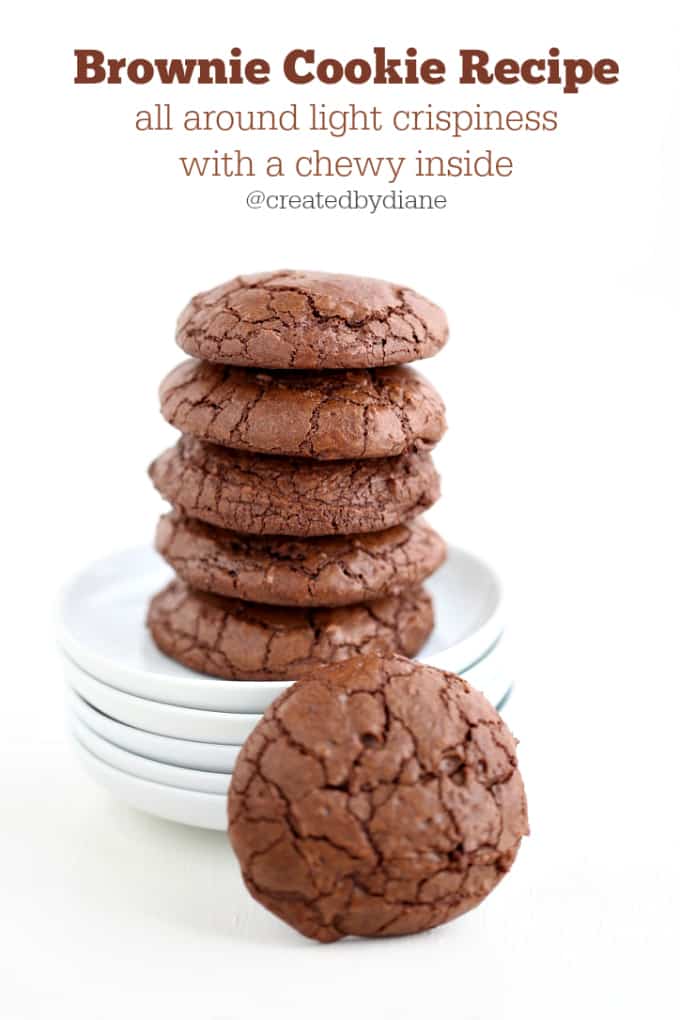 If you want a really rich, delicious-tasting brownie cookie be sure to look at the chocolate. I use 16 oz chocolate chips, most packages of chocolate are not 16oz, be sure you are using 16 oz. which is one pound. I give options for other chocolate and also using cocoa powder, giving good results, but my preference is really to use all 60% dark chocolate. I've used all nestle chips, and the taste is good for the non-dark chocolate lover, the young adults that think the other is a little too rich tasting (certainly not me!) The version with half 60% dark chocolate and cocoa powder.
Now if chocolate is your thing…. be sure to also check out these great recipes
I use THIS type of scoop so that all the cookies are the same size, it's fast and easy which means cookies will be done QUICK!
I have a couple of options when making this recipe, I make these cookies all the time. And all versions come out great.
The original recipe calls for 16 oz of dark chocolate. Lots of people mention that is a lot of chocolate and they don't always have that much on hand and the cost as well. I formulated a version with 1/2 the chocolate, so 8 oz chocolate and 1/3 cup cocoa with 1 tablespoon oil and adjusted the sugar to reflect 1/2 cup brown sugar and 1/2 cup granulated sugar. This version was delicious as well, it's also really nice with all brown sugar, a little fluffier in texture.
After mixing the browie batter, allow it to rest for 5-10 minutes, it'll thicken up, remember when adding melted butter to recipe it'll thicken up. It'll be easier to scoop and makes the cookies hold their shape better as well.
I tried the cookies with Nestle semi-sweet chocolate chips and didn't really get that delicious rich chocolate flavor I was looking for, so adding a teaspoon of instant coffee helped to boost the rich flavor. I shared the brownie cookies with many, it seems the younger they are the less dark chocolate they prefer, they were all fine with the Nestle semi sweet chocolate, while the over 30 crowd liked the richer darker chocolate more.

Brownie Cookies
The most delicious BROWNIE COOKIES, with a great crackle top, rich flavor that'll win any chocolate lover over!
Author:
Diane Schmidt, Created by Diane
Recipe type:
Dessert, Cookies, Brownie
Ingredients
16 oz dark chocolate (I use Ghirardelli 60% cacao chips)
1/2 cup butter
1 cup flour
1/2 teaspoon baking powder
4 eggs
1 cup brown sugar
1 teaspoon vanilla extract
Instructions
Melt chocolate, I do this at 30% power in the microwave for 1 minute and 10-15 seconds at full power to melt completely and stir in every 30 seconds.
Next melt butter in the microwave, usually takes 30 seconds or so on high.
In a medium bowl mix brown sugar and eggs with a fork, add in chocolate, butter, flour, baking powder, and vanilla.
Allow the batter to rest for 5-10 minutes, it'll thicken up. Like ganache does.
Scoop 3 tablespoons sized scoops of dough onto parchment lined baking sheets for these large cookies.
Bake at 350 degrees for 14-15 minutes.
When you remove the pan from the oven allow the cookies to cool on the pan.
Test with a toothpick before removing the cookies from the oven, the batter should not stick to the toothpick, but be careful not to overbake or they won't be chewy, they will dry out.
-3 tablespoon sized scoop cookies or 24-2 tablespoon sized scooped cookies (baked for 11 mins)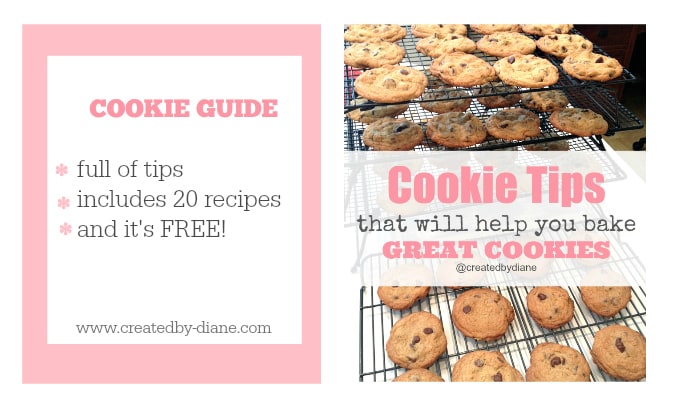 Get my FREE Guide on Cookie Tips, it'll help you bake great cookies!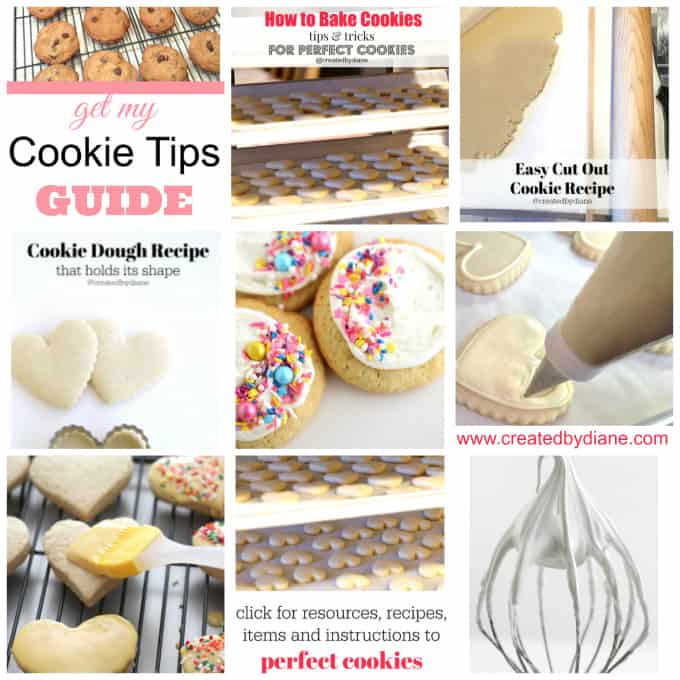 LOTS of info on baking cookies here: