Fresh tasting appetizers that are perfect for summer!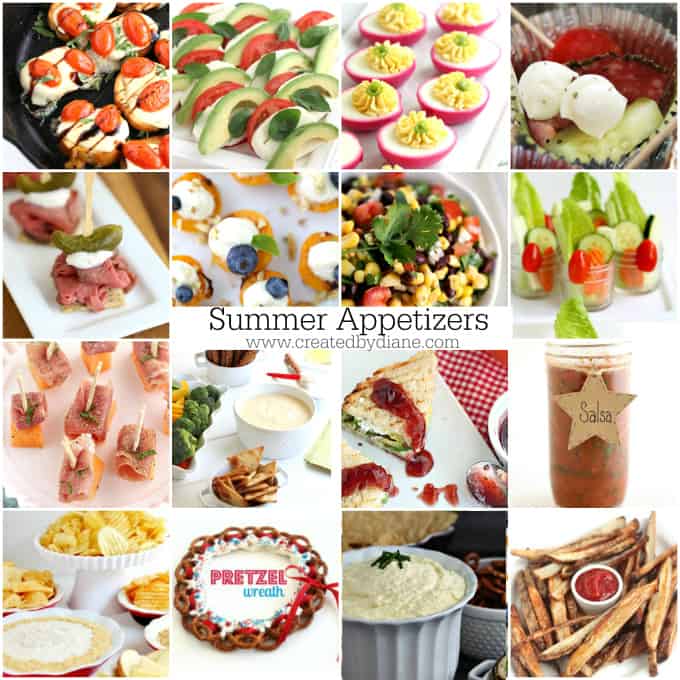 Summer is always a fun time of year, and it's full of great food and friends.
Give some of these a try and shake things up this summer.
Some of these don't require any cooking which is great for HOT SUMMER DAYS, and some can be easily made ahead of time, which makes them great to bring to parties and get-togethers.
Most dips or spreads can be slathered over crackers, or slices of bread to cut into mini sandwiches which makes them great to bring to the beach or pool parties!
Caprese Crostini – toasted baguette with melted mozzarella with tomato drizzled with balsamic and basil.
Avocado Caprese – the addition of avocado has this just jumping with great flavor.
Beet Dyed Deviled Eggs – Super pretty and it makes deviled eggs the hit of the party.
Antipasto Appetizer – easy to assemble and great to serve at a get-together.
Roast Beef Stackers – a great filling appetizer that everyone will enjoy.
Grilled Apricots with Honey Ricotta – a delicious fruit stuffed with the sweet cheesy mixture of honey and ricotta.
Corn Black Bean Jalapeno Salsa – great as a side dish and for dipping chips into!
Salad Dippers (with homemade Buttermilk Ranch) – fun and easy to make and perfect for parties when you'll be walking around mingling!
Cantaloupe with Proscuitto – a sweet and savory combo that is perfect all summer long! You can use bacon or salami too.
Beer and Cheese Dip – perfect for parties, or a quick dip that is perfect with veggies, chips, pretzels and sliced baguette.
Avocado Goat Cheese Sandwiches – cut these sandwiches small and they make the perfect make-ahead appetizer for a summer party!
Restaurant Style Salsa – just add chips!
Apple Pie Dip – OMG this dip tastes fantastic and is perfect for dunking chips, apples, and crackers into.
Pretzel Wreath –  a fun snack to enjoy at bbq's and parties, kids will get a kick out of them as well as adults.
Deviled Egg Dip – a fun dip that is also great slathered onto bread as a quick sandwich. (tea sandwiches make a fun appetizer)
Baked French Fries – a great snack especially when grilling burgers and hot dogs!
…