sprinkle sugar cookies, so cute and taste amazing, these sugar cookies are just full of fun!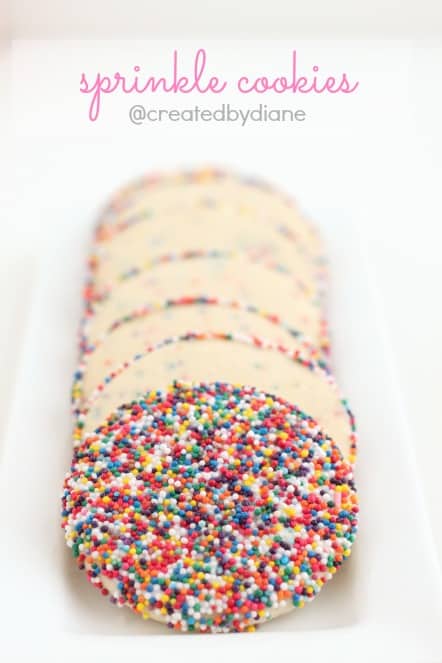 It's funny how something you love so much can cause so much frustration.
I love nonpareils
but I hate how messy they are.
Especially if you happen to tip the container over, it's a domino effect and EVERY last one of them will spill out…
trust me. I have experience.
I think I need to find a rubberized container for them.
The funny thing is I didn't spill any this time….it was a miracle. I will mention this may be the first time I haven't spilled them all over.
I'm not alone, last year I put a photo on instagram and everyone chimed in that they had done it too….which made me feel way better.
I know I use nonpareils quite a bit and looked up to see some of the fun things I've made with them if you want to see too  Chocolate Cannoli Cones, Italian Anise Cookies, Bunny Butt Cupcakes, Mitten Cookies, Star Cookies, Easter Bunny Cookies and Red White and Blue Cupcake Cookies.
So if you can manage to hold onto the jar of nonpareils there are some ideas for you.
Today it's all about cookies.
These turned out super-cute and you can load them up with sprinkles or just add them to the edges.
Either way, I just LOVE how colorful they are.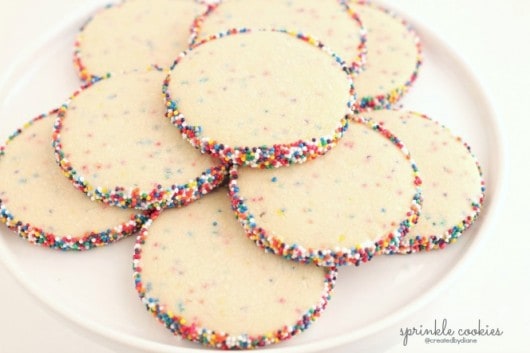 sprinkle cookies
Ingredients
1 cup unsalted butter
1 ½ cups powdered sugar
1 egg
2 teaspoon vanilla extract
2 ¾ cups all purpose flour
2 teaspoons baking powder
1 teaspoon salt
2 tablespoons multi-colored nonpareil sprinkles
for decorating
corn syrup
nonpareil sprinkles
Instructions
Cream together butter and powdered sugar.
Add the egg and vanilla.
Add in the flour, baking powder, and salt and sprinkles.
Mix until the dough is well blended and smooth.
It will pull away from the sides of the mixer bowl.
Roll out the dough between wax paper sheets for 1/4 inch thick and cut with cookie cutter.
Bake at 400° for 7-8 minutes.
When the cookies are completely cooled, place a small amount of corn syrup on a paintbrush or the tip of your finger and smooth it on the edges of the cookies. If you want the whole cookie coated you can use corn syrup or glaze icing, then place the sprinkles in a shallow dish and press the prepared area into the sprinkles.
Allow them to dry completely before stacking.
Bake at 400° for 7-8 minutes.