Strawberry Cut Out Cookies with Chocolate Icing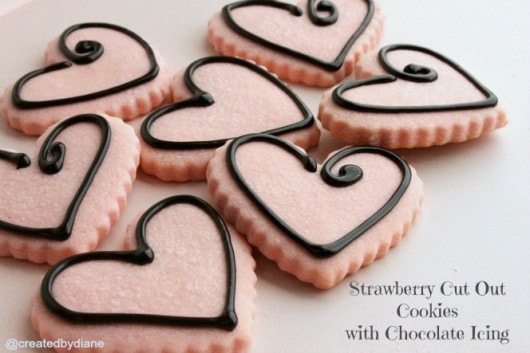 It's all about the pink today.
It's Valentine's Day!
There is pink and red everywhere I turn.
I even painted the tray pink to match the cookies, which now that I'm looking at it might have been a bit much. But I really like the tray in pink, maybe just not with pink cookies on top of it. Maybe they match too much!
Well, it certainly didn't affect the yumminess of the cookies at all. Because really there can not be anything wrong with chocolate and strawberry if you ask me.
These cookies have a sweet, light strawberry flavor and are iced with chocolate icing.
They remind me a little of chocolate covered strawberries, which I happen to LOVE. Thinking of chocolate covered strawberries has me thinking of these delicious Chocolate and Strawberry Scones which would be perfect on Valentine's Day. I hope to have enough time to whip up a batch of those before the day is over.
These cookies are so pretty, the COLORED Cookie Dough makes them look so great, don't overdo the food coloring, a little goes a long way!
Strawberry Cut Out Cookies with Chocolate Icing
Ingredients
1 cup salted butter
1 1/2 cups powdered sugar
1 egg
1 teaspoon vanilla extract
2 teaspoons strawberry extract
2 drops soft pink Americolor food coloring
3 cups all purpose flour
2 teaspoons baking powder
1 teaspoon salt
Chocolate Icing
3/4 cup powdered sugar
1/4 cup cocoa powder
1 tablespoon water
1 tablespoon corn syrup
2 drops brown coloring
Instructions
Preheat oven to 400°
Cream together butter and powdered sugar.
Mix in egg and vanilla and strawberry extract along with 2 drops soft pink coloring.
Blend in flour, baking powder and salt.
Mix until the dough forms a ball.
Roll out on floured surface and cut with cookie cutter,
Bake at 400° for 7-9 minutes, until bottom of cookies are golden but tops are not browned yet.
Cool completely before icing.
Mix powdered sugar, cocoa powder with water, corn syrup and coloring until smooth and creamy. Add more water or powdered sugar to adjust the consistency you prefer to pipe with. I piped the icing with a #3 tip.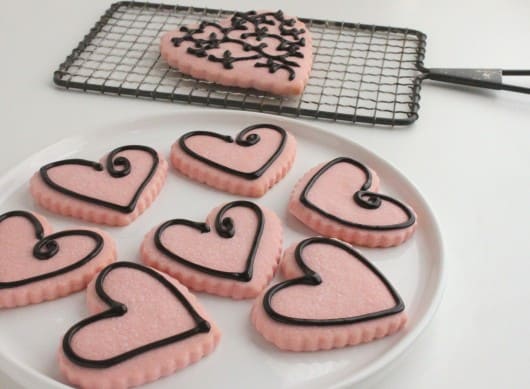 Hope you have a Happy Valentine's Day!!!