Pistachio Cut Out Cookies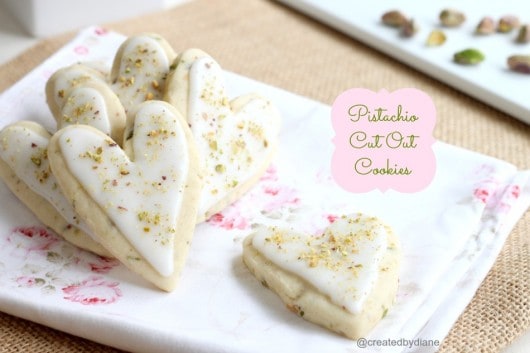 I am not a patient person.
I don't like sitting and waiting.
But today I found myself at the urgent care with my boy and the first half hour went by pretty quickly, check in update paperwork…
then in walks a friend of mine, and we all sat chatting for the next two hours. Well, that sure made the time fly by.
So I think there should be some new app. Like the I'm sick app. You check in and see what other friends aren't feeling well and then you get to take that time, where you would be really doing nothing but waiting for the time to pass. Now you can catch up with a friend and it makes the time fly by.
Yeah, I know it sounds crazy, but really I'm sure that app is already in the works. They have a "find my car" app. People check in on facebook, foursquare, but that gives just too many options. I can't tell you how many times I run into the same friend in the orthodontist office. It's really funny, and we wish we know each other was going to be there, so now we text and tell each other. That way we can think of all the fun things we want to discuss. Yep, we don't get much time to spend together and sometimes I even write myself a list so I can think of all the things I wanted to mention to her. I guess that means I'm getting old. I think of it as being prepared.
Please tell me you hate waiting around in waiting rooms. I want them to change the room to the "we're going to hurry up and get you right in" room. That one I'd love.
I did, however, enjoy the time with my friend and goofing around with my boy, they are in school way too much for me. I miss the time with my kids. They are growing up too fast. The best part was saying to him, ok what do you want to do now? He answered I'd like a milkshake, yep boy after my own heart. Milkshake is ALWAYS a good answer and well he deserved it for being there for almost three hours.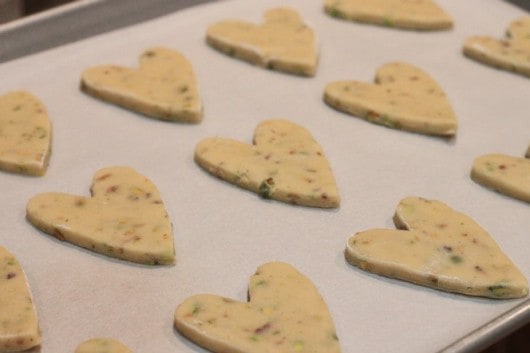 Pistachios are my sons' favorite nut.
I wouldn't get to bake anything with them if I didn't hide the pistachios from him.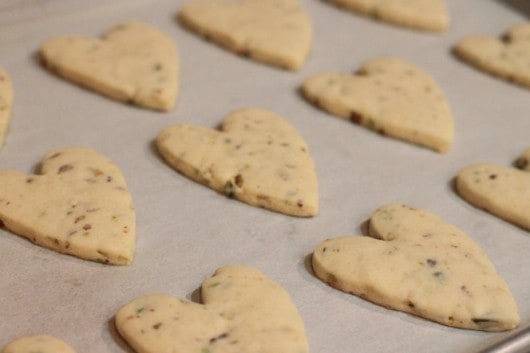 the saltiness of the roasted pistachios in these cookies gave them a mouth-watering savory-sweet combo. I love that! So does he.
Pistachio Cut Out Cookies
Ingredients
1 cup butter
1 1/2 cup powdered sugar
1 egg
1 teaspoon vanilla extract
6 drops pistachio flavor
2 3/4-3 cups flour
2 teaspoons baking powder
1 teaspoon salt
1/2 cup finely chopped roasted pistachios
Pistachio Icing
1 1/2 cup powdered sugar
1 tablespoon corn syrup
2-3 tablespoons water
4 drops pistachio flavor
1/4 cup super-finely chopped roasted pistachios
Instructions
Cream together butter and powdered sugar.
Add egg and flavorings.
Mix together flour, baking powder, and salt.
Add in chopped pistachios
Mix until the dough forms a ball.
Roll out on floured surface or between sheets of wax paper.
These were rolled 1/4" thick.
Cut with cookie cutter.
Bake at 400° for 6-9 minutes.
Icing
Mix powdered sugar, corn syrup, water and flavor until smooth.
Pipe icing onto cooled cookies with a #3 tip.
Outline and fill in cookie shape and immediately sprinkle on pistachio pieces before icing sets up.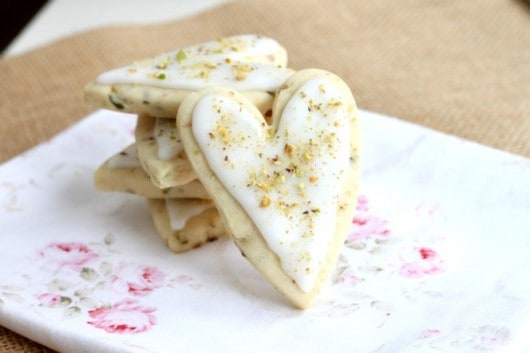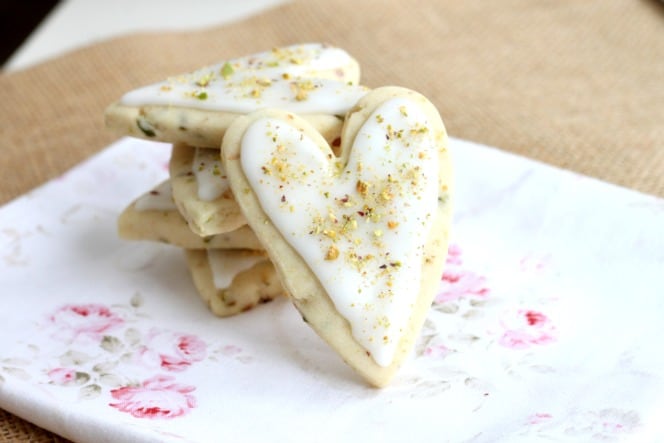 Maybe I should have brought some of these to the urgent care with us. Maybe we would have gotten seen faster 🙂 yep I think treats are an acceptable bribe, don't you?