Here is a list of my favorite foodie items! These are the items I feel are worth taking up precious kitchen space if you are a foodie!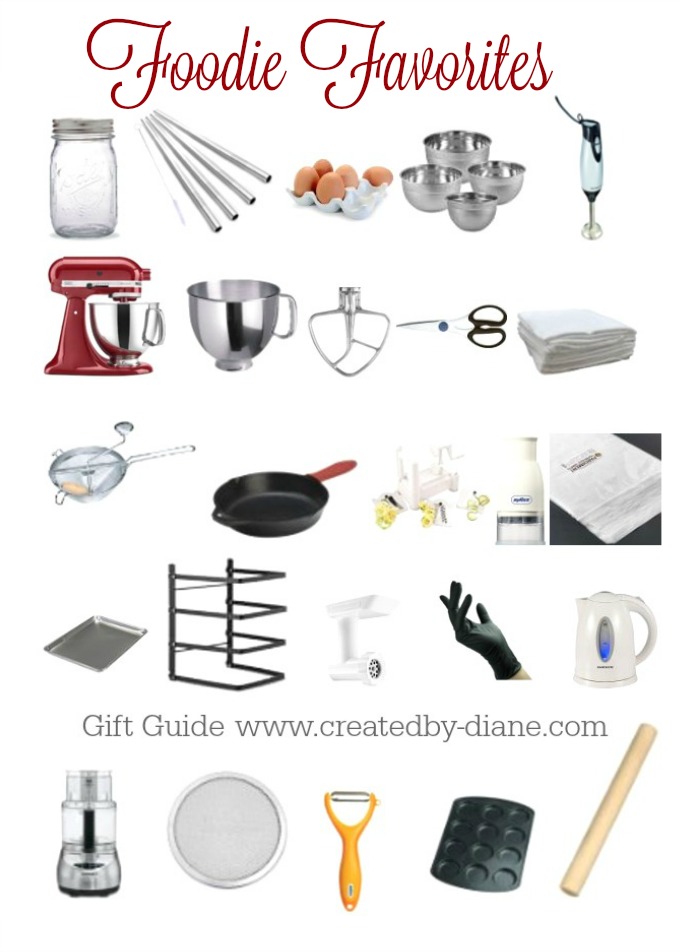 I compiled all my FAVORITES in a list I think you'll love.
And I've linked up lots of my recipes that I have used these tool in.
You can use this list to fill up your kitchen with great kitchen tools that I find useful.
This can be sent to your someone special so they can select something for you.
I continually update this post with my new favorites, each year I add new items. Typically around the holidays, but I do find this is great when I'm making my own wish list for new things, I reflect on the items I'm now loving.

Instant Pot
I've used a stovetop pressure cooker for years since the Instant Pot is electric, there is no monitoring needed and it does so much more. It's a slow cooker, rice cooker and great for hard-boiled eggs too.

Glass Kitchen Aid Mixer Bowl
I love the look of a Kitchen Aid mixer with a glass bowl sitting on the counter and full of cookie dough, I still use my many stainless steel bowl, when it's a big baking day I use them ALL! (OMG I'm so glad I got this bowl, I just love using it and it looks super pretty sitting on the counter too)

Le Creuset Red Dutch Oven-my most used size
I use this every day, really it's not just super-pretty, but I love how food stays hot in it for a long time, it heats evenly and is perfect for pasta, soup, and frying too.

NordicWare Bundt Pan (I have a Cuisinart but this one is very similar and the Cuisinart is no longer available)
This is the best bundt pan I've ever used, the cake releases so nicely as long as the pan is sprayed with a baking spray try this Lemon Blueberry Bundt Cake first.

Roomba
This will not only help you keep your kitchen clean like it does mine, it keeps all my floors super-clean! This is one item I wished I had purchased years ago when it first came out! (I just got a second Roomba, one for upstairs and one for downstairs has really helped keep my home clean with little effort!)


I use these for everything from serving drinks like Kentucky Dirty to storing leftovers. ( I use the wide mouth jars for drinking glasses in my kitchen, they are so convenient, and since a lid fits on them easily they are even great on the go!)
I am in LOVE with these straws, when you sip on them the liquid immediately feels cold. Even when the ice in the glass melts these are a must for a straw fan. You can see mine here in this fun Lemon Coconut Water Cocktail.
I always have a few eggs left in an egg crate in the fridge but like seeing exactly how many I have if there is only a few in an 18 count container.
4 Piece Stainless Steel Mixing Bowls Set
I love that these are lightweight and even if I drop or bang it there is no risk of breaking, plus they work great for adding ice cubes and chill sauces and such.
Immersion/hand Blender
I use an immersion blender all the time from soups like this Cherry Lime Smoothie, and Homemade Mayo and many other sauces.

I use my mixer all the time and have had it for years. I love how durable it is. You can see it in action making Red Velvet Snowflake Cookies here.
KitchenAid Mixer BowlHave extra bowls really saves me a ton of time when making cookies and icing or cupcakes and frosting, I can make many batches without stopping to wash each bowl. I have 3 bowls!
I love having extra beater blades too. It sure makes big baking days go smoother.
Take Apart Kitchen Shears
I have three pairs of scissors in my kitchen drawer, they are able to be taken apart, perfect for cleaning and sharpening!
These towels and thin and are great for drying glasses and they don't shed off lint. these can be tucked in a waistband and are great for an immediate apron, and well they work great wrapped around ice packs when there is an injury too.

Berry Press
I use them berry strainer all the time, to make Blueberry Curd or all sorts of sauces and cream I need a fine strainer.
Cast-Iron Skillet 12-Inch
I have three 12″ Lodge Cast Iron Skillets and I use them all… ALL the time. I recently make Skillet Apple Crisp, I loved this gorgeous Cranberry Cornbread and Cranberry Turkey Meatballs.
Spiral Slicer
I use this spiral Vegetable Slicer to make Zucchini Noodles and take a look at how it slices beets in this delicious Avocado Goat Cheese and Beet Salad.
I use my chopper so often especially for onions and it worked great for chopping the items for this Jalapeno Pepper Jelly.
Reusable Parchment Paper
Parchment sheets are great for cooking and baking. I use them for easy clean up when I make Chicken Enchiladas in Green Sauce, and each and every time I bake cookies I use them here are my Giant Gingerbread Boy Cookies parchment sheet are great for making royal icing transfers and these Football Whoopie Pies.

Half Sheet Pans (these are gold, I had a hard time finding the silver version I have, but I kinda like the gold look!)
I have over a dozen baking sheets and use them ALL, yes I bake a lot. But I find having at least 4 is essential for any kitchen. They are large and have a nice edge on them, to hold up to carrying a lot of food, to baking nice sheets of Apple Squares, perfect for Cranberry Pecan Bars, you won't want to miss making these Potato Chip Cookies I love how they aren't flimsy and can handle chilling a whole tray of rice for Bacon and Egg Fried Rice as well.
Adjustable Metal Cooling Rack
(no longer available) but you can see what it looks like and view similar items.
I have two of these racks, it really helps keep all the baking trays from gathering all over my kitchen as well as keep all the cookies I'm working on in one area. I can sit and decorate each tray of cookies without even moving off my stool. We use these to help sort puzzle pieces on large puzzles with cookie sheets in the winter, I have a few of these racks and they get lots of use with projects that aren't even baking-related.
I have been using this Meat Grider Attachment a TON, my new favorite thing to do is to make ground chicken for chicken meatballs. I make some new sauce about each week and these Chicken Meatballs in Plum Sauce are irresistible.
NOW all this cooking and baking means there are lots of dishes to do. And I don't like the way ordinary dishwashing gloves fit. Since being a hair-stylist had me in the sink all the time too, these gloves not only work well for coloring hair they are PERFECT for washing dishes too. They can withstand the heat of hot water, are fitted so glasses and other delicate items don't slip out of your hands. They are great for cleaning all around the house and painting too.
I've had an electric tea kettle for years and love how quickly it heats water, great for making sauces and other items for dinner in a hurry. It will boil water faster than my stove.

I love shaved brussels sprouts and I can shave a whole bag in minutes perfect for this Brussels Sprouts Caesar Salad.
Pizza Screen, Making pizza happens all the time in my kitchen and I have found that these pizza screens work the BEST out of all the items I have purchased, the bottom of the pizza gets crispy and delivers the best at-home pizza. THESE are a must for the PIZZA lover or even for the occasional reheating of pizza leftovers! Crispy bottom pizza for the WIN!
Julienned carrots go into so many dishes I make take a look at these yummy recipes. California Roll Bowl, Asian Beef Short Ribs.
I haven't made muffin tops in this pan yet, but I have made deep dish cookies and they are fantastic like these Pecan Pie Cookies, Red Velvet Deep Dish Cookies, and Cherry Pie Cookies.
Maple Wood Rolling Dowel
This is my go-to rolling pin, it's smooth and long and allows me to roll my cookies and scones evenly with little effort these Gingerbread Scones are a favorite and totally cute too.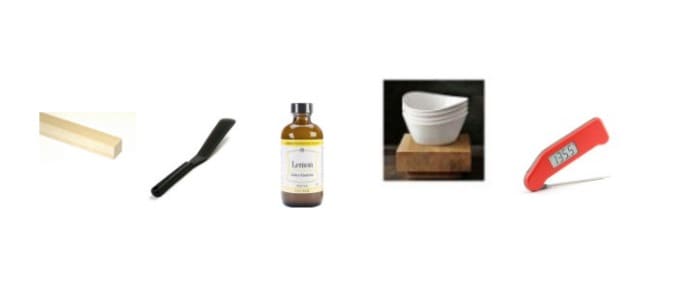 More items I've thought of:
1/4″ dowels for measuring cookie dough- you can find these at craft stores.
To roll cookies evenly, I use these as a guide under my rolling pin so my cookies are all even.
This is a great thin spatula perfect for flipping eggs, Pancakes and just about everything out of a pan!
The flavors of these baking emulsions taste wonderful, I use them all the time. Lemon happens to be my most used, but I actually have all the flavors. Lemon Cream Cheese Cookies with Lemon Cream Cheese Frosting.
Porcelain Serving Bowls
These are my go-to dishes for serving Udon soup and Pasta, I just love the size of these large bowls.
ThermoWorks ThermoPen I've have a ThermoPop thermometer for a few years now and LOVE it, I now have 2 thermometers, so that I can have one in the kitchen and be using one on the grill. The MK4 is faster than the ThermoPop and I use it all the time.
I have had many thermometers over the years and have melted many, this one I LOVE! (I did buy a ThermoPen and OMG I just LOVE it and wonder what took me so long. It's so fast, great for grilling too).
I keep this up to date, and try to be sure the links work.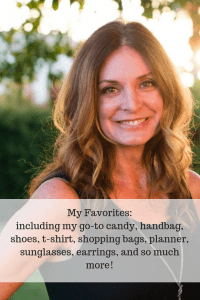 I have another list of my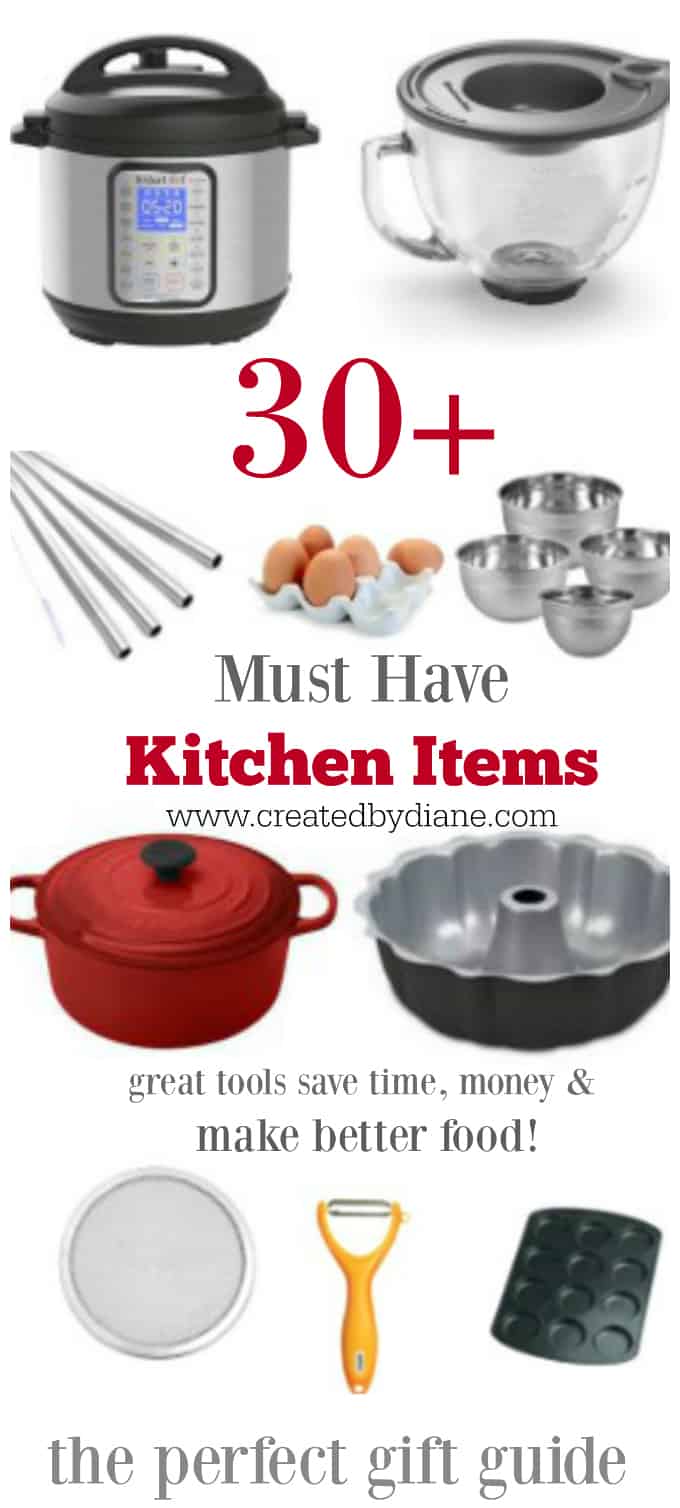 *Please note this may contain affiliate links, and at no additional cost to you. I may earn a commission if you decide to make a purchase after clicking the link. Please know that I have personally used and purchased the item or found an updated or similar item if necessary. I recommend items I truly love. I appreciate each and every one of you and respect the trust you place in me. I do not promote any business or product that I don't think is great.