Just wait until you see how CUTE these chocolate peppermint cut out cookies are, they are all decked out for Halloween, as GHOSTS… cute ghosts, not scary!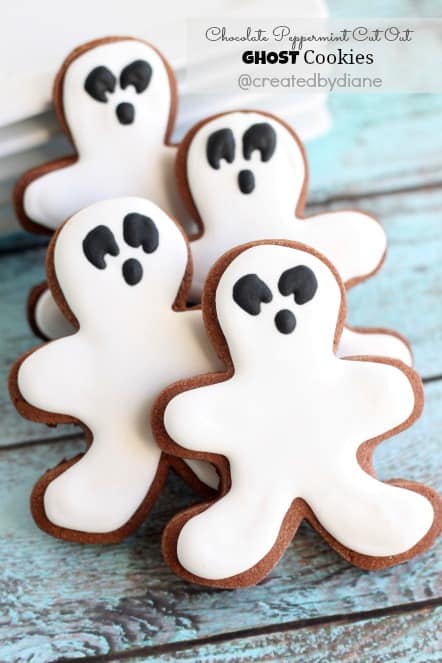 I'm almost ready for Halloween,
how about you?
Did you buy all the candy yet, to give out?
I did and then somehow it went missing…..wonder what happened to it?
It must have been my kids, right?
I loved getting York Peppermint Patties for Halloween as a kid…
the shiny silver wrapper and oh my goodness if you got a BIG one, that was a bonus for sure.
I have been busy making cookies for Halloween and trying out some new recipes and trying to come up with some fun new ways to decorate them….
Did you see my Chocolate Pumpkin, Mummy Cookies?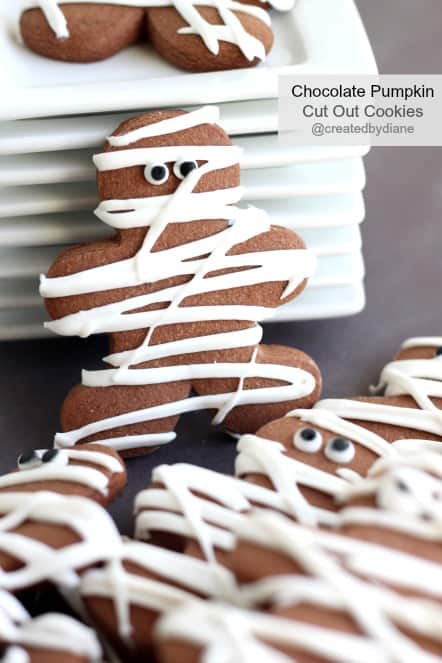 or how about my Chocolate Peanut Butter Pumpkin Cookies?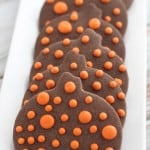 I just couldn't let Halloween go by without using the gingerbread cookie cutter one more time, the mummies were such a hit.
These cookies are based on York Peppermint Patty's
The chocolate and mint combination is so yummy and these will be great for Christmas Cookies too.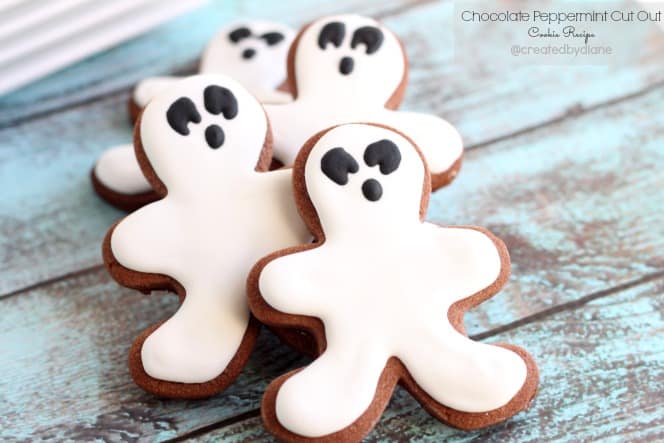 I may just have found my new FAVORITE cookie cutter.
Be sure to keep this recipe handy… they make great snowflakes cookies for Christmas too, and super pretty with pink icing!

Chocolate Peppermint Cut Out Cookies
Ingredients
1 cup butter
1 cup brown sugar
1 egg
1 teaspoon peppermint extract
1 teaspoon vanilla extract
¼ cup melted and cooled 60% cacao Ghiradelli Chips
2 tablespoons unsweetened cocoa (dutch process)
3 cups flour
2 teaspoons baking powder
1 teaspoon salt
Instructions
Preheat oven to 400 degrees.
In mixer with bowl, beat butter and sugar
Add egg, peppermint extract, vanilla extract, melted and cooled chocolate, cocoa mix well.
Add in flour, baking powder, salt and blend until all combined.
Roll out cookies in between wax paper or lightly floured work surface to ¼ inch thick and cut with cookie cutter.
Place cookies onto parchment lined baking sheets and bake for 7-9 minutes or until edges are firm.
Remove cookies from baking sheets when they are cooled.
[url:1]!Royal Icing Recipe
[/url]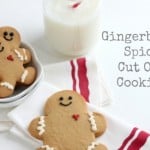 Gingerbread Spice Cut out Cookies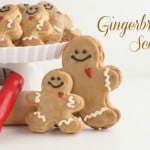 and did you see these Gingerbread Scones?
these were the cutest scones I've ever made and equally delicious.
I've always loved how cut gingerbread men are, and now there are even more reasons to BREAK the Gingerbread Boy Cookie Cutter out more often!
Don't you think?
Do you some fun uses for a gingerbread boy cookie cutter?
Don't forget to sign up to get the latest post from Created by Diane  delivered to your email inbox, it's the only way to ensure you WON'T miss one DELICIOUS Recipe.