Summer is full of LOTS of fun, but there is no fun in having your ice cream cone drip down your arm.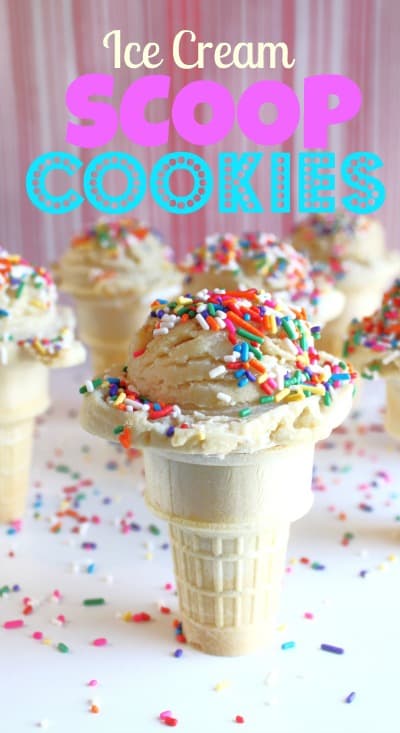 Since the temperatures are hitting 100 degrees, here is what I came up with.
I'm all for ice cream and ice cream cones, these are just so much fun I think I'll hide all the cones so I can make these again tomorrow because they are already gone.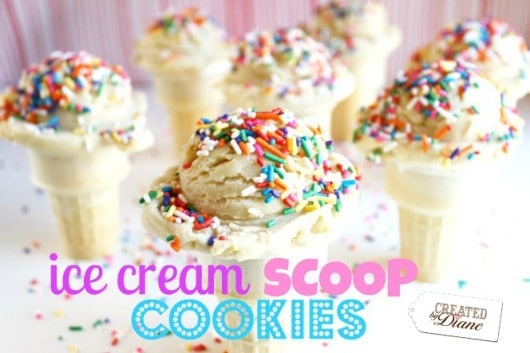 Ice Cream Scoop COOKIES, yes they are cookies. No real ice cream here.
These cones are filled with frosting with a large cookie on top.
These cookies start with an Easy Sugar Cookie Recipe.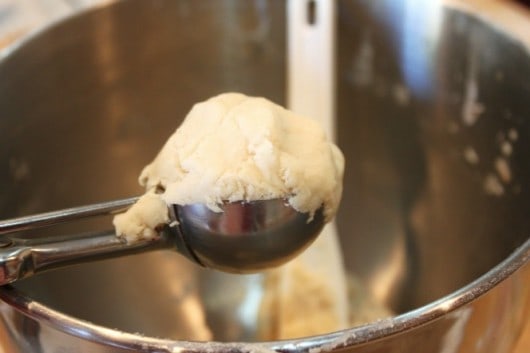 I scooped the cookie dough out with a large 3 tablespoon size scoop. It's the same size scoop I use to make cupcakes.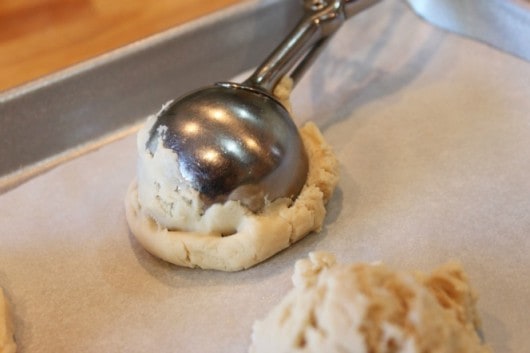 Press the cookies onto a parchment-lined baking sheet. The excess cookie dough will curl up around the sides of the scoop a bit and create a ruffled uneven edge like ice cream would.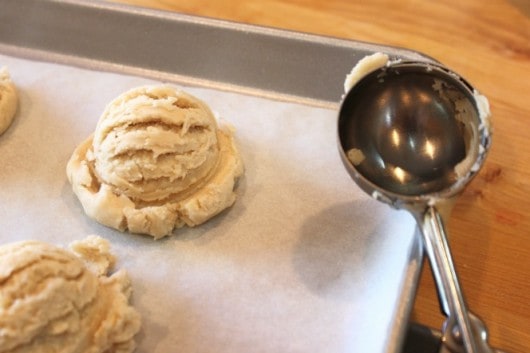 Release the cookie dough with the spring-loaded lever. The cookies release easily.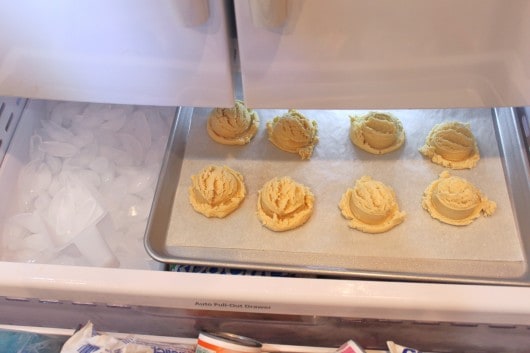 Place baking sheet in the freezer.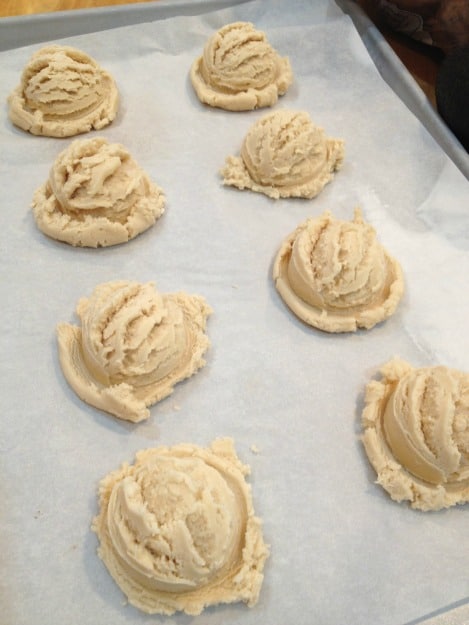 Bake fully frozen cookie dough at 375 degrees. Do not thaw them out. This will ensure they keep their shape.
One of the best parts of this is that they can be made days or a week ahead of time and kept in the freezer until you're ready to bake them. I had these in the freezer for three days.
These baked for 15 minutes on the top rack of my oven. I tested one, I cut it open and it was almost completely cooked, just a little soft inside. Once they were completely cooled on a baking sheet. (not transferred to a cooling rack) the centers were completely baked.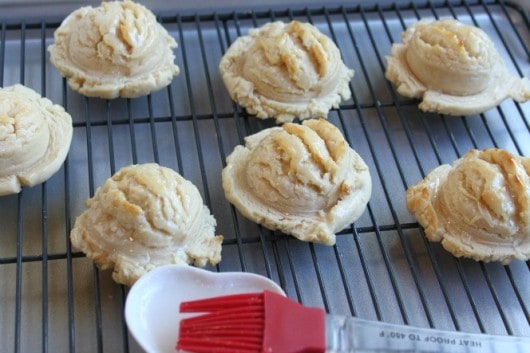 I brushed the tops of the cookies with corn syrup,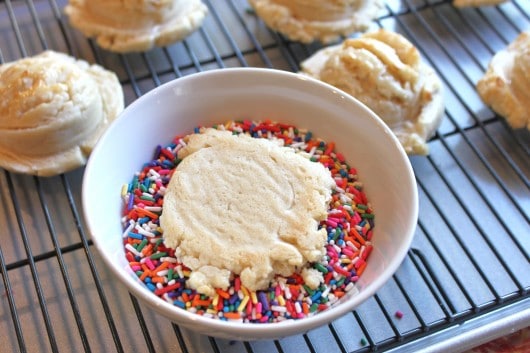 then placed each cookie upside down in a bowl of sprinkles pressing the cookie into the sprinkles to allow as many as possible to stick to each cookie.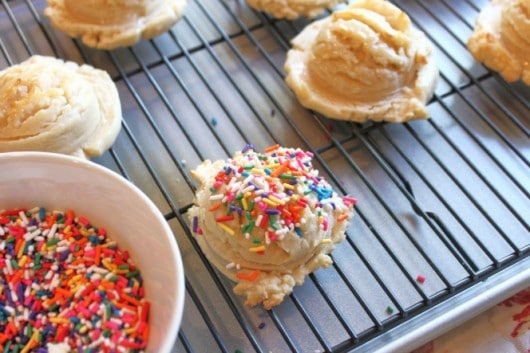 Allow the sprinkles to firm up on the corn syrup before placing them on the ice cream cones, 15 minutes or so. You can also put them in the refrigerator to speed this step along.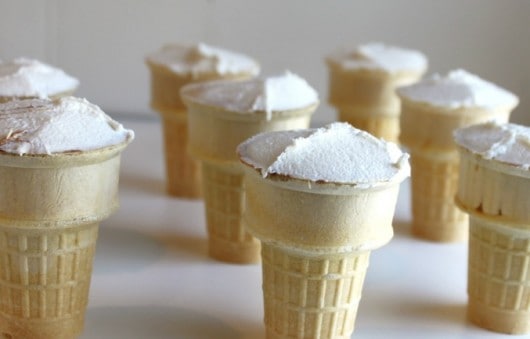 overfill ice cream cones with buttercream frosting.
I filled them level at first, but the cookies didn't stick well. I removed all the cookies and added more frosting. Then they stayed on really well. (That is why you see chocolate and white frosting, I had 1/2 filled with white and 1/2 of the cones filled with chocolate at first, but ran out of chocolate and added white frosting to top all them off with.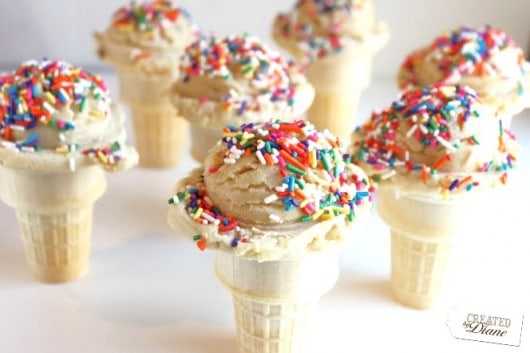 These were such a yummy treat. I couldn't wait to bite into one. The cookie was soft and did not fall off the cone, that part I liked. The frosting inside the ice cream cones reminds me of the wafer cookies when I was a kid. I'm sure they still sell them. There were Chocolate Vanilla and Strawberry flat wafer cookie with a cream filling, you know the ones. Right? Or did I just age myself? Anyway, these were so fun to make and see everyone enjoy. These would make a fun April Fool's Joke too!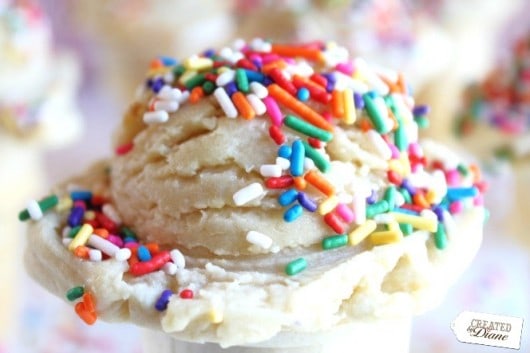 There aren't enough desserts with pretty sprinkles on them. I love these rainbow sprinkles, their so pretty. They sure do make these cookies look like real ice cream!
If you prefer CHOCOLATE here are my Chocolate Ice Cream Cone Cookies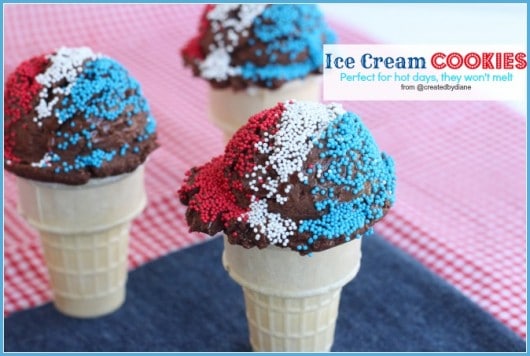 I love Pinterest and saw a dish of ice cream "cookies" but had a hard time finding it again. I searched google and found out that it was from Tradewind Tiaras.
What a CUTE party! Lots of great ideas. I thought I had pinned the party on April Fools, nope. Then I checked parties, nope. Ok how about cookies, nope. Where had that cute idea gone? I don't know. I have 177 boards and over 4,000 pins so I guess it's somewhere. What did we ever do before Google? I'm so glad it led me to the post I was looking for.