Chocolate and pumpkin come together for a winning flavor combination in these great fun Halloween cookies.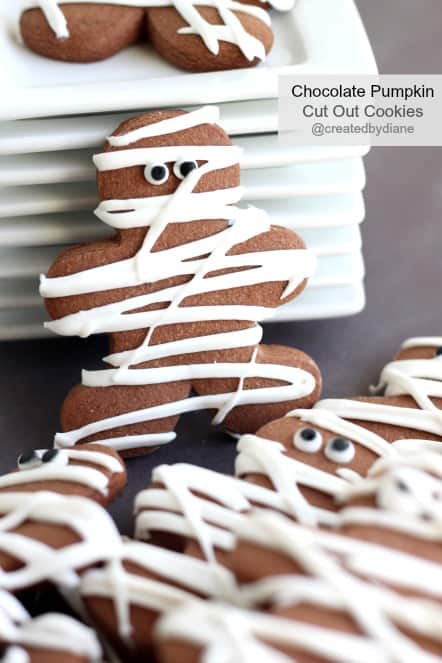 Aren't these cookies just the CUTEST!
Chocolate cut out sugar cookies with the added bonus of pumpkin spice gives these cookies great flavor. Cut them into any shape you'd like, using different cookie cutters. These are cut with a gingerbread boy and decorated like mummies… so cute and perfect for Halloween.
I can imagine these guys running around screaming……
I want my MUMMY!!!!! I want my MUMMY!
Proof the gingerbread cookie cutter isn't just for Christmas time.
I couldn't resist making these guys into mummies.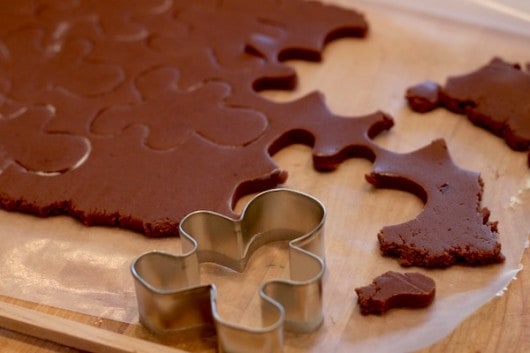 Break out your gingerbread cookie cutter early this year, these little guys are just TOO cute to say no to.
Roll out your dough between wax paper to avoid using too much flour and drying out the dough.
Place them on a cookie sheet and remember not to overcrowd cookies when baking them….trust me on this.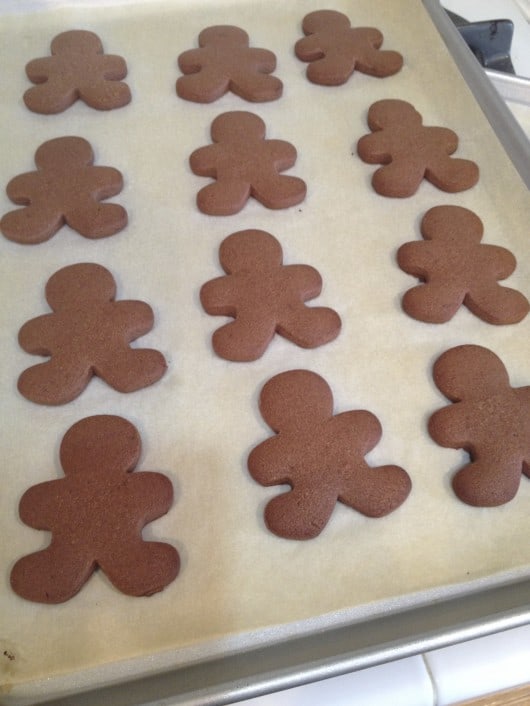 I wish you had smell-a-vision, chocolate, and pumpkin spices…..it's getting yummy in here.
These really are one of my all-time favorite Halloween Cookies, I make batches of these each year and they get rave reviews!
AND…
be sure to take alook at this post… 
these Ghost Cookies are not only super cute they are chocolate and peppermint flavor!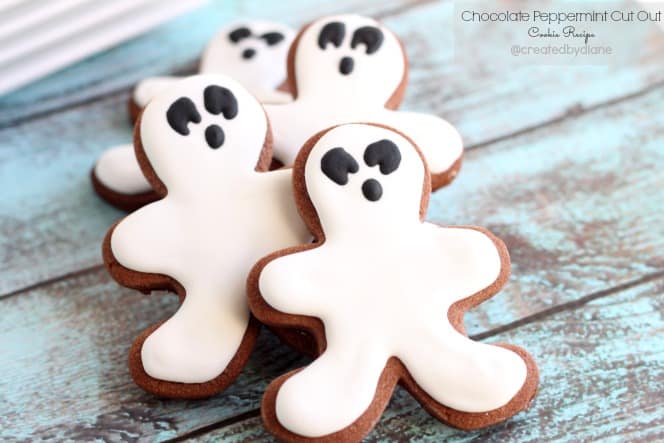 Chocolate Pumpkin Cut Out Cookies
Ingredients
1 cup butter
1 cup brown sugar
1 egg
1 teaspoon vanilla extract
1/4 cup melted and cooled 60% cacao Ghiradelli Chips
2 tablespoons unsweetened cocoa (dutch process)
1/2 teaspoon pumpkin spice baking emulsion (I used Loranns)
2 teaspoons pumpkin pie spice
3 cups flour
2 teaspoons baking powder
1 teaspoon salt
Instructions
Preheat oven to 400 degrees.
In a mixer with bowl, beat butter and sugar
Add egg, pumpkin emulsion, vanilla, melted and cooled chocolate, cocoa, and pumpkin spice, mix well.
Add in flour, baking powder, salt and blend until all combined.
Roll out cookies in between wax paper or lightly floured work surface to 1/4 inch thick and cut with a cookie cutter.
Place cookies onto parchment-lined baking sheets and bake for 7-9 minutes or until edges are firm.
Remove cookies from baking sheets when they are cooled.
Notes
ROYAL ICING RECIPE and INSTRUCTIONS:
https://www.createdby-diane.com/2013/10/royal-icing-googly-eyes.html
You'll need to print these instructions too!
I piped the eyes on with a #2 tip on the whites of the eyes and a #1 with the black.
I used a #264 tip for the white mummy stripes, alternatively, you can use a #5 pinched into an oval if needed.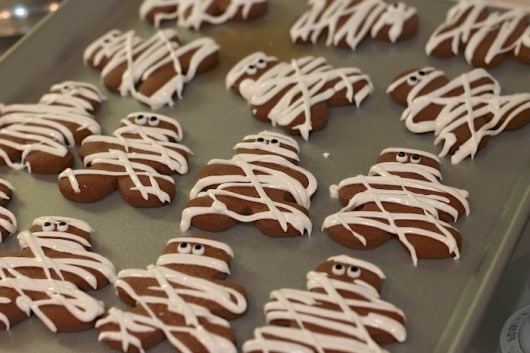 I piped on royal icing back and forth and a bit diagonal to decorate the mummies.
I piped on eyes onto the cookies.
If you need eyes for other Halloween posts here is my post on royal icing googly eyes.
Take a look at all these fun treats for Halloween from everyone in the #HolidayFoodParty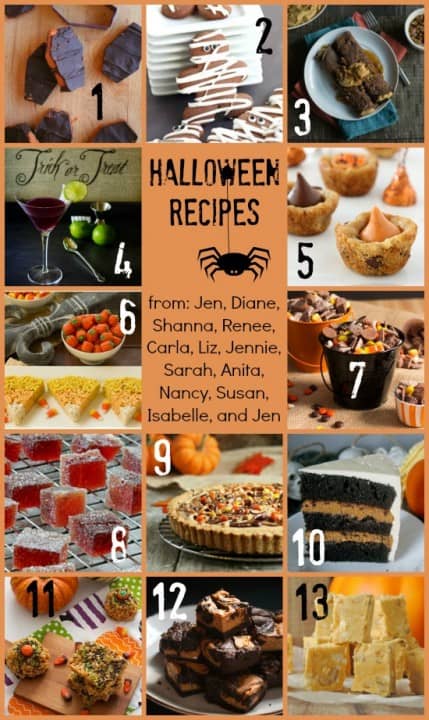 Below is a clickable index that will take you to each recipe:
Butterfinger Bark
Jen's Favorite Cookies
Chocolate Pumpkin Crepes
Pineapple and Coconut
Vampire Delight Martini
Magnolia Days
Pumpkin Spice Cookie Cup
Chocolate Moosey
Candy Corn Krispies
That Skinny Chick
 Halloween Puppy Chow
Messy Baker
Sour Patch Kids
What Smells So Good

Peanut Butter Pie
Hungry Couple NYC

Choc Pumpkin Cake
Gotta Get Baked

 Pumpkin Krispie Treat
Girl in Little Red Kitchen

Pumpkin Brownie
Crumb Blog

 

Pumpkin Pie Fudge
Juanita's Cocina
Click on any of the photos above for the recipes.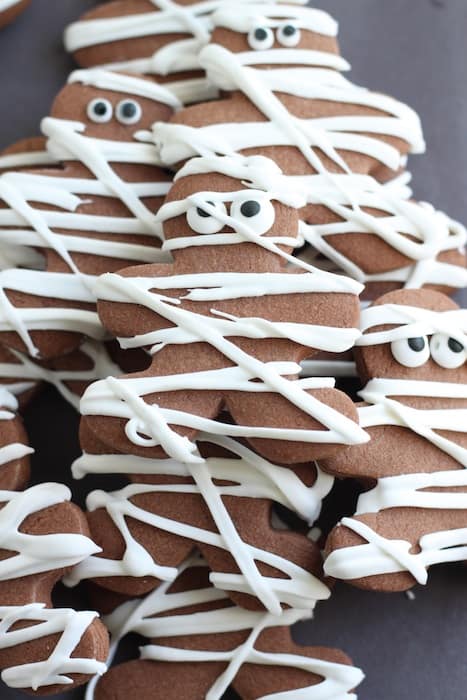 Looks like it's time for you to get into the kitchen and try some of these recipes 🙂