Coconut Cut Out Cookies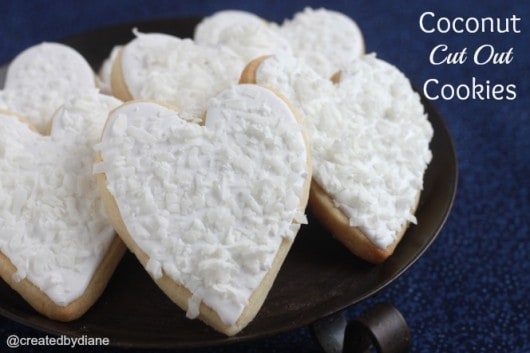 I just love coconut!
toasted, regular even unsweetened…. I love it all.
I remember years ago seeing coconut shrimp on a menu and well…
The menu got closed immediately, I knew just what I HAD to order and it didi't disappoint in the least. Crunchy toasted coconut covering the shrimp and a slightly spicy dipping sauce. Well I was in LOVE, it became a favorite for a while and you know what I think I need to make some real soon. Maybe even coconut chicken, yes coconut chicken….I think I'll make that this week.
Since I love coconut and well I love cookies….doesn't everyone love cookies!
I made coconut cut out cookies with coconut icing and yep you guessed it coconut on top. Yeah these are GOOD!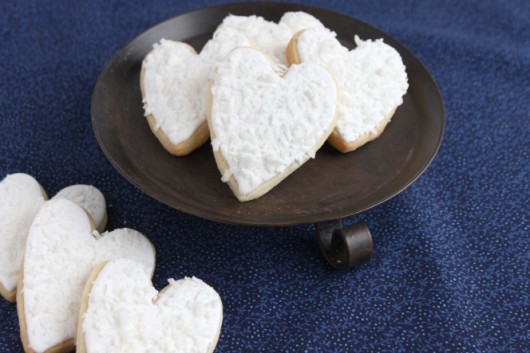 I loved how white-white they turned out, so pretty like snow.
I use Americolor White Food Coloring to be sure the icing is super white. You can find it at cake decorating stores, online supply stores or amazon.
I buy the large bottle as I tend to like everything bright white!
Coconut Cut Out Cookies
Ingredients
1 cup salted butter
1 1/2 cups powdered sugar
1 egg
1 teaspoon coconut emulsion
1 teaspoon vanilla extract
3 cups all purpose flour
2 teaspoons baking powder
1 teaspoon salt
1 cup coconut divided
Coconut Icing
1 1/2 cups powdered sugar
1 tablespoon corn syrup
2 tablespoon water
1/4 teaspoon coconut emulsion
2 drops white Americolor Coloring
Instructions
Cream butter with sugar.
Beat in egg and flavorings.
Add flour, baking powder, and salt.
Dice 3/4 cup sweetened coconut and mix into dough.
Mix until the dough pulls away from bowl.
Roll out on floured surface or between wax paper.
Cut with cookie cutter.
Bake at 400° for 7-9 minutes.
Cool cookies completely before icing
Coconut Icing
Mix powdered sugar, corn syrup, water and coconut emulsion and coloring until smooth.
Chop 1/4 cup coconut.
Pipe icing on cookies and apply chopped coconut on top before icing dries.
Don't miss these yummy coconut recipes too: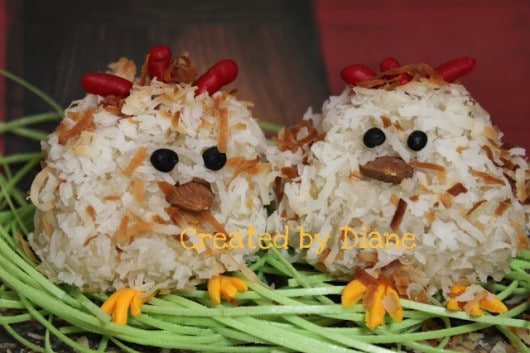 Macaroon Chicks, perfect for Easter