Being popular can be great, in some instances and this is one of those times…
Most Popular Posts from createdby-diane.com
Don't miss one delicious recipe and get my FREE e-cookbook click here!
Here is a list of some of my Most Popular Posts. I didn't want you to miss seeing any of them! Click on the titles below the photos to view the posts.
I update this post periodically adding popular posts.

Luau Cupcakes- pineapple and coconut and looking so pretty, these are irresistible!
Oatmeal Cupcakes with Cinnamon Sugar Frosting- Yes, oatmeal in a cupcake and it tastes SO GOOD!
 Prosciutto and Cantaloupe Appetizer-maybe the easiest ever, they are always a huge hit
S'more Cupcakes- These are absolutely delicious!

Mini Pies in Mason Jar Lids-aren't these just the cutest pies ever
Beet Dyed Deviled Eggs-these really are the prettiest eggs you'll ever see
How to Frost Rose Cupcakes-no baker of cupcakes should be without knowing this favorite, recipe and how-to including video!
My favorite Pancake Recipe- no morning should be without perfect pancakes

Cheesy Bacon Breakfast Potatoes in 5 Minutes-yes only 5 minutes to make this!
Pancake Cupcakes with Maple Frosting- these are so fun and taste amazing
Red Velvet Cookies- my favorite cookies any time of years
How and Why I Cook Chicken for the Week all at Once- this is just ONE way how I get great meals on the table fast, take a look at all the details and recipes.

Gingerbread Cheesecake Bites-these are often requested, the flavor combo is outstanding
Lemon French Toast-I just love lemon and this French toast is wonderful
How to Prevent Stale Cake- if you have cake, you have to know how to keep it tasting great, that is if there are leftovers!
How to Ice Cookies without a Piping Bag-if you bake cookies, this is the must-read post for you!

Creamy Mac and Cheese Recipe here-this creamy mac and cheese is a staple in my house!
Brownie Cookie Recipe here-brownie,,,, in cookie form… need I say more!
Baked Ziti Recipe here- a tried and true recipe that is a crowd pleaser and my go-to meal to make for other when delivering dinner for families in need of a thank you, helping hand, sick family member etc.

Red, White, and Blue Deviled Eggs
How to roast a turkey overnight
These are just some of the 1000+ recipes you'll find here at Created by Diane, take a look here to locate the recipe index to find more recipes.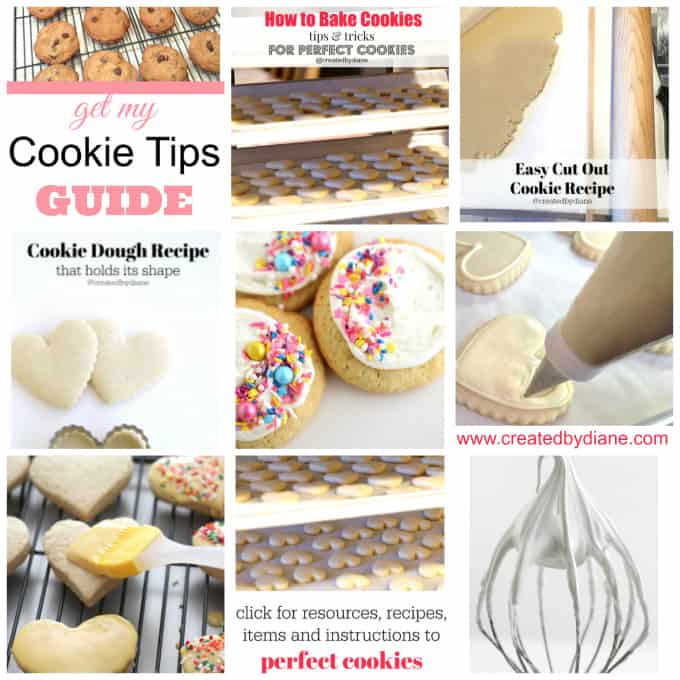 LOTS of info on baking cookies here:

Thanks so much for stopping by!
Sharing this post is appreciated and encouraged. Use the share buttons at the top and bottom of the post, there are many options to all your favorite social media channels and you can also email it to a friend. Print out the recipe to enjoy it on your next kitchen adventure. Please don't copy and paste the full post, it's prohibited without written consent from me. Recipes including wording and photographs are Copyright of createdby-diane.com.
Please enjoy this recipe and click here to sign up for email updates to receive recipes in your inbox.
~Diane