Banana Cut Out Cookies with Banana Icing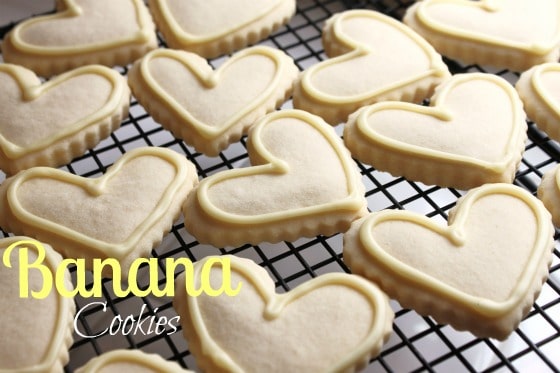 I always loved banana popsicle as a kid. These banana cookies remind me of them!
Really they do.
I just love that yummy banana flavor.
A few years ago I found an entire bag of banana popsicles. It had to be a bag of about 50 banana popsicles. I couldn't get them into my cart fast enough. The rest of my shopping trip, all I could think about what those popsicles. I couldn't wait to get home to have one.
I didn't!
I grabbed one right out of the bag and opened it up and stood there trying to load the rest of the groceries into the trunk one-handed. All the time hoping the banana popsicle wouldn't drip down my arm, I wouldn't want to have to lick my arm all the way to my elbow in the parking lot. Come on…you wouldn't either!
I did, however, enjoy that banana popsicle and the many that followed.
I sure how I find them again this year!
So to reminisce about that wonderful banana popsicle, I made banana cookies. The real beauty of these is they aren't going to drip down your arm all the way to your elbow. You may find yourself eating them with one in each hand, but there is nothing I've come up with to solve that problem. That is if that's a problem for you.
If you enjoy banana popsicles as much as me,
feel free to make a batch of these and sit and enjoy!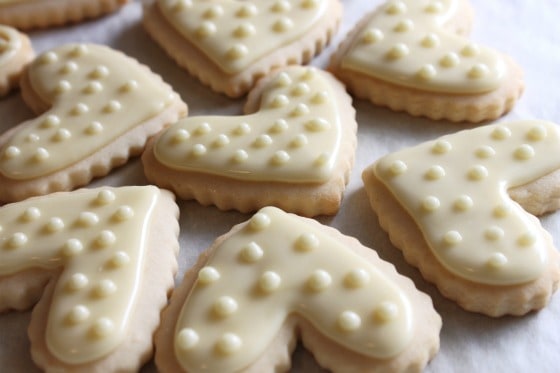 To create the raised polka dots on these I let the first coat of icing dry then applied the dots.
Banana Cut Out Cookies with Banana Icing
Ingredients
1 cup butter
1 ½ cups powdered sugar
1 egg
2 teaspoon banana extract
1 teaspoon vanilla extract
2 ¾-3 cups all-purpose flour
2 teaspoons baking powder
1 teaspoon salt
Instructions
Cream together butter and sugar.
Add egg and extracts.
Blend in flour, baking powder, and salt, adding this mixture one cupful at a time.
Mix until the dough is well blended and pulls away from sides of the bowl.
Roll out dough on floured surface and cut into desired shapes.
Bake at 400° for 7-9 minutes.
Banana Icing
Ingredients
Mix 2 cups powdered sugar
1 tablespoon corn syrup
2 tablespoons water
1 teaspoon banana extract
Instructions
Mix until smooth and creamy. Add a drop or two of yellow food coloring. I used egg yellow. Pipe onto cooled cookies with a piping bag.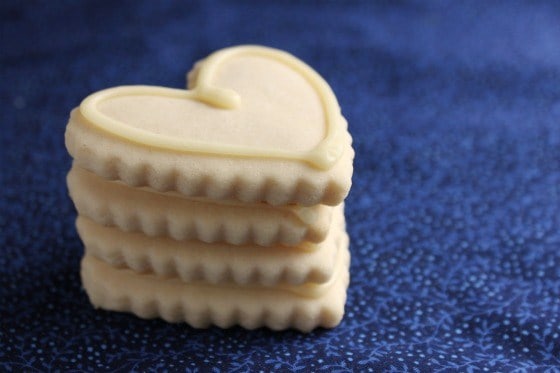 Other yummy banana treats!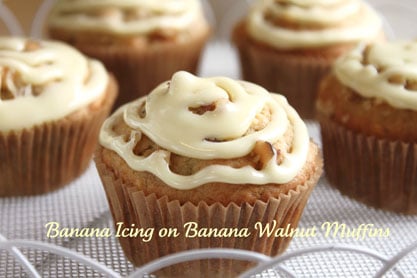 Banana Icing on Banana Muffins