No dessert table should be without these Italian Cookies! These are the type of cookies you'd find in an Italian Bakery, not overly sweet, but with a great glaze on top. Impress your friends and family with these great cut out cookies.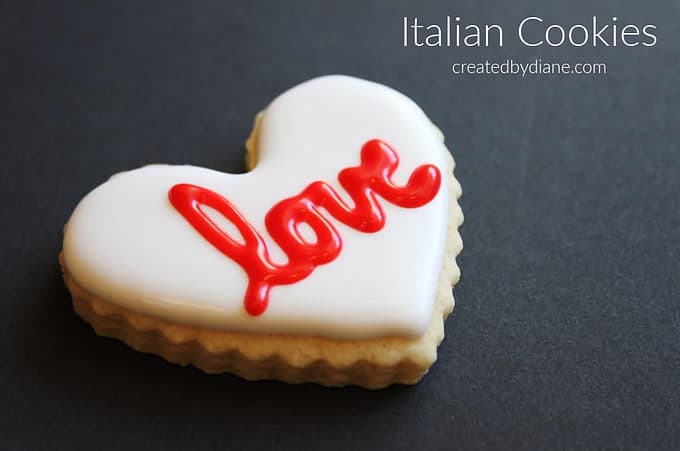 This cookie recipe has both conversions for American Cups and European Grams.  
This is such a delicious cookie recipe, less sweet than crisp sugar cookies. These are like the type of cookies you'd find in an Italian bakery. 
You can make these cookies into any shape, using cookie cutters or scoop them and roll them into balls, as you've seen drizzled with a glaze icing in bakeries.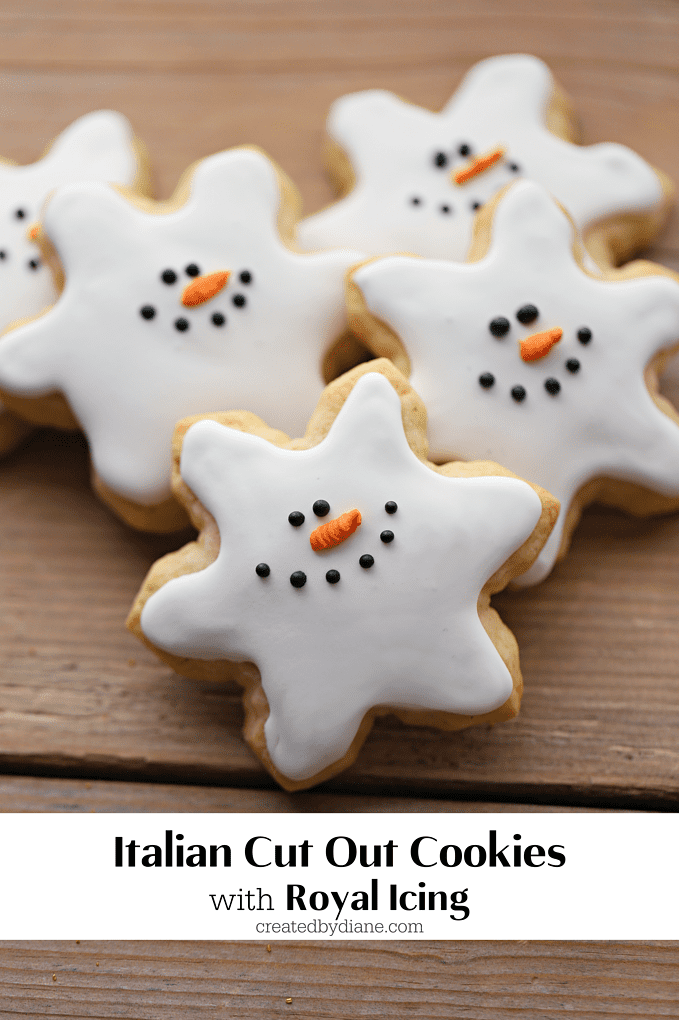 There are two popular icing recipes to use on these cookies you may like, glaze icing, simple and sweet, or royal icing, while straightforward forward this takes a little more patients to make and use to get to the correct consistency for icing cookies.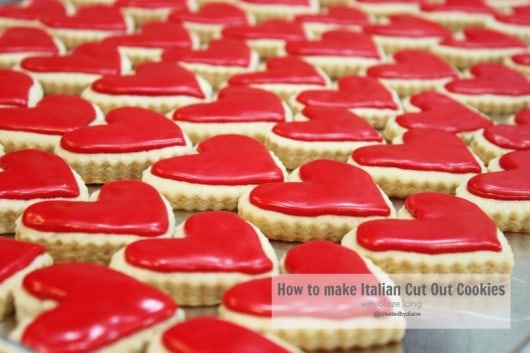 I really LOVE Italian bakeries and especially Italian cookies.
These cookies are THOSE types of cookies!
They aren't as sweet as American sugar cookies, but then the icing on top is the sweet part, making the best flavor combination. 
This is a great cut out cookie recipe, the cookies rise up nicely, hold their shape, and have a cake-like quality to them that is irresistible.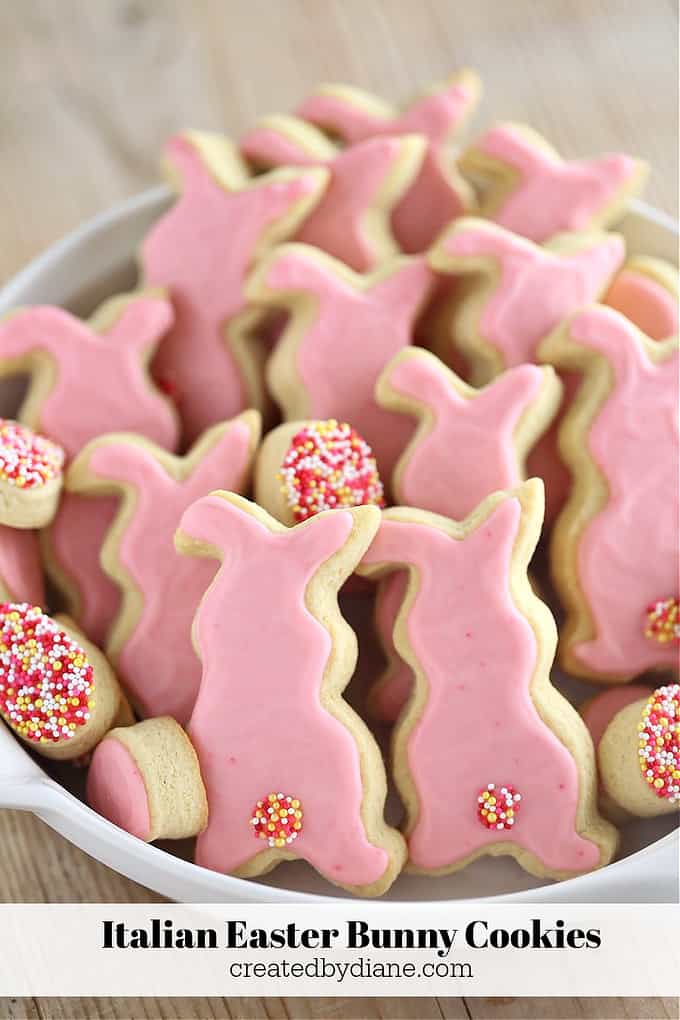 These are tender and flavorful. I cut these cookies 3/8″ thick, they come out perfect every time. I use wooden dowels on each side of the cookie dough and roll the rolling pin over the dowels to be sure the cookies are all the same thickness.
They have a lovely vanilla flavor, but you can easily add the flavoring of your choice be it lemon extract, almond extract, peppermint extract, anise extract or similar.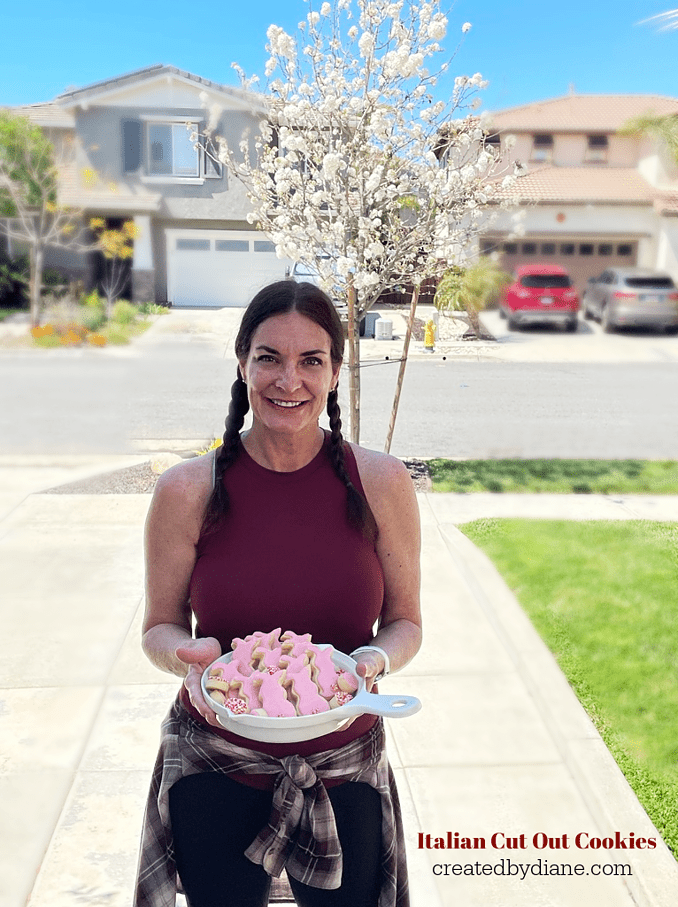 I've cut out lots of cookies and when I first started blogging I wrote posts for other blogs and now realize I didn't share some of those informative posts with my readers.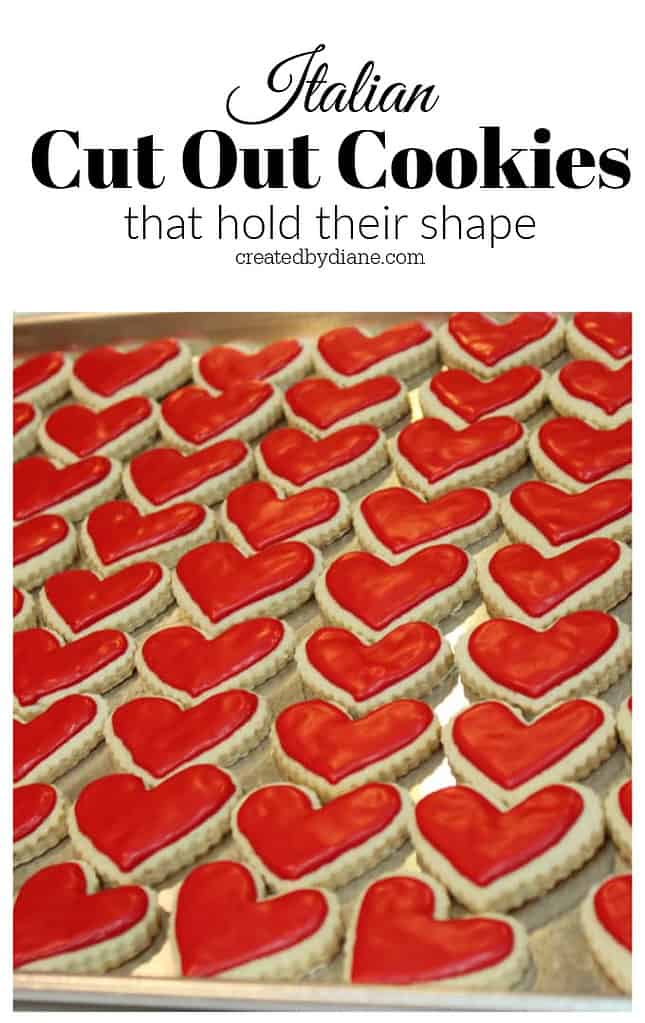 Today I'm sharing an older post and all I will say is my cookie decorating has gotten better and so has my photo taking abilities. But I wanted to share this post with you.
These cookies are so delicious, they bake up nicely with a little more rise than my cut out sugar cookies. They have a more European biscuit quality to them than American sugar cookies. If you haven't tried them, they are worth it and you can ice them easily or more decoratively with a piping bag.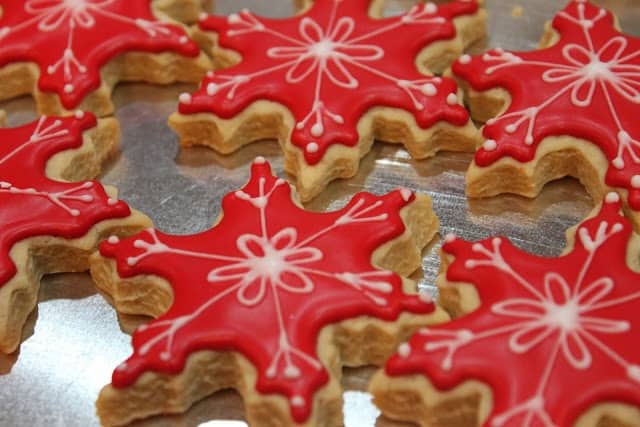 See… practice makes perfect or in my case, it gets better with time, perfect…well maybe not yet, but I'm trying!
This is still a favorite tried and true cookie recipe and with all the Holiday upcoming baking, you may want to try this one and the fun tip I have for adding sprinkles after the icing has dried.
These are so many options with cut out cookies, you can change the shape and colors but having a cookie and icing recipe you can GO TO, is priceless!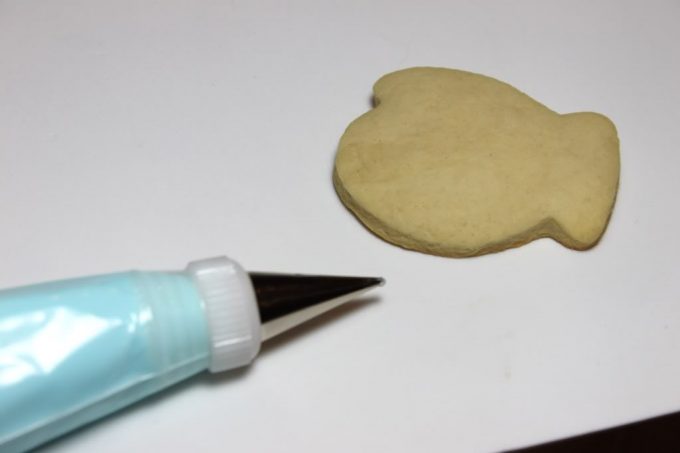 Begin with a cooled cookie and prepare the icing. Place icing in a piping bag with a #2 tip for outlining your design.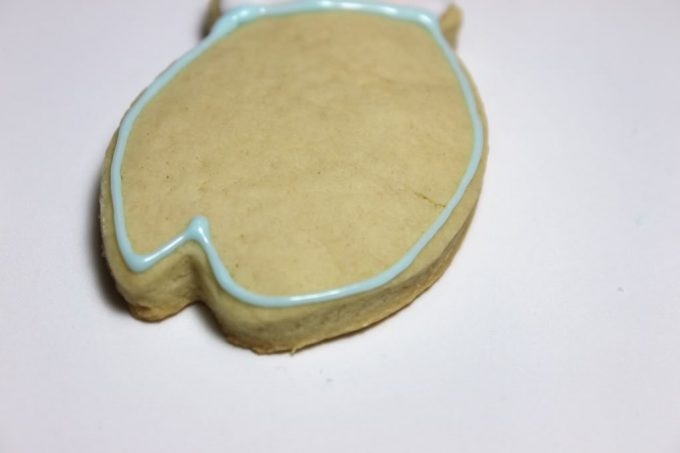 Outline your cookie. Leave just a little cookie showing so the icing won't fall off the edge when you fill it.
Hold the tip off the cookie and let the icing fall onto the cookie for a smooth line. Don't stretch the icing.
I outline 6 cookies then fill them in, the outline is not very noticeable, but allowing it a couple minutes to set up help the other icing from falling off the edge.
Then fill in the icing, you can switch to a #3 tip to fill it in easier. If it's not filling in completely within 10 seconds use a toothpick or the tip of the icing and swirl the icing to fill in the empty spaces.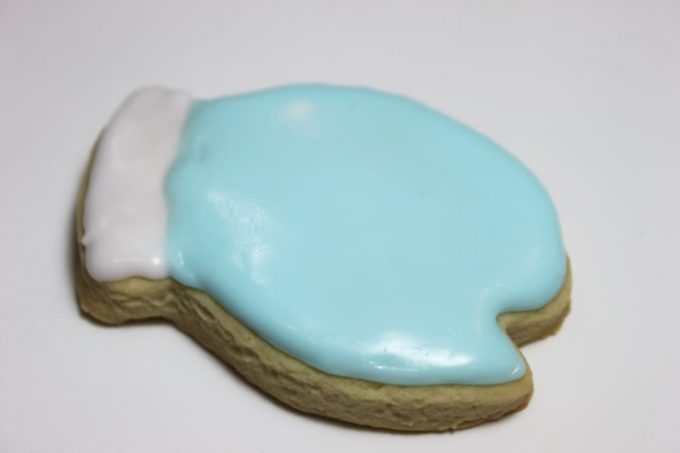 If you are using two or more colors finish one color first and allow it to set up, then work with the other colors, that way they are less likely to run into each other. which happens more often with darker colors.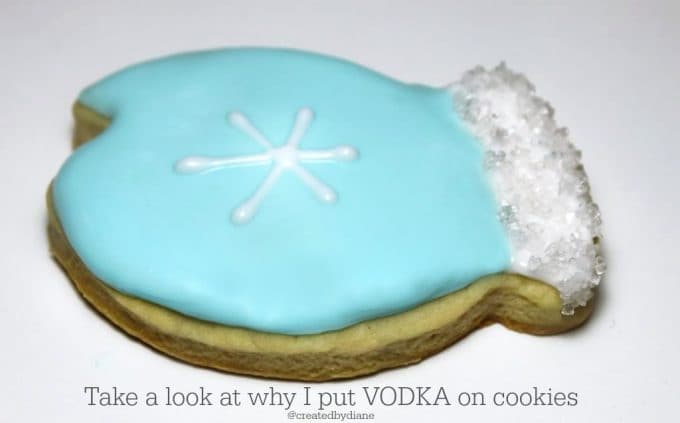 Vodka!
This is a great trick to get sprinkles to stick on a portion of the cookies especially if you don't want more icing added. If you are working on a large batch, this works well, once the area has dried I take a small paintbrush and lightly apply a stroke of vodka to the area you want sprinkles. If you are covering the entire cookie in sprinkles then just apply the sprinkles when the icing is still wet.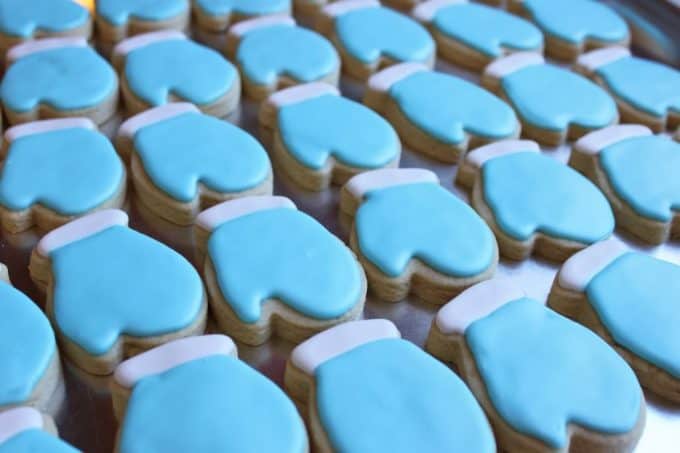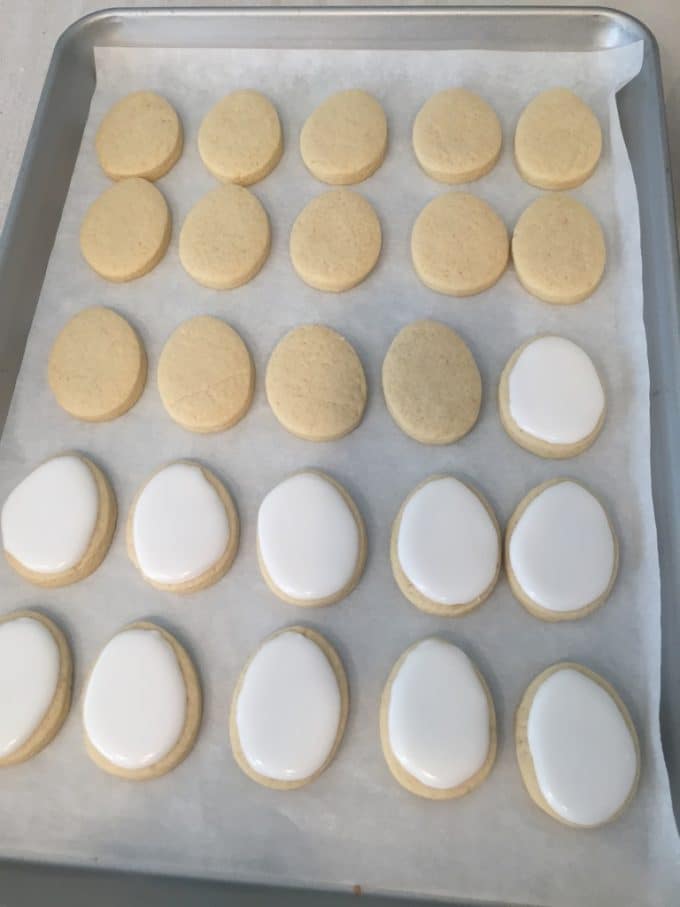 Once the icing has dried (about an hour) you can apply some details without it bleeding. I piped on a simple snowflake with the white icing and #2 tip.
Allow your cookie to set overnight.
They will not get stale, the icing is covering the majority of the cookie and they will still taste fresh and delicious.
This project can be broken up into stages and you can make the cookies ahead of time.
When I work on a large project 8-10 dozen with multiple colors, I break it up and work on them for three days especially if I'm wrapping them individually, that takes time.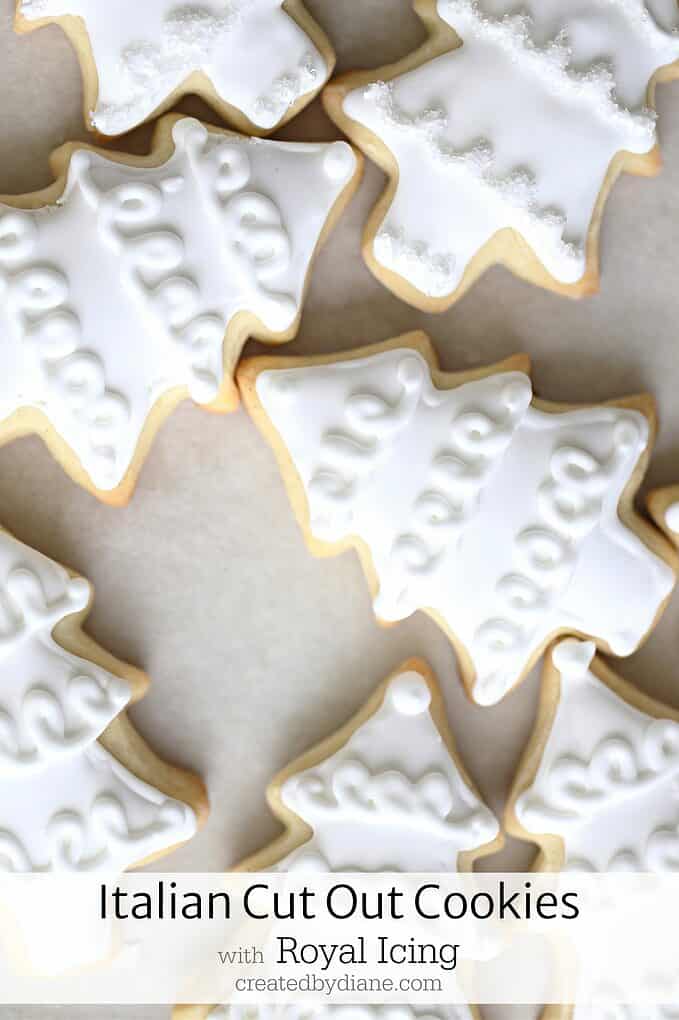 You'll find the Royal Icing Recipe here.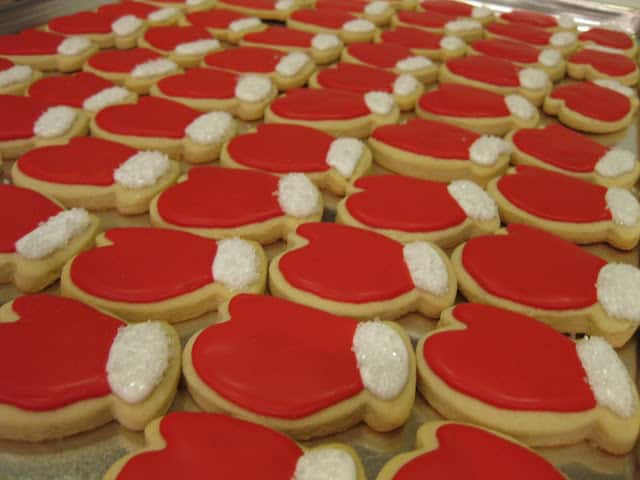 I've made multiple batches of cookies for cookie exchange parties, and they are always a huge hit.
Ice cookies look so pretty on a tray, they can be any color you prefer.
you can coat them in sprinkles or add some to the edges or to one end like on these mittens.
Iced cookies are not only great for Christmas Cookies, but they are also great served all year long, using any shape cookie cutter and any color icing to fit with any occasion.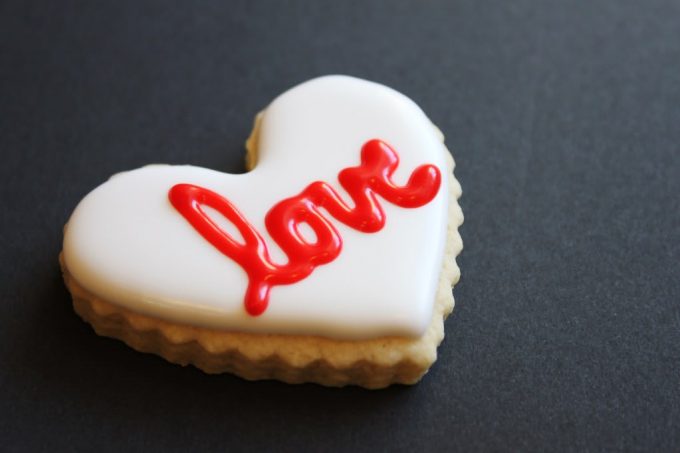 Italian Cookies
A delicious cookie that holds its shape, bakes up nice with a golden bottom, perfect for icing or enjoying with a hot drink or milk. No need to refrigerate the cookie dough before using.
Author:
Diane Schmidt, Created by Diane
Recipe type:
Dessert, Cookies
Cuisine:
American, Italian
Ingredients
5 large eggs
1 1/2 cups (345g) salted butter melted and cooled (10 minutes)
5-6 cups flour (5=737g 6=895g) start with 5 add more as needed
1 ¾ cups sugar (366g)
2 teaspoons baking powder (8g)
3 teaspoons vanilla (15g)
Instructions
In a medium bowl, whisk eggs and melted butter.
In a large bowl stir together flour, sugar, and baking powder.
Make a well in the center of the dry ingredients and add the egg mixture then vanilla.
Mix, until shiny. About 2 minutes.
Cover the bowl with waxed paper and let the dough stand at room temperature for 20 minutes. When rolling out this dough, don't be afraid to add flour. It will not make the dough tough.
Heat oven to 350 degrees roll out dough to 3/8" thick with flour and cut with a cookie cutter.
Bake 12 minutes
Makes at least 5 dozen (3-inch) cookies.
Let cookies completely cool before icing.
Notes
* updated to add that I now typically add all 6 cups of flour at once and roll the cookies in between wax paper sheets and I don't need to add any additional flour. I used to roll the cookies with some flour, each time I would add flour to the dough so it was easier to handle, but the wax paper really has made making these cookies more effortless.
glaze icing
Ingredients
2 cups confectioners' (powdered) sugar
2 Tablespoons water
1 Tablespoon corn syrup
1 teaspoon vanilla extract
food coloring
Instructions
In a small bowl mix together until smooth add more milk/water if too thick or confectioners' sugar if too thin.
Add food coloring and vanilla and mix well. I prefer Americolor food coloring.
When you pull up some icing on a spatula and drizzle it back into the bowl, the design should disappear in 10 seconds for the correct consistency.
Outline the cookie with a #2 tip and use a #3 tip to fill in the design.
Let icing set on decorated cookies before storing, this takes about 12 hours.
The cookies won't go stale, the icing is covering the tops preserving the freshness.
Add the water slowly to the powdered sugar, you may not need it all or you can add more if you want the icing thinner.
Italian Cookie and Glaze Icing PRINTABLE Recipes
 HERE IS MY VIDEO ON ICING COOKIES with a PIPING BAG
Looking for more tips on baking cookies be sure to check this ou…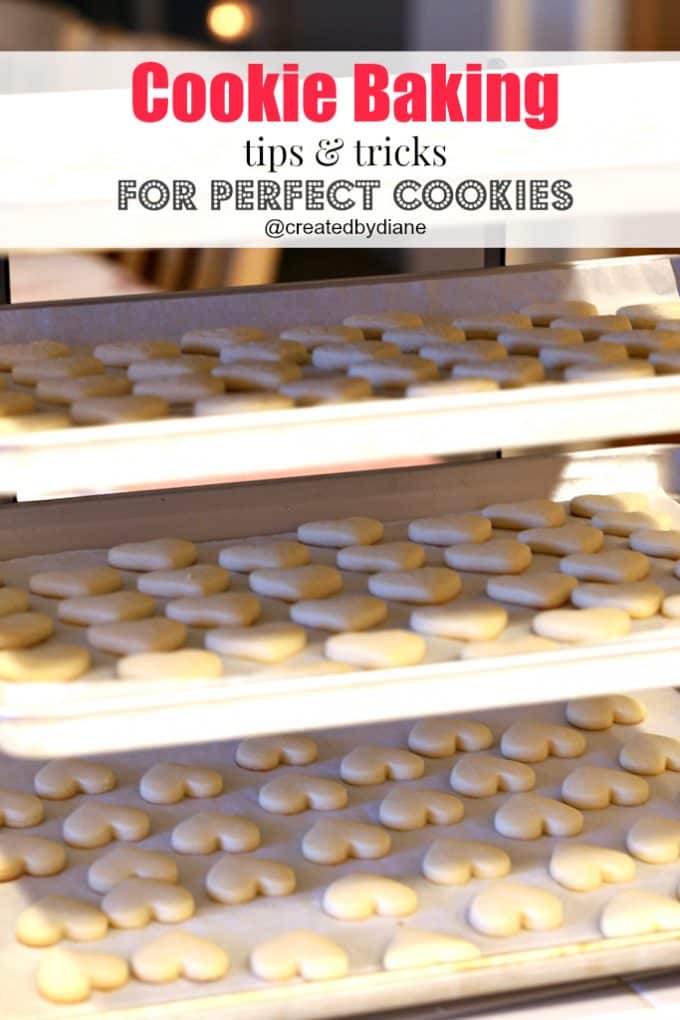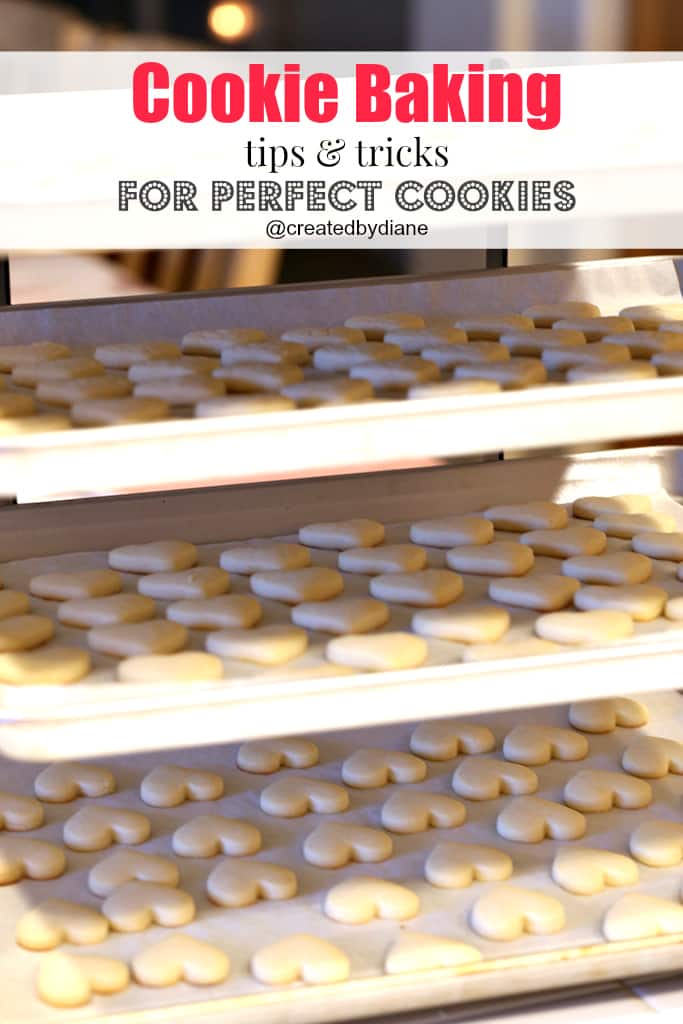 Be sure to look at this POST on How to Bake Perfect Cut Out Cookies!