Butterscotch candies have always been a favorite of mine, and butter rum lifesavers candy too. These cookies are full of that great butterscotch flavor and they are super pretty too.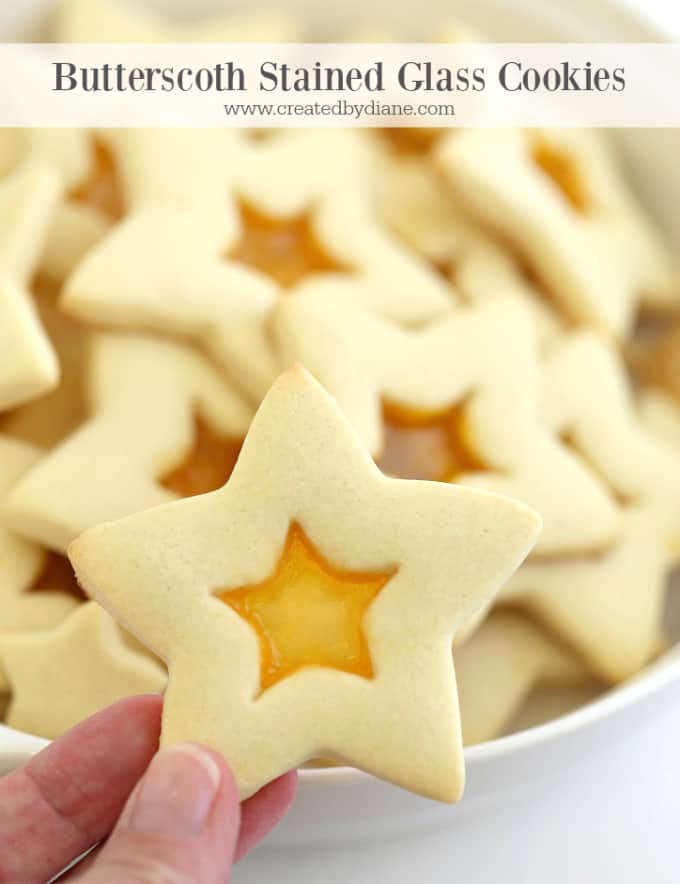 When I was a kid I loved getting the "lifesavers candy book" at Christmas time, so it only seemed natural to create a cook with those in mind.
I never saw them any other time of year but at Christmastime. Now they are readily available. I see those butter rum candy in stores everywhere.
The gold butterscotch candies were very popular, and I enjoyed them all the time!
I still by bags of them and always seem to have some in the cabinet for snacking. Sweet, buttery and delicious. These cut out cookies not only have that great flavor they look like stained glass.
I just love how these look, they are great for cookie exchanges or to adorn you cookie platters all year long.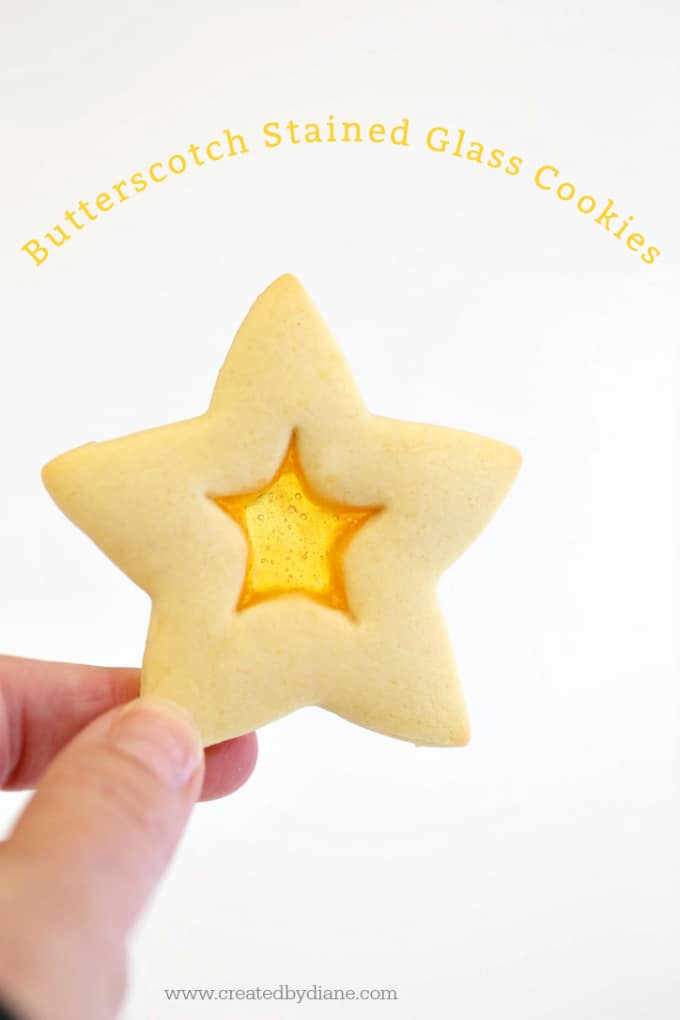 These beauties are made with crushed up butterscotch candies.
Now butterscotch candies are really hard and I tried a to crush them like I would other hard candies, in a bag wrapped in a towel and hit it with a rolling pin, NOTHING happened.
Plan B worked best, I placed them into a mini food processor. I began pulsing it and then let it run until the candies are broken into tiny pieces and powdery. (you can see them all crushed in the photo above)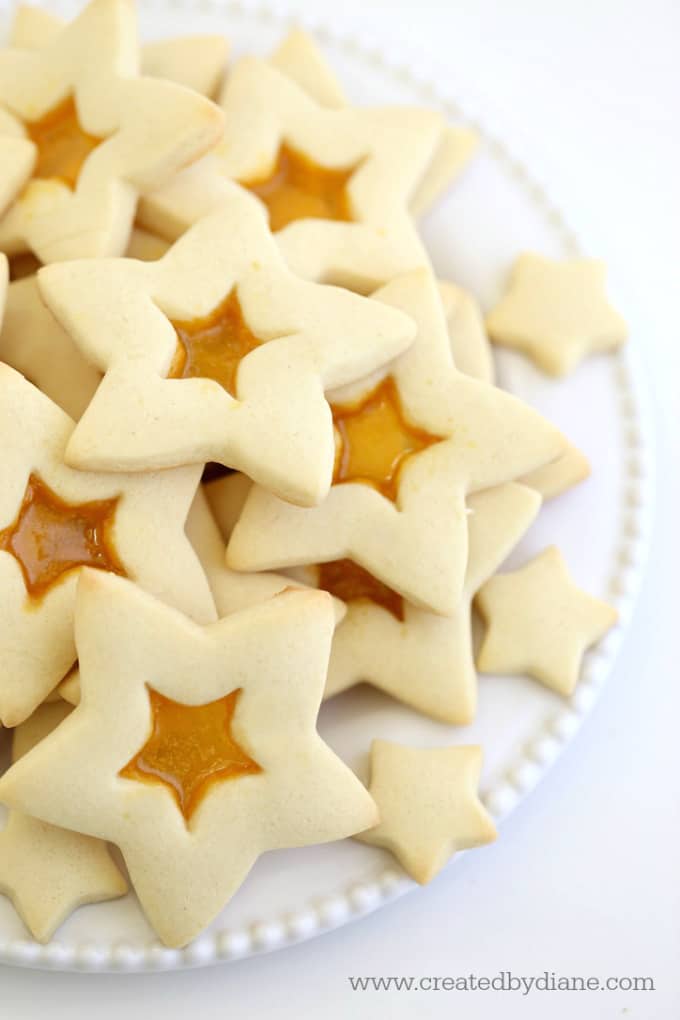 Be sure to bake the cookies on parchment lined (or use a Silpat) baking sheets so the candy (as well as the cookies) don't stick.
You can use just about any shape cookie butter you'd like, you'll need a larger cutter and a mini cutter to create the "window". They can be two different varieties too. Example for hearts you can you use a round larger cutter with a small heart inside, or a larger mitten with a heart inside, a large tree and smaller tree. You get the idea, right!
With this recipe I made 22 stained glass cookies and 22 mini stars, if you wanted a few more stained glass cookies, you can just re-roll the mini cut outs and make a few more stained glass stars.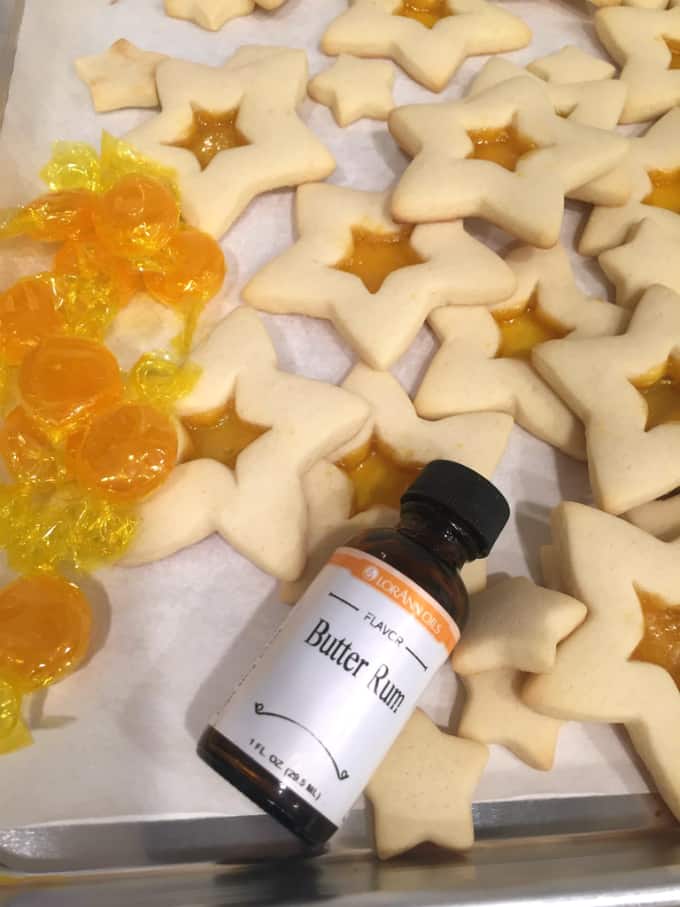 12 candies were enough to fill 24 cookies. If you are making more, crush some more candies. Depending on the size cookie cutter you use, adjust the quantity accordingly.
Stained Glass Butterscotch Cookies
Ingredients
12 butterscotch candies
1/2 cup butter
3/4 cup powdered sugar
1 egg
1 teaspoon butter rum extract (butter extract or butter vanilla extract)
1 1/2 cups flour
1 teaspoon baking powder
1/4 teaspoon salt
Instructions
Preheat oven to 400°
Place butterscotch candies in a mini food processor and pulse until they are crushed completely you'll the pieces to be small and powdery.
In a mixer bowl beat butter with sugar until smooth
Add in egg and extract and mix on medium-low until combined
Mix in flour with baking powder and salt.
The dough will be smooth pull away from the sides of the bowl.
Roll out cookie dough to 1/4" between waxed paper.
Use the larger and smaller cookie cutter to cut out the shapes in the cookie dough, then transfer the cookies to parchment-lined baking sheets.
Pinch the crushed candy and put some in the center of the cookies don't overfill them, and brush off any excess candy off the cookie dough for great results.
Bake at 400° degrees for 7 minutes.
Allow cookies to cool on the baking sheets completely.
Notes
You can easily double this recipe ( double ingredients except use only 1 egg and 3 cups flour)
If you'd like to see more info on baking cut out cookies be sure to check out my complete post with tips and products I love.