Chocolate Bunny Cookies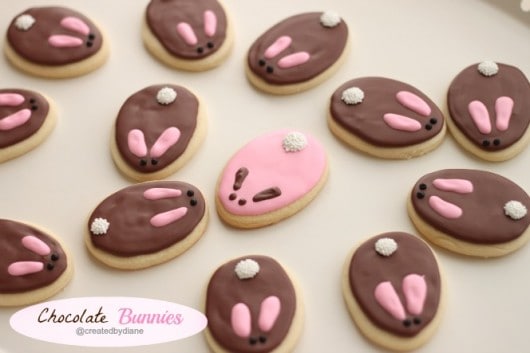 These cute bunnies have become my favorite Easter cookies.
I made lots of bunny cookies last year.
I see more chocolate bunnies this time of year it seems than, furry white bunnies.
I thought it was time to make a bunch of chocolate bunnies. I sent a bunch of cookies to my brother's family and well my nephew just loves the chocolate bunnies and asked my I sent white bunnies too. I guess I should have known chocolate would go over real well with him.
I sent the box at the end of last week, knowing they would most likely arrive a day before I did. I had it all planned out, I just love when plans work out well. They were all happy to get some cookies, but I'd like to think they were happier when we all arrived the next day.
We are looking forward to a fun Easter with everyone.
I hope your Easter Plans turn out well. It feels more like Winter Break than "Spring Break" the weather is colder then we are used to. But as I reminded my kids we are not going on vacation for the weather. We live in Southern California and the weather is pretty wonderful year-round.
This trip is all about family! This is the time you want to s-l-o-w down, some days we wish we could speed up time. This is the opposite!
If they eat all the cookies I just may have to make more while I'm visiting, or maybe I'll just make some other yummy treats.
I'm also looking forward to a nice dark chocolate bunny myself, some chocolate covered marshmallows and all the other fun Easter candy we see only once a year.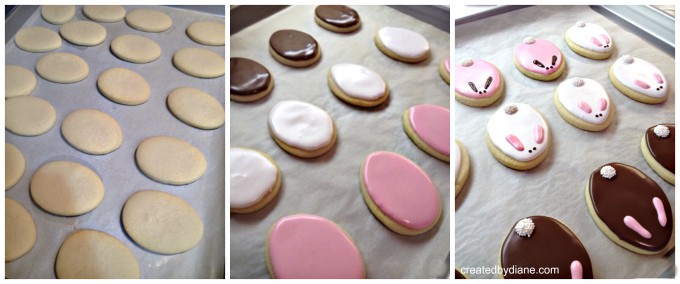 Chocolate Icing
Ingredients
1 1/2 cups powdered sugar
1/4 cup chocolate cocoa (unsweetened)
3 tablespoons water
2 tablespoons corn syrup
1 vanilla extract
Instructions
Mix powdered sugar with cocoa and sift them.
Then add water, corn syrup and extract.
Mix until smooth.
Add more water or powdered sugar if it's too thin or thick for you to pipe on.
Notes
Make white glaze icing and tint some pink for ears and tail. Add a drop of black coloring to a small amount of brown glaze icing for eyes. Add nonpareils to tail are while the icing is still wet. Add details to cookies with a #2 tip and a #1 tip for the eyes.
Here is a great post for putting the base coat on the cookies without a piping bag. 
How to ice cookies without a piping bag.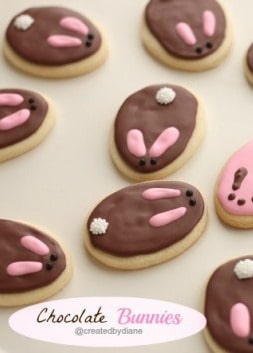 Happy Easter!