These aren't just ordinary chocolate sugar cookies, this recipe makes for perfect chocolate cut-out cookies every time. This chocolate cut out cookie recipe hold their shape and don't spread when baked. Making them perfect in every way. With a delicious chocolate flavor, a tender texture and can be cut into any shape with cookie cutters. These cut-out cookies can be iced, or decorated with sugar, or left plain.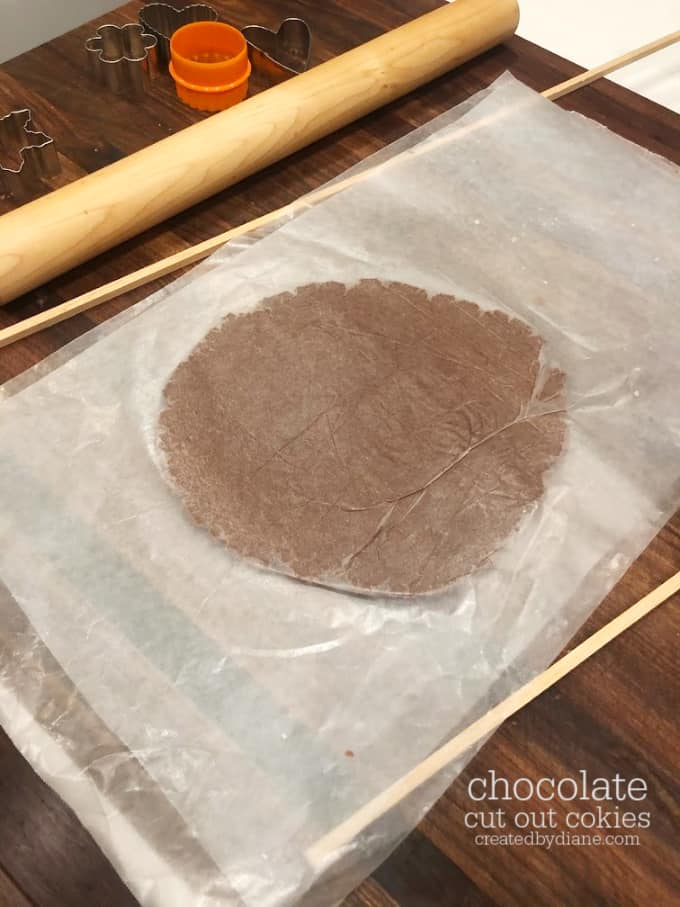 This recipe will have you rethink cookies, most people think cut-out cookies can be time-consuming and more difficult, this recipe proves them wrong.
The consistency of the cookie dough is easily rolled smooth and allows them to be transformed into the perfect cookie with great chocolate flavor into any shape, for any occasion. From birthdays to Christmas cookies, and cute chocolate bunnies cookies for Easter.
I share with you some of the cookies I've made from chocolate heart-shaped cookies with lavender icing and simple snowflake cookies that everyone will love, you can even add a 1/2 teaspoon of peppermint extract for a fun chocolate peppermint flavor, or add the peppermint to the icing.
Not only are these cookies cute they taste great, these chocolate cut-out cookies are made with cocoa and melted chocolate, giving them better flavor than lots of chocolate cut-out cookie recipes.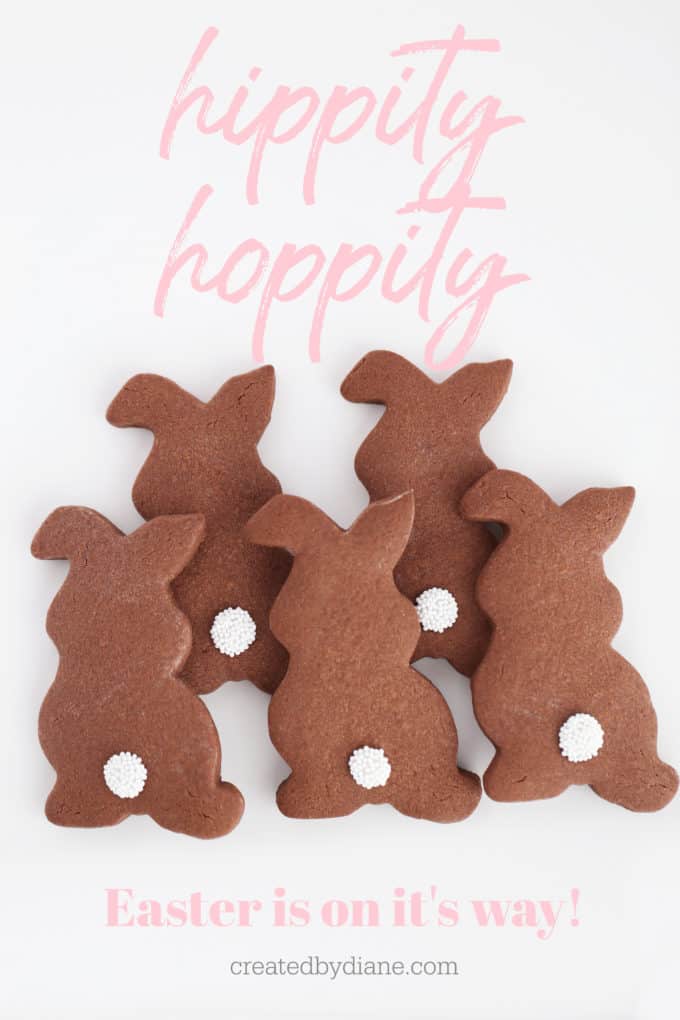 Roll out cookie dough between wax paper so you won't need to add more flour. Additional flour on cut-out cookies can make them dryer, they will crumble, and they will crack when rolled out and cut with cookie cutters. 
How to fix dry cookie dough?
If you feel like the cookie dough is too dry, cracks, won't roll out and remains crumbly add a tablespoon of butter to your hands and droll the cookie dough in a ball with your buttered hands to soften the dough.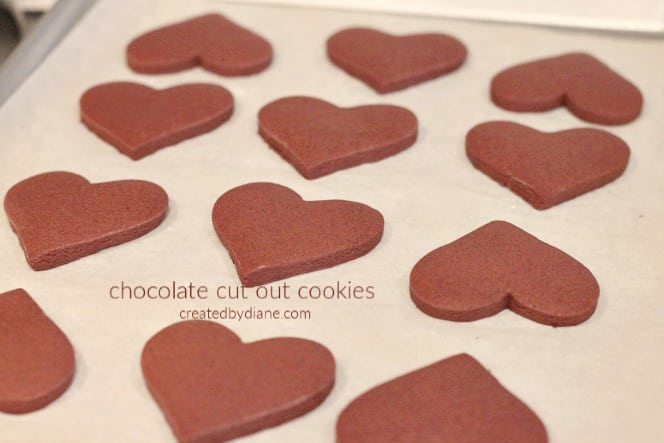 To get clean lines on cookies, flour the cookie cutter before pressing it into the cookie dough. This will prevent the cookies from messing up. 
Then use a small metal spatula to move the cookies off the counter and onto the baking sheets.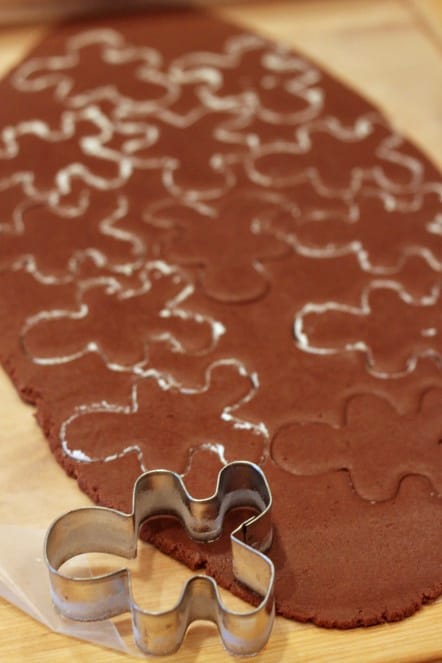 How many cookies are in a batch of cookie dough?
This batch of cookie dough will make an estimated 3 dozen cookies, but as the size and shape of cookies are all different if you use a smaller cutter you'll get more cookies and if you use a large cutter you will get fewer cookies.
Can this recipe be halved?
This recipe can easily be cut into half for a small batch of cookies. Cut all ingredients in half, except the egg. Use 1 egg, then add 2 tablespoons of additional flour. I do this often when I want a smaller amount of cookies.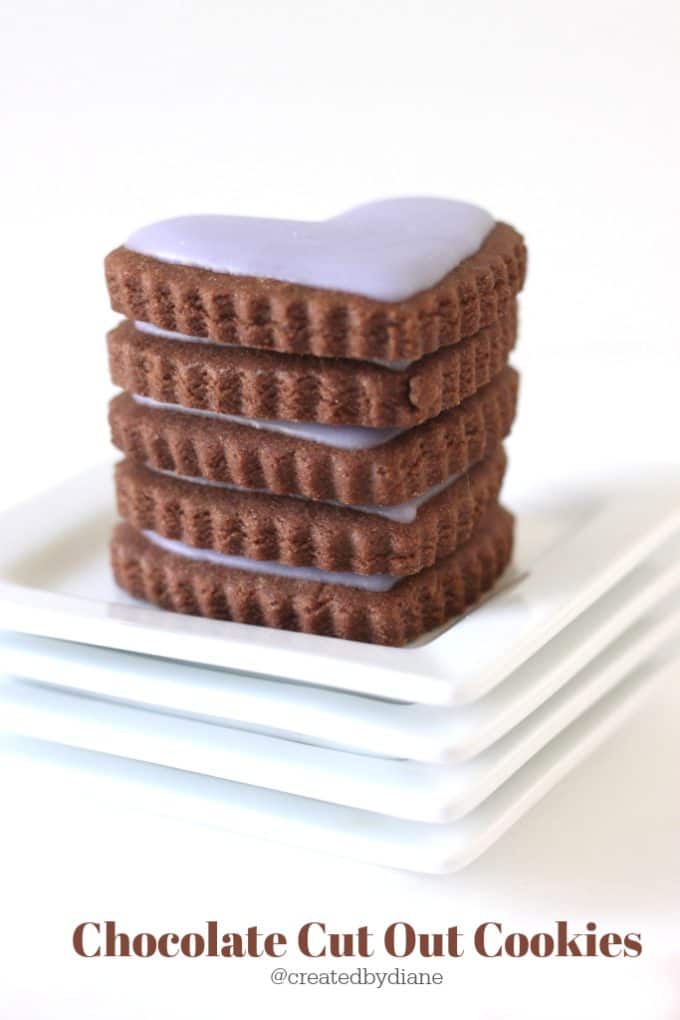 How do you make frosting or icing for cookies from scratch?
Royal Icing Recipe for cut out cookies
CLICK here for the royal icing recipe, add a 1/2 teaspoon peppermint extract to that recipe and add a couple of drops of pink food coloring and you're all set for a winter wonderland of fun and delicious cookies.
Royal icing is great for an intermediate baker. 
I often prefer making Glaze Icing as it's simple and no fuss with everyday ingredients.
Glaze icing is simple to make with very few ingredients
powdered sugar 
water
food coloring
extract for flavor, I always add vanilla, but you can use lavender, almond or another flavor you prefer.
corn syrup (makes the icing smooth and shiny, but not necessary if you don't have it)
posts on glaze icing
and even more on glaze icing posts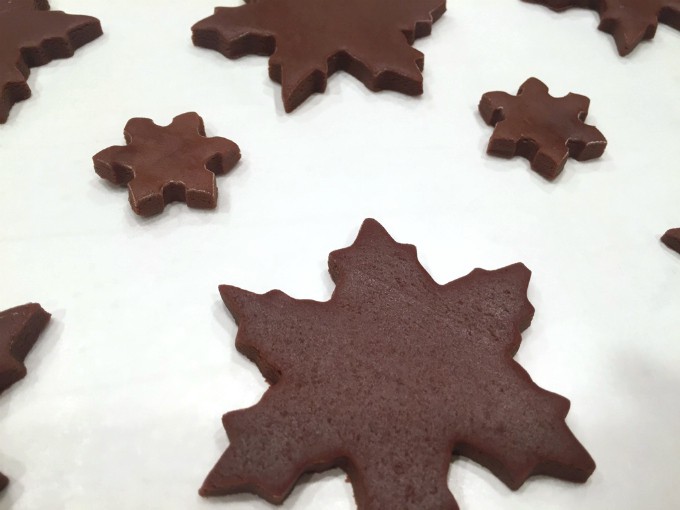 Chocolate snowflakes… yum!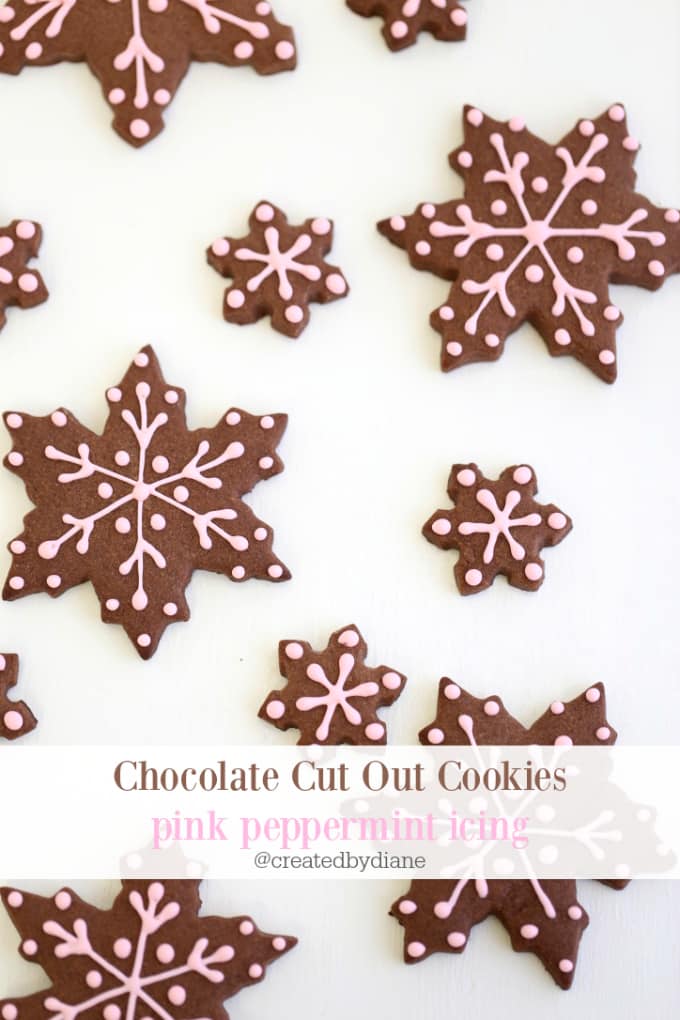 When the holidays roll around and I break out the snowflake cookie cutter,
I'm transported back to those fabulous childhood memories of playing in the snow…
sledding, snowball fights, building snowmen, and eating delicious cookies made special this time of year.
Who can eat just ONE Cookie anyway… not me!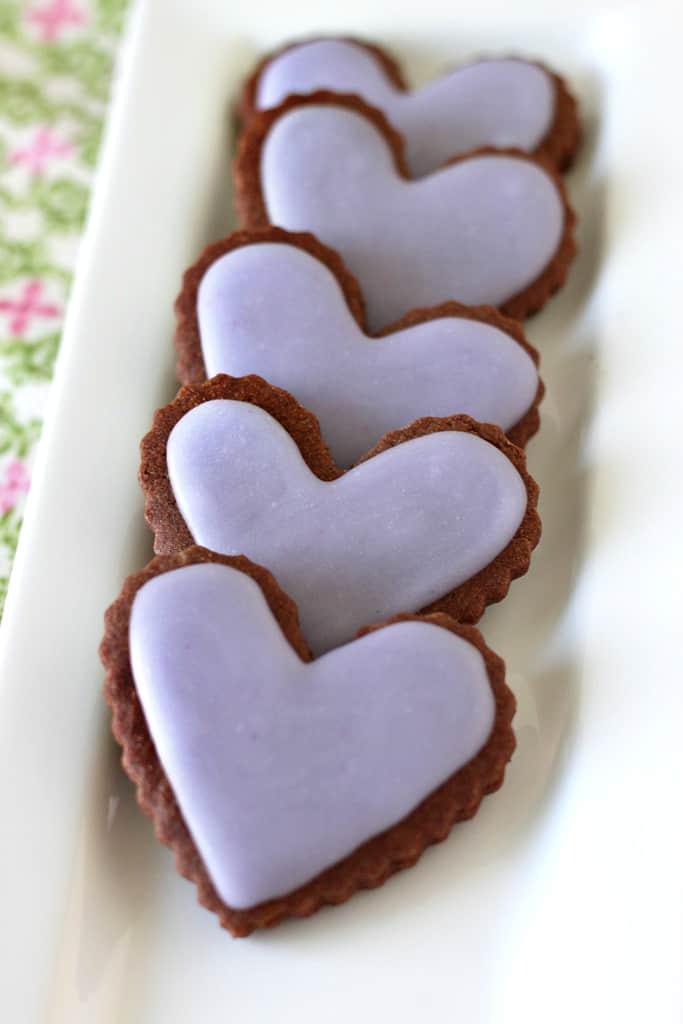 I often wrap cookies in clear cellophane bags and tie them with a festive ribbon, these cookies would make the perfect holiday gift for a teacher, co-worker, or friend. I know I'd love to be on the receiving end.
Of course, a whole tray of these cookies would be a show stopper for any holiday party.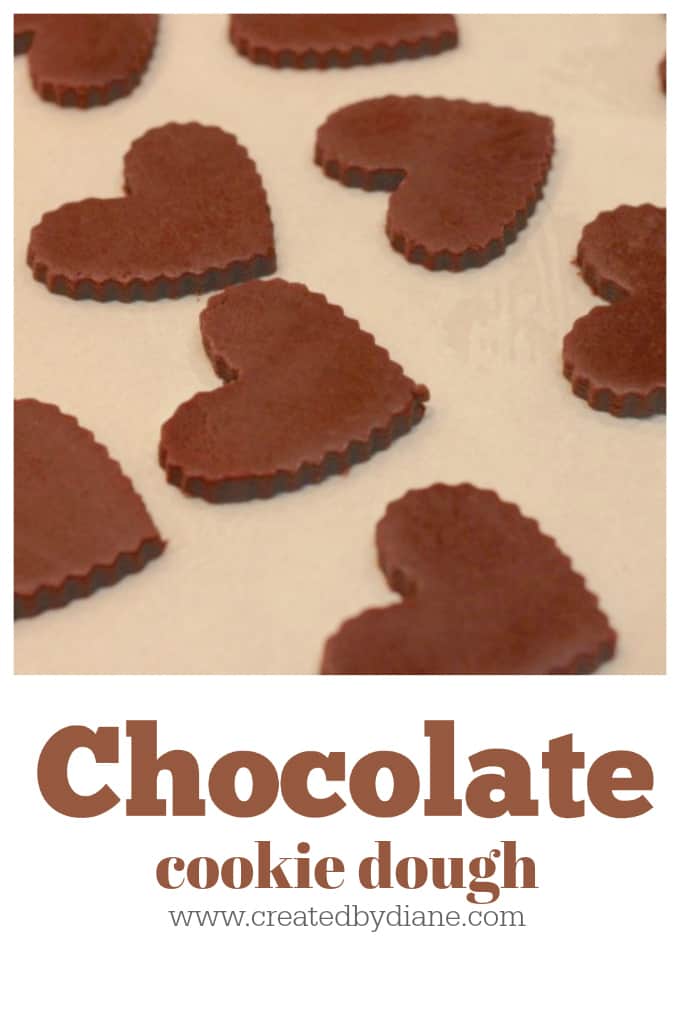 How do you make chocolate sugar cookies from scratch?
There are a few simple steps to making these chocolate sugar cookies, you'll beat butter with sugar, then add in the egg, melted chocolate, and vanilla. Next, you'll mix in the flour, cocoa, baking powder, and salt. When it's all combined well, you're ready to roll the cookie dough out and cut it with cookie cutters.
If you're looking for more chocolate cookies
Chocolate Glass Bottom Cookies
Rainbow Sprinkle Chocolate Cookies
Chocolate Cake Mix Crackle Cookies
How do you make fancy sugar cookie dough?
This recipe provides a great chocolate sugar cookie, it can be decorated as fancy as you prefer with icing or you can make a pretty cookie with cookie cutters to match a theme or occasion.
How do you ice sugar cookies like a pro?
Using a piping bag to apply icing onto cookies, ensures the icing will be put on neatly and evenly and you can pipe it into any design on top of these cookies to create gorgeous professional-looking cookies. It just takes practice.
How do you make sugar cookies without icing?
You don't need to apply icing to these cookies, you can leave them plain. You can roll the cookie dough into balls then into sprinkles and bake them. You can also dip the cookie into melted chocolate and lay them back on parchment-lined baking sheets to set up nicely.
How do you put sprinkles on sugar cookies?
There are two way to apply sprinkles to cookies, you can roll the cookie dough into sprinkles, then bake the cookies, or bake the cookies, apply the icing and put sprinkles on top of the icing or frosting immediately before the icing or frosting sets up and gets hard so the sprinkles stick.
How do you make cookie icing look good without piping it on?
What can I use if I don't have a piping tip?
You can spread icing on cookies with a knife, small offset spatula, or a plastic bag, just cut a small corner of the bag to pipe the icing, or you can make a cone shape out of parchment paper and using that to pipe icing onto cookies.
Can I use a Ziploc bag for icing?
Yes, but press gently as they are not leakproof when under pressure and can leak, you can use two bags (double bag the frosting if you think you may have a thin bag with will leak)
Be sure to take a look at my other cut out cookies:
 you can make it any color you prefer, you can pipe it on cookies, or spread it on cookies with a spatula or back of a spoon.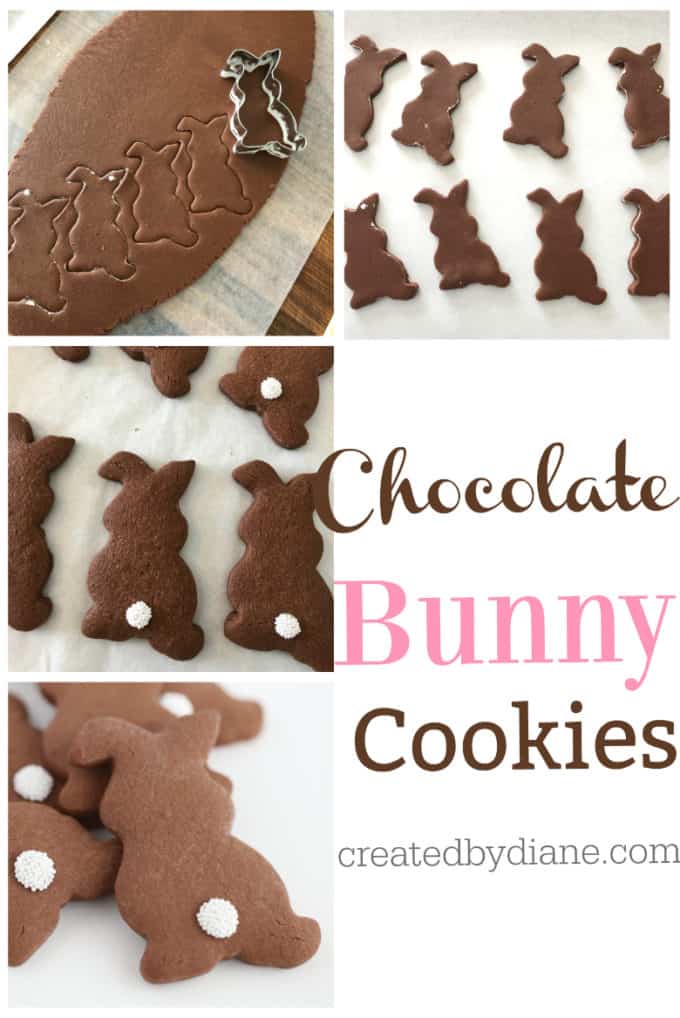 These chocolate bunny cookies have become my favorites, so cute and simple to decorate. Perfect for Easter!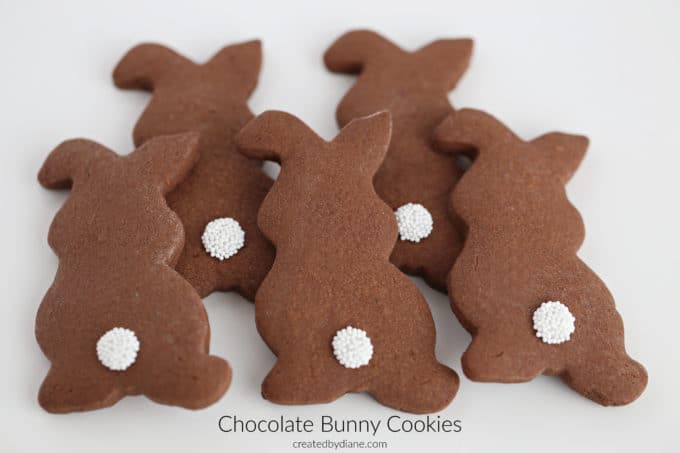 Never under estimate how a small detail can make all the difference!
I added a drop of icing to create the bunny tails, then dipped the cookies into white nonpareil sprinkles.
Chocolate Cut Out Cookies
Chocolate cut-out cookies made with cocoa and melted chocolate for tender chocolate cookies you'll enjoy year-round.
Author:
Diane Schmidt Created by Diane
Ingredients
1 cup butter
1 cup powdered sugar
1 egg
1 teaspoon vanilla extract
¼ cup melted and cooled chocolate (I use cooled 60% cacao Ghiradelli Chips)
2 tablespoons unsweetened cocoa (I use Dutch process)
3 cups flour
2 teaspoons baking powder
1 teaspoon salt
* If you prefer your cookies sweeter add 3 tablespoons of granulated sugar
Instructions
In a large mixer bowl, beat butter and sugar until fluffy.
Add egg, vanilla extract melted and cooled chocolate, and cocoa mix thoroughly.
Add in flour, baking powder, and salt, and mix until all are combined.
Roll out cookies in between wax paper to ¼ inch thick and cut with a cookie cutter.
I use 2 wooden 1/4" dowels to ensure all my cookies are the same even thickness.
Once the cookies are cut out, use the scraps, and make a ball with it, then roll it out flat again and cut the remaining cookies.
Place cookies onto parchment-lined baking sheets and bake at 400 degrees for 7 minutes.
Edges will be firm but not browned.
Cool cookies completely on a baking sheet before moving and icing.
Notes
You can scoop out cookie dough into tablespoon-sized balls and roll them in coarse sugar, sprinkles, or jimmies, then place them on parchment-lined cookie sheets and flatten them slightly with the bottom of a smooth glass to make them into a disk shape.