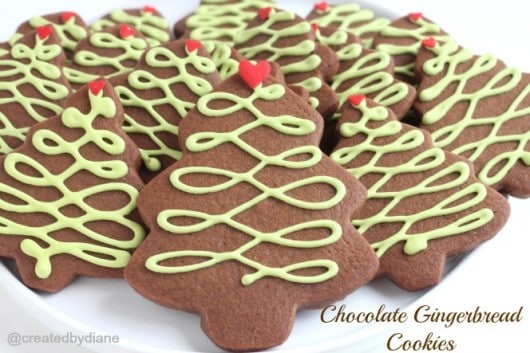 Merry Christmas everyone!
I made about 15 dozen of these cookies in the last week.
Chocolate meets gingerbread in this delicious combination.
I couldn't wait to create this combination as soon as I made these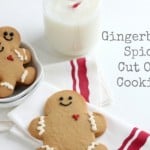 I've made many, many dozens gingerbread cookies this month and decided to make the chocolate gingerbread into Christmas Trees. I iced them with a green ribbon look and topped them with a tiny heart sprinkle.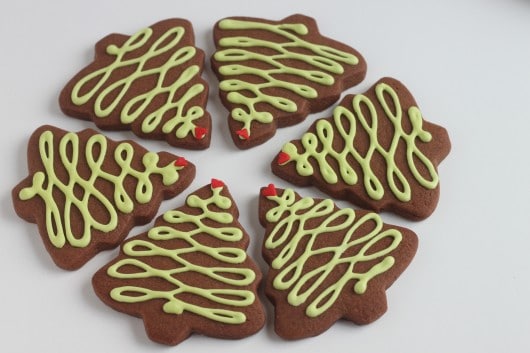 I ended up making a single batch, then a double batch and am glad to say that I'm finished baking for at least a day!
It is Christmas after all and my oven needs a break!
Chocolate Gingerbread Cookies
Ingredients
1 cup butter
1 cup brown sugar
3 tablespoons molasses
1 teaspoon pumpkin pie spice
¼ cup melted and cooled 60% Cacao Ghirardelli Chips
2 tablespoons cocoa
1 egg
3 cups flour
1 teaspoon vanilla
2 teaspoons baking powder
1 teaspoon salt
Instructions
Beat butter and sugar
Add the molasses egg, vanilla, melted chocolate, cocoa, pumpkin pie spice and mix well.
Add in the flour, baking powder, salt and blend until all combined.
Roll cookies on floured surface and cut with gingerbread boy cookie cutter
Place each tray of cut out cookies in fridge for 10 minutes or until chilled
Bake at 400 degrees for 7-9 minutes or until edges are firm and lightly golden.
Notes
I iced the cookies with green
royal icing
I used two drops of electric green and avocado green.