I just LOVE all things red and heart related, don't you?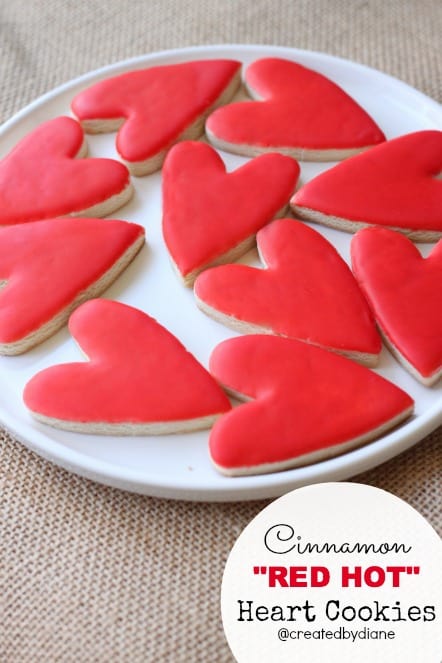 Remember those Red Hot Cinnamon Hearts Candies…
They are available in candy shops and seem to be everwehre this time of year.
I have many memories of them, my mom used them when she made applesauce when I was a kid and she used to keep a jar of them in the baking cabinet, you know that special cabinet where all the magic was kept!
My mom makes the best applesauce and those Red hot Cinnamon hearts have something to do with that, I'm sure.
I remember my brother always trying to sneak into to cabinet where my mom kept them to throw a handful in his mouth and laughing when my mom caught him.
Which is some what funny, since my brother swears he doesn't like things spicy only hot and well I think there is some contradiction there and always have. But that is a discussion for another time with him, when I feel like talking until I'm blue in the face…. but I love him and well… I miss him all the time. I wrote a post about him a while back and he just read it, and  you know what he called me the next day. So I'll be expecting my phone to ring tomorrow…but I'm not holding my breath, it could be months before he sees this post.
All this talk about cinnamon candy reminds me how much I have always liked Big Red Gum, with that spicy cinnamon taste.
I love the Cinnamon Altoids too.
Making these cookies is like all those fun things all in one….the cookies have a kick of cinnamon and so does that pretty red icing.

Cinnamon "RED HOT" Heart Cookies
Ingredients
1 cup butter
1½ cups powdered sugar
1 egg
1 teaspoon vanilla extract
2 teaspoons cinnamon extract (Mc Cormick's)
4 drops cinnamon oil (Lorann's)
3 cups all purpose flour
2 teaspoons baking powder
1 teaspoon salt
Instructions
Preheat oven to 400°
Cream together butter and powdered sugar.
Mix in egg and vanilla and cinnamon extract.
Blend in flour, baking powder and salt.
Mix until the dough forms a ball.
Roll out between wax paper sheets and cut with cookie cutter,
Bake at 400° for 7-9 minutes.
Cool completely before icing.
Cinnamon "RED HOT" Glaze Icing
Ingredients
1 cup powdered sugar
1 tablespoon corn syrup
2-3 teaspoons cinnamon extract (mcCormick's)
4 drops cinnamon oil (Loranns)
2 tablespoons water
6-8 drops red coloring (I use Americolor Super-red)
Instructions
Mix all ingredients together until smooth,
add more water or powdered sugar until desired consistency is achieved.
I use the 10 second rule most of the time when piping icing onto cookies. I drag a spatula across the bowl of icing and the icing takes 10 seconds for the icing to completely cover over.
I used my "[b]icing the easy way method[/b]"(click on the words for the post) to ice these cookies, click here for video.
I iced the cookies using this EASY method. Click here to see
video here
I wrote a post about
how to ice cookies without a piping bag
, so these are super easy to make and I bet you could whip up a batch for someone you love just in time for Valentine's day!
At this point I should send some of these cookies to my brother, don't you think…I bet he would love them as much as me.