Fruitcake Cut Out Cookies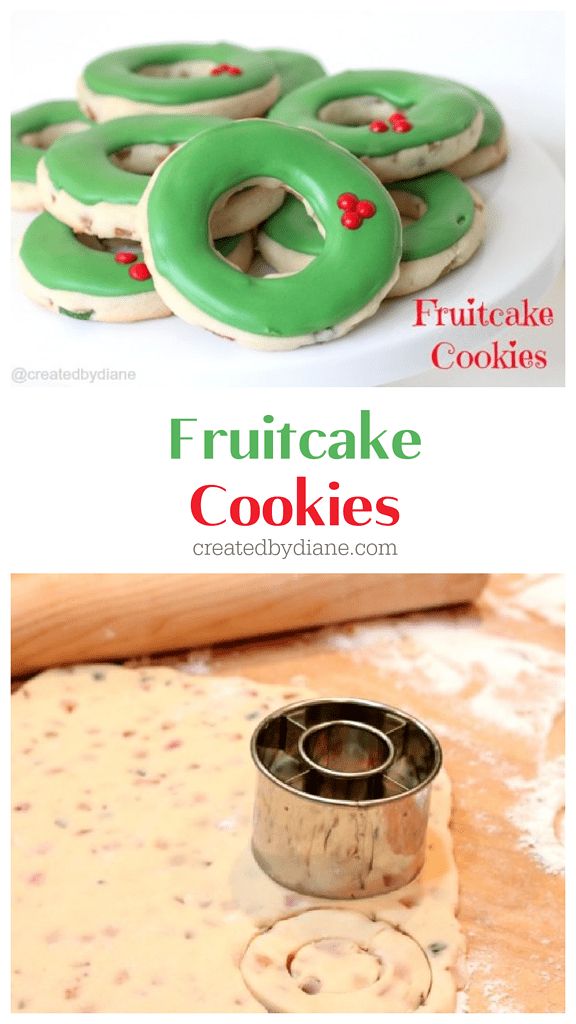 This isn't in anyway the OLD type of hard as a rock type of fruitcake item,
these are a new, prettier, lighter version just in time for Christmas.
These are pretty quick to make and ice too.
I'm sure all your neighbors would LOVE some of these this year.
I know I would.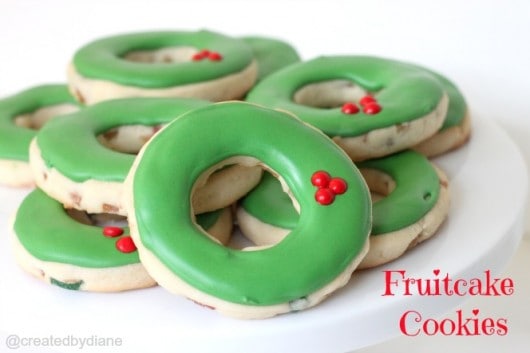 I'm all wrapped up in everything Christmas right now, except I haven't wrapped one single gift yet.
I'm really all wrapped up in baking fun, unique and yummy treats for Christmas.
Do you like fruitcake? Or do you fear even trying it, after all the bad attention it gets? Well as I mentioned on my Fruitcake Scone post, fruitcake is my dads favorite, so I not only made him a batch of scones but I also made him these fruitcake cookies.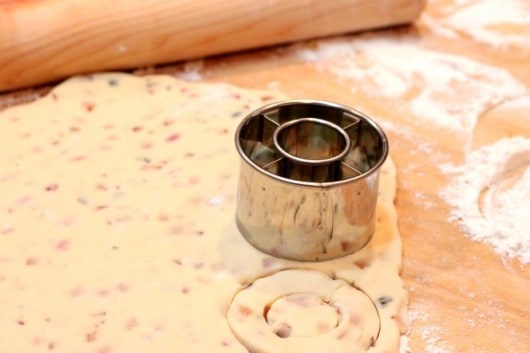 I used a donut cutter to make the wreath shapes. I got the idea after making the mini wreath cakes with my donut pan, oh they are so cute. Did you see them? I just love alternate uses for these cute donut items.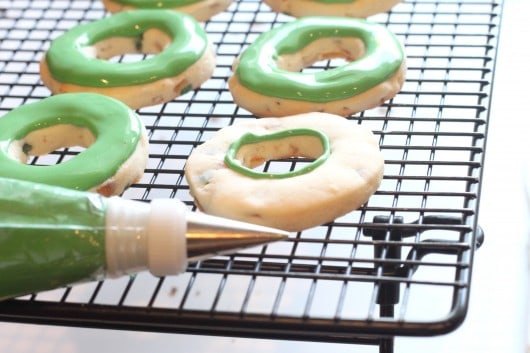 I used Royal Icing to decorate these cookies. I mixed avocado green with leaf green to get this pretty green color. I piped the royal icing on with a #2 tip and filled it in with it as well. I tinted a portion of icing red for the berries and applied them with a #2 tip also.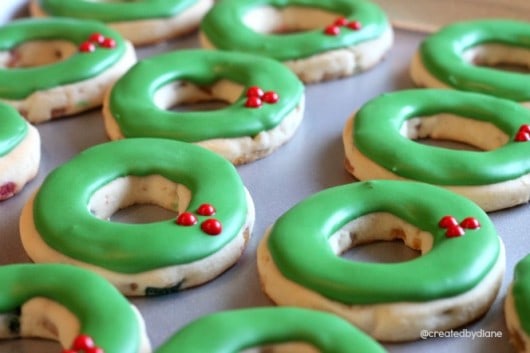 Well, I'm pretty sure I'm all set for Christmas, I just need to check off which items I've purchased and then start wrapping. I'm sure I'll be baking a couple more goodies too.
Wrapping is hard work and I'll need to take a break and eat a few dozen cookies along the way.
How about you? Are you all set or do you have some last minute ends to wrap up? Don't freak me out and tell me you haven't started yet!
Be sure to check out my fruitcake scones too.

Fruitcake Cut Out Cookies
Ingredients
1 cup butter
1 1/2 cups powdered sugar
1 egg
1 teaspoon vanilla extract
1 teaspoon rum emulsion
2 3/4 cup flour
2 teaspoon baking powder
1 teaspoon salt
1 cup fruit cake mix (the diced type)
Instructions
beat butter and sugar until smooth.
Add the egg, vanilla, and rum.
Add to it the flour along with baking powder and salt.
Mix in the fruit cake mix.
Mix until dough pulls away from the bowl.
Roll out and cut with donut cutter.
Bake at 400 degrees for 8-10 minutes.