I love rose cupcakes and these are by far my favorite!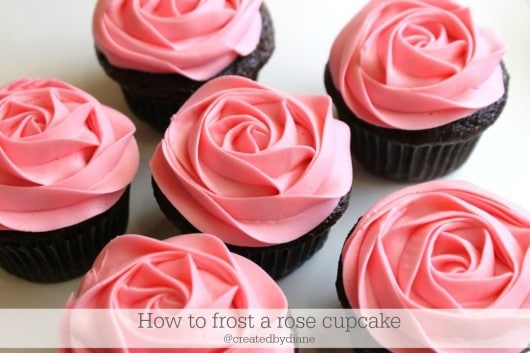 One of my favorite memories as a kid is pink frosting.
It's funny how a memory can linger on forever!
My mom made me a cake with pink frosting for one of my birthdays.
WOW was it pretty!
I remember every detail,
I remember watching her pipe the edges and I appreciated the time it took her to make my cake so pretty.
I was all about PINK then (my whole room was pink including the carpet)
and some things haven't changed. My favorite color frosting is still pink.
It's so pretty and looks great on vanilla or chocolate cupcakes!
I also have a few pink cakes I've made so if you're into pink like me take a look at this:
Pink Coconut Cake and here is a really fun cake to see as well it's my Fruity Pebbles Cake
and these adorable Russian Rose Cupcakes, these have tiny roses all over them!
There is a lot of info in this post, including the recipes for my creamy buttercream frosting as well as cupcake recipes, tips tricks and how-to's. I've also updated this post with my cupcake guide, so be sure to check it all out!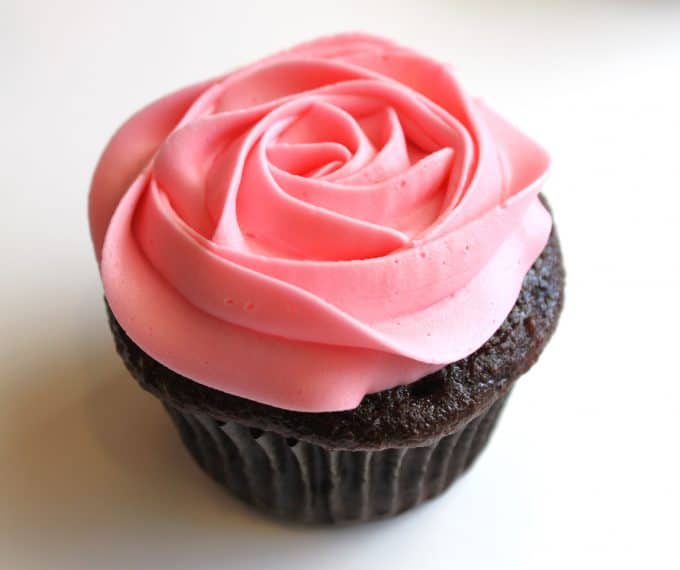 I've learned as an adult that my mom has WAY more patience for a lot of things I don't
but I'm so happy her love of cooking and baking rubbed off on me!
I'm still hoping the patients will kick in…someday.
Since I'm not very patient, these cupcakes are just PERFECT…they only take minutes to make.
Really! You'll be surprised how quickly you can frost these cupcakes.
When you have a whole tray of cupcakes in front of you and with a few practice swirls you will be frosting roses in no time at all.
There are many reasons why these cupcakes are my all-time favorite,  I love chocolate cupcakes and pink frosting the contrast in colors is so pretty.
The dark liners on the cupcakes give them a really nice finished look. I like these Dark Brown Liners.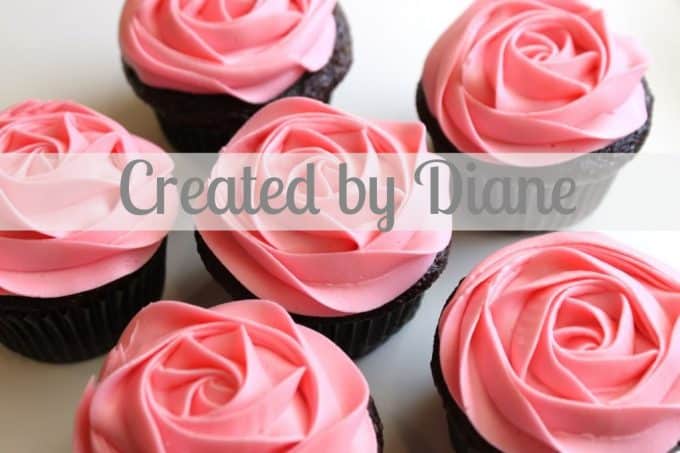 This post is full of info on cupcakes and frosting and be sure to check out all the links and videos.
A few tips when frosting these cupcakes:
practice on a piece of wax paper or the bottom of a cupcake pan, so you can scrape off the frosting and place it back into you frosting bowl and use it when you being frosting your cupcakes. If the frosting gets warm from practicing, place it in the fridge for 5 minutes, you don't want it cold, but you don't want it warm either.
keep a damp towel nearby so you can wipe off the piping tip if it gets messy, don't start piping if it's already messy, it will only get worse as you pipe on the cupcakes
start in the same position of each cupcake, don't reach over cupcake you'll be more likely to mess them up. Move the tray of cupcakes or move your body so you're in front of what you are doing. If your kitchen counter is too high, try your table.
you don't need to pick up each cupcake, yes I do that in my video, so you can see what I'm doing. It is easier to place all the cupcakes on a baking sheet and pipe them that way. This method also avoids you handling each one after it's piped.
If you do mess up on frosting a cupcake, don't worry, just swirl it smooth with a spatula and add some sprinkles. Having some difference in a whole tray of cupcakes often adds interest and who doesn't love some fun sprinkles either!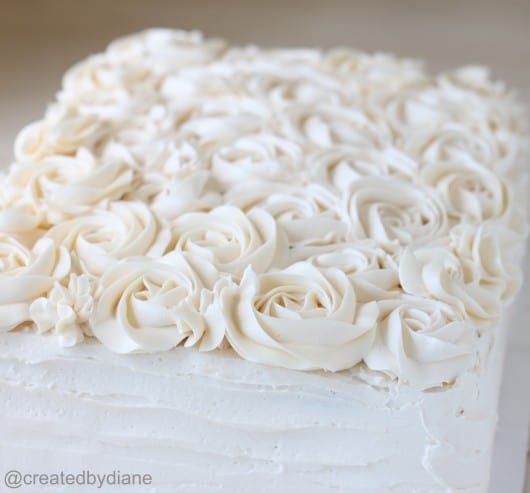 This is one of my favorite cakes, it's not only pretty it tastes AMAZING!
When piping roses on a cake, you can either pipe them all flat, in a grid and even overlap them slightly or you can pipe them as I did, like in a bunch, the way you would see a grouping of roses in a vase, just reposition your hand so it's at a different angle when piping and move around the cake when piping so it's not in a specific pattern.
If there is a space where there is no rose and really not enough room to add one, just squeeze the frosting to create a dollop to fill in any open areas.
Take a look at the entire post here: Vanilla Wedding Cake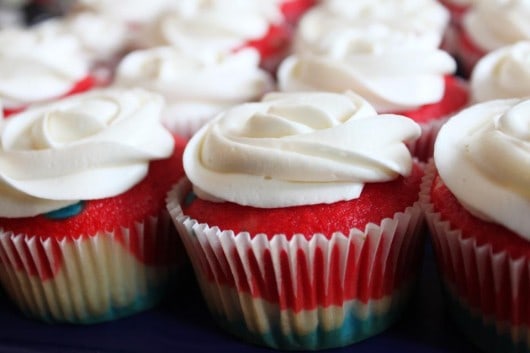 These red, white and blue cupcakes are fun and pretty.
Just take a box of white cake mix (or use this
recipe for white cake
) and separate the batter into three bowls and tint one red and one blue, leaving the third white.
Place the batter into plastic bags to make filling the cupcake pan easy and layer the batters in the cupcake pan, baking according to directions and allow the cupcakes to cool completely before frosting.
White frosting looks great on these.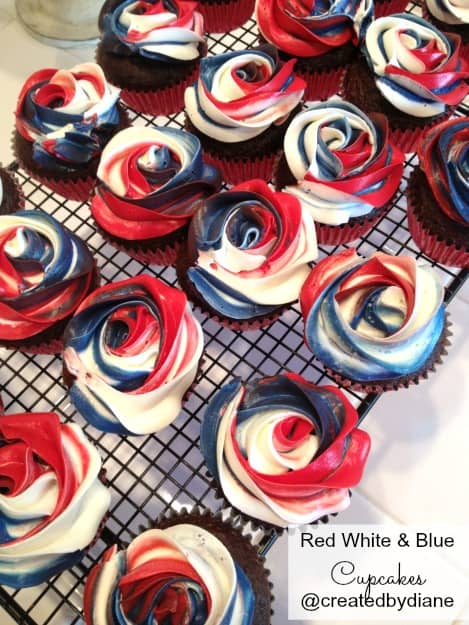 To create the tri-color frosting:
In one piping bag, from the tip to the end of the bag place each color of frosting carefully not to swirl them,
but keep them in lines do the red and blue on each outside edge and put white in the middle,
they will swirl when you pipe them and look great!
Alternately you can place the frosting on a piece of plastic wrap in lines and then gently roll the plastic wrap into a log and insert it into a piping bag. Then add on the piping tip and you're all set to decorate the cupcakes.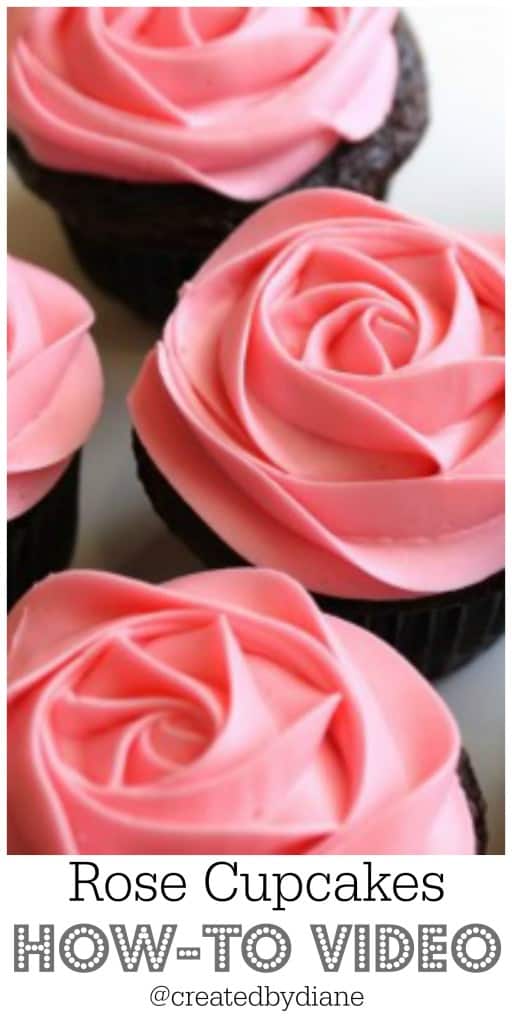 and if you like watching food videos be sure to check out the rest of my videos on YOUTUBE.
The most often asked questions on this post:
What piping tip do you use: 2D piping tip

Can I use another tip: yes, but the roses will look different. The 2D tip is a curved star tip with 6 prongs. You can PURCHASE the tip HERE

What recipe do you use for your frosting: the recipe is below and you can print it out.
Italian Buttercream Frosting Recipe: this frosting is not as sweet as "American" buttercream, it's my favorite tasting frosting, it's a softer frosting so it's not the best if you plan on serving them outside in the summer. Otherwise, if you are an intermediate baker, this frosting is a must. It's not a beginner frosting, you'll need a candy thermometer, you'll be whipping eggs and also making a syrup. But it's so yummy and worth learning.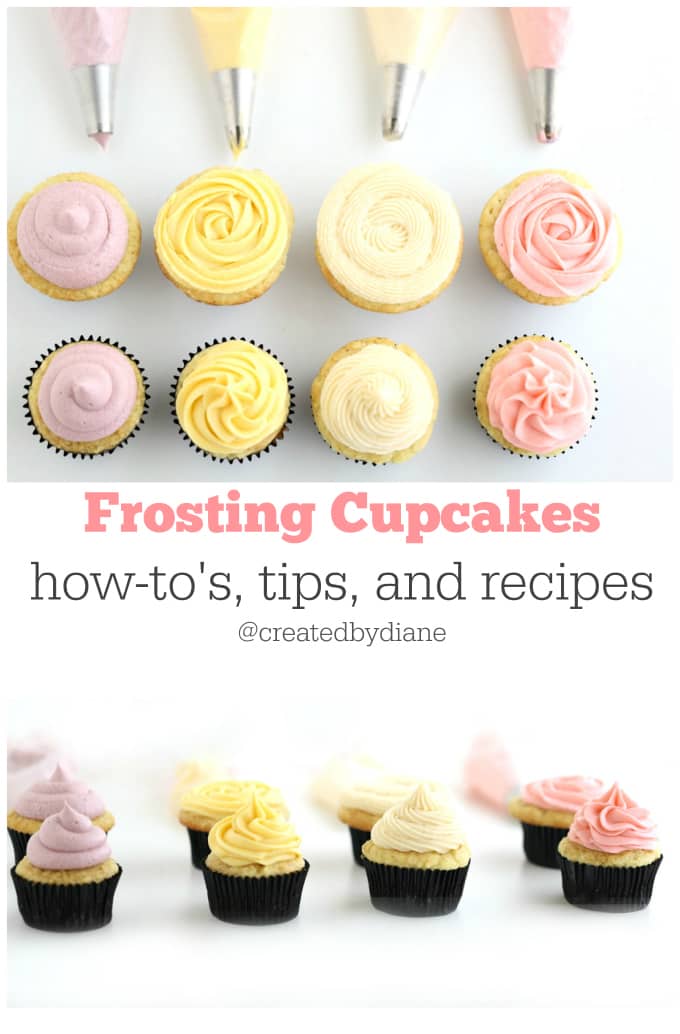 If you'd still like more information on cupcakes I have an ebook that is just for YOU!  
Click here CUPCAKES TIPS TRICK'S & RECIPES
to see what's in the ebook, the cost is only $5.00 and it's full of great information.
Below you'll find the frosting recipe I used to make these cupcakes.
Buttercream Frosting Recipe
Ingredients
1 cup butter
4-6 cups powdered sugar
1 teaspoon vanilla
3 tablespoons heavy cream
Instructions
Beat butter until smooth add powdered sugar, vanilla, heavy cream.
Mix until smooth and creamy.
If it's HOT outside and I don't want the icing to flop I either mix ½ butter ½ shortening or all shortening.
Adjust powdered sugar if you add a lot of food coloring or extracts.
For WHITE frosting, use all shortening, and add a few drops of Americolor white food coloring.
Notes
There are different brands of shortening, some are thicker and heavier than others. Depending on what consistency you want, choose accordingly.
Crisco tends to be heavy and thick,
Walmart's store brand is light and fluffy.
There are also differences in butter, some stay thick and some are softer when whipped.
All these differences will affect the final outcome of your frosting.
I often make the frosting a day ahead of time along with the cupcakes, but pipe the frosting the day I'm serving the cupcakes.
Show me your cupcakes:
Feel free to email me with you cupcake photo,
If you like baking. maybe you'll be interested in making cookies…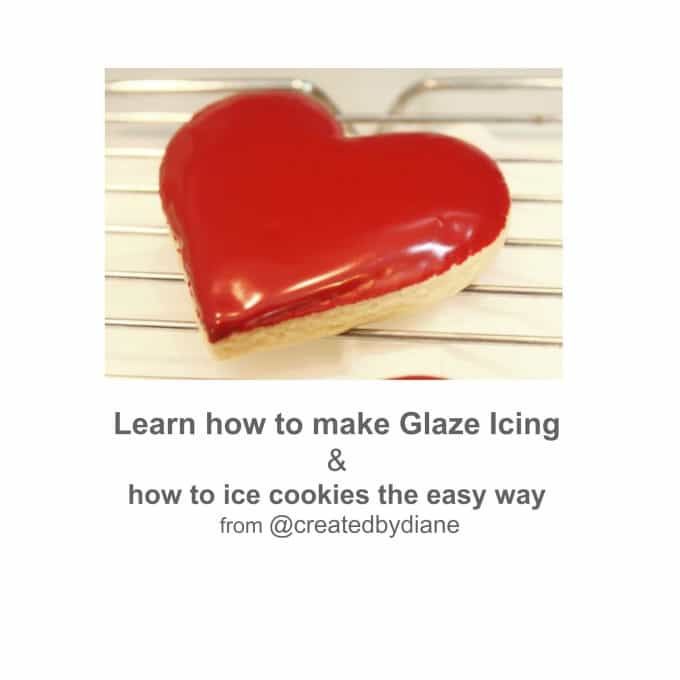 You will find more recipes
HERE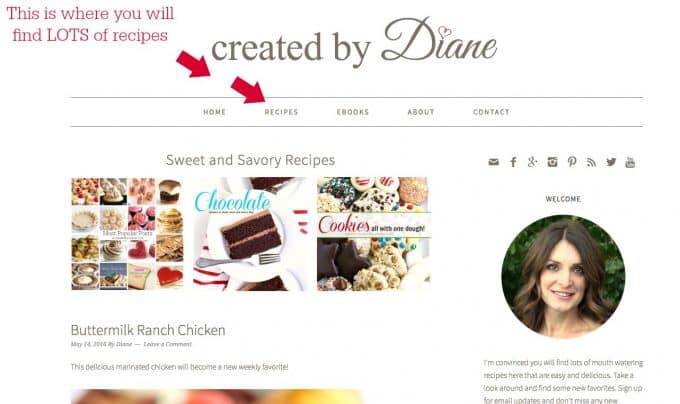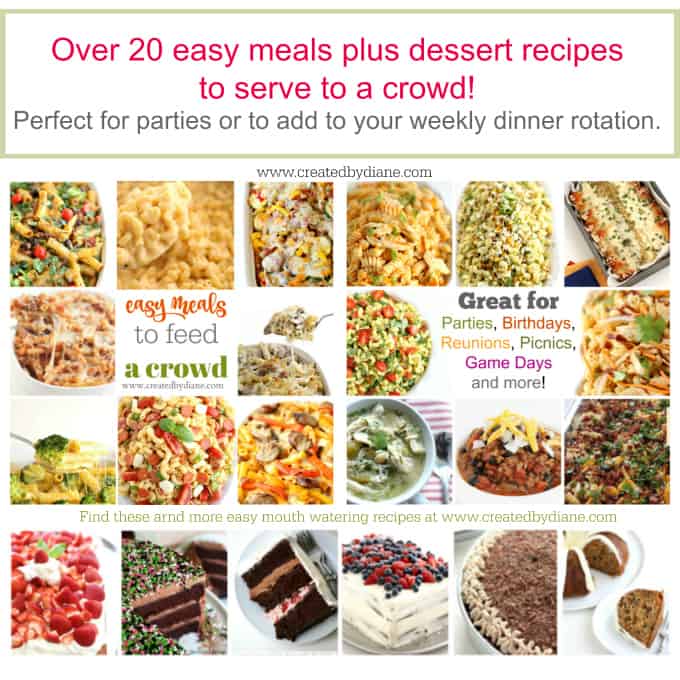 ~Sign up for email updates and GET every single delicious recipe delivered right to you! Plus get my free e-cookbook too.