If you're looking to WOW everyone at your next gathering make this Pretty Pink Frosting Chocolate Cake.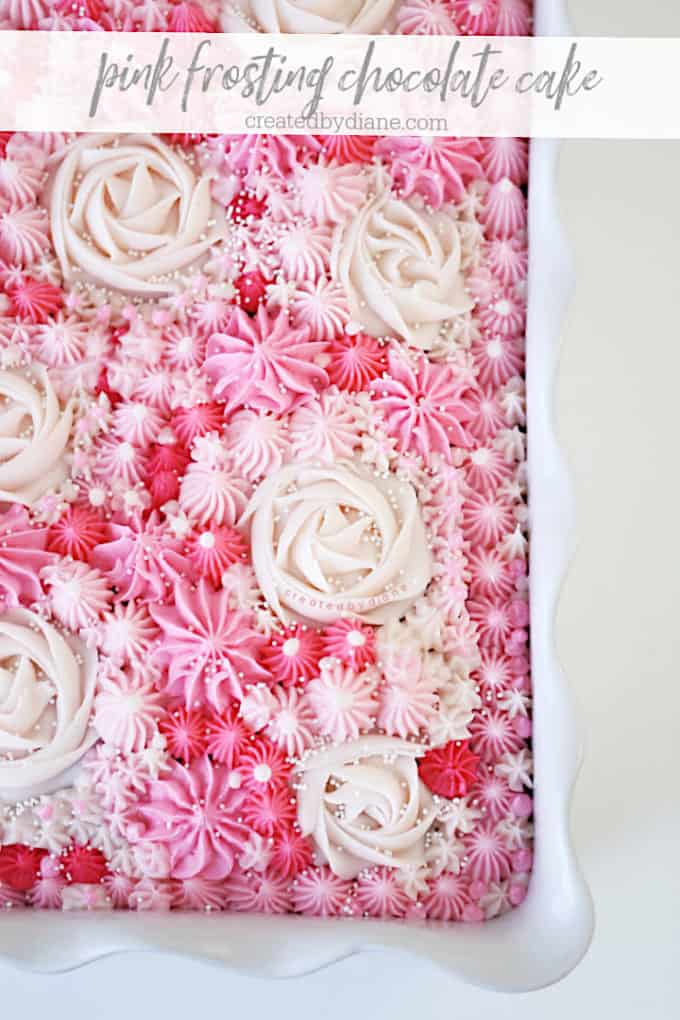 There is just something so sweet about a pink frosting, no pun intended.
And in this cake, it's gracefully topping a delicious chocolate sheet cake.
And not just any sheet cake, but a thick rich chocolate cake that will be the hit of your next celebration.
Even if that celebration is that it is just an ordinary TUESDAY!
This cake provides all the glam and very little work.
You may be surprised at just how simple it is to decorate a cake so easily.
Using varying amounts of pink food coloring to create a fun array of color you can create a somewhat monotone frosting effect with an accent color being a little bolder. You could do it all in one color or one color and white frosting would be pretty too.
Once you make the cake decorating frosting… commonly-known as buttercream frosting you'll separate it into 5 or 6 bowls or however many colors you'd like to have. Then color the frosting, next you'll place piping tips onto piping bags and then you're all set to decorate the cake.
These Cake Decorating Supplies will help
I really like the 13×9 pan I found at home goods I used for this cake, I couldn't find the exact pan for sale online I have, take a look at these pretty white wavy-edged pans I think I'll have to get them.
I do have this great Calphalon pan, and the release on it is great. I still use a baking spray, but it's a really nice heavy-duty pan that doesn't flex or warp when baking in it.
This is the baking spray I use. It's a combination of nonstick spray and flour, which allows items to release from baking pans really well.
I use, and I love it. I've found it locally and can buy 1 can. Here is a 3 pack online to see what it looks like.
I use a 2D tip for the large buttercream flowers, which look like roses (here is my post with the video on how to make the roses) the other piping tips I used are 857, 195, 4B, and 508. The larger the tip the larger the dollop it will make. You can use any large star or crown looking piping tips. You can use 2 of the same tip in different colors as well. Some tips are straighter and some are more curved all giving a different effect when piped on for a really pretty look. I found this fun set of piping tips while I was gathering links.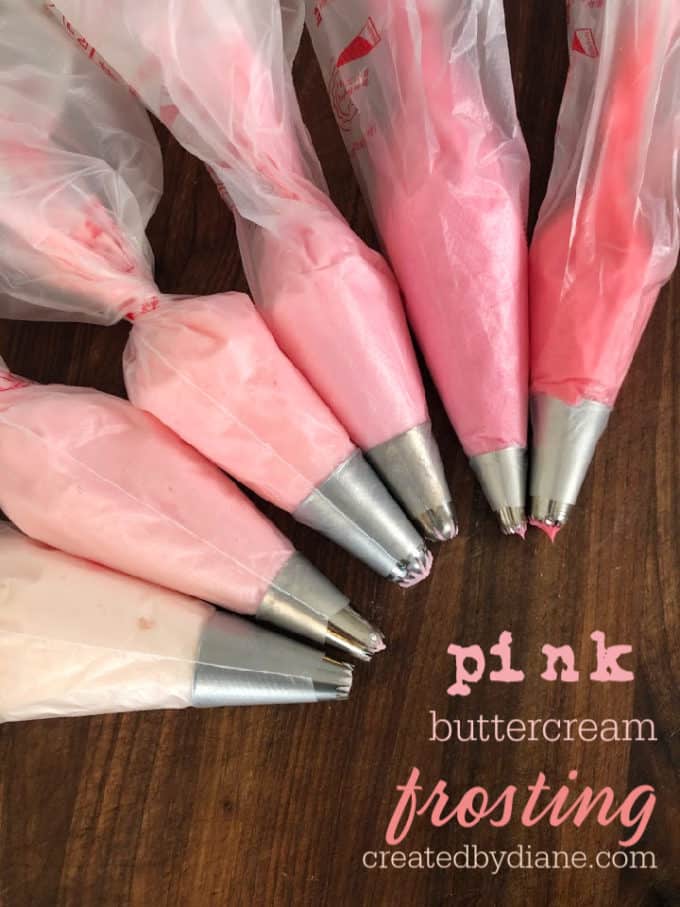 A great tip I use with piping bags
I double bag my frosting for a number of reasons. I put the frosting in bags with no tips attached, then place the tips on empty bags, and slide the first bag of frosting into the second bag fitted with the tip. It ensures the bags won't leak frosting out of the seams, which has happened to me.  I can also change my mind about the color and the tip I want to use without re-bagging the frosting, just slide the inner bag out of the outer bag with the piping tip and continue piping. Even when I started this cake I placed the darkest color frosting with the 2D tip and then swapped it out and used the lightest color. If I didn't double bag the frosting…. it would have been messier to swap out and take longer. I purchase these piping bags, in bulk. 
I added some simple light color dots with a #2 tip on top of some of the star-shaped dollops to give a 3D effect on top and then sprinkled on some white nonpareils on top.
 One of the best parts about piping cakes nowadays is there is no need for it to be symmetrical or "perfect" a varied un-patterned effect is great. When piping the frosting onto the cake, just be sure to hold the piping tip close to the cake it will keep the piping neat and pretty. If you hold the piping tips far from the cake, the frosting will drop onto the cake and swirl as it lands and you won't get the same effect, you'll also use way more frosting.  
You can spread a thin layer of frosting over the top of the cake before you begin piping on the frosting so there aren't any "holes" in the frosting when you're done. Like dark cake showing through. I've frosted cakes like this both ways and it's easier when you have a base color first but it's not necessary but you will need to fill in any open spots.
If you want to see my video How to frost a rose VIDEO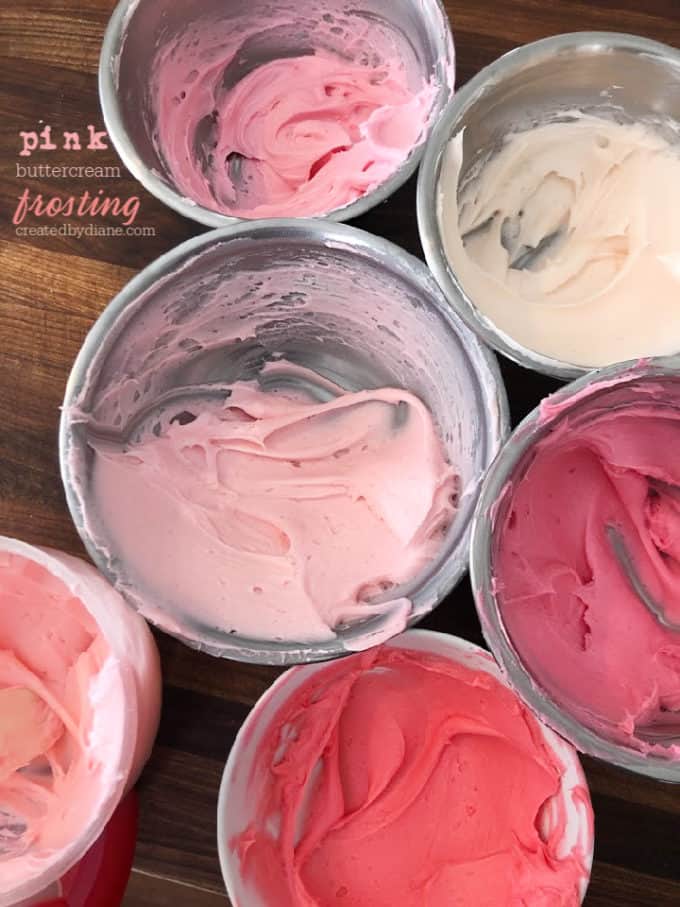 Frosting Colors 
When adding food color to frosting keep in mind the longer the frosting sits the darker it gets, you can mix the frosting a day ahead to be sure you'll like the color or add more food color or more white frosting to adjust the colors. Start with a small amount of color, even a small drop off a toothpick could be just the right amount, you can always add more color. To create bright colors adding White Food Coloring will enhance the colors and make them more opaque.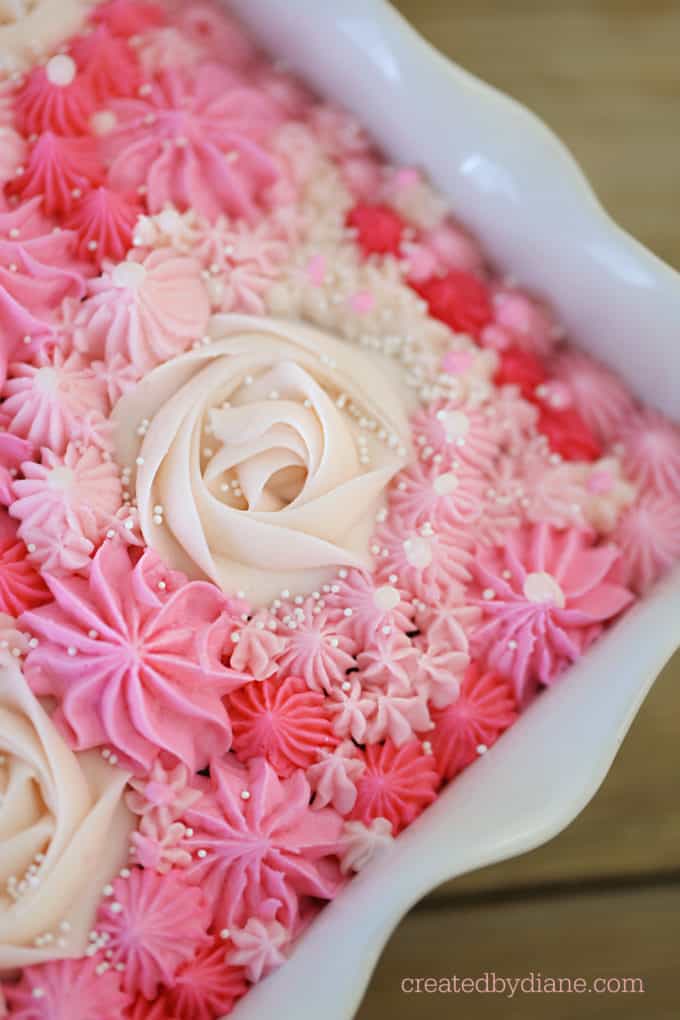 Frosting options 
I love Italian buttercream frosting, it does involve a few extra steps but if you've mastered American buttercream or just want to try something new give it a try, it's delicious, smooth, and creamy with more of a buttery flavor that isn't as sweet as traditional American buttercream frosting.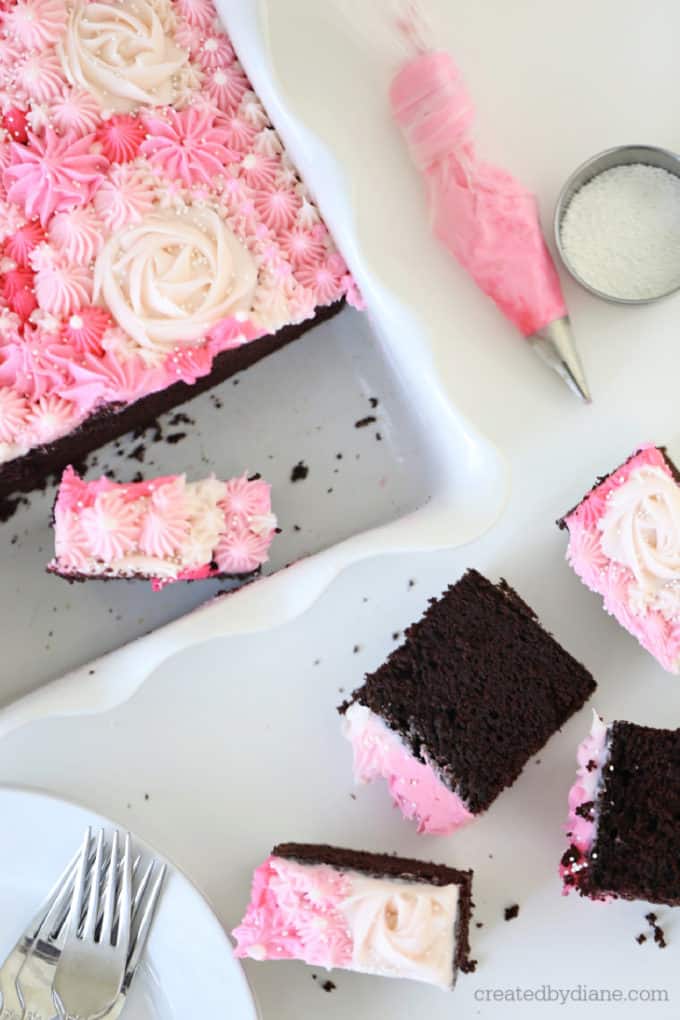 Now for the cake
Chocolate cake has always been my favorite and everyone needs a go-to chocolate cake recipe that is easy to make and turns out moist and delicious every time you make it.
One of the items that ensures a great chocolate flavor is using a delicious unsweetened dutch process cocoa powder, you bloom it in hot water, then when you mix it into the other ingredients it not only adds a delicious chocolate flavor it locks in moisture and ensures this cake won't be dry.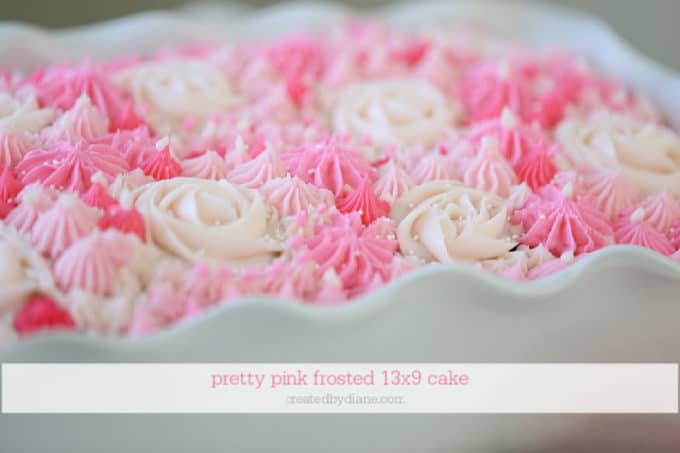 This cake is so wonderful.
It's really thick which is great when serving this at a party or for a large crowd, you don't need large slices or squares, you can easily slice thin pieces and get many servings without having a "layer cake".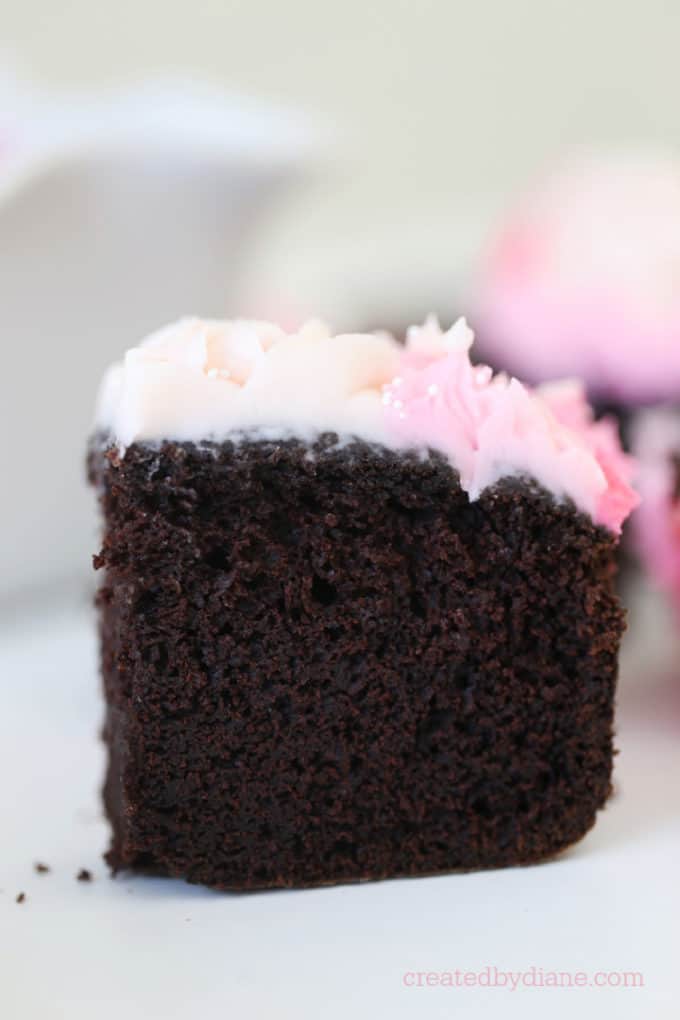 But if you want to make this into a layer cake you can remove the cake from the pan and slice it in half for 2 even thinner layers. You can fill the cake with frosting (you can double the recipe below if you want to fill the cake with buttercream frosting as well) alternatively you can fill the cake with pastry cream, jam, ganache or your favorite cake filling. You can either place the cake back in the baking pan to fill it or place it on a platter and fill the cake and leave the edges naked or make more frosting to spread frosting on the sides of the cake.
Other great options for filling a cake is Ganache Filling or Pastry Cream, both so yummy! 
There is no denying once you slice into this chocolate cake, you'll love it!
Chocolate Cake
Ingredients
2 cups boiling water (or hot coffee)
2 tablespoons instant coffee (if using boiling water)
1 cup unsweetened cocoa (I use dutch process cocoa)
1 cup butter
2 1/2 cups granulated sugar
4 eggs
1 teaspoon vanilla extract
2 1/4 cups all-purpose flour
2 teaspoons baking soda
1/2 teaspoon salt
1/2 baking powder
buttercream frosting
1/2 cup butter, at room temperature
4 cups powdered sugar
2 tablespoons heavy cream
pink food coloring (I used Americolor soft pink and fuschia in different amounts for all the pink colors)
white nonpareil sprinkles
Instructions
In a medium bowl, mix water/coffee with cocoa. Set aside.
Preheat oven to 350°
Prepare a 13x9 pan with a baking spray or shortening and a tablespoon or two unsweetened cocoa or flour, for easy release of cake from the pan.
In a large bowl with a mixer beat butter, sugar, eggs, and vanilla.
Add in the flour, baking soda, salt, and baking powder, and with mixer on low pour in the cocoa mixture.
Begin mixing on low, then on medium for about 1 minute to completely mix cake batter together.
Pour cake batter into prepared pan, bake for 35-40 minutes or until a toothpick comes out clean.
Allow cake to cool for 15 minutes, then turn the cake out onto a cooling rack or cool this cake in the pan completely if leaving the cake in the pan and frosting the top of the cake.
Make sure the cake is completely cooled before frosting the cake.
buttercream frosting
in the bowl of a mixer beat butter, then add powdered sugar, and heavy cream and mix until smooth and fully combined.
Separate the frosting into 5-6 bowls, and color them with pink food coloring in varying amounts to create a great color combination.
Place the frosting into piping bags fitted with piping tips and apply frosting onto the cake in a pretty pattern. the lightest color (near white) I swirled into roses, the other frosting was squeezed out into dollops all over the cake.
Add some white nonpareil sprinkles.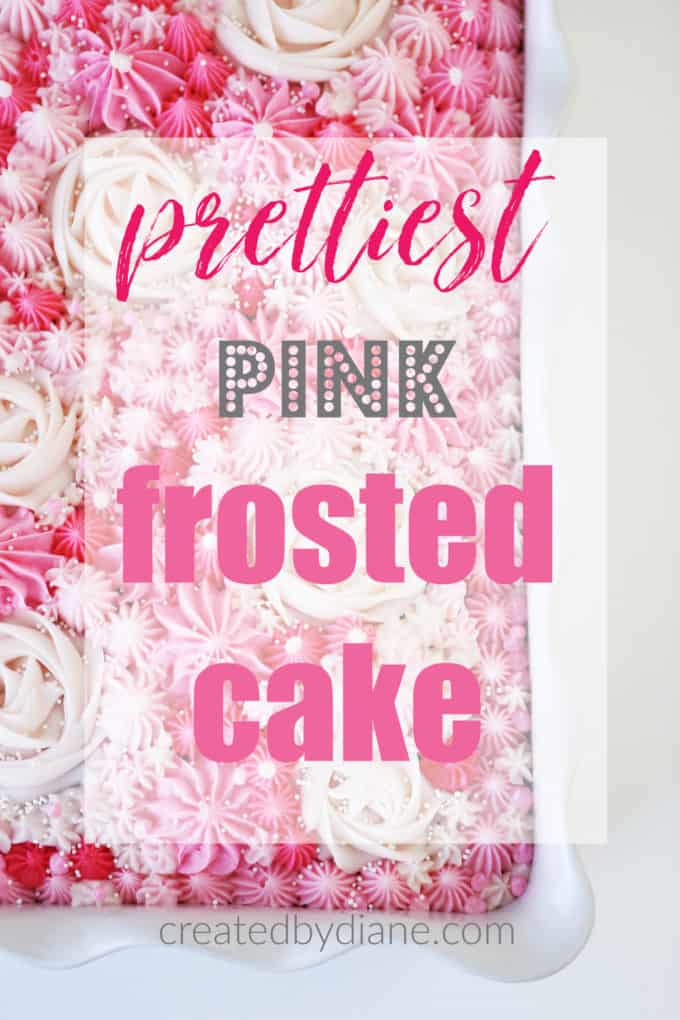 Decorating inspiration cake from Cloudykitchen.com