Ice Cream Cookies
These pretty patriotic cookies will be the HIT for any celebrating, even if they're served at the end of a weeknight dinner or BBQ. 
Transporting ice cream is no PICNIC,
it only seems to take minutes for it to melt in the summer heat.
I get nervous even buying ice cream in the summer, just the thought of driving it a mile or so home in 100 degrees makes me think it will end up in a puddle!
This is a super-fun alternative to messy ice cream. You can even make the cookies a couple days ahead of time, to help save you on the last minute rush, which is especially good if you have more than one thing to make.
I used to think I would have plenty of time to get everything finished to go somewhere and the same thing seems to happen when I have people over. I push it all to the last minute, maybe I work better under pressure….Na!
I really don't.
I now try to get as much done ahead of time as I can.
These can be made the day you are serving as well, which is especially good for last minute invites and get-togethers.
The ice cream cones are filled with buttercream frosting and then the cookies are placed on top. I love the contrast of the red, white and blue sprinkles against the chocolate cookie, but if you prefer vanilla, here is my post on Vanilla Ice Cream Scoop Cookies. I place the vanilla dough in the freezer, but when I made these I didn't and the result was still great, so you can go ahead and save the step of freezing.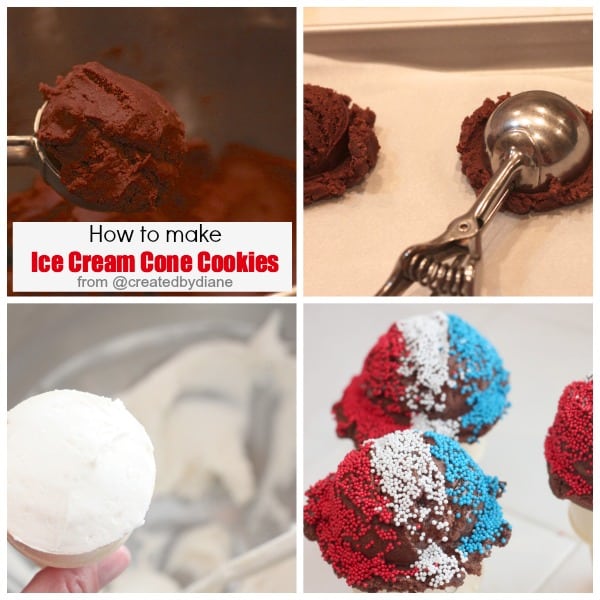 In a few quick steps, you will have a dessert everyone will WOW over!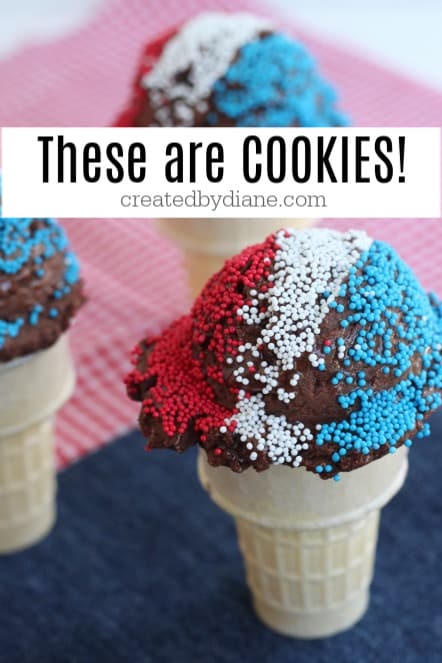 Ice Cream Cookies
Ingredients
1 cup butter
1 1/2 cups powdered sugar
1 egg
2 3/4 cup flour
¼ cup Hershey's Cocoa (unsweetened)
1 teaspoon baking powder
1/2 teaspoon salt
2 teaspoons vanilla
1/4 cup corn syrup
sprinkles
Instructions
In mixer, cream butter with sugar.
Add egg and mix thoroughly.
Add in flour, cocoa, baking powder and salt along with vanilla mix until all ingredients are incorporated.
Use a 3 tablespoon scoop for the ice cream cone size cookies. Overfill the scoop a bit so that there is an edge created when you press the cookie dough onto a parchment lined cookie sheet.
Bake at 375 degrees for 12 minutes or until centers are cooked though.
Makes about 12 large 3 tablespoon size cookies.
Cool cookies completely before decorating.
Brush each cookie top with corn syrup and add sprinkles. If you are adding red, white and blue. Start by only adding the amount of corn syrup where you want the sprinkles to go first. I started with the white sprinkles in the middle first. Then added the corn syrup to one side and dipped it into sprinkles and then the other side. This helped keep the sprinkles from mixing.
Fill the ice cream cones with a slightly heaping amount of buttercream frosting so the cookie has something to rest on and it will help it to not fall off the cone.
Place the cookies on the filled cones.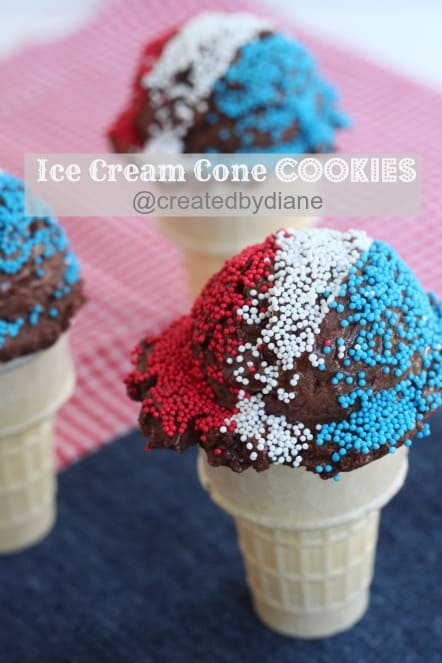 These scream SUMMER to me!

If you prefer Vanilla…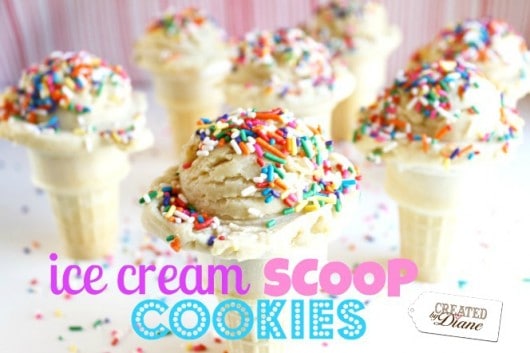 Vanilla Ice Cream Scoop Cookie Recipe
Chocolate Ice Cream Shaped Cookies in cones with patriotic sprinkles