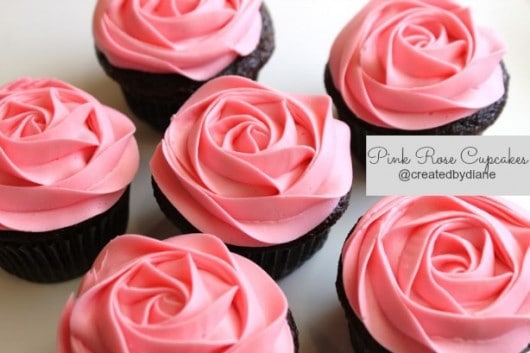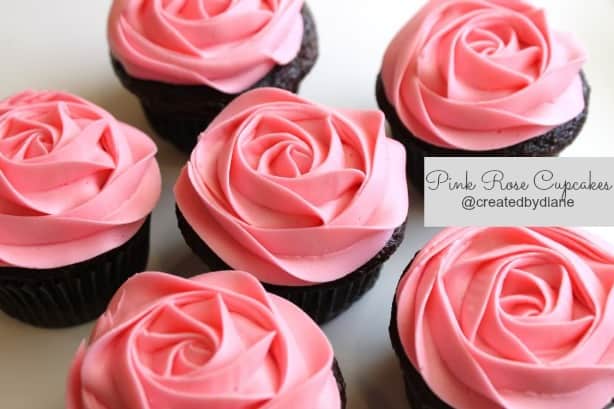 Nothing says Valentines Day more than roses and chocolate!
Pretty pink rose cupcakes 🙂
This is the kind of rose I'd like to receive on Valentines Day. How about you?
Whether they are made with my favorite Chocolate Cupcake Recipe
or A healthier Chocolate Cupcake recipe, I would love to have these.
Topped off with Buttercream Frosting and tinted pink with Americolor soft pink. Either vanilla extract or raspberry would make these super delicious.
Chocolate and raspberry together are a great combination. I love that I found raspberry extract and used it for my Raspberry Rose Meringue Cookies. I made half of these with vanilla and half with raspberry frosting, I just couldn't decide which I wanted more, I had to have both!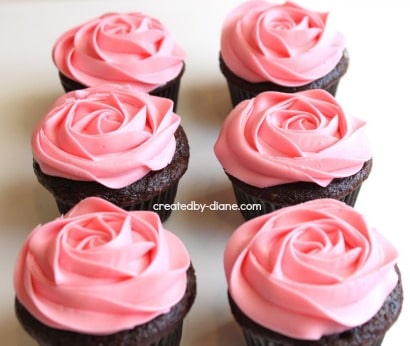 If you want to know how to create the rose design,
Check out my video (click on link below-it's short you won't want to miss it)
I use a 2D tip in my piping bag and start in the center then swirl around two full rotations.
video on How to frost a rose on a cupcake.