calling all COCONUT lovers…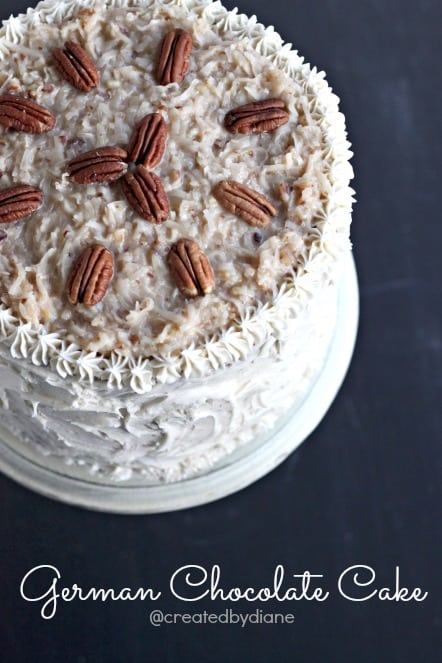 For the LOVE of coconut….
this cake will knock their socks off.
I'm not sure who created German Chocolate Cake, but it's not German at all.
I was looking for a dessert to bring to a party where they were serving all types of German food,
I was sure no one would pass this one up, German or not!
Using 2 boxes of German Chocolate Cake Mix, Bake cakes in three 8 inch pans and cool completely. Chill cake in fridge as they are easier to assemble and stack.
Make one batch of Buttercream Frosting Recipe
Assemble Cake: Place one 8 in cake on cake board or plate, pipe buttercream frosting around edge of cake and place coconut pecan filing inside edge and smooth with small offset spatula.
Place second cake on top and repeat step for first layer.
Add third layer of cake. Spread frosting onto sides of cake with spatula and swirl with spatula or back of spoon.
Pipe top and bottom edge with a small star tip and place coconut pecan filling on top. Decorate with whole pecans.
Chill to firm up cake and remove from fridge an hour before serving.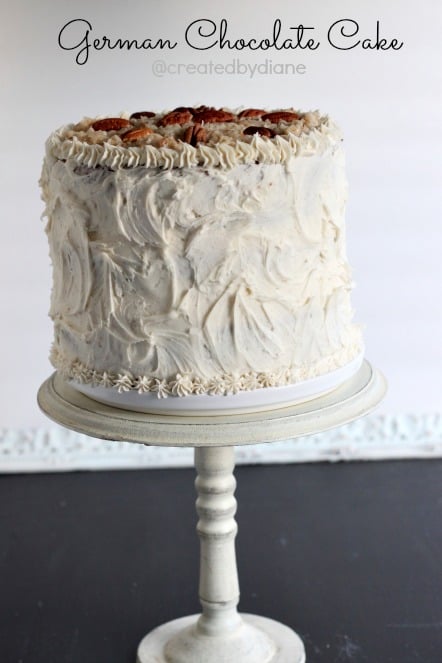 This cake was loved by all and I'm sure I'll make it again.
I'm sure I will try this with German Chocolate Cake from scratch, in the meantime this recipe was quick and easy and perfect for me to bring to the party.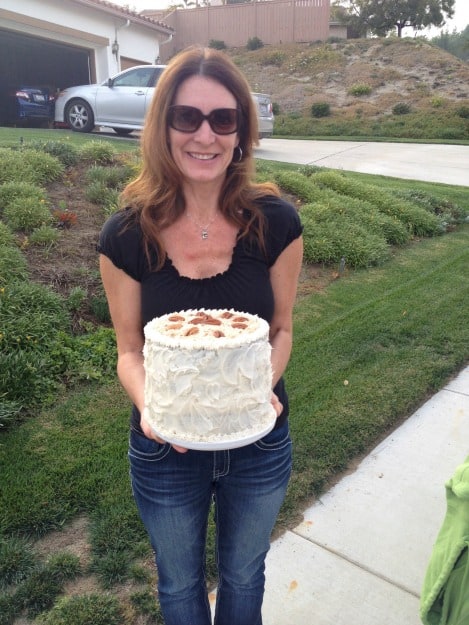 Besides it's not a party if there isn't any cake,
I can always be counted on to bring the sweet stuff!
German Chocolate Cake Coconut Pecan Frosting and filling
Ingredients
1 cup evaporated milk
2 egg yolks
1 cup sugar
1/2 cup butter
1 1/2 cups sweetened shredded coconut
1 1/4 cup chopped pecans
1 teaspoon vanilla extract
Instructions
Heat evaporated milk, egg yolks, sugar, butter in saucepan on medium heat until it comes to a boil.
Remove from stove and stir in coconut, pecans and vanilla.
Cool completely and put place in refrigerator if needed to speed up the cooling process.
It will thicken as it cools.