Lemon Cupcakes with Lemon Italian Buttercream Frosting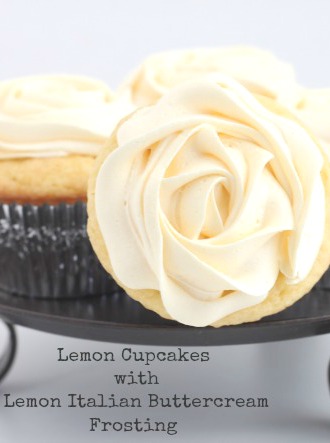 It's true I'm a little LEMON obsessed.
I can never seem to have enough lemons.
I buy them by the bag full and still never seem to have enough. I also get lots of lemons from the lemon trees at my moms house too. You can imagine that is a lot of lemons.
So it's really funny when I'm searching high and low and can't find one lemon.
Some of my favorite lemon recipes are Lemon Scones, Lemon Risotto, Lemon Basil Bundt Cakes, Lemon Pasta Salad, Lemon Poppy Cookies, Chicken Francaise, Blueberry Basil Lemonade, Lemon French Toast and Lemon Shortbread.
Yep, that's a whole lot of lemon!
Feel free to share with me your favorite lemon recipe, I'd love to try something new and lemony.
These cupcakes and quick and easy and since it's summer, quick and easy is where it's at!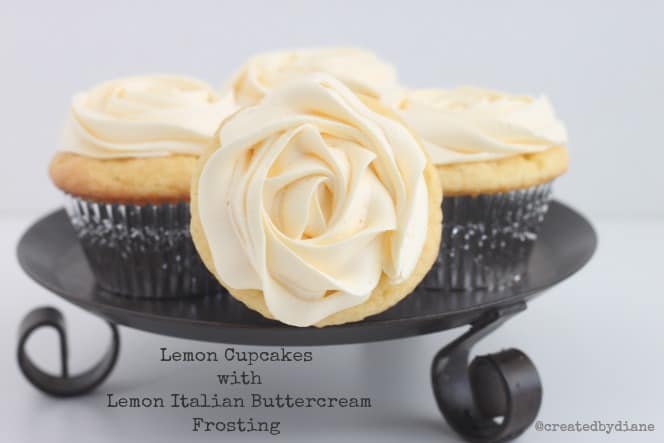 Lemon Cupcakes with Lemon Italian Buttercream Frosting
Ingredients
1 Box French Vanilla Cake Mix
¼ cup fresh squeezed Meyer Lemon Juice
¾ cup water
1 teaspoon lemon emulsion/extract
⅓ cup oil
3 eggs
Instructions
Place cake mix, lemon juice, water, extract, oil and eggs into mixer bowl and mix on medium for 30 seconds, then on medium-high for 2 minutes.
Line cupcake pans with cupcake liners
Place 3 tablespoon of mix into each cupcake liner.
Makes approx. 18 cupcakes.
Bake at 325 for 20 minutes (for dark coated pans)
Let cupcakes cool completely before frosting.
I'm thinking it would have been a good idea to plant a lemon tree at my house, I'm kind of sad I haven't done it. Maybe I'll look and see if we have a spot for one. I'm sure I could find many more fun recipes to use up all the lemons I could grow too.
Are you like me and always seem to be stocking up on lemons?
Today I'm making more Lavender Lemonade. I'm going to spend the day at the pool, relaxing! What are you up to?