Red, White & Blue cake with white buttercream frosting.
Nothing says patriotic that red white and blue sweets….
I separated a white cake mix that has been mixed with ingredients to make the cake batter, separate into three bowls, and tinted one red, one blue and the third remains white.
Bake cupcakes according to package directions.
I made buttercream frosting and swirled it onto the tops and added these fun Flag pics.
If you can find paper flags (typically at the dollar store I find them) they look pretty cute on top of the cupcakes for extra cuteness.
When would red white and blue cupcakes be perfect to serve…
July 4th, Memorial Day, Veterans Day, all summer long too!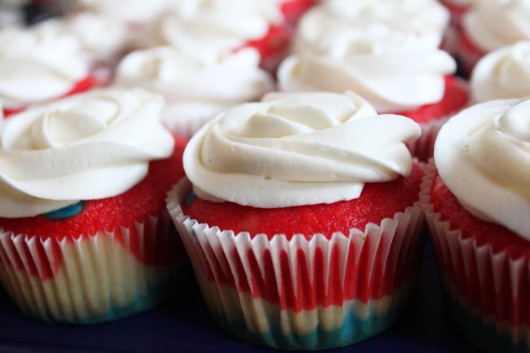 If you like this or any other recipe on Created by Diane be sure to share the post with the ones you love. You can click on the "share" buttons on the top and the bottom of each post, you can share it on social media or in an email.
~Sign up for email updates and GET delicious recipes delivered right to you! Plus get my free e-cookbook too.
Thanks ~Diane