Piping flowers on cupcakes just got CUTER!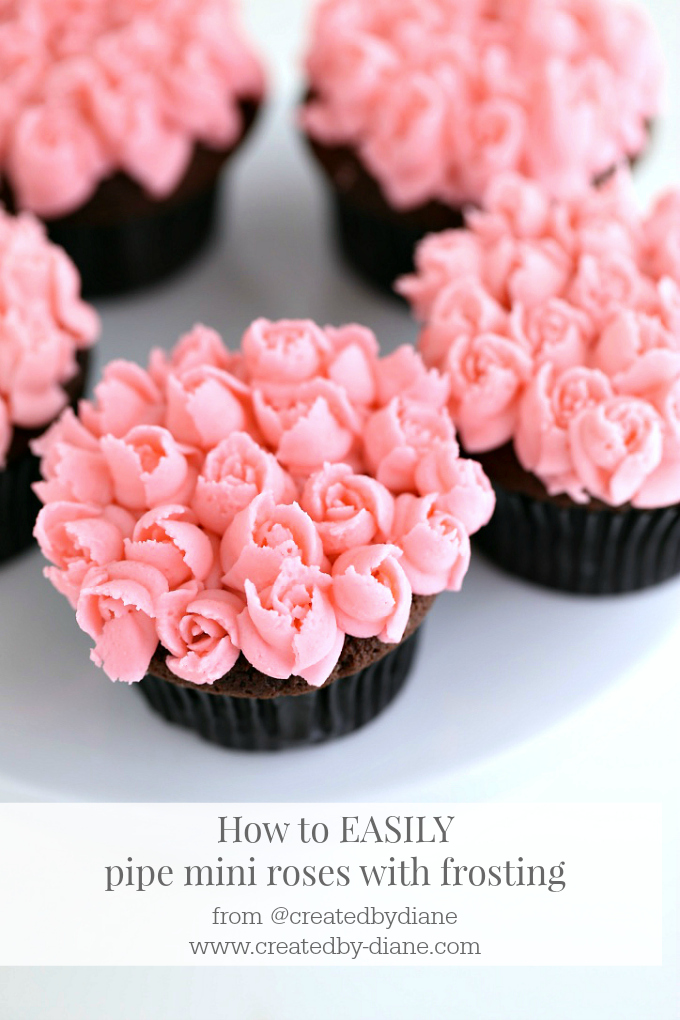 My kitchen looks like a flower shop… made out of frosting.
It couldn't look any prettier!
 I as so excited to share with you how to make these adorable frosting roses.
 And oh this frosting tastes so delicious,
often times the most readily available flavoring is not the best tasting. I often purchase the extracts and flavors I use from a baking supply store or order them online, I used natural raspberry flavoring and it's fantastic, no odd "mediciney" taste.
It's always important for me to make not only PRETTY items but they need to taste delicious! Over the years I've purchased many bottles of natural raspberry extract, my most recent purchase was from Savory Spice Shop.
Getting the right consistency of frosting is important, I'm including a video, the frosting in the video is softer than the frosting in the top photo of this post. If the frosting is softer it will droop and flop and after frosting dozens of cupcakes I prefer it a little dryer, I added a tablespoon at a time of powdered sugar to get the thickness I wanted. I added 4 tablespoons to the recipe I posted below.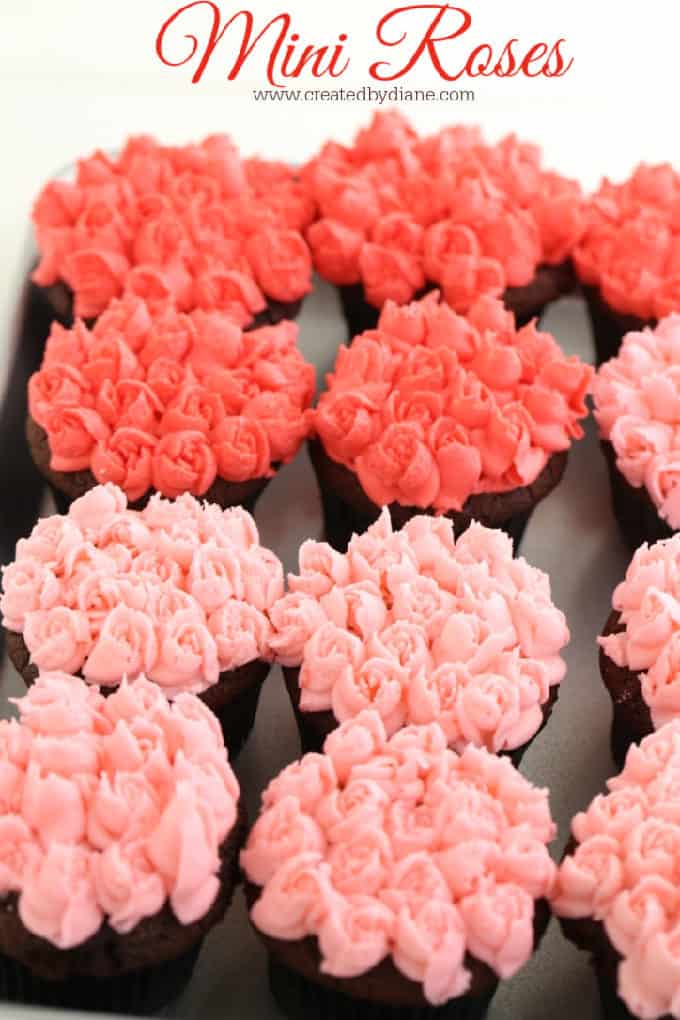 When piping these "Russian Roses" use short bursts of frosting and pull up straight or slightly turning the piping bag worked best. If you get some petals folding over, or flopping, just go over them or nudge them in the place you need them to be. Once you have all the mini roses frosted you won't notice it so much.
Take a look at my VIDEO on piping these mini roses
 Here is a link to my favorite Chocolate Cupcake Recipe add a teaspoon or two of the natural raspberry extract to this recipe for even more delicious raspberry flavor in these cupcakes.
pink raspberry frosting
Ingredients
1 cup butter
4 cups powdered sugar
2 tablespoon heavy cream
1/2 teaspoon vanilla extract
1 teaspoon natural raspberry extract
pink coloring (Americolor soft pink)
Instructions
In mixer bowl beat room temperature butter (not melted or warm, it should be slightly cool to the touch and when pressed with a finger should dent, but not "mush")
Scrape the sides down and mix again until it's all smooth
On low mix in powdered sugar and heavy cream with extracts once blended turn on medium-high until very smooth and well mixed.
Add in pink coloring, the color of the frosting will darken over time. Making the frosting a day ahead is a good idea if you really want a specific shade of pink, you can always add additional white frosting if needed to lighten up the color.
*after frosting dozens of cupcakes, I found that if the frosting is too soft or warm, the rose doesn't look as sharp.
If soft and floppy add a tablespoon of powdered sugar at a time to get the right consistency
if warm, place the piping bag with frosting in it, in the fridge to chill about 10 minutes and it will firm up.
Do not overwhip the frosting, that would pump too much air into the frosting and won't give a smooth result when piping.
If you don't want raspberry flavored frosting, leave it out.
Notes
shortening: you can use shortening in the frosting, but the flavor is far better with butter. If you want to make the frosting smoother or silkier add in 2 tablespoons of shortening if the frosting gets grainy if it's over whipped (the addition of shortening will keep the frosting really smooth for the frosting tip used for the mini roses)
to thicken frosting: add powdered sugar a tablespoon at a time until the frosting doesn't "flop" or move once it's piped, to test this use a spoon and dip it in the frosting and as you pull it out, if the frosting is really soft, add a tablespoon of powdered sugar and test again. If you fill your piping bag and begin piping (test on a plate) remove the frosting and add powdered sugar and test again.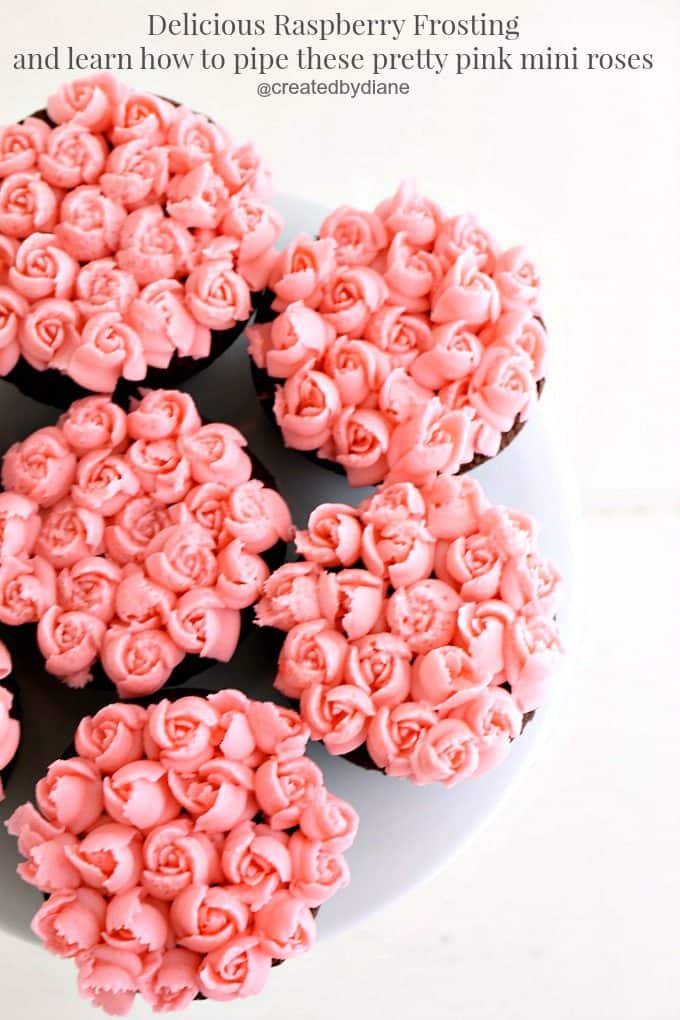 It's no secret how much I love pretty pink roses. One of my most popular posts is How to frost a rose on a cupcake take a look if you haven't seen it there is also a video!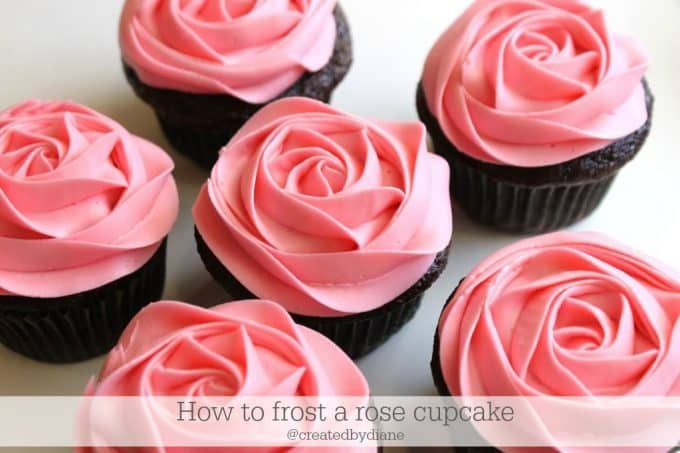 This is what the piping tip looks like that I used for these mini roses.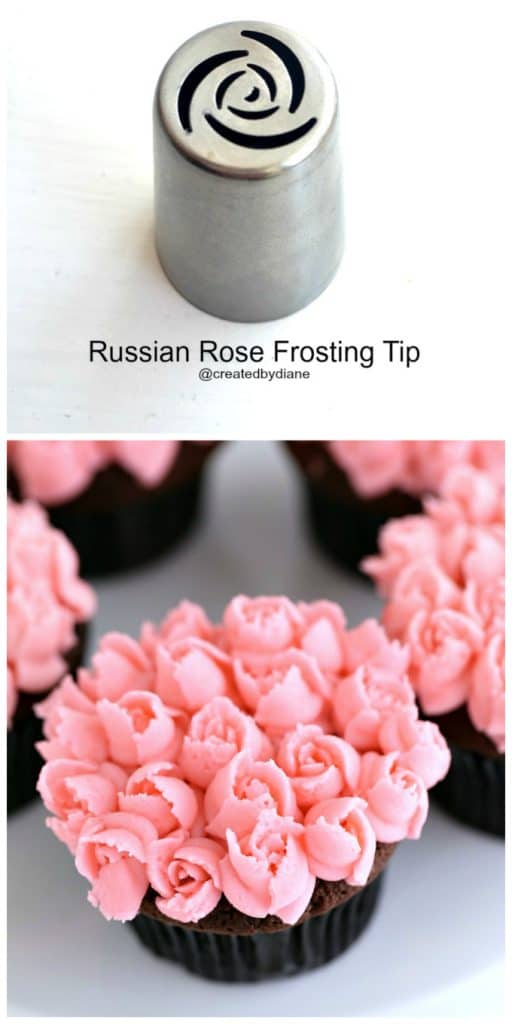 You may have to search Amazon for the tip, each time I link to the item I used the sellers sell out. HERE is a set that has the small rose tip.
below is a larger set. But you can see what they look like.
I also purchase this set of Russian Frosting Tips, they are larger. I have used them, but not on these cupcakes. I did not prefer that size for these cupcakes.
The "Russian Rose Piping Tip" I used measured across the middle of the large opening of the tip  1- 1/4″.
Thanks so much for stopping by to see this recipe!
Sharing this post is appreciated and encouraged. Use the share buttons at the top and bottom of the post, there are many options to all your favorite social media channels and you can also email it to a friend. Print out the recipe to enjoy it on your next kitchen adventure. Please don't copy and paste the full post, it's prohibited without written consent from me. Recipes including wording and photographs are Copyright of createdby-diane.com.
Please enjoy this recipe and click here to sign up for email updates to receive recipes in your inbox.