Oreo Cake.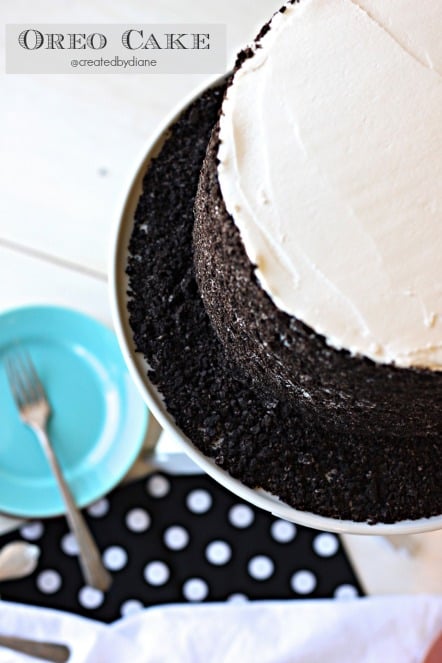 One look at those dark chocolate cookie crumbs…
you know the them
maybe you know them VERY well.
They are Oreos.
Have you ever snuck a sleeve or two up to bed for a midnight snack and then well, just maybe found crumbs the next morning?
Oh, ok maybe it was just me.
Just imagine this cake along your midnight trail to late night snacking….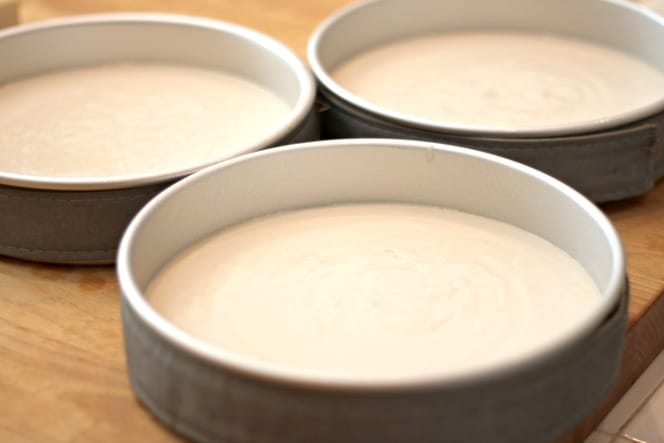 This white cake is really simple and delicious. It's a moist white cake and goes great with Oreos!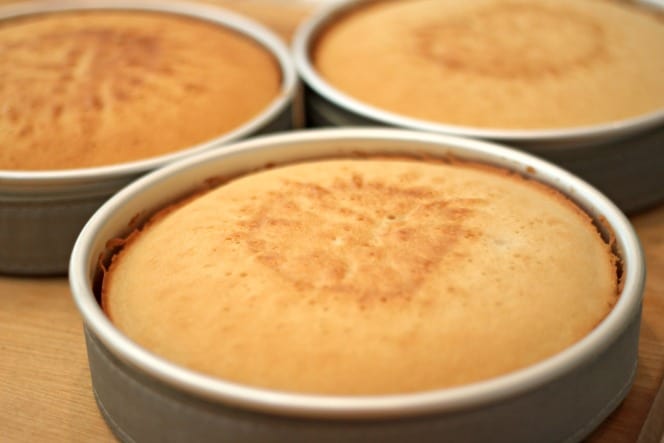 I baked three 8inch round cakes.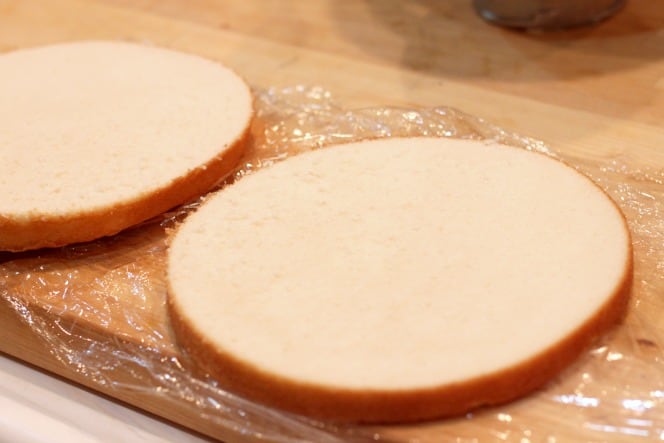 I split one of the cakes in half as I wanted to have three layers of filling.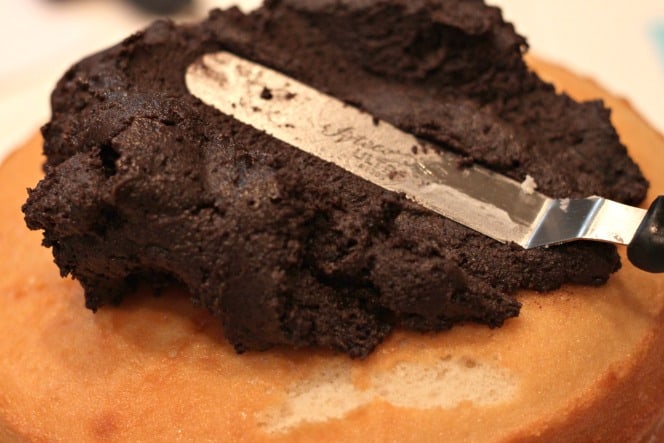 I crushed up the Oreos in a food processor  to create a spreadable filling. Oh yes, this was so good, rich and delicious and the perfect compliment to the white cake.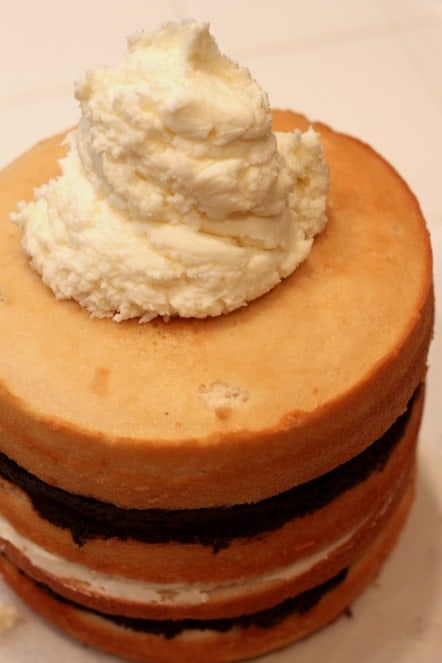 Buttercream frosting piled high to coat the cake.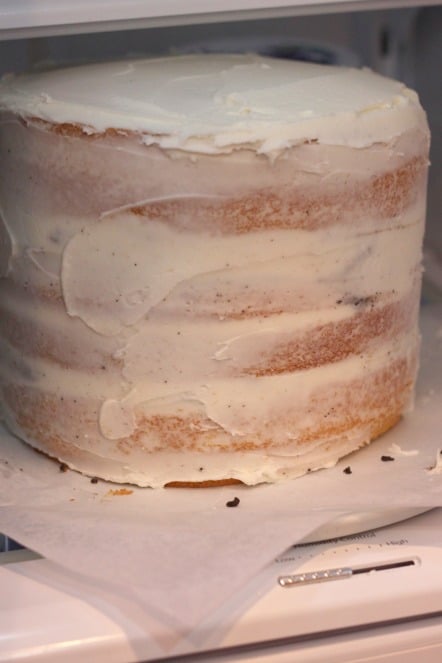 I gave the cake a quick crumb coat, and placed it in the fridge for 20 minutes or so, just enough time to get some dishes done.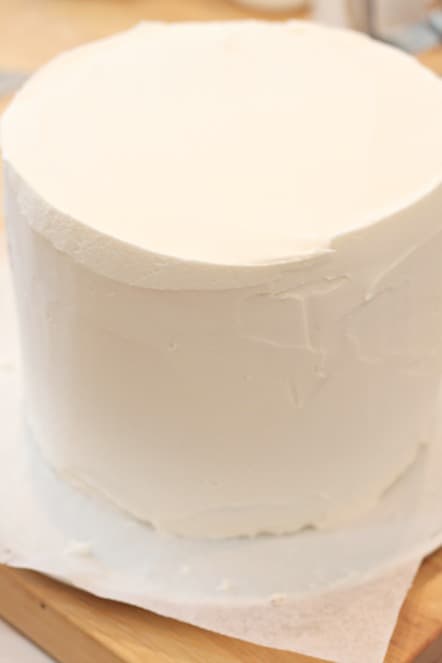 Then I added a layer of buttercream to the whole cake and smoothed it with an offset spatula.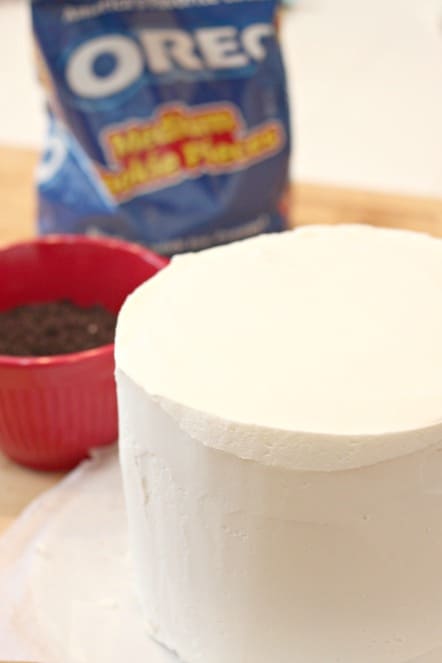 I used to find Oreo Crumbs in a large bag at a local store, but this time they didn't have just the crumbs, it was PIECES. I wanted the pieces to be small like crumbs and chopped them with a knife. I really didn't read the bag well and could have easily just bought packages of Oreos as these looked like they were given a rough chop, or that they just put the broken pieces into a bag. Since these had filling in the pieces putting them in the food processor was out as it they would have stuck together. So chop, chop away I went with my knife to get them into fine crumbs.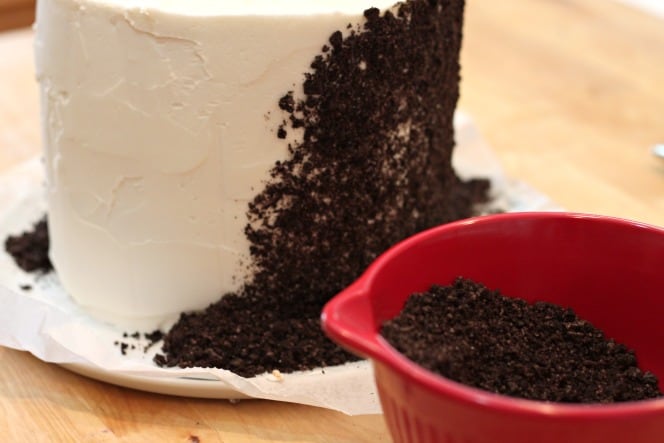 I scooped them into my hand and pressed them onto the side of the cake.
white cake recipe for Oreo Cake
Ingredients
3 1/2 cups cake flour
1 1/2 cups whole milk (room temperature)
9 egg whites (room temperature)
3 teaspoons vanilla extract
2 1/2 cups sugar
6 teaspoons baking powder
1 1/2 teaspoon salt
2 sticks +2 Tablespoon butter
Instructions
Prepare 3 8" pans with baking spray, then line them with parchment circles and then spray baking spray on top of parchment.
Preheat oven to 350 degrees.
Mix milk, eggs whites, vanilla until combined in medium bowl.
In mixer bowl place flour, sugar, baking powder and salt.
Mix on low, add butter and blend until incorporated.
Pour half of the liquid mixture into the flour mixture and beat on medium for 1-2 minutes.
Add remaining liquid and mix for one minute more.
Separate the batter amongst the three cake pans.
I scoop them out with a one cup measurement cup to be sure they are equal.
Bake for 25-30 minutes or until toothpick comes out clean.
Allow cake to cool in pans for 5 minutes,then remove cakes from pans and completely cool.
Recipe from Epicurious slightly adapted.
Buttercream Frosting
Ingredients
2 cups unsalted butter (room temeperature)
2 cups shortening
8-12 cups powdered sugar
4 tablespoons heavy cream
2 teaspoon clear vanilla extract
(if you don't want a lot of frosting you can cut this recipe in half)
Instructions
Beat butter and shortening until fluffy.
Add in powdered sugar, cream and extract.
Mix until smooth.
Notes
Shortening*
I have found that the brand name shortening is very dense and thick.
I prefer Walmart's Store brand of shortening it's lighter and fluffier and results in a lighter frosting when shortening is needed.
All butter would not create WHITE frosting.
If you frosting isn't really white depending on the color of the butter used, add a few drops of Americolor White Food Coloring.
Oreo filling and Crumbs
Ingredients
3 cups oreos
2 tablespoons butter
2 tablespoon heavy cream
1 cup buttercream frosting (recipe above)
Oreo Crumbs for Outside of cake
2 cups Oreos chopped finely to create dry crumbs
Instructions
Place Oreos, butter, cream and frosting into food processor and blend until it's spreadable.
Crumbs
as you chop the cookies into crumbs, the dry cookies pieces will dry out the filling and allow you to keep chopping so it's dry crumbs. *If it's too moist add a teaspoon of powdered sugar while chopping.

If you love Oreos you'll love these recipes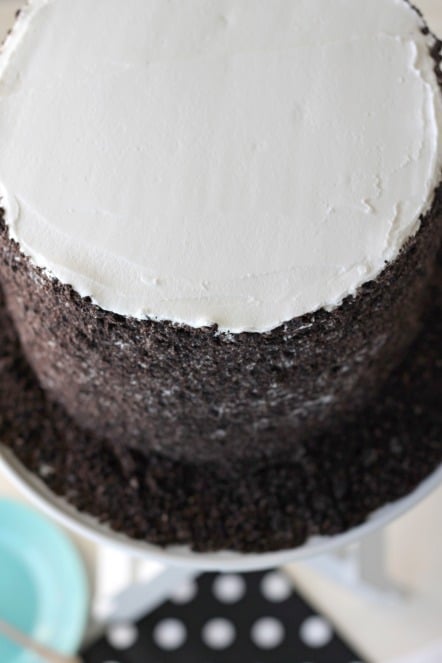 Sometimes CRUMBS can be really GREAT!!!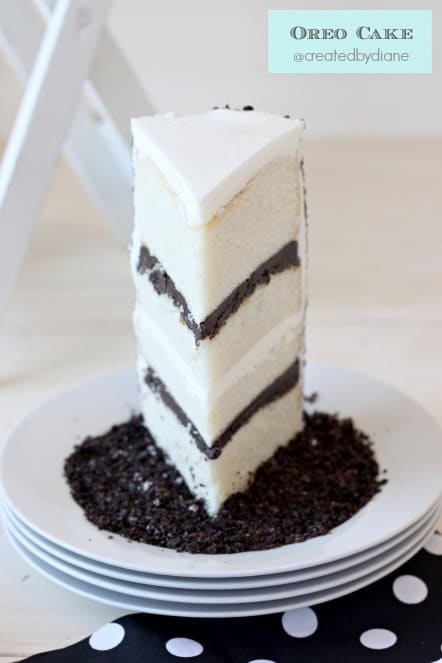 The chocolate crumbs are on two layers and buttercream is in the center of the two other fillings. Looks like an Oreo inside an Oreo Cake, well almost.