If you're looking for a delicious chocolate frosting recipe to make the best Chocolate Frosted Cookies ever, this is the one for you.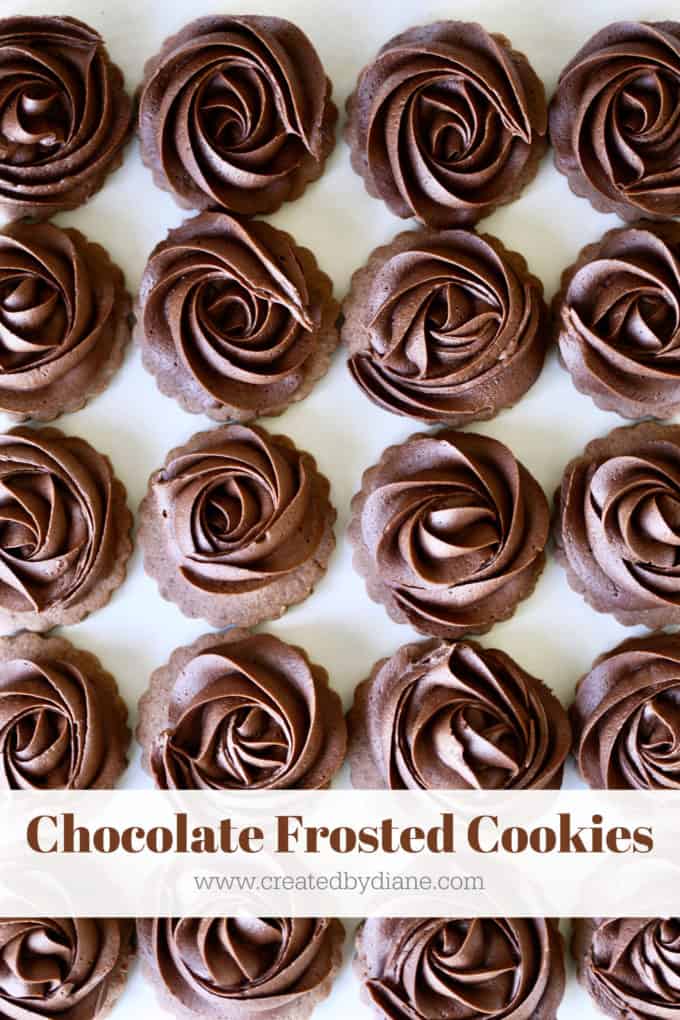 Can we just all agree that making your very own Chocolate Buttercream Frosting is one of the best tastes, ever. 
That is… next to the chocolate cookies of course! 
Chocolate lovers UNITE!
These cookies do not only start with basic ingredients they look so pretty, don't you agree?
There's just something so simple and delicious about making homemade frosting that it's safe to say that you'll never have a reason to go back to store-bought frosting ever again. I didn't grow up eating store-bought frosting, I had it certainly but my mom made frosting and I like it, but I don't recall chocolate buttercream frosting much at home. I am a chocolate lover and love how delicious this chocolate frosting is, and I think you will too!
Besides, can one ever really have too much chocolate in their life? I think not. This is why I don't think twice about whipping up a batch of this delicious chocolate buttercream frosting. I know without a doubt that it's going to be a delicious taste and flavor and honestly, it would even make a shoe taste good! 
Before you make these chocolate frosting cookies, it might be a good idea to brush up on how to bake perfect cookies so that you can be prepared if you're making your cookies homemade as well. 
Both recipes are included in this post:
Chocolate Buttercream Frosting and Chocolate Sugar Cookies

Use a 2″ scalloped edge cookie cutter to make the cookies

Use a 2D piping tip to pipe on the roses with the chocolate frosting
take a look at my VIDEO on how to frost a rose cupcake here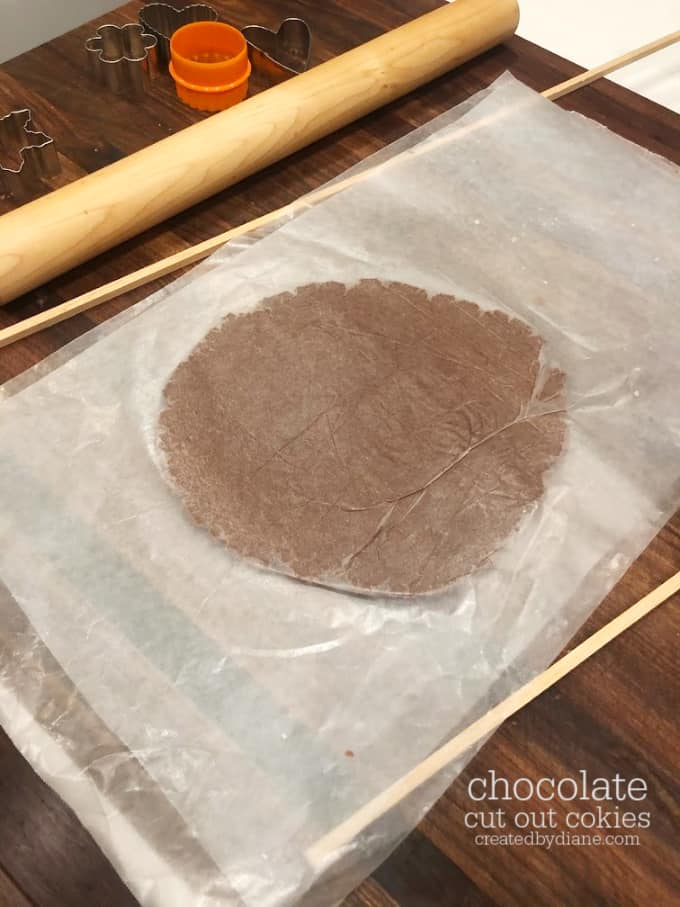 This cookie dough comes together easily when mixed with a mixer. Then roll the dough into a ball and separate it into two parts to roll the dough with ease. Place the smaller ball of dough in between two pieces of wax paper and roll the dough to 1/4″ thick. I use 1/4″ dowels on each side of the wax paper to guide the rolling pin to be sure the cookie dough is rolled evenly. This will ensure all the cookies are the same thickness and size. Finish rolling and cutting out all the cookies. 
Place the cookie dough on baking sheets lined with parchment paper, and be sure to allow room between each cookie for even baking (don't overcrowd the cookie sheets)
Bake the cookies and then allow them to cool completely on the baking sheets, this will prevent you from messing up any of the cookies.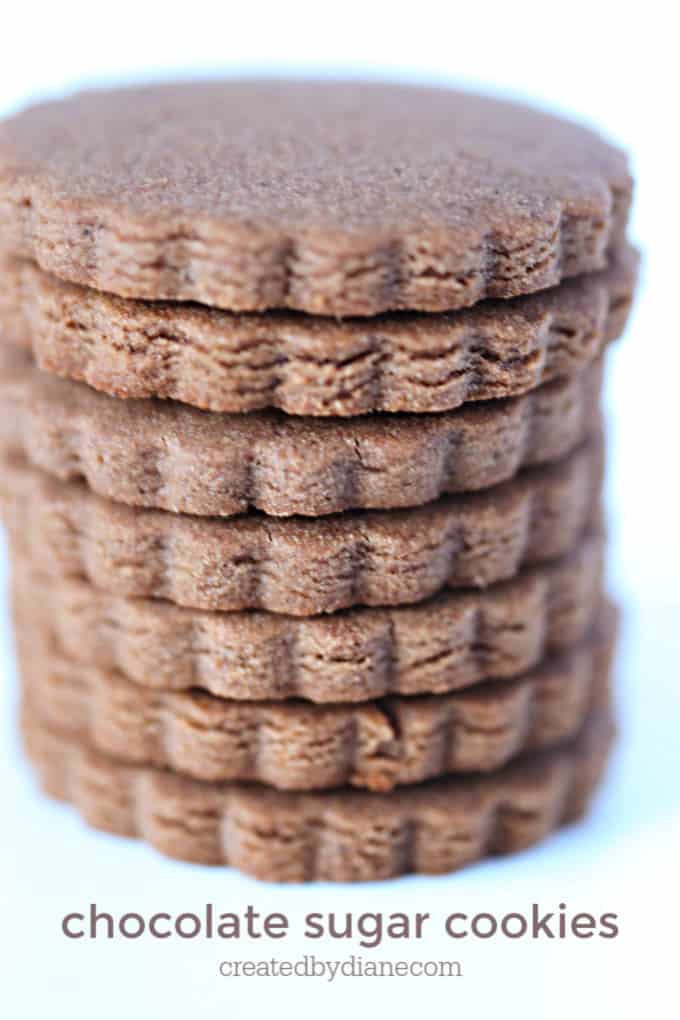 While the cookies are baking mix up the frosting. It's best to allow the butter to come to room temperature, but by no means melted, as this would make the frosting really soft and messy.
Place the frosting into a piping bag fitted with the 2D tip and starting in the center of each cookie pipe the frosting around the center in a circle to create the roses.
What else can you use this chocolate frosting on? 
Any type of dessert that you want! I've made this and used it on cookies, cakes, pies, and even just dipped some simple graham crackers into it to get that delicious taste and flavor. 
The one constant that I noticed no matter what I was eating it with was that it was super creamy and full of an amazing chocolate taste. 
And that, my friends, is why I continue to make this recipe over and over again! It's so good and simple that I literally have no reason not to!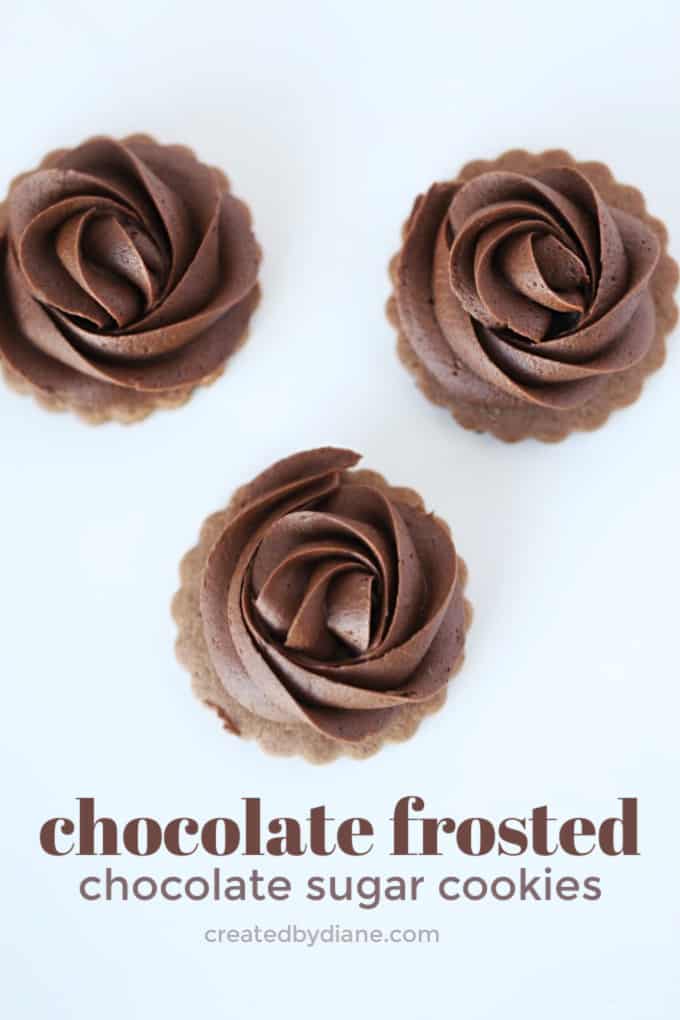 Can you freeze homemade chocolate frosting?
You can! Just make certain that you store it in a freezer-proof bag or container and it should freeze for a few months (2-3) easily and without issues. Freezing icing is convenient but don't forget that it does take time to unthaw it as well. 
I love making this frosting a little bit ahead of time so that it has time to really set and be great for all types of desserts.
Is your mouth watering for the recipe? I really think that you're going to enjoy it! It has so much more depth and flavor than anything that you can buy at the store!
If you have extra chocolate frosting it's great for dipping pretzels into or filling two pretzels like a sandwich. It's also great to dip fruit into or pipe a dollop on strawberries, 

How do you freeze the chocolate sugar cookies? 
Yes, you can freeze these chocolate cut out sugar cookies, allow them to cool completely, even overnight. Wrap them with wax paper between each layer of cookies and put them in an airtight container or plastic bag (double bag them) remove as much air as possible and seal the container/bag well. These will stay nice in the freezer for 3 months. 
I have frozen these cookies frosted, but there is a huge risk of them not looking as pretty. Freezing each the frosting and the cookie separately then, thaw them completely and then piping the frosting onto the cookies to serve I feel is best.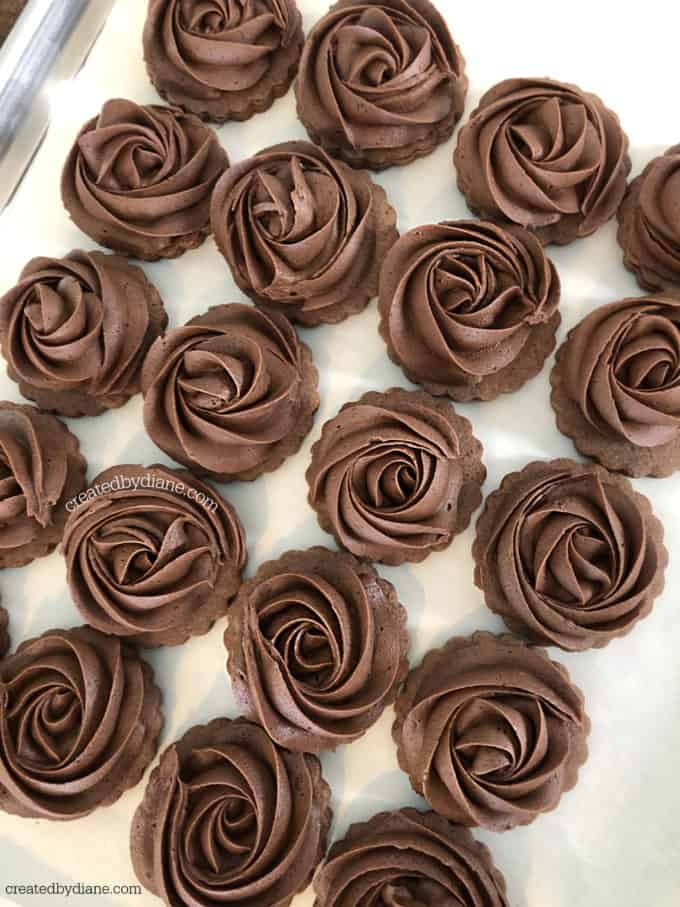 If you are more of a vanilla person be sure to check out my Vanilla Rose Frosted Sugar Cookies HERE. They have pretty pink frosting, but you can easily make it any color you prefer.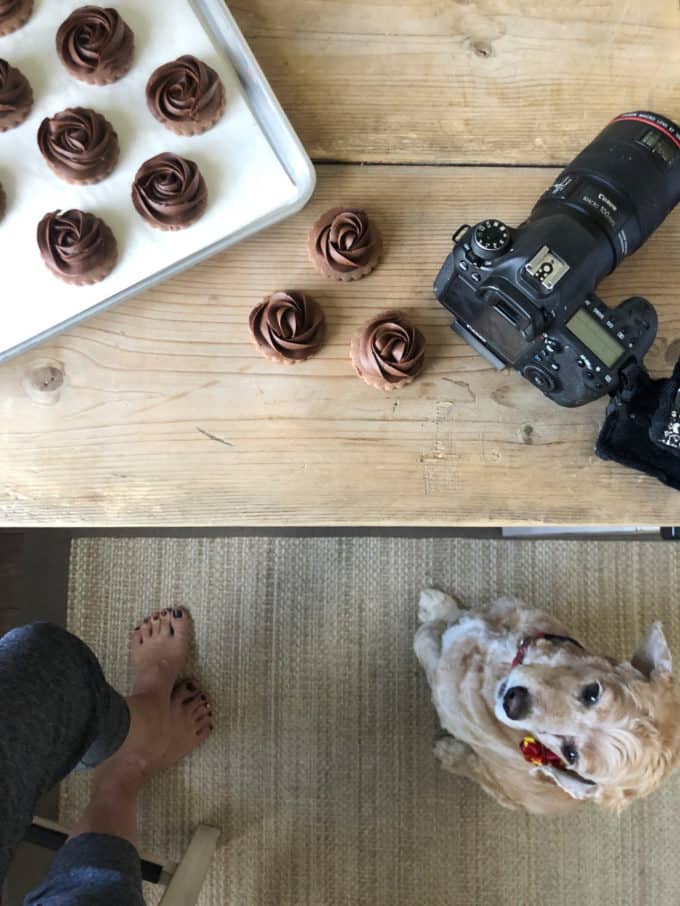 My dog Charlie is never far behind me, he is practically attached to my hip, and he's so sweet and always a super-happy dog in a great mood and hoping I'll make him some DOG TREATS, like these Peanut Butter Oatmeal Biscuits.  He just turned 9. If you want to see more of Charlie's antics follow him on Instagram @sweetcharliedog. On my Instagram (@createdbydiane) you'll often see stories of him cooking with me, so if you're on Instagram check us out.
Chocolate Cut Out Sugar Cookies
A rich delicious chocolate sugar cookie that holds its shape when cut out and baked with a cookie cutter.
Author:
Diane Schmidt - Created by Diane
Ingredients
1 cup salted butter (If using unsalted butter add 1 teaspoon salt)
1 cup powdered sugar
1 large egg
1 teaspoon vanilla extract
1/4 cup melted and cooled chocolate chips (I use 60% Ghirardelli Chocolate chips)
2 tablespoons unsweetened cocoa (I use dutch process cocoa)
3 cups all-purpose flour
2 teaspoons baking powder
Instructions
In the large bowl of a mixer, beat butter and sugar until fluffy.
Add egg, vanilla extract melted and cooled chocolate, and cocoa mix thoroughly.
Add in flour, baking powder, and salt if adding, and mix until all combined.
The dough will pull away from the sides of the bowl when mixed.
Roll cookie dough into a ball.
But the ball of cookie dough in half.
Roll out cookie dough in between 2 pieces of wax paper to1/4 inch thick and cut with a cookie cutter. I used a 2 inch round scalloped edge cookie cutter
Place cookies onto parchment-lined baking sheets and bake at 400 degrees for 7-9 minutes.
The edges of the cookies will be firm but not browned.
Cool cookies on baking sheet before moving them, or leave them on the baking sheets to avoid breaking them.
Chocolate Buttercream Frosting
Creamy rich and delicious dark chocolate buttercream frosting
Author:
Diane Schmidt - Created by Diane
Ingredients
1 cup butter (salted or use 1/2 teaspoon salt if using unsalted butter)
4 cups powdered sugar
1 teaspoon vanilla extract
1/2 cup melted and cooled chocolate chips (I use 60% cacao chocolate chips)
2 tablespoons unsweetened cocoa (I use dutch process cocoa)
3 tablespoons heavy cream
Instructions
In the bowl of a mixer, beat butter until smooth and whipped.
Add in powdered sugar and mix completely.
Add in vanilla extract, chocolate, cocoa, and heavy cream and whip until smooth and creamy.
Be sure to scrape down sides so it's all mixed in.
Add frosting to a piping bag fitted with a 2D tip (or star tip of your choice) and pipe frosting onto completely cooled cookies.
I start in the center of each cookie and press some frosting out then make a swirl around the center a full circle almost to the outer edge of each cookie.