These cookies topped with buttercream are not only pretty, but they will make your mouth water for the next bite!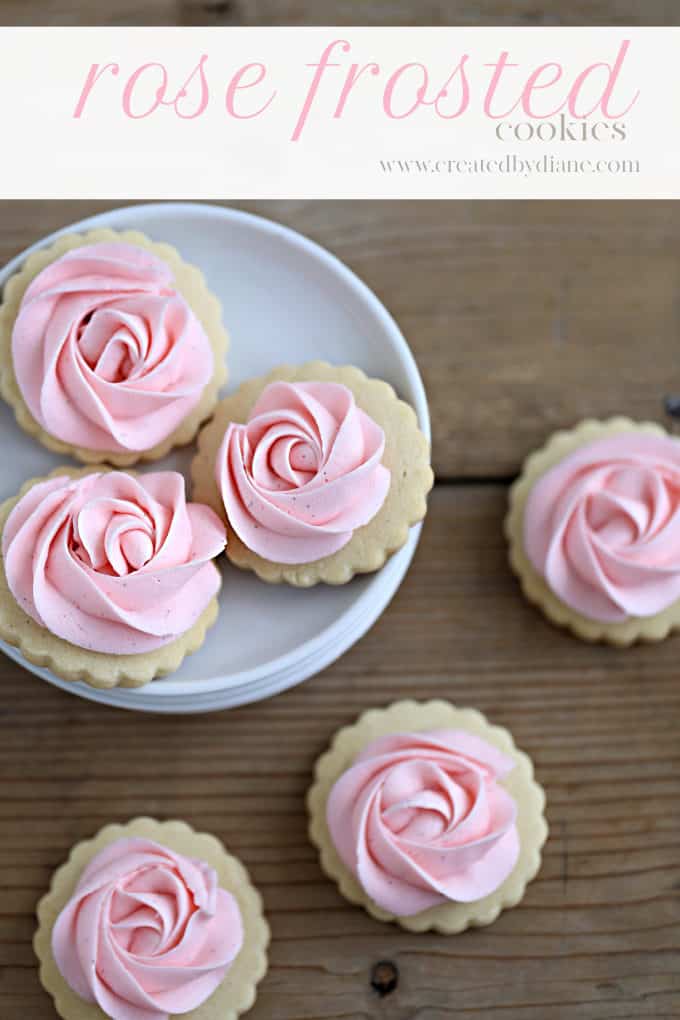 These are not only adorable they taste so delicious!
They are a variation on one of my most popular posts Rose Frosted Cupcakes I just couldn't wait to share these beauties with you.
I love that they are completely customizable, make the frosting any color you prefer, they are perfect for weddings and showers in white as well.
There are also tons of flavor options.
Go with something traditional like vanilla or almond, or make it fun by mixing vanilla almond and lemon, they call it the princess flavor. Which really keep them guessing as to the specific flavor and is quite irresistible. Bakeries often use them flavor combo.
I've baked hundreds of cookies and have found so many ways to ensure they turn out perfect every time. Be sure to check out:
Be sure to scroll down and see the VIDEO I included on these cookies!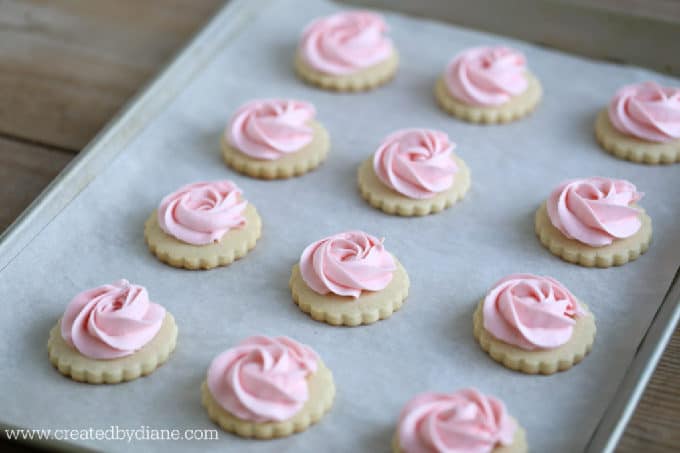 You could also make them in raspberry or banana with a soft yellow coloring would be great. I also love these with lemon… oh how lemon cookies seemed to disappear from the platter so quickly.
 The better the quality of flavoring the better the cookies will taste, whenever possible use real flavor, not imitation.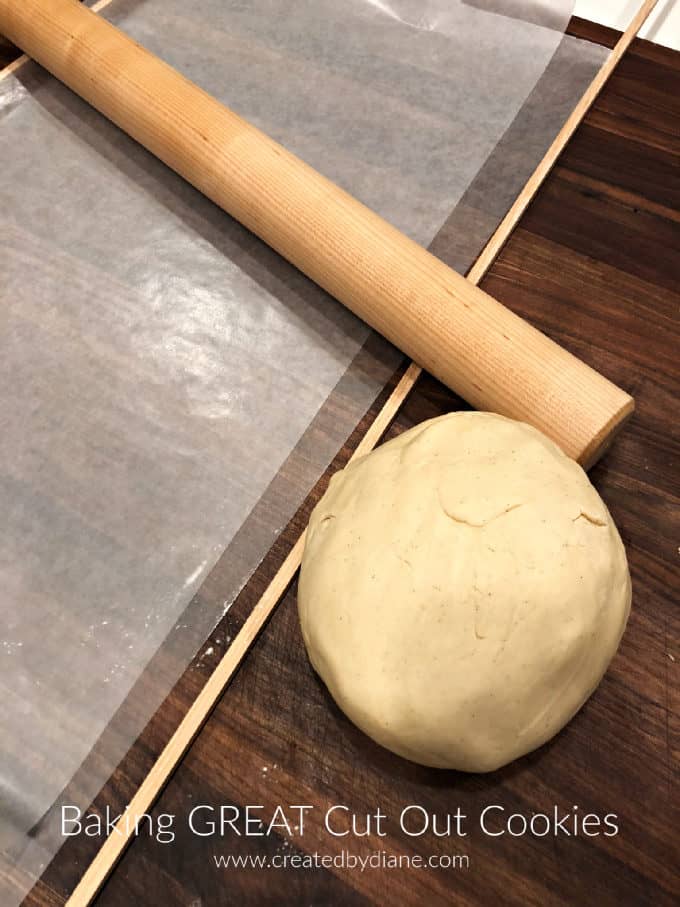 As I mentioned the possibilities are endless flavor extracts for baking are available in so many options nowadays, toffee, cherry, black walnut, and other flavors that seem to appeal to kids like apple, marshmallow.
 Cotton candy, tutti fruity, and strawberry are often popular.
I find that LorAnns Flavors are readily available on Amazon or at baking supply stores and remember a little typically goes a long way.
So add some flavor, then give it a taste before adding more.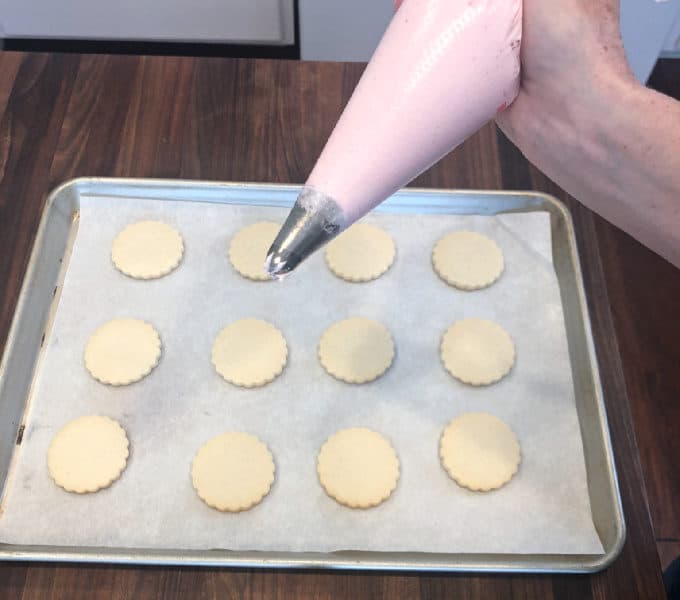 You can flavor the cookies and the frosting for a powerful duo or make a fun combo like lemon cookies and coconut frosting, the possibilities are endless.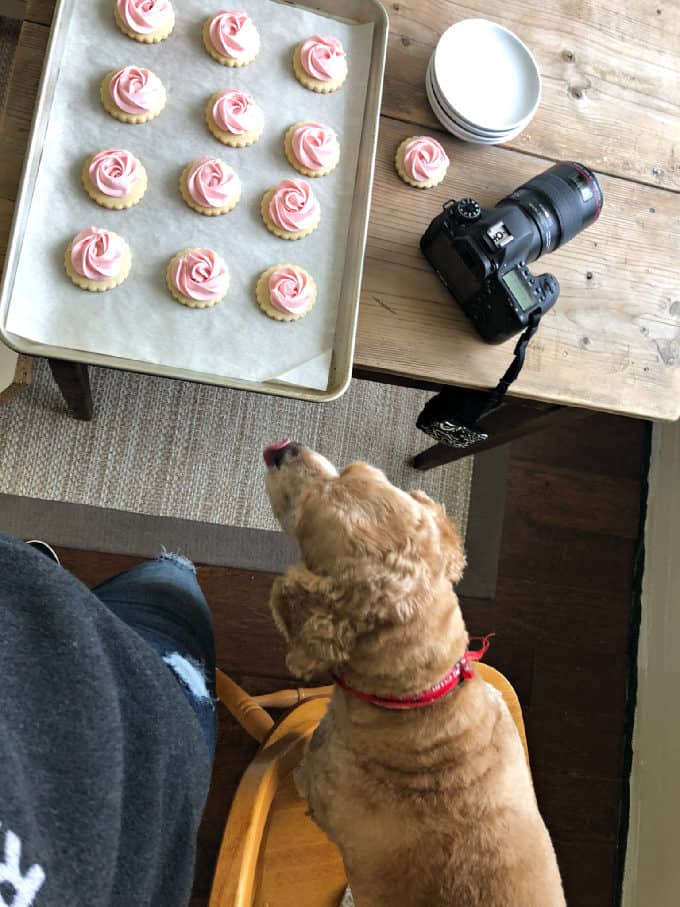 Now don't take my opinion, take Charlie's you can see him licking his lips, and funny thing… he got a cookie and it sure looked like he was enjoying every single bit of it!
There are many items I feel help in making these cookies turn out so well.
I use these: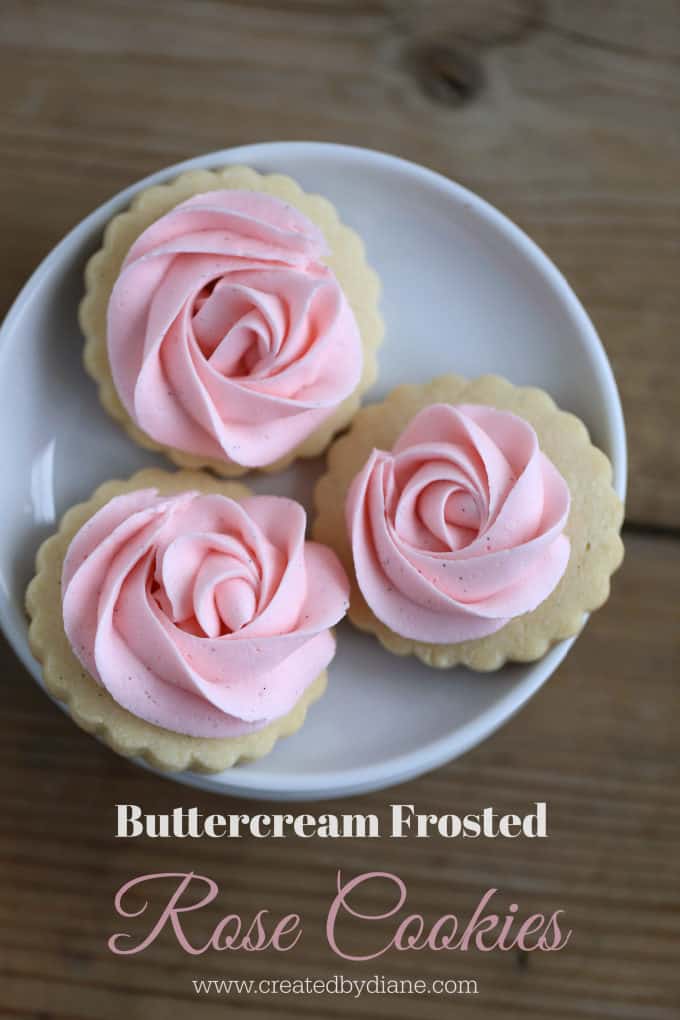 This is a small batch that makes 18 cookies. The recipes can be easily multiplied to make more.
Below you can watch a video on how to create the rose frosting on a cookie.
Sugar Cookie Recipe
Ingredients
1/2 cup butter
3/4 cup powdered sugar
1 egg (mixed then 1+1/2 tablespoons removed to use in the recipe)
1 teaspoon vanilla bean paste or vanilla extract (or another extract flavor)
1 1/2 cups flour
1 teaspoon baking powder
1/2 teaspoon salt
Instructions
Preheat oven to 400°.
In the bowl of a mixer, beat butter with sugar.
Add in the egg (remember this is a small batch and you'll mix one egg and only add 1 1/2 tablespoons of the egg mix) and vanilla bean paste/extract and mix until combined.
Add in flour, baking powder, and salt and mix until all combined.
Roll out cookie dough to 1/4" in between wax paper.
Cut out cookie with a cookie cutter. I used a 2" scalloped edged cookie cutter. (any round cutter would work)
Place cut out cookie dough on parchment lined baking sheets.
Bake for 7-8 minutes.
Buttercream frosting recipe
Ingredients
1/2 cup butter
2 cups powdered sugar
2 tablespoons heavy cream (add 1 then add the second if needed)
1 teaspoon vanilla bean paste or vanilla extract (or another flavor extract)
food coloring (I used a small drop of light pink coloring from Americolor)
Instructions
In the bowl of a mixer whip butter until smooth, add in powdered sugar, and heavy cream, and whip well so it's fluffy.
Add in vanilla, and food coloring and mix until all combined smoothly.
Place frosting in a piping bag with a 2D tip and swirl frosting onto cookies starting in the center and creating a circle around the middle.
Cookies can remain at room temperature for 3 days.