As summer begins its' the best time to celebrate with all things RED, WHITE, and BLUE!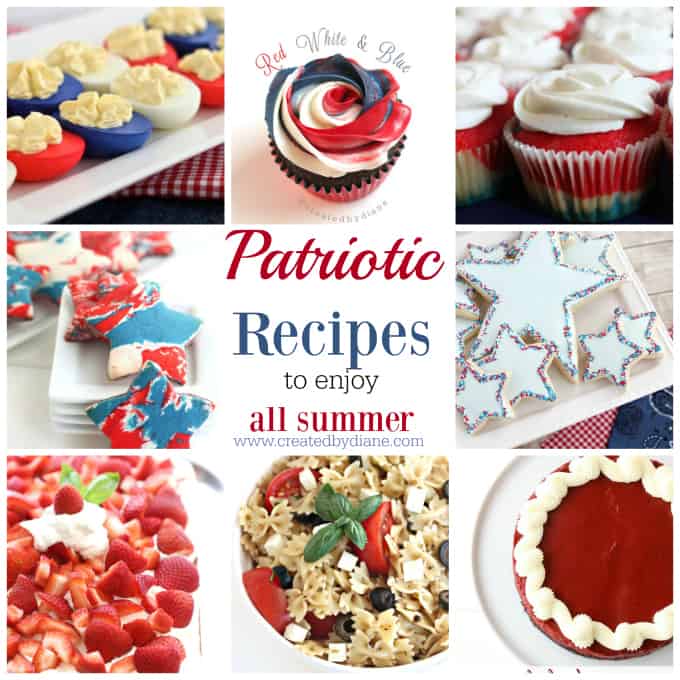 These patriotic recipes will not only help you celebrate the "official" kick-off of summer but will have you covered all summer long.
From cute desserts like cakes, cookies, and cupcakes, with an appetizer that gets rave reviews,
and a must make a pasta salad that everyone will enjoy and even a fun recipe for how to NOT take all day to make a fun meal perfect for weeknight meals, to entertaining off the cuff,
with this spiral cut hot dogs with a yummy BLT cole slaw,
just add some corn on the cob and baked beans and you have a meal in no time!
Red, White, and Blue Deviled Eggs – fun and colorful along with being delicious!
Red, White, and Blue Swirled Rose Frosted Cupcakes – swirled red white and blue frosting… so pretty!
Red, White, and Blue Cupcakes with White Rose Frosting – colored cake mix and pretty white frosting!
Red, White, and Blue Tie Dye Cookies – these cookies are so cute and can be made in any color combination for all occasions.
Star Cookies with sprinkles on the edges – these cookies will be loved all summer long, no one can seem to pass them up and you can print out the template for giant star cookies too.
Strawberry Shortcake (only takes 1 hour)
Feta, Basil Balsamic Pasta Salad – a FANTASTIC pasta salad that is full of delicious flavor!
Red Velvet NO-Bake Cheesecake – the color alone is inviting and it tastes amazing!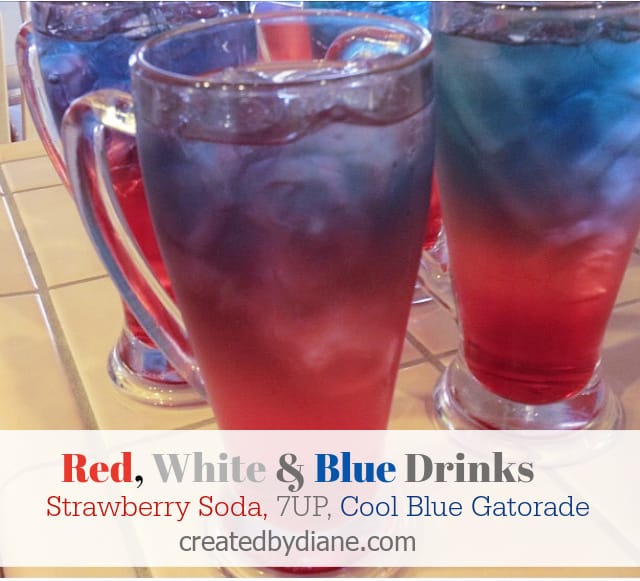 The liquid with the most sugar should be added first… If you choose a different item it may layer differently. This is a fun patriotic drink. Everyone loved it, even the non-soda drinkers thought it was super fun! Add vodka to make it a cocktail!
To layer them and keep them from mixing, pour them over the back of a spoon slowly.
Alternative red drinks: cranberry, grenadine, pomegranate, cherry juice.
White drinks: Mix lemonade and vodka for a fun "white" layer, coconut water, white peach, champagne, seltzer, sprite.
Blue Drinks: blue curacao, blueberry juice.
keep scrolling there lots more…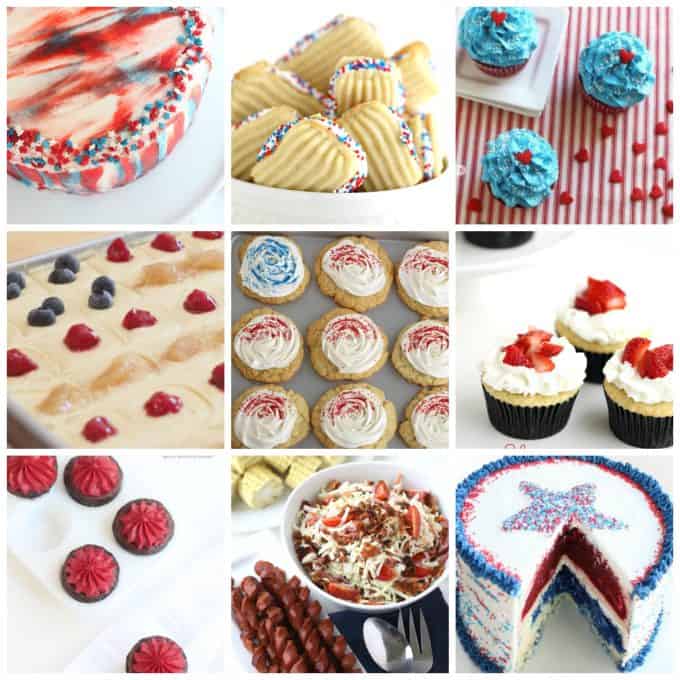 Patriotic Cake – that is easy to decorate in a fun tie-dye look
Spritz Cookies filled with frosting and fun patriotic sprinkles – a classic cookie make perfect for any celebrating!
Blue Frosted Cupcakes– fun and easy to make
Fruit Squares "Patriotic Cake" – this cake can be made to look like a flag or fill it all with one flavor your choice.
Frosted Sugar Cookies – sugar cookies are always a great idea, use some sprinkles to make these all festive.
Strawberry Shortcake Cupcakes – simple flavors that taste amazing in these cupcakes.
Chocolate Cupcakes with Red Velvet Frosting – delicious chocolate cupcakes with pretty red velvet frosting, a crowd pleaser.
Spiral Cut Hot Dogs with BLT Cole Slaw Recipe – THIS IS PARTY FOOD, this post shows you how to not only get a party ready fast, it helps you keep it simple and delicious in the process.
Red, White, Blue Cake – layers of pretty cake topped
They say nothing is more American than apple pie, and this dip will WOW everyone. It's an Apple Pie Dip. Great for dunking apple slices, chips and cheese crackers.
Pretzel Wreath – a fun treat to make and eat!
Overnight Oats with Berries – a great way to celebrate breakfast with some patriotic fun!
Cherry Pie Cookies – or fill them with any fruit the post has lots of options.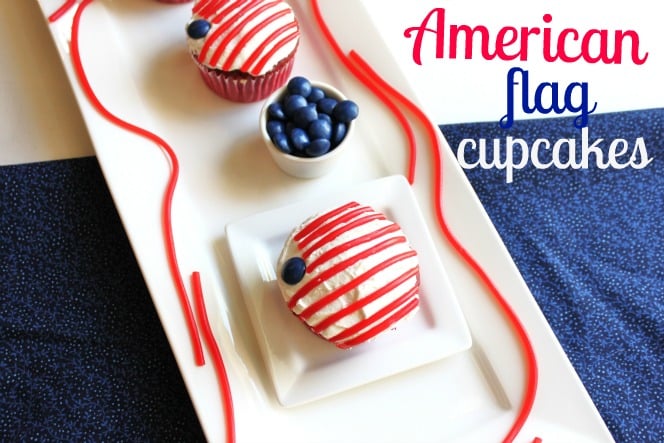 American Flag Cupcakes – kids will LOVE helping with these.
AND red white and blue spaghetti!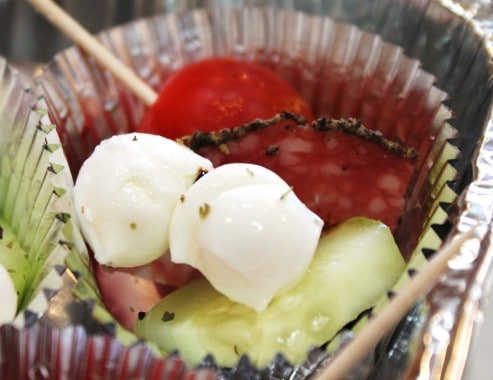 Another fun appetizer that is so easy and requires no cooking is this antipasto appetizer!
click HERE for all my appetizer recipes