This chocolate brownie cake is super versatile, transports well, and will become your new favorite. You definitely need this recipe in your arsenal!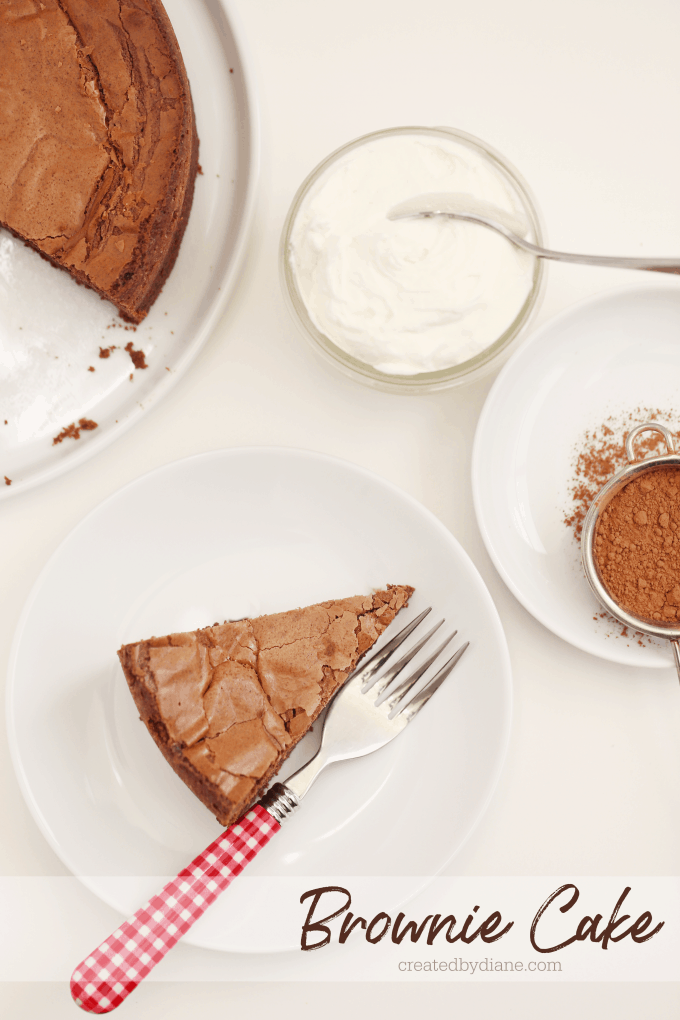 This 8" Round Brownie Cake is perfect in its simplicity!
Rich and fudgy… yum!
Serve it plain, dust it with cocoa, powdered sugar, or top it with fresh whipped cream or some fresh fruit and you have a stunning and delicious dessert.
Can you ever go wrong with chocolate… not I'm my opinion.
This dessert is part cake, and part fudgy brownie is the best of two dessert worlds!  This cake is rich and delicious, it doesn't even need frosting. Of course, if you want to take it over the top, make a batch half a batch of this buttercream frosting I have and slather it on the top, pipe it on like roses, or pipe it with a fun piping tip! Almost any flavor of frosting would work with this cake, but peanut butter frosting might be my number one choice. 

How to melt the chocolate and the butter…
There are two ways to heat it, I find the microwave to be the easiest, I use the defrost function at 30% power (every microwave is different so be sure to start slow and add more time) Do not boil the butter or the chocolate.
but you can heat it on the stove as well. If you heat the chocolate on the stove be sure to use a double boiler (a pan of chocolate over a pan of simmering water that is not touching the bottom of the pan of chocolate) 
What Kind of Chocolate Should I Use for Chocolate Brownie Cake?
Good quality chocolate makes all the difference in a recipe where you really want the chocolate flavor to shine. I like to use Ghirardelli 60% chocolate chips for this 8" brownie cake, but any high quality semi-sweet or dark chocolate will work just fine.
How Can I Intensify the Flavor in Chocolate Dessert Recipes?
Coffee does a great job of intensifying the flavor of the chocolate. For this recipe, add 1 tablespoon instant coffee to the melted butter before stirring it into the brownie batter. For a chocolate dessert recipe that uses water (like a cake), use strong black coffee in place of the water in the recipe.
To intensify the chocolate flavor in this recipe, you can also add more chocolate. I have made this brownie cake with up to 10 oz of chocolate. The center of the cake will be less set up, but taste very fudgy if you allow it to cool and then refrigerate it. Before serving, remove the cake and allow it to come to room temperature
What other flavors can be used in this?
Coconut goes really well with chocolate! To make this a chocolate/coconut combo, add a half teaspoon of coconut extract when adding the vanilla.
Chocolate Mint is also a very popular combination. To make this a Mint Chocolate Brownie Cake, add ¼-teaspoon mint extract with the vanilla. You could also stir a cup of mint chocolate chips into the batter.
For a chocolate peanut butter combination, add ¼ cup of creamy Peanut butter with the butter in this recipe. You could also stir in some chopped peanut butter cups or peanut butter chips 1/2 cup would be good.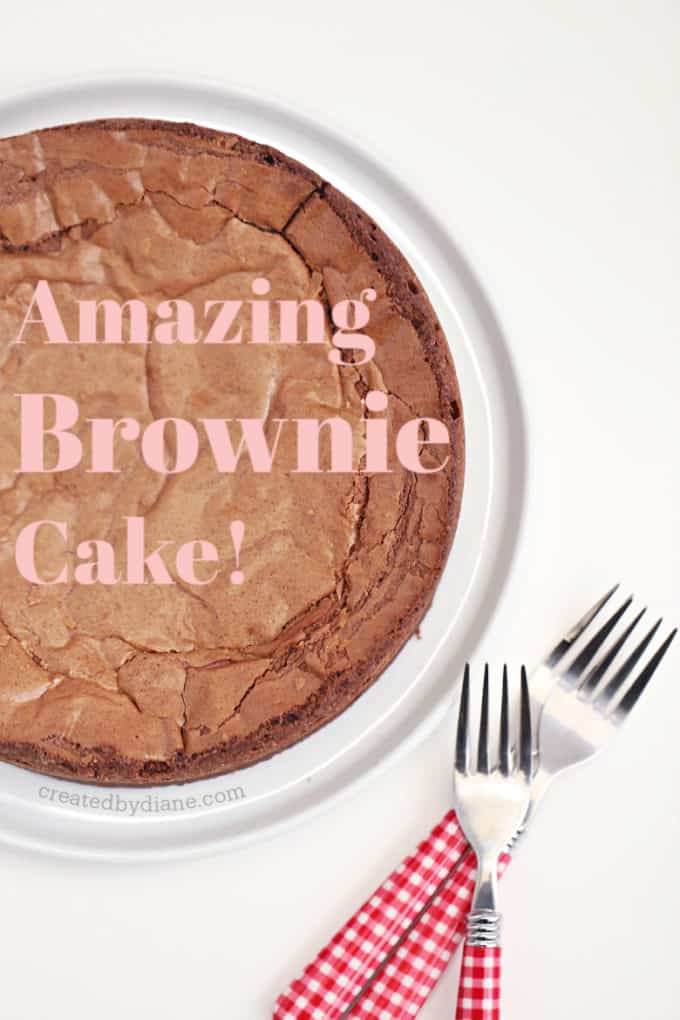 Other Additions you can add to this brownie cake…
Coffee really intensifies the flavor of the chocolate, add 1 tablespoon Instant coffee, add this to the melted butter. 
Chocolate Coconut goes really well together, add coconut extract, add this when adding the vanilla. 
Chocolate Mint is a great flavor combo, add ¼ teaspoon mint extract, when adding the vanilla.
And for anyone who likes a chocolate peanut butter combination add ¼ cup Peanut butter, add this when adding the butter.
or mint chocolate chips, oh so yummy!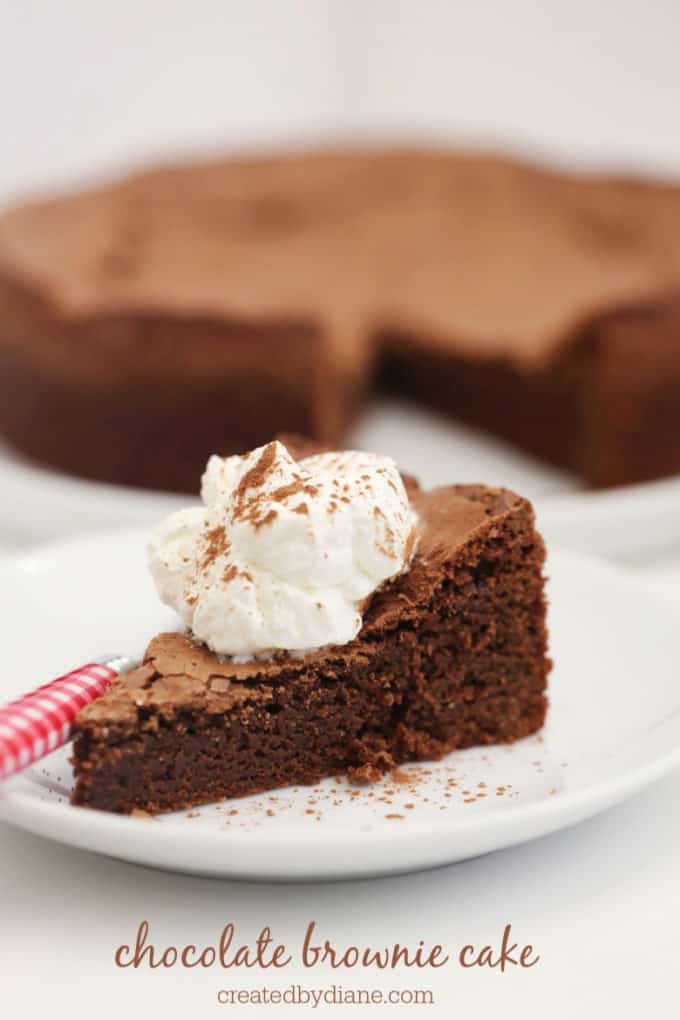 This chocolate brownie cake is just the perfect size, it's baked in an 8″ round pan,  you can slice it up into 8 BIG pieces, or 10 servings.
If you ask me this may just be the most perfect brownie birthday cake ever… if you're celebrating something special, this cake will be thoroughly enjoyed.
8-inch Chocolate Brownie Cake
a delicious and rich brownie cake that is perfect for birthday celebrations to every day celebrating, or just because. it's simple and delicious and tastes fantastic.
Author:
Diane Schmidt Created by Diane
Ingredients
5 oz good quality chocolate, I use Ghirardelli 60% chocolate chips, melted it's about 3/4 cup
1/2 cup butter
1 cup all-purpose flour
1/2 teaspoon baking powder
3 eggs
1 cup granulated sugar
1 teaspoon vanilla
2 tablespoons unsweetened cocoa, I use dutch process cocoa
Instructions
Preheat oven to 350°.
Prepare an 8" cake pan with a baking spray or shortening and flour.
Melt the chocolate in the microwave at 30-second intervals stirring at each, 30 seconds, chocolate heats unevenly so don't just wait until it's all liquid, it will be over-cooked.
Next, melt the butter in the microwave, again you don't want to "boil" it, just melt it stirring at intervals so it's melting evenly.
In a medium bowl, mix the sugar and eggs, add in the melted chocolate, and melted butter.
Then stir in the flour with baking powder and vanilla until the mixture is all combined.
Pour the batter into the prepared pan and bake at 350° for 30 minutes test with a toothpick to come out clean.
Don't over bake or it will be dry, it's under-cooked it will be gooey, it's better to be less cooked than more with brownies, it will stay warm and continue cooking a few minutes when you take it out of the oven.
If by chance it's underbaked, allow it to cool and place it in the fridge to firm up.
Testing with a toothpick at 2-minute intervals will help get the proper consistency, you can start testing a few minutes before the 30-minute mark and continue until necessary.
Allow the brownie cake to cool in the pan for 15 minutes, then turn the pan over and release the cake and turn it over right side up onto a cooling rack.
You can serve this warm if you're slicing it warm use a serrated knife.
You can allow it to cool completely, you can add fudge on top, or dust it with powdered sugar, or cocoa and top it with whipped cream.