Green Velvet Cupcakes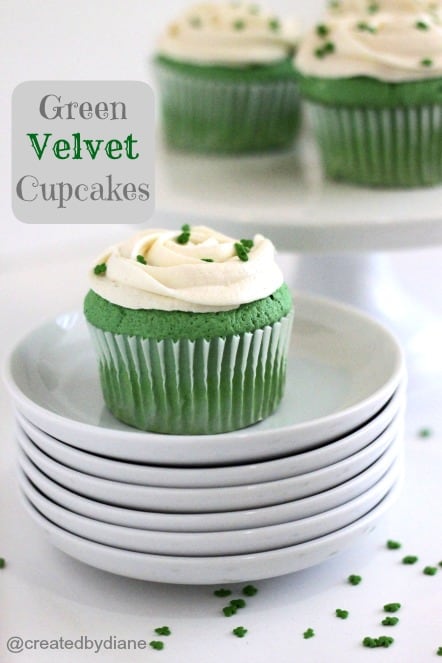 Happy St. Patrick's Day!
Aren't these festive and the perfect green for St. Patrick's Day?
They are easy enough to whip up, so you can start celebrating.
Isn't everyone a little bit Irish on St. Patty's Day!
Velvet cupcakes wouldn't be the same without cream cheese frosting, Red Velvet, Green Velvet, they both NEED cream cheese frosting and Oh how I love cream cheese frosting. I even added a bit of mint to these and it made them extra fun!
Well, really I love cream cheese… on anything, cheesecake, bagels, and well if I were being honest sometimes on a piece of toast with strawberry jam, yep…. that makes me very happy.
Well these Green Velvet Cupcakes make me happy too, they are pretty and delicious, a very important combination in cupcakes if you ask me.
How will you be spending St.Patrick's Day?
Do you make a traditional dinner?
We always celebrate with a traditional St. Patty's Day feast, we have for as long as I can remember.
Last year I made Corned Beef and Cabbage Soup with Irish Soda Bread Muffins. Sometimes I make this with leftovers or if I have a spare corned beef in the freezer any time of year. It's wonderfully delicious.
So get in the St.Patty's Day spirit and make a yummy meal and make these fun and festive cuppies for dessert!
Green Velvet Cupcakes
Ingredients
1 box white cake mix (plus ingredients listed to prepare)
2 tablespoons dry buttermilk
2 tablespoons cocoa
8 drops green food coloring
1 3.4 oz package vanilla pudding mix
Frosting
1 cup butter
4 oz cream cheese
1/2 teaspoon vanilla extract
1/4 teaspoon mint extract
4 tablespoons heavy cream
3 1/2 cups powdered sugar
sprinkles
Instructions
prepare cake mix according to package directions, add to it the dry buttermilk, food coloring, cocoa and dry pudding mix.
Bake cupcakes according to package.
Allow cupcakes to cool completely.
Mint Cream Cheese Frosting
Beat room temperature butter.
Then beat in room temperature cream cheese.
Add in extracts, heavy cream and sugar until smooth and creamy.
Pipe frosting on cupcakes with a piping bag and a 2D tip.
Apply tiny shamrock sprinkles before icing sets up so they stick.
*Video instructions on How to frost a rose cupcake with a 2D tip.
I have MANY fun St. Patrick's Day Recipes and Ideas posted HERE