Sometimes just the thought of that day brings stress.
I'm sure you remember thinking, "Is anyone going to be my Valentine?" That could have been years ago or yesterday.
Does anyone like me?
Will the person I have a crush on notice me?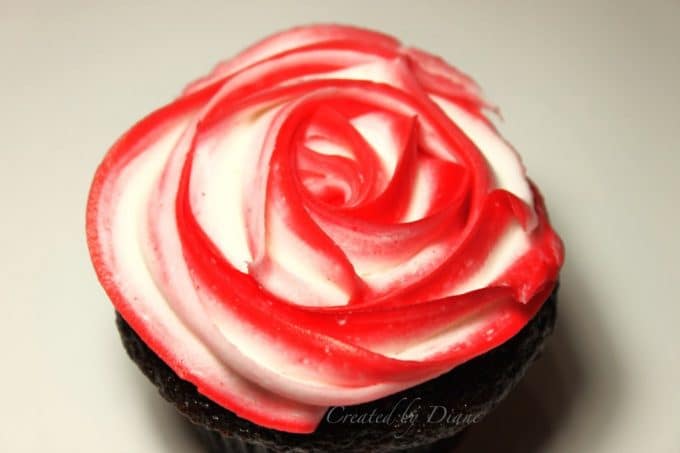 As we get older it can sometimes feel the same,
well, maybe not entirely the same.
If you are in a relationship, there may be the stress of what should I get them, or stress wondering what they will get you.
Everyone wants it to be a happy day, right?
There is a lot of hype to tell that special person you love them, and show them by giving them flowers and chocolates in a heart-shaped box on this day.
I myself am a hopeless romantic.
I can sit and watch romantic movies all day long.
I even had people comment on their favorite romantic movie here are the results
along with this cute cupcake that would make any Valentine Happy.
I once received fire and ice roses,
they were so pretty I thought I'd try to create them in cupcakes.
I put red and white buttercream frosting alongside each other in a piping bag. I love the look.
Stressed spelled backwards is DESSERT it seemed only fitting to share these with you on what could be a stressful day, or a day full of desserts.
I just love red and white and having both colors in a pretty rose is so sweet. I frosted these with the 2D tip.
This is one bouquet of roses I'd love to receive. So don't stress about the day, just relax and enjoy!
Keep Calm and Have a Cupcake!
If you need more Valentine Treats here is a list of items I've made,
some may inspire you to create on this day. If Valentine's Day stresses you out, just take a look and enjoy this virtual Valentine from me to you!