Oh the beloved SUGAR COOKIE… hard to resist and bring back so many memories of diving into the frosted cookies as a kid.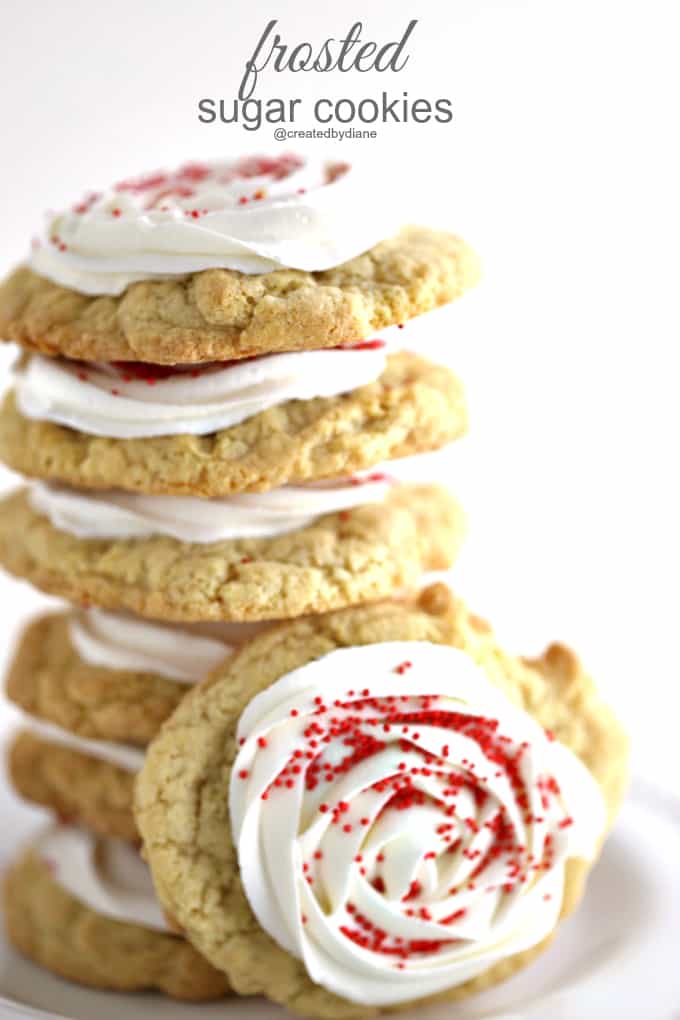 Frosted Sugar Cookies
Don't miss one delicious recipe and get my FREE e-cookbook click here!
These are easy to make and enjoyed by all!
This recipe makes 1 dozen 4-inch cookies.
Many reasons why this is good. It's great to have cookies around, but having 5 or 6 dozen around sometimes can be dangerous especially if it's just you ALONE with all those cookies!!!
This is a great amount of cookies to bring to friends, they'll appreciate you not brining 60 cookies if they want to fit into their bathing suit this summer.
You can make them a couple days ahead of time and keep them in the fridge until you need them.
You can decorate them in ANY color sprinkles to coordinate with any occasion or someones favorite color as a fun birthday treat.
You can pipe on the frosting to look like a rose, or spread it on with a spatula.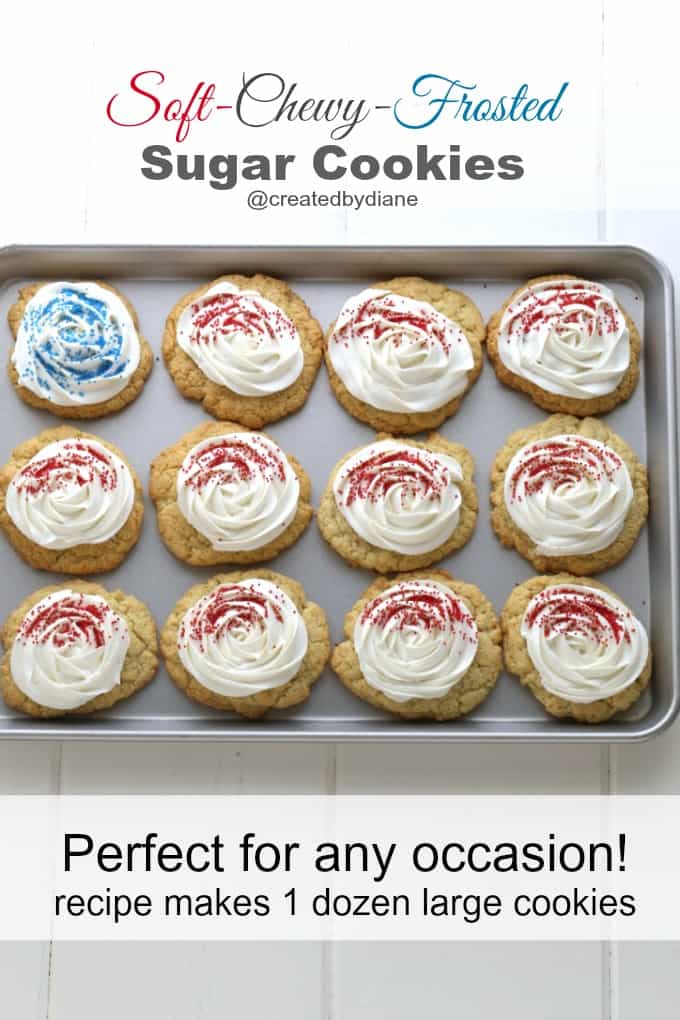 These cookies are not overly firm and crisp, they are chewy which makes them perfect when you bite into them, the frosting and cookies bend a bit not crack and less likely to have frosting flying everywhere with each bite.
 HERE you will find how to frost the rose out of frosting along with the buttercream recipe I used for these cookies.
I use a 2D frosting tip to create the rose, all instructions along with a video is in that post.
If you are adding sprinkles to the tops of the frosting, be sure to add them before the frosting sets up or they won't stick.
I used cake flour in these cookies, if you don't have cake flour you can make it by adding 1 1/2 Tablespoons cornstarch to 1 1/2 cups flour and sifting it 4 times so the cornstarch is well combined and sifted and fluffy.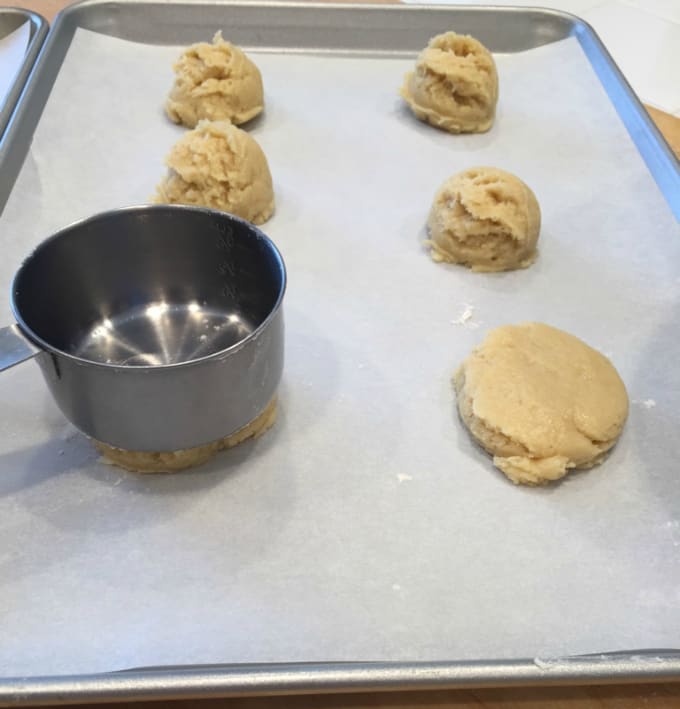 Each cookie was scooped with a three tablespoon scoop and then pressed flat on the baking sheet so they would have a flat area to frost after baking.
Frosted Sugar Cookies
Ingredients
1/2 cup salted butter
1/4 cup shortening
1 cup sugar
1 egg + 1 egg white
2 teaspoons vanilla
1 1/2 cake flour
1 cup flour
1 1/2 teaspoons baking powder
1/2 teaspoon baking soda
Instructions
In mixer bowl beat butter with shortening then add in sugar and beat until fluffy.
Add in egg, egg white and vanilla and mix until combined.
On low mix in flours, baking powder and baking soda.
Turn mixer on medium speed and once the dough pulls away from the sides of the bowl and is mixed well. Turn off, don't over mix. Over mixing will result in tough cookies.
Bake cookies in preheated 375 degree oven for 12 minutes. You can test these with a toothpick once it comes out clean, take them out of the oven, they may look slightly undercooked in the center as but they will cook another minute or two on the baking sheet once it's out of the oven.
I leave the cookies on the baking sheet to completely cool before frosting them. If you're in a hurry wait 15 minutes for them to cool, then pop the baking sheet in the fridge for 5 minutes and then frost them, if not wait about 30 minutes for them to be completely cool.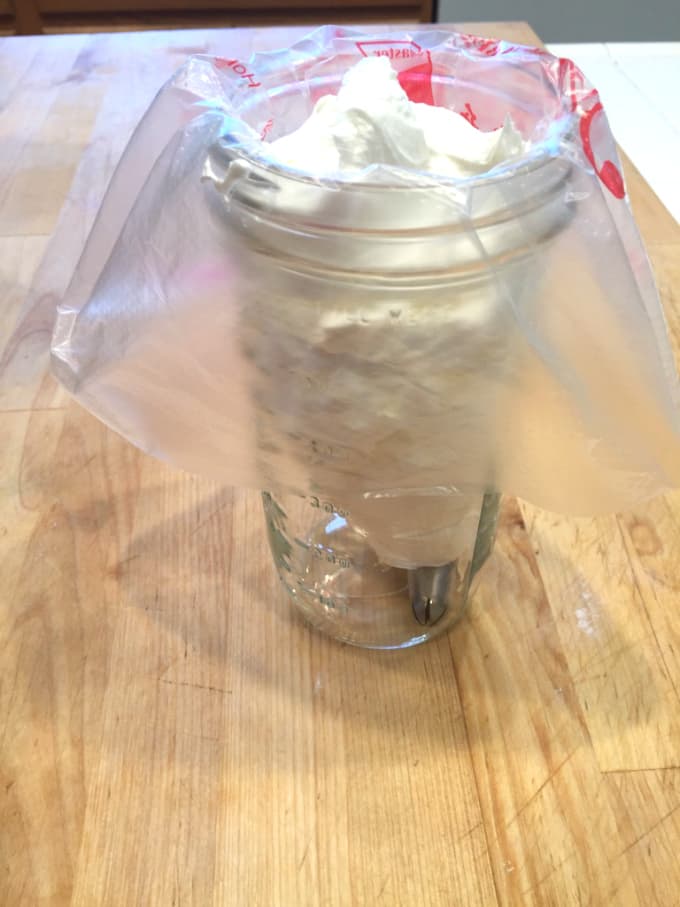 I love the wide mouth canning jars for this, they are very sturdy and don't tip over easily. Fit the piping bag with the piping tip I use a 2D for the roses. Then place the bag in the glass and fold the edges over the outside of the glass, then fill the bag with frosting and  gather the edges of the bag to close those it. Place a rubber band around the opening to secure it or tie a knot if the bag is thin and flexible.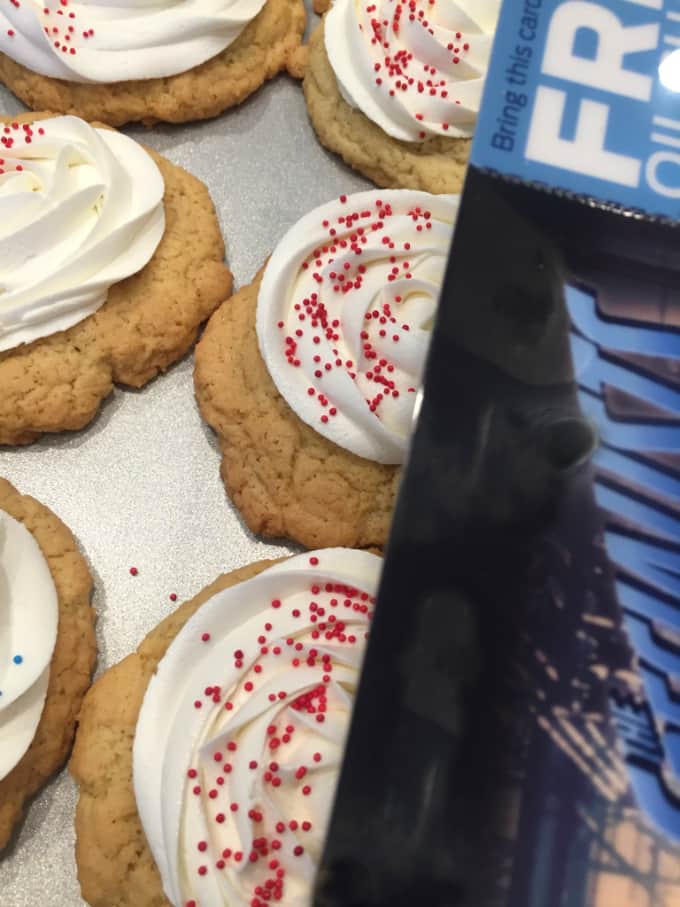 This may be the only good thing about junk mail, I had this laminated card for an oil change or something and used it to cover the half of the cookies I didn't want to get sprinkles on. It was super stiff and I just held it about an inch above the frosted cookies while I added the sprinkles to the tops of the roses.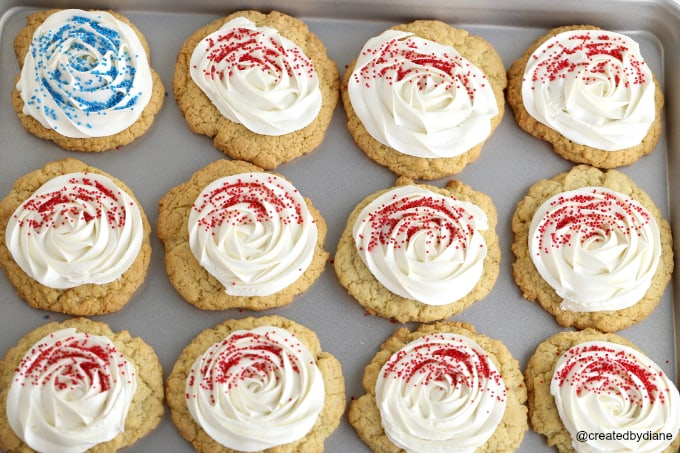 There you have a super pretty way to make an easy flag of sugar cookies.