How to fix a cake failure and more great tips on serving cake you will find helpful.
Today I'm sharing with you a delicious hot fudge cake, but it's not the cake I thought it would be sharing, you might get a kick out of the story behind this one!
Have you ever had a cake fail? Ever wonder how to fix up a cake mess? Want to make the most out of the remaining cut-up birthday cake? Need help? A dry cake?
Or just want a great hot fudge cake… get all the details below!
If great CAKE is what you want, great CAKE is what you're going to get!
No matter what you start off with, this is GENIUS!
I'm not only going to show you how to make this cake but I'll give you lots of options to take this idea and RUN with it for so many cake options.
And later I'll tell you how this cake came about, out of desperation! Really.
They say you can't have your cake and eat it too,
today…
We'll have cake and we'll eat it too.
This cake will remind you of a hot fudge sundae and we all know THAT is great, add sliced banana on each side and make it a banana split, pile on scoops of ice cream and WHAMO… you'll have everyone grabbing forks before you put it on the table.
Cake Problems… solved!
Over baked cake.
If you ate half a pretty cake and it no longer looks pretty, but want to salvage it and make it look better.
If your cake didn't come out of the pan and it looks a mess.
This remedy is great for so many reasons… 1.) it's easy 2.) it's delicious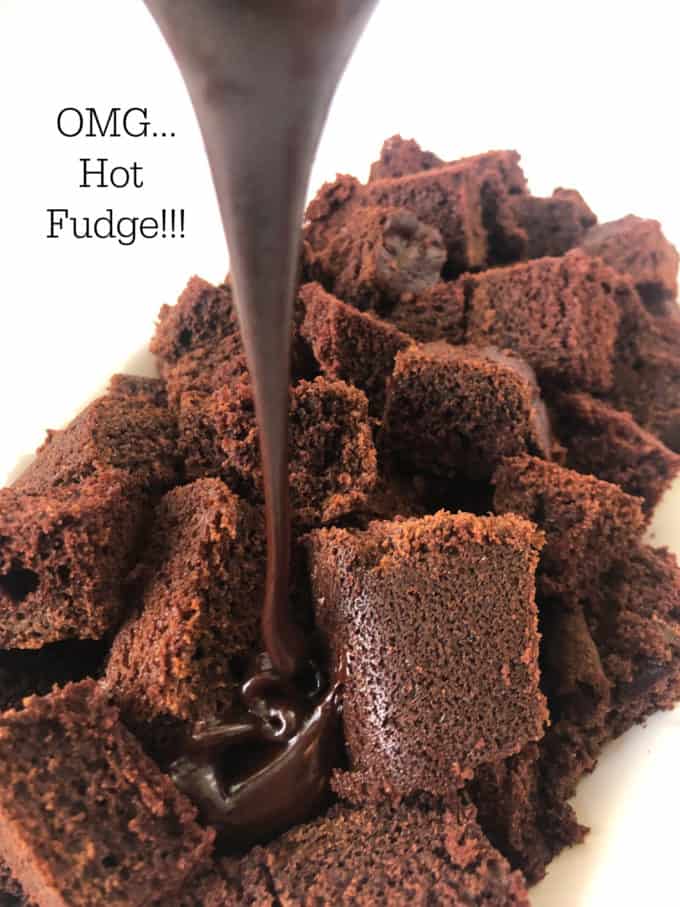 It's no secret that hot fudge is amazing… right?!?
Now, add hot fudge to some cake and you'll have me hooked.
But first, let's start with the cake…
You can use any cake you'd like for this,
Funny story… The dog ate my cake!
For real,
I had a thick 13×9 moist chocolate cake all baked and ready to decorate and got sidetracked for about 30 seconds…
Can you guess what happened next?
Yep, 30 seconds is all it took for my dog to DEVOUR the majority of the cake.
I was so mad. I had everything ready to decorate it. I had thought about the cake I was going to make for a while, planned it out, and had everything all set so I could get some good photos in the short hours of daylight in the winter when photographing can be a challenge.
BUT sometimes things work out for the best…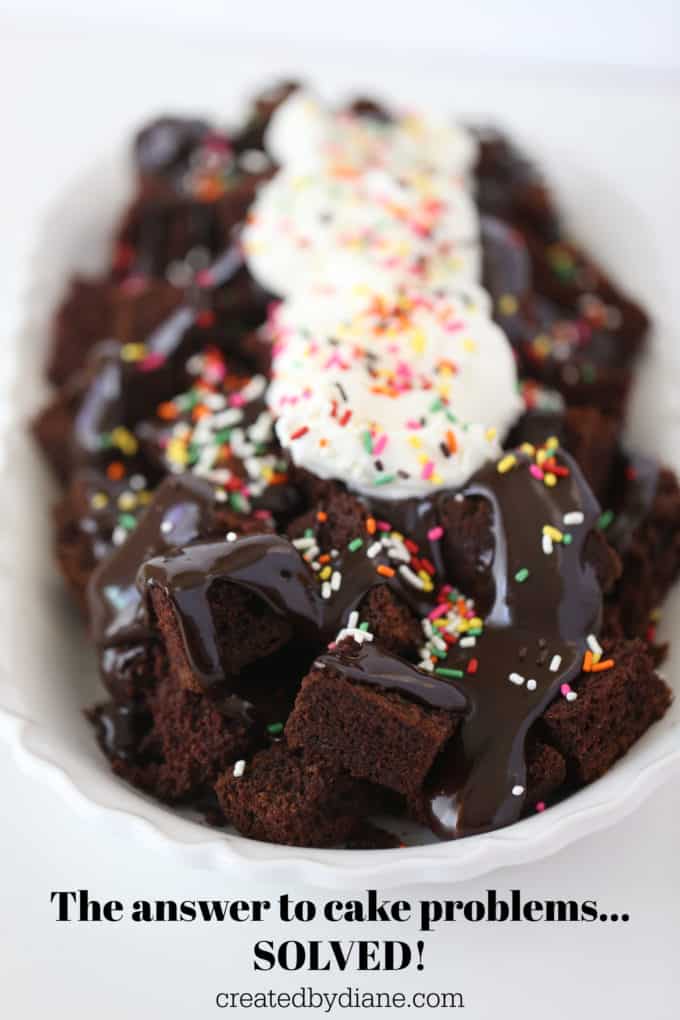 It got me thinking, what could I possibly do to the rest of the cake, there was about a third of the cake he wasn't anywhere near… and I really wanted a piece of cake!
By the time this idea came to mind, the cut-up cake had been sitting out for hours, it was ok, a little dry on the edges and I was looking to salvage it.
I also recall times when I've had some cake fail or mishaps with cake… come on, I'm not the only one who's dropped a cake, right?
Maybe the cake would NOT come out of the cake pan, maybe you got distracted and forgot to spray the pan with a baking spray before putting in the batter…. We've all been there!
So, if you have a dry cake, a cake that was cut and served but you have plenty left and want to make it more appealing, serve it up in a pretty way, have a cake that may have fallen on the floor but you're able to salvage a good portion of it.
THIS Hot Fudge Cake is for you!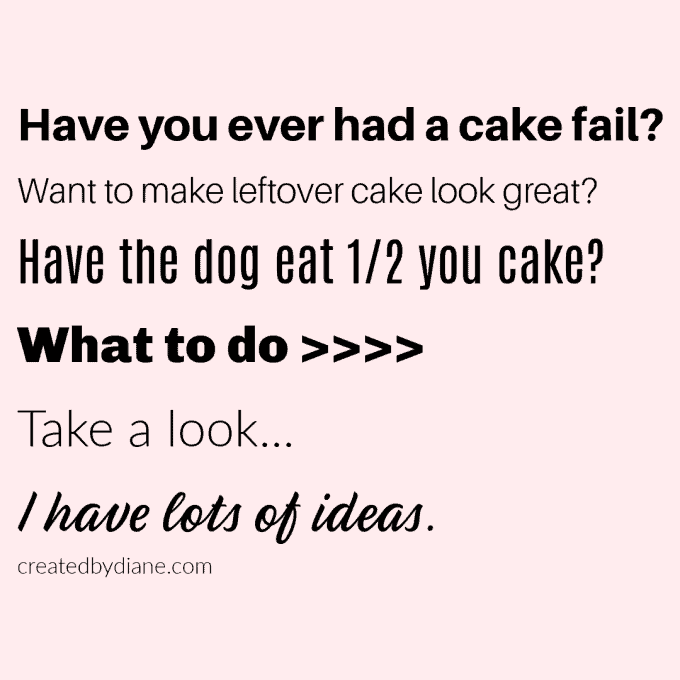 What other flavor options are there?
If you want a different flavor to put on top and don't want chocolate, use caramel syrup, or caramel frosting, you can use buttercream frosting or whipped cream, or cream cheese frosting… and you can color or flavor the frosting according to taste, add a little almond extract and slivered almonds for a fun treat. The possibilities are endless, top it with fresh fruit like sliced strawberries or blueberries, you can mix the strawberries with a tablespoon of sugar to pull the moisture from them to make a little syrup like you would for strawberry shortcake… and you can always top the cake with ice cream too.
Alternatively, you can make a cake, buy a cake, use brownies, or grab something from the aisle in the store that has something resembling cake. I'm going to help you make it…
IRRESISTIBLE!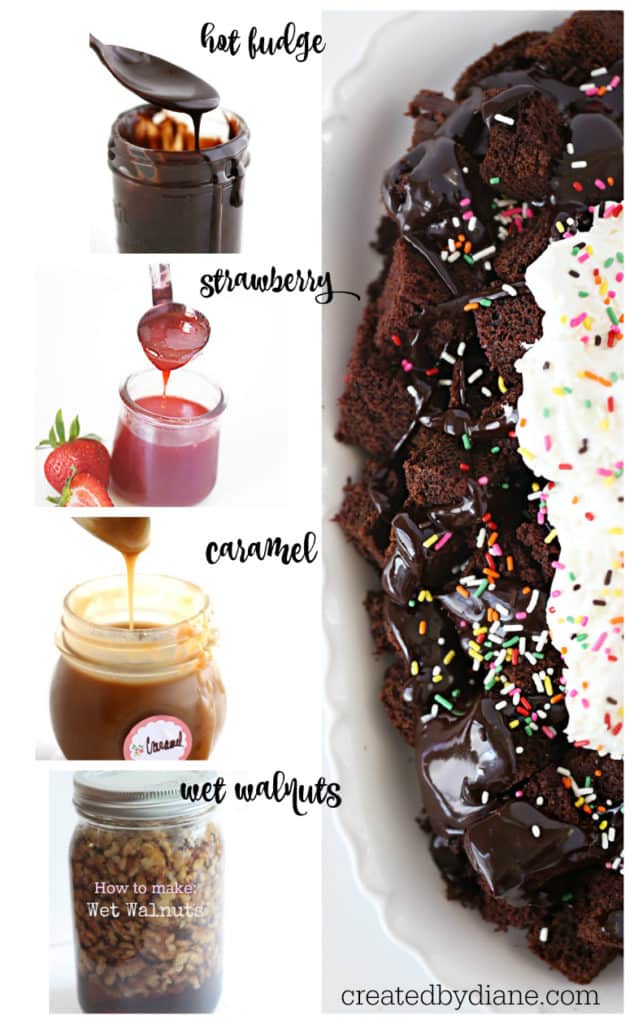 There are many options:
You can make hot fudge sauce
Or buy some
You can add bananas for a banana split,
Or maybe you're a huge caramel fan,
You can make caramel
Or buy some in the "sundae aisle" of your store, it's usually near the ice cream.
Next comes the whipped cream
You can find my recipe for stabilized whipped cream
Or buy some.
Then add on some fun toppings, I kept it simple with some rainbow sprinkles,
But the possibilities are endless,
Add some nuts,
Maybe even some wet walnuts.
Chopped peanuts are good too,
Add on some m&m's or just give the whole thing a dusting of powdered sugar,
I"m POSITIVE, everyone will like it.
Other ideas you can add are jam, pudding, frosting… the sky's the limit here.
Adding some cherries for the top or some sliced strawberries would be great too!
You can add any fruit syrup and here is my post on how to make syrups, I have lots of recipes.
And OMG what about a vanilla cake with maple syrup topped with some chopped walnuts, piled high with whipped cream! It sounds like the perfect cake to serve at a brunch!
And call me over if no one wants your cake-fail, I'll bring the fudge!… and we'll have a party!

I cut the cake I had into square pieces, it made it look nice, and almost "DELIBERATE" it no longer looked like this….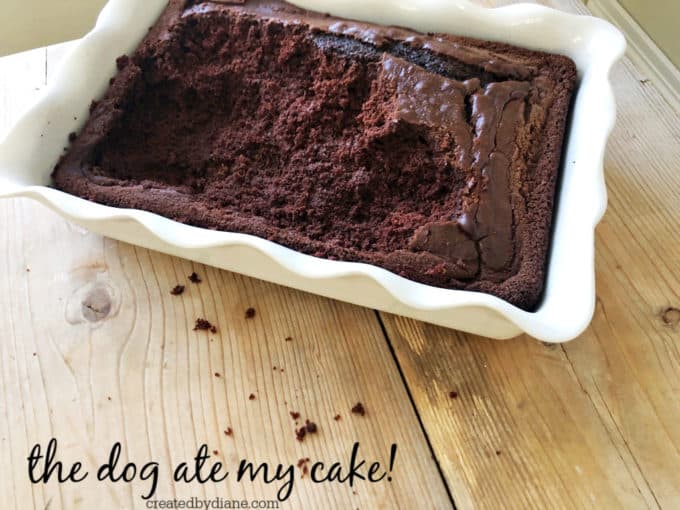 This would also work with vanilla cake or any other cake flavor, be creative and be sure to show me what you've done to "DRESS UP" your cake with.
Adding lemon frosting to vanilla cake and then drizzling on some caramel sounds super-yummy to me!
Now if you'd like to see what this cake was going to look like check out my Pink Frosting Chocolate Cake HERE.
How to fix problem cake
Fix crumbly cake… Fix dry cake with this great cake FIX!
You work hard to make a cake, and then it comes out of the oven, dry and crumbly. A cake can crumble for a variety of reasons: over-mixed batter, too much flour, not enough sugar, or not enough butter or oil.
Save a cracked cake or if your cake falls apart…
How to fix a cake disaster: over baked, broken cake, dry cake, a cake that won't come out of the pan, what to do with a messy cake. THIS is the perfect fix for most cake messes…
I DID IT…
remember how this all started, the dog ate my cake,
I turned lemons into lemonade on this one!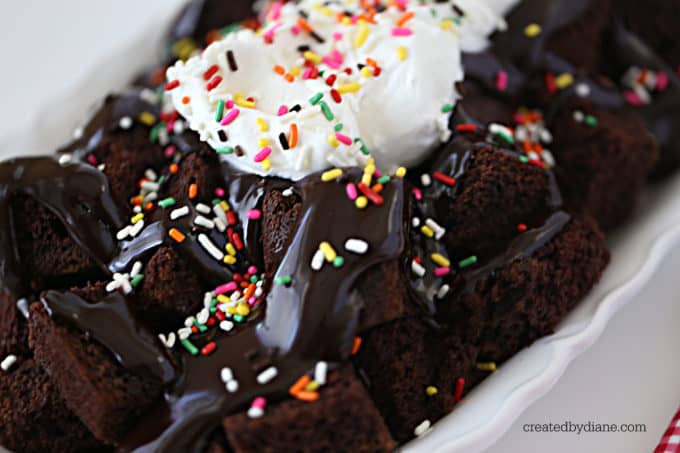 a great cake, all pretty and delicious.
It got me thinking about all the times… things don't go as planned and well it's not the first cake disaster or the last.
We've all seem to have had a cake fail at one point or another.
There are so many reasons to REMEMBER this hot fudge cake…
If you have leftover plain cake, any flavor and want to "gussy" it up!
this is great with brownie bites you can buy at wholesale stores or at your local grocery store for a quick semi-homemade treat.
If you're ever had a cake fall, break, crack, not come out of the pan the way you expected, this is for those times.
*I must mistype the word "chocolate" as much as the next person, which is apparently a lot. While I was doing a little research before I posted my hot fudge cake. Many people surfing around the internet search for CHOCHOLATE FUDGE CAKE , and COCOLATE fudge cake. So this recipe will help if you have trouble spelling just like I do. It's chocolate and that is all that matters in the end.
MORE CAKE…
and of course, you can make a cake with a box mix and turn it into this cake too.
This was the intended cake…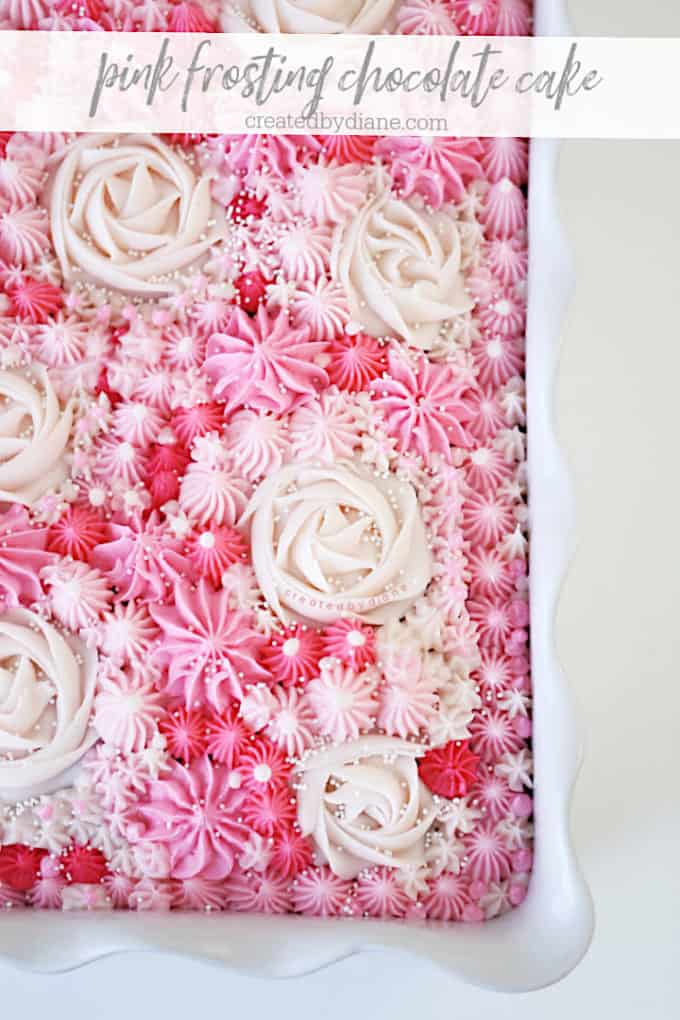 And I made a Lemon version too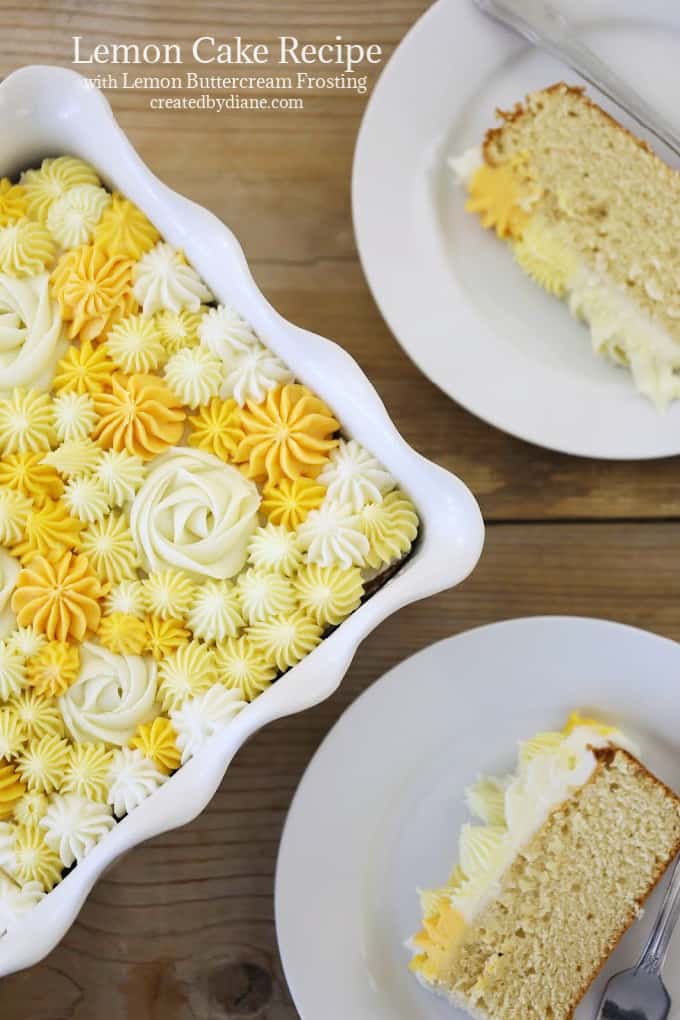 So don't despair the next time you make a cake and it doesn't quite turn out how you think… maybe it'll be the next best thing!