These Chocolate Red Wine Cupcakes are filled with a delicious Red Wine Cream Filling and topped with Cream Cheese Frosting.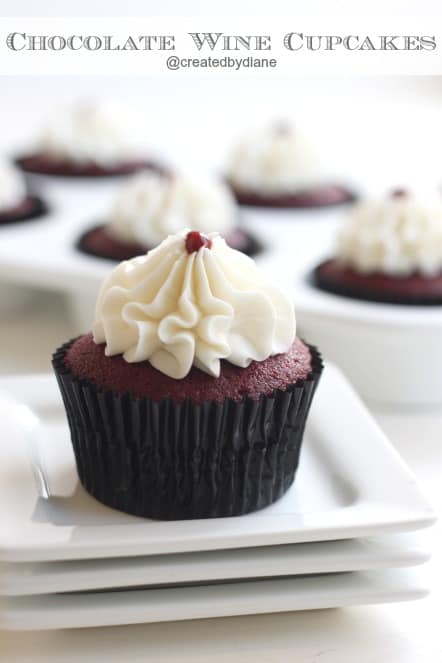 The decadent flavor combination of chocolate and red wine go together fantastically, these cupcakes are the perfect item to serve at your next get together.
They will be the perfect ending to a great dinner. Maybe you'll enjoy them in celebrating something special. These cupcakes are worth celebrating all on their own!
Just think….. you can enjoy red wine any time of day you'd like with these beauties!
The chocolate and wine combination in these cupcakes make them over the top delicious, even the non-wine drinkers LOVE them.
Every component of these cupcakes is luscious! They elevate dessert to a whole new level!
Cupcakes remain one of my favorite treats to make and just wait until you see what inspired these cupcakes.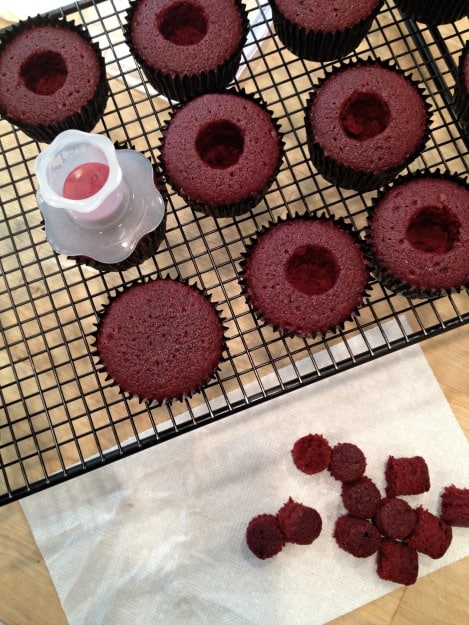 With the thoughts of burgundy and wine floating in my head, I knew these were not going to be your ordinary cupcakes.
There is something special about a cream filled cupcake.
It's like a present inside a pretty (delicious) package!
I cored out the cupcakes to create room for the filling.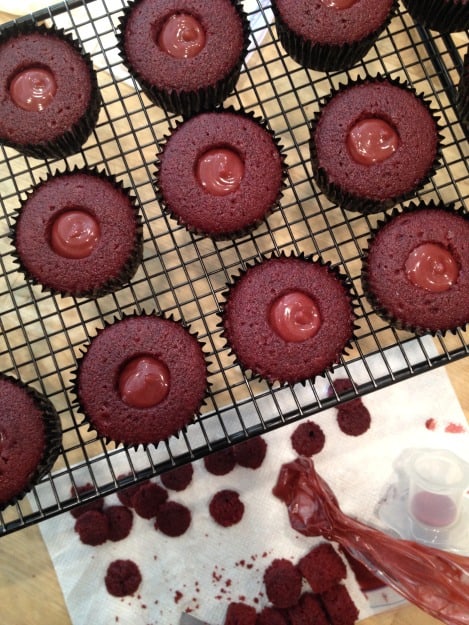 I placed the wine cream filling into a piping bag, to fill the cupcakes.
I did put back just the very top area of the cake peice I removed (I use a small knife and cut off the excess cake, and of course I snack on it while I finish up the cupcakes)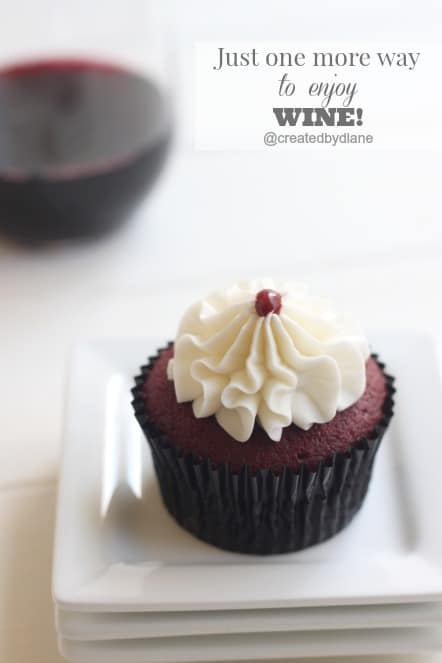 The cupcakes are topped with cream cheese frosting and I placed a dot of wine cream filling on the very top.
In the notes in the recipe area are instructions on making a wine reduction which is key to the great favor in the cupcake and the filling.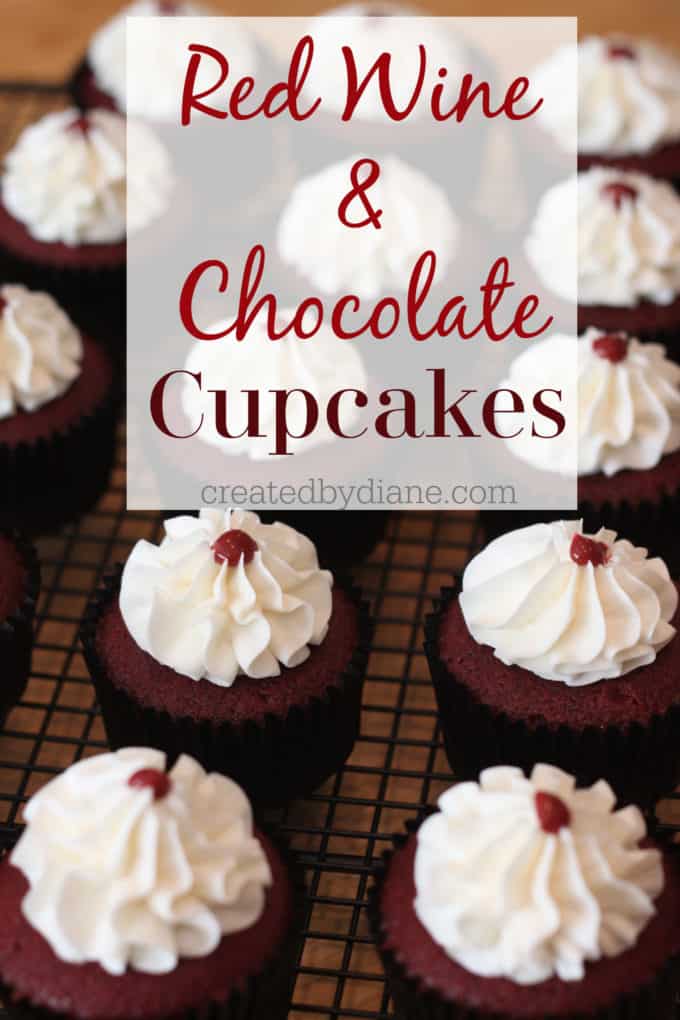 Chocolate Red Wine Cupcakes
Ingredients
1 cup sugar
2 eggs
1 1/4 cups flour
1 teaspoon baking power
2 tablespoons dutch process cocoa
1/2 cup Real California whole milk
1/4 cup reduced wine *how to in notes*
1/2 cup unsalted Real California Butter (melted and cooled)
2 tablespoons oil
1 teaspoon vanilla extract
Instructions
In mixer bowl beat sugar and eggs, until smooth and creamy
Add in flour, baking powder and cocoa
Pour in milk, wine, butter and oil.
Beat for one minute until smooth
Mix in vanilla on low speed
Fill lined cupcake pans with 3 tablespoons batter
Bake at 325 degrees for 20-25 minutes or until toothpick comes out clean.
Notes
1 cup red wine (I used a Cabernet Sauvignon
Boil one cup of red wine until it reduces in half (about 10-12 minutes on medium low heat)

1/4 cup will go into the cupcakes and 1/4 cup will go into the creamy filling
Red Wine Cream Filling
Ingredients
3 egg yolks
1/4 cup sugar
1/4 teaspoon corn starch
1/8 teaspoon salt
3/4 cup Real California Whole Milk
1/4 cup reduced wine *how to in notes*
2 tablespoons Real California Unsalted Butter
1 teaspoon vanilla extract
2 drops burgundy food coloring (Americolor)
1 drop red-red food coloring (Americolor)
Instructions
Bring 3/4 cup whole milk to a simmer (small bubbles around the edge) in a medium saucepan
In medium bowl mix egg yolks, sugar, corn starch
When milk simmers, slowly add it to the egg mixture and whisk while adding it so the eggs don't curdle.
Add wine.
Pour the combined mixture into the saucepan and heat on medium to medium low temperature until mixture is thickened about 3-4 minutes stirring so the sauce is smooth.
Remove from heat.
Whisk in the food coloring, butter and vanilla extract.
Place in bowl, cover with plastic wrap and refrigerate.
Notes
1 cup red wine (I used a Cabernet Sauvignon
Boil one cup of red wine until it reduces in half (about 10-12 minutes on medium low heat)

1/4 cup will go into the cupcakes and 1/4 cup will go into the creamy filling
Cream Cheese Frosting
Ingredients
4 oz cream cheese (room temperature)
4 tablespoons butter
1-2 tablespoons heavy cream
3-4 cups powdered sugar
1 teaspoon vanilla extract (clear)
Instructions
In mixer bowl beat cream cheese and butter until fluffy
Add in 1 tablespoon heavy cream and 3 cups powdered sugar and vanilla
Mix on low until all sugar is combined, then beat on high until frosting is smooth and firm in texture.
If the frosting is thin for you piping needs ad more powdered sugar, if you want to thin it out and make it softer and fluffier add the additional tablespoon of heavy cream.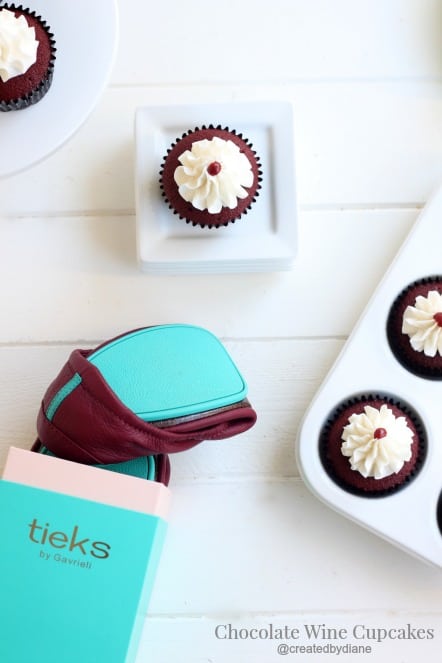 Do you spot those cute Burgundy Tieks Shoes? Tieks are Italian leather flats. I heard rave reviews about Tieks quite some time ago. I purchased a ballerina pink pair and love how the soft Italian leather has molded to my foot.
I was asked to create a recipe using California Dairy products inspired by a pair of Tieks. California dairy represent more than 1500 dairy families in California, who's cows and farms make California the number one dairy state. I've incorporated California Butter, Milk and Heavy Cream into this delicious recipe.
I chose Burgundy Tieks, to inspire my recipe. Burgundy reminds me of wine, and I just couldn't resist that color!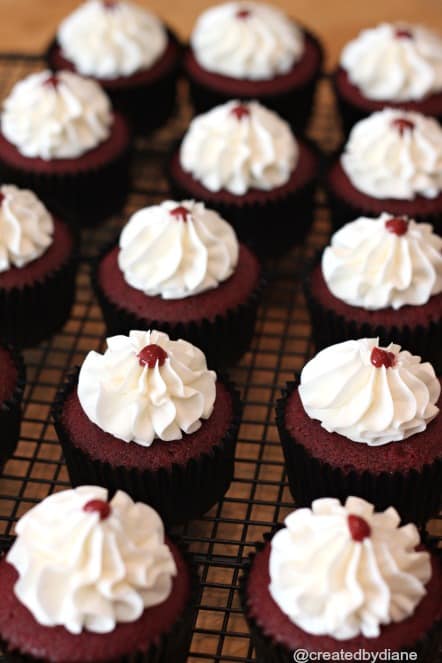 All lined up these remind me of Mums, just one more reason to celebrate Fall has arrived!
Frost up some "cups" of wine and enjoy.

I'm partnering with California Dairy to bring you this recipe. All opinions are my own.