I'm sharing so many options to enjoy for breakfast or snack! These can all be made in minutes, are great for last-minute breakfast, but unlike ordinary toast, these will fill you up, make you happy and help you get through your morning a whole lot better than without. Breakfast toast takes toast to a whole new level!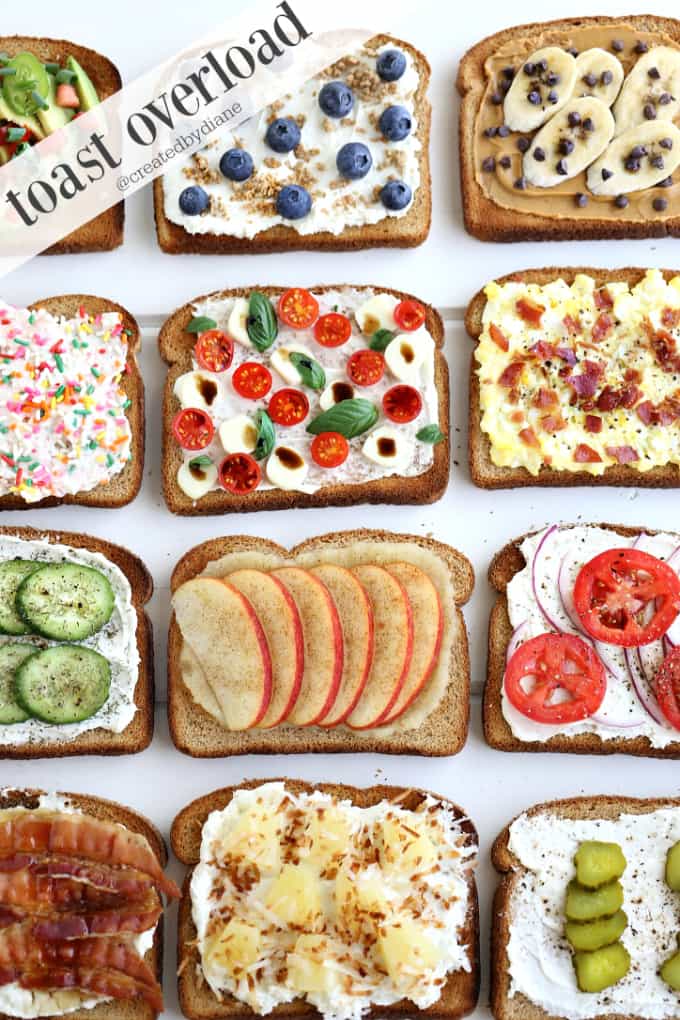 Toast is just not TOAST anymore, there are so many options for a quick breakfast and in about 2 minutes you could be enjoying something delicious with items you have in your fridge or pantry.
I made a dozen varieties of toast with ingredients I had in my fridge or pantry to show you how EASY it is to mix it up for breakfast time.
Each of these can be made in under 2 minutes, now that is "fast food"
There are many who don't like "breakfast" and say they have no time for it. This is a great option, it's quick and delicious and most likely you have items in your fridge or pantry you like or will find a pickier eater will gobble up for breakfast that they may not have thought of.
The possibilities are endless, grab some bread and tasty toppings, and start enjoying breakfast a whole new way!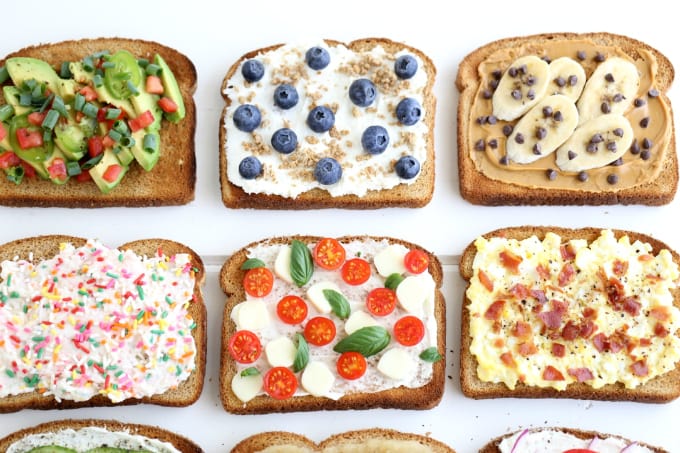 Here is the line up:
avocado, green onions, tomatoes, cilantro (great with sliced or mashed avocado and go ahead and add bacon to it, it's fantastic)
cream cheese with grape nuts and blueberries, slightly sweet and crunchy
peanut butter, banana, and mini chocolate chips, a classic combo with a sweet chocolaty kick
cream cheese with a little bit of powdered sugar and sprinkles, super fun for a special day or to get the picky eater to eat ANYTHING or try Bread and Buttercream… just slather on some buttercream frosting onto your toast and top it with sprinkles… it's like a celebration even if it's just an ordinary Monday!
cream cheese, mozzarella cheese stick, cherry tomatoes, basil, balsamic vinegar, a Caprese on toast for breakfast
Egg salad with bacon. Salt and pepper. Find tips on hard boiling eggs here!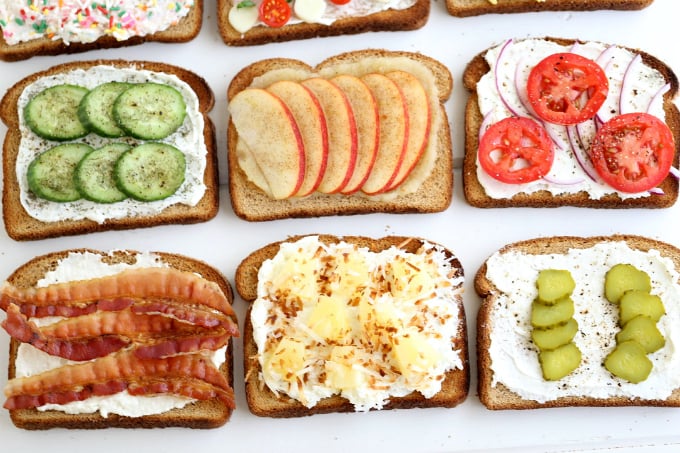 7- cream cheese with dill, cucumber. salt and pepper, cucumber sandwich for breakfast
8- apple sauce with sliced apples. Cinnamon and sugar, so easy and a family favorite
9- cream cheese, red onion, Roma tomato. Salt and pepper. This is my go-to, when I can't think of what I want to eat or no time I make this.
10- cream cheese mixed with maple syrup and cooked bacon then drizzled with maple syrup on top, oh my goodness this is heavenly
11- cream cheese mixed with sweetened coconut, topped with pineapple and toasted coconut, a super fun flavor combo that will have you thinking you're sitting by the beach enjoying an umbrella drink!
12- cream cheese and dill pickle. Salt and pepper. I just love pickles and always have a jar or two in the fridge and it's so yummy, add in some of my Dill Pickle Seasoning click here and it's extra special!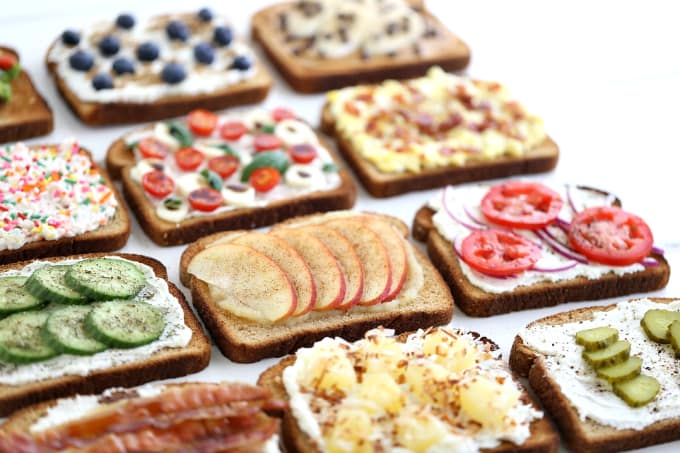 Which one will you be trying first?
There are lots of options, hummus is great with vegetables or olives.
Whipped cream cheese is softer and fluffier and easily spreads on toast, it's what I use.
Goat cheese mixed with cream cheese would be a delicious option, so would ricotta cheese. You can try greek yogurt too!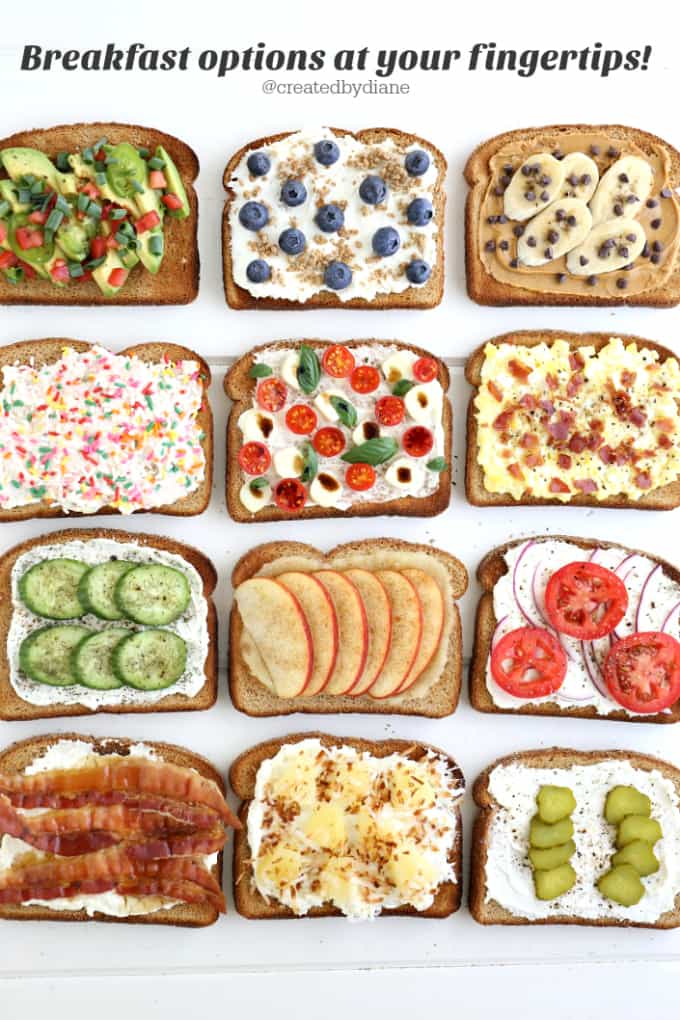 No one says you can only enjoy cereal or eggs for breakfast. Some people don't prefer breakfast…. maybe those people will love one of these ideas.
There are lots of savory options here, perfect for the person who doesn't like things so sugary in the morning.,
If you want to turn any of these into a sandwich…
simple, add another piece of toast on top, and THERE YOU GO. A sandwich fit for any occasion.
These only take a few minutes to put together in the morning, great for breakfast on the go… perfect for after-school snacking, or something to enjoy long after dinner is over.
More great sandwiches: