Your cupcakes can look as great as these with some of these helpful tips.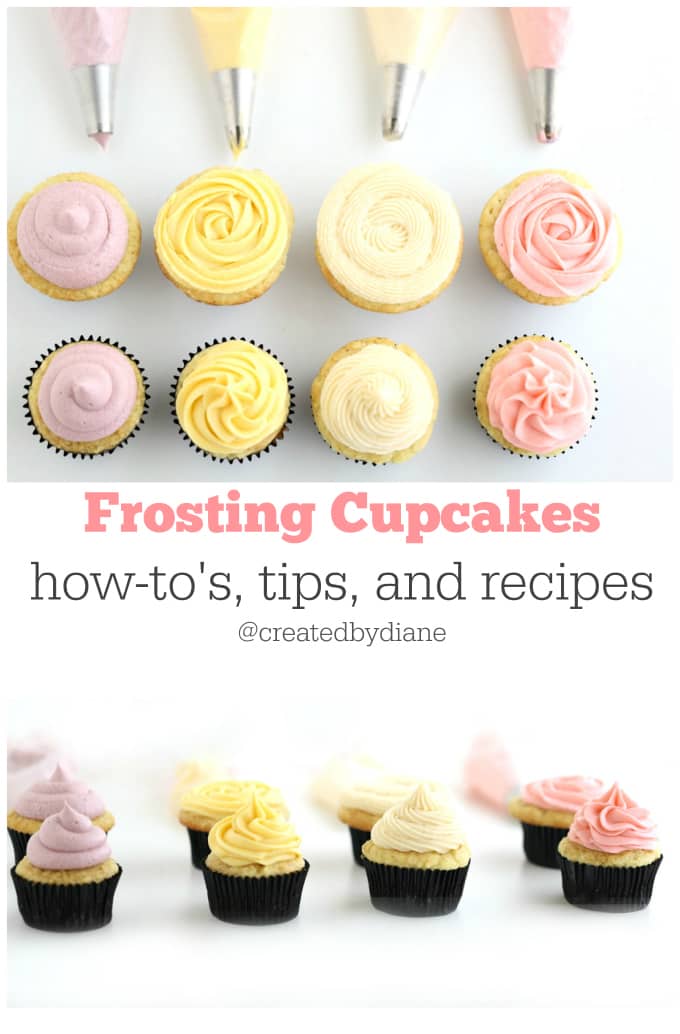 There are a few key things to know to be sure your cupcakes turn out gorgeous.
Whether you are using premade frosting or making it yourself.
The consistency of the frosting for piping onto cupcakes has to be slightly firm.
premade frosting: stir in a cup of powdered sugar.
Coloring frosting: add a small amount at a time, it gets darker as it rests. Gel colors are better than water based coloring as they don't thin the frosting and the colors look better too.
If the temperature in your kitchen is WARM, from the weather, running the oven… pipe the cupcakes and get them in the fridge to chill them, so they don't droop, flop, or slide off the cupcakes.
Be sure before you even begin frosting cupcakes that you have everything ready.
That the cupcakes are completely cooled.
That you are comfortable and working over the cupcakes at a good height and not having to lean over them and be sure to secure long sleeves are pulled up and not draping near the cupcakes.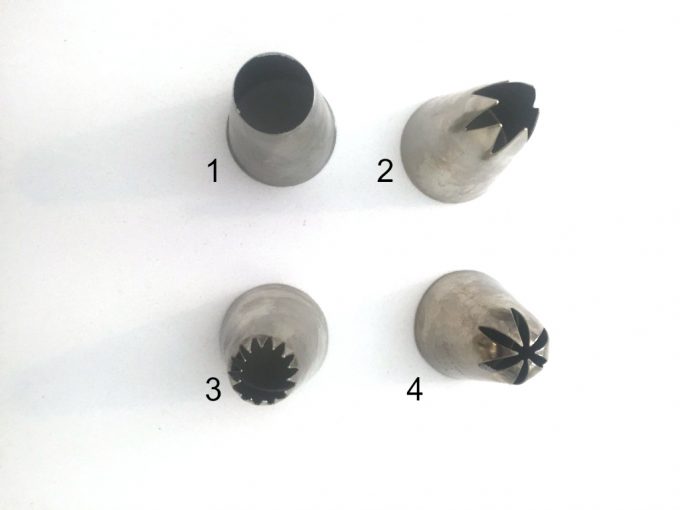 These are the piping tips:
1) 1A (lavender frosting)
2) 1M (yellow frosting)
3) 4B (cream frosting)
4) 2D (pink frosting)
these are the tips I used in the photo on the previous page.
The top photos are piping from the center of the cupcake out, the second set is from the outside to the center/top. Piping Tips.
I most often use these food colorings.
Check out my How to frost a rose cupcake post with video and recipe for how I make buttercream frosting.
If you want more info on cupcakes you'll have to look at my CUPCAKES EBOOK, it's full of information.
Two Tone Frosting: place each color frosting in a separate piping bag then gently slide both of these piping bags into a third piping bag fitted with a couplet, cut off the two colored bag tips and put on the piping tip.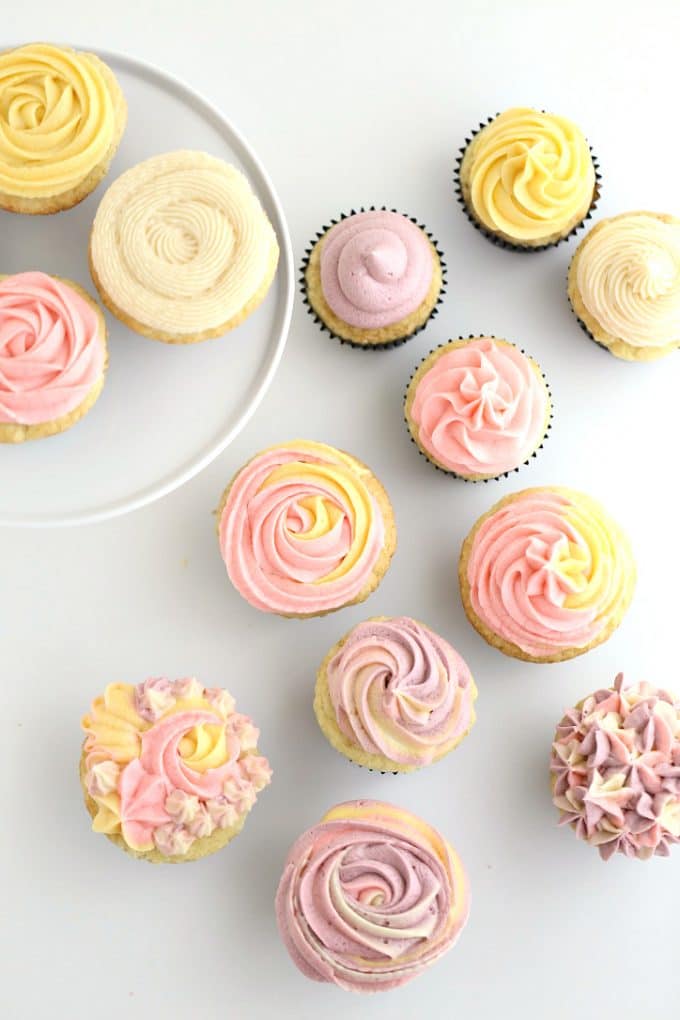 You can create lots of different looks on cupcakes just by changing up how you put the frosting on the cupcakes. Don't be afraid to MIX things up. You may just LOVE something new.
If you don't love the look of how you frosted a cupcake simply take a spatula or knife and remove the frosting and begin again.
You can practice on a plate, or wax paper before starting on a cupcake to be sure you like how the tip and color of frosting you are using.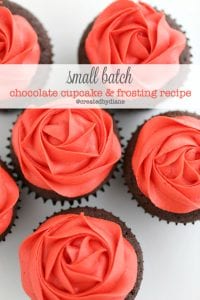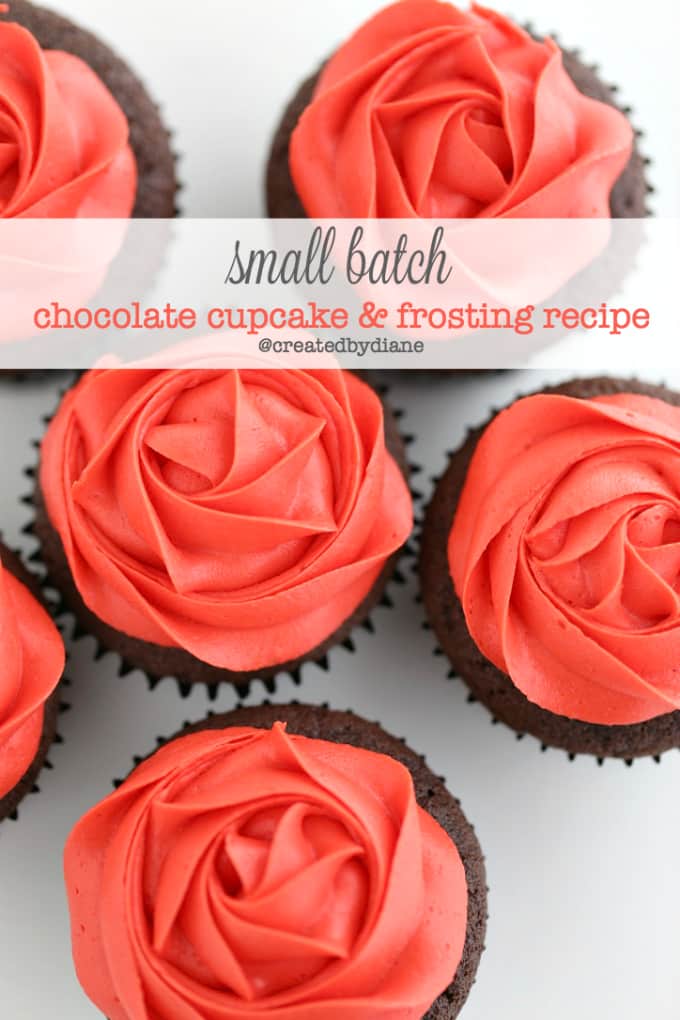 If you like chocolate cupcakes be sure to check out my post, Small Batch 6 Chocolate Cupcakes Recipe.
Take a look HERE for my CUPCAKE RECIPES and HERE for Frosting Recipes.
You will find my American Buttercream Recipe is HERE along with instructions and video on how to frost a rose cupcake.
This is my recipe for Italian Buttercream Frosting, this frosting is softer than American Buttercream, but holds up to piping and tastes delicious, it's not as sweet as traditional buttercream frosting.