Cranberries kick up these Lemon Meringue Pies into GREATNESS! Mini pies baked in Mason Jar lids are just the cutest..don't you think?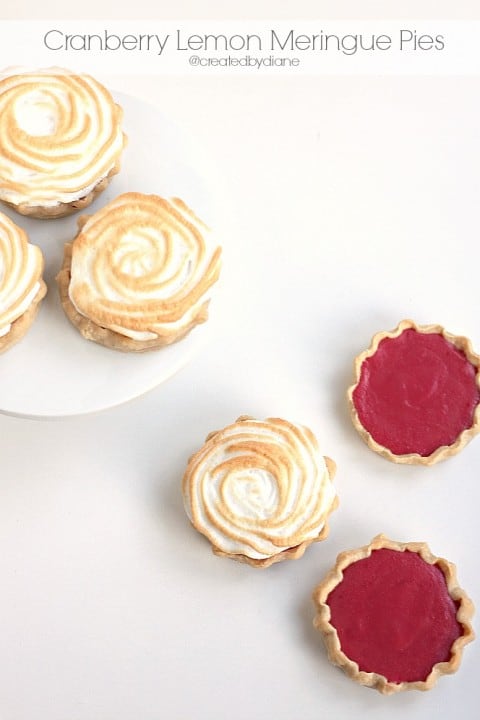 There are so many cute things going on with these pies,
I can hardly contain myself.
First I LOVE mini pies,
these are baked in Mason Jar Lids… so cute and they are easy to remove from the tins
Here is my post on Mason Jar Lid Mini Pies
I topped them with meringue piped like a rose, like I do my Rose Cupcakes. 
And then take one look at that pretty cranberry color of the filling,
see it's cuteness overload going on over here!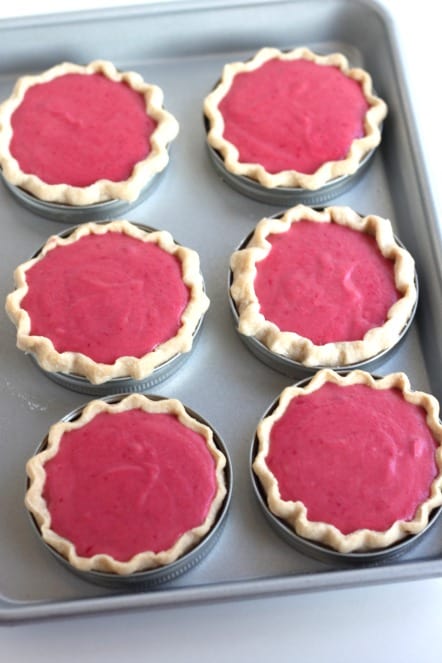 These pies would be delicious all on their  own, they are just GORGEOUS!
You can serve them with or without meringue.
Prepare the mini pie crust and bake them at 375 for 10 minutes. These pies will go back in the oven so don't let the edges get golden or  they may over bake when the meringue is baked.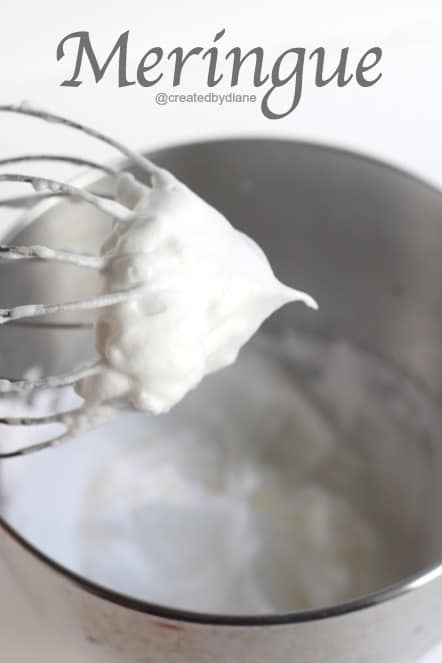 Whip the three eggs whites that remained from the separated eggs with a pinch of cream of tartar until blended and soft peeks form then add 1 1/2 tablespoon sugar. Beat until the peek are stiff.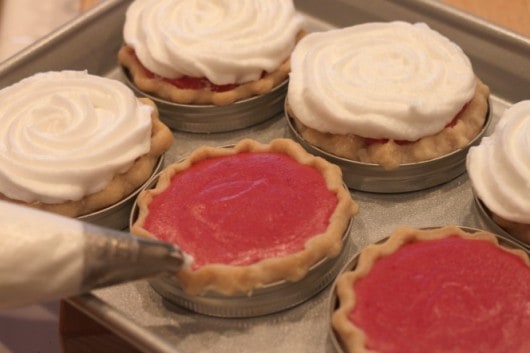 Place meringue in piping bag fitted with a star tip, I use a 2D tip.
Pipe meringue onto warm filling and bake at 375 degrees for 10 minutes or until golden.
Cranberry Lemon Meringue Pie
Ingredients
2 cups cranberries
1 cup water
1 14.0z can sweetened condensed milk
3 egg yolks (reserve egg whites for meringue)
½ cup fresh squeezed lemon juice
¼ teaspoon lemon extract (or lemon baking emulsion)
¼ teaspoon vanilla extract
Instructions
In small saucepan bring water and cranberries to a boil and boil one minute. Drain water off cranberries.
In medium saucepan whisk sweetened condensed milk, egg yolks, and lemon juice, and bring to a boil over medium heat whisking occasionally so the eggs don't separate from the mixture. Boil for 2 minutes.
press mixture and cranberries through a fine strainer with the back of a large spoon.
Pour mixture into baked pie crust, top with meringue.
Bake meringue, then let pies cool before refrigerating them. Chill pies completely (about 2 hours)
Notes
I made 6 mini pies, but had some filling left over, about a cup. Which could have filled at least 2 if not three more pies. I ate it with a spoon, so it never made it's way into more pies this time!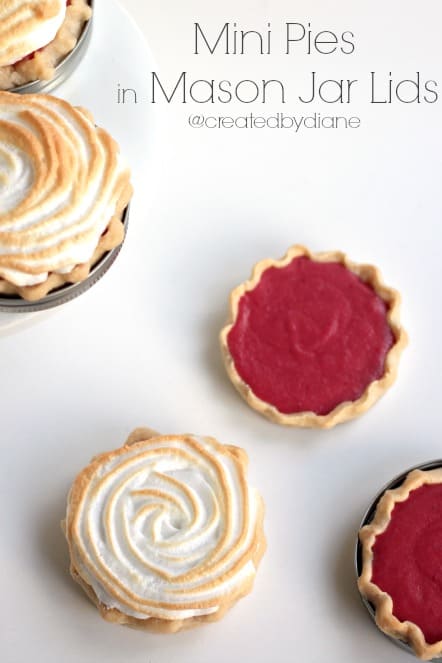 The filling on these pies is so fantastic and then you add in the meringue, delicious crust and how cute they are and you can see why these Cranberry Lemon Meringue Pies are my new favorite!
These will look great on any Holiday dessert table.