Blueberries, Blueberries, Blueberries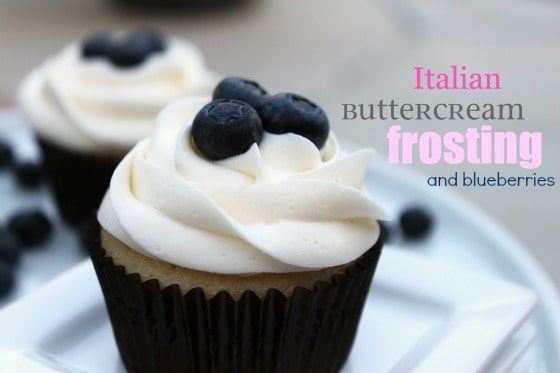 Two of my favorites TOGETHER!
Blueberries and Italian Buttercream Frosting.
I just love blueberries,
they are actually my favorite fruit.
I remember going with my mom to buy blueberries, there was this wonderful place…
and all they sold was blueberries.
It was called Blueberry Acres, perfect name if you ask me, there were rows and rows of blueberries as far as the eye could see
or at least as far as I could see.
We'd buy 5 pound boxes of blueberries, the boxes were bright yellow.
We did not just get one box either. Oh no, we bought many boxes.
My mom would bake blueberry muffins, blueberry pancakes, blueberry syrup and of course we'd eat them right out of the box, we'd put them in a bowl and cover them with milk and add a tiny bit of sugar. We'd put them on cereal and she'd freeze them so we could enjoy them all year long.
The other day I went to the store and they had just gotten in a shipment of blueberries.
I couldn't have been happier. They weren't in 5 pound boxes, but I stocked up none the less.
As soon as I got home I made Blueberry and Lemon Scones and couldn't wait to add some blueberries to cupcakes.
I hollowed out the cupcakes with a cupcake corer.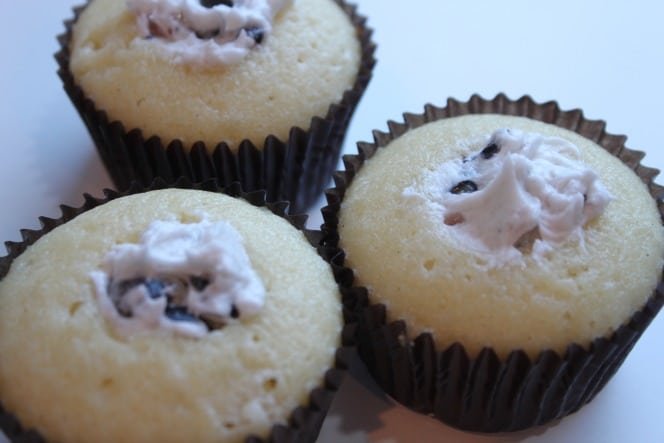 Then filled them with frosting and cut up blueberries.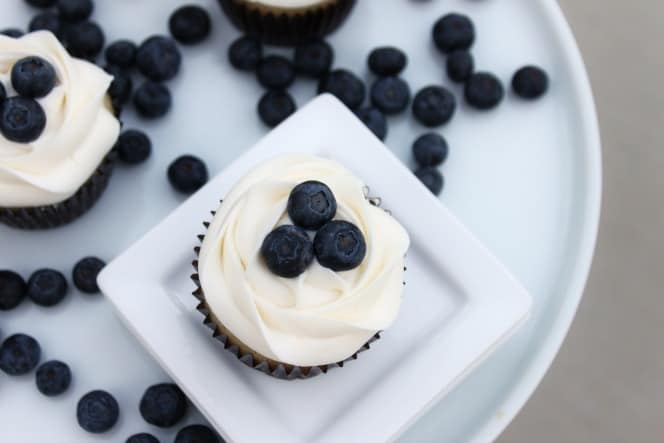 And of course added some blueberries on top.
Vanilla Cupcakes with Blueberry Frosting
Ingredients
1 box french vanilla cake mix (along with ingredients to prepare)
1 small box vanilla pudding mix
2 cups blueberries
4 drops Loranns Blueberry flavor
frosting
Instructions
Prepare cupcakes according to package and add in the vanilla pudding mix. Bake according to package directions. I use dark colored pans and bake at 325 degrees.
Cool cupcakes completely.
Use a cupcakes corer to remove the center of the cupcake.
Add 4 drops Blueberry flavor to two cups of frosting.
Cut up 1/4 cup blueberries and mix them with 1/2 cup of the frosting and fill hte cupcakes with it.
Frost cupcakes with a 2D tip in a rose pattern. Video: How to frost rose cupcakes.
Then place three blueberries in the center of each cupcake.
Well since I've been eating the blueberries by the handful, it's time to go get some more blueberries.