Everything is coming up ROSES with these easy and gorgeous butter spritz cookies, in the shape of roses with a pretty thin colorful glaze icing.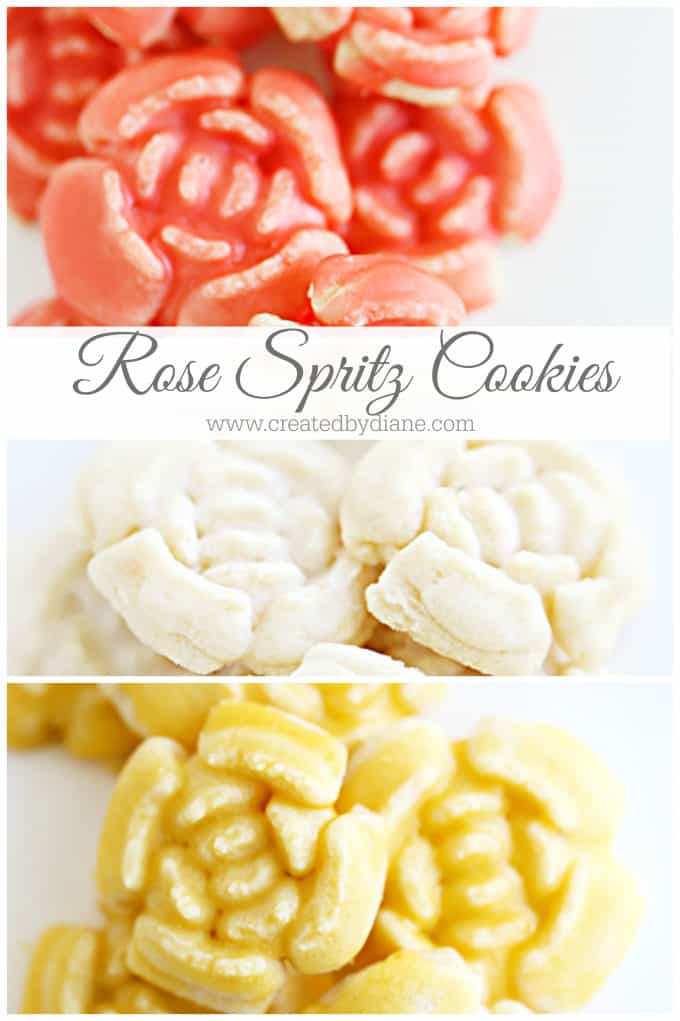 Rose cookies that are easy and delicious and perfect anytime.
I like the older cookie presses that you turn, although I hear the newer types are really great.
I have two Mirro cookies presses,
I have had one for many years, and I also picked one up at a thrift/antique store. If you're looking for the older type, you're sure to find one.
There were so many made by the Mirro company. They are no longer in business, but lots of companies are making newer models now.
One thing is for sure no matter what press you use, these cookies are easy, delicious, and pretty!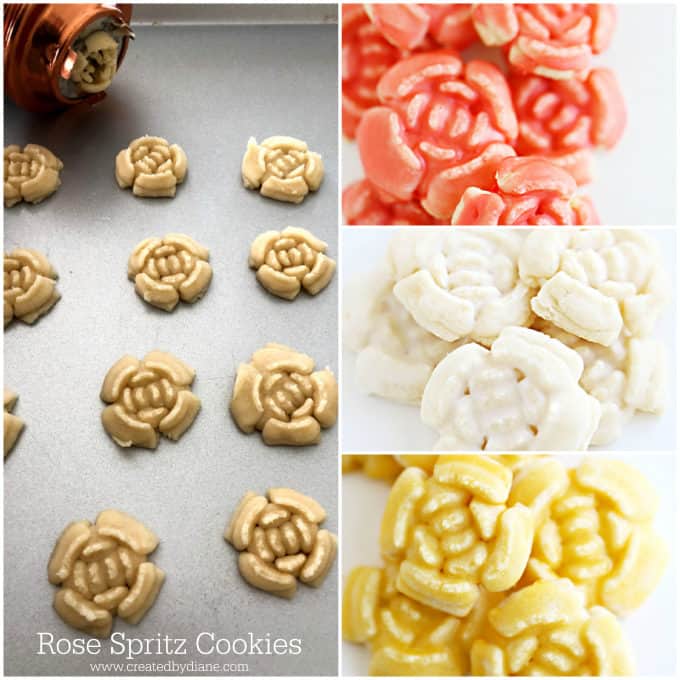 I love butter cookies, they are tender and delicious. I glazed these cookies with a thin powdered sugar mixture with a little food coloring and flavor.
Just imagine batches of these roses lining your countertops, cookie trays and everyone just loving all these ROSES!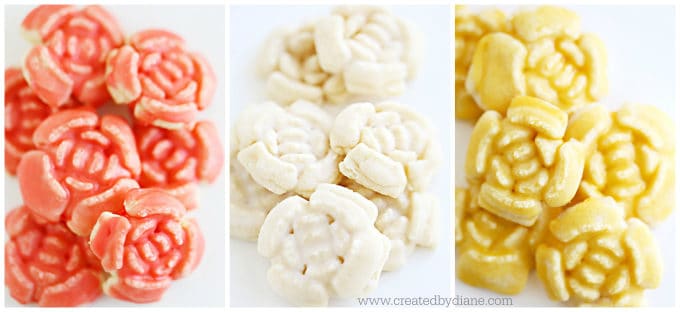 You can add different extracts to change up the flavors os these cookies easily. They even have a rose extract that is delicate and fun. Almond, coconut, and lemon are also wonderful besides vanilla.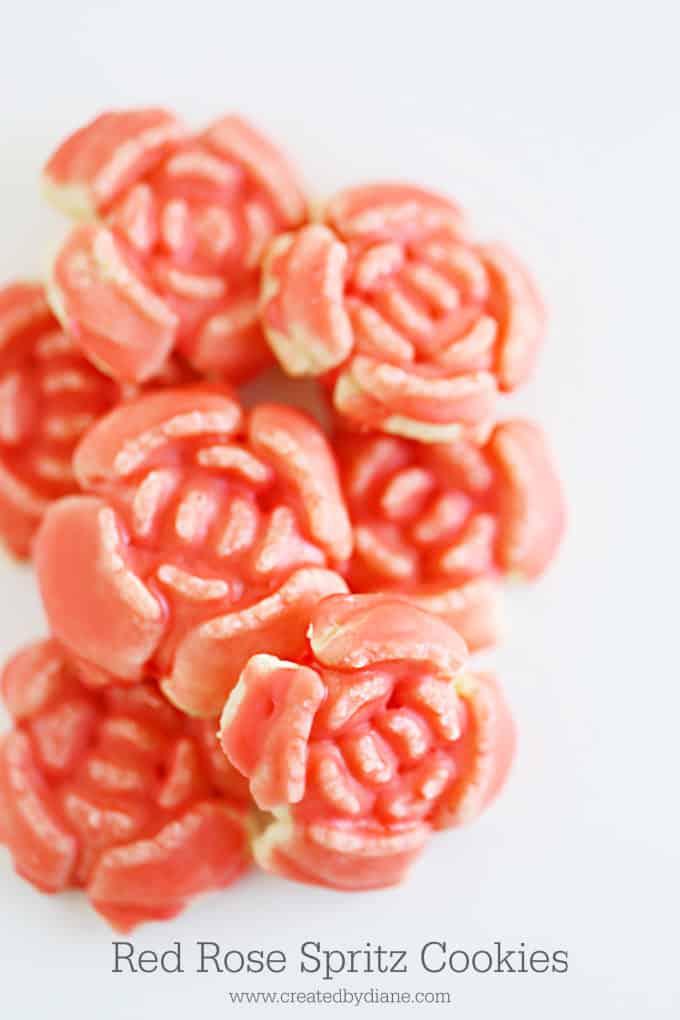 Red Rose Glazed Spritz Cookies, by changing up the color of the icing these roses can be made to match anything you like and you can change the flavors up too!
You can make the red roses as dark or as light as you'd like, you can make them pink, or lavender, orange or any combination of colors you like for a whole pretty varied "bouquet".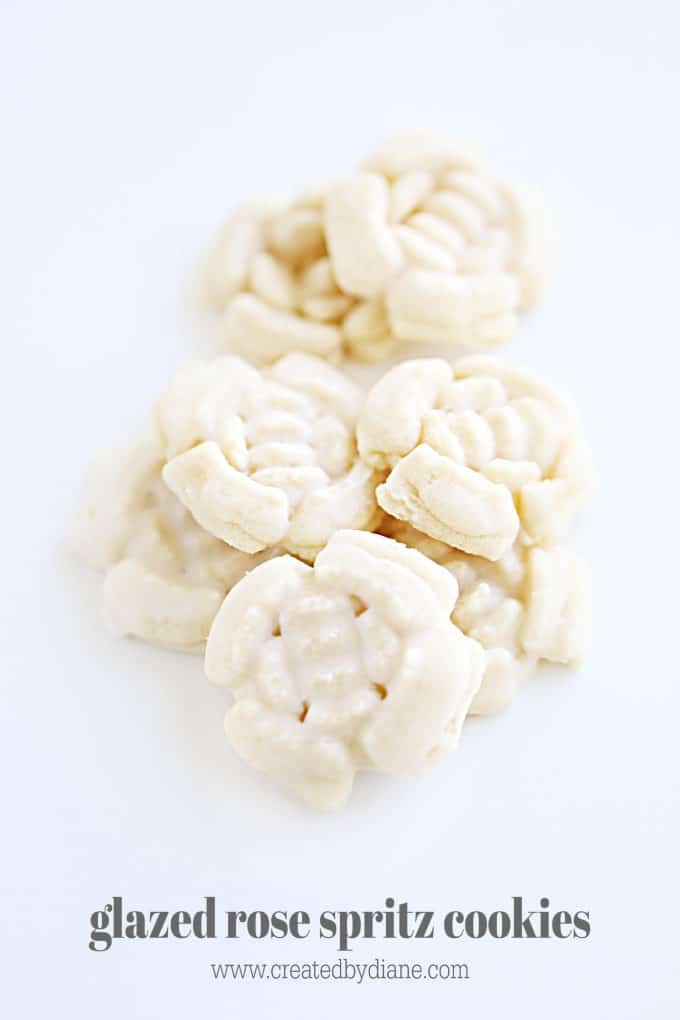 White Glazed Vanilla Spritz Cookies. White roses would be perfect for weddings and showers.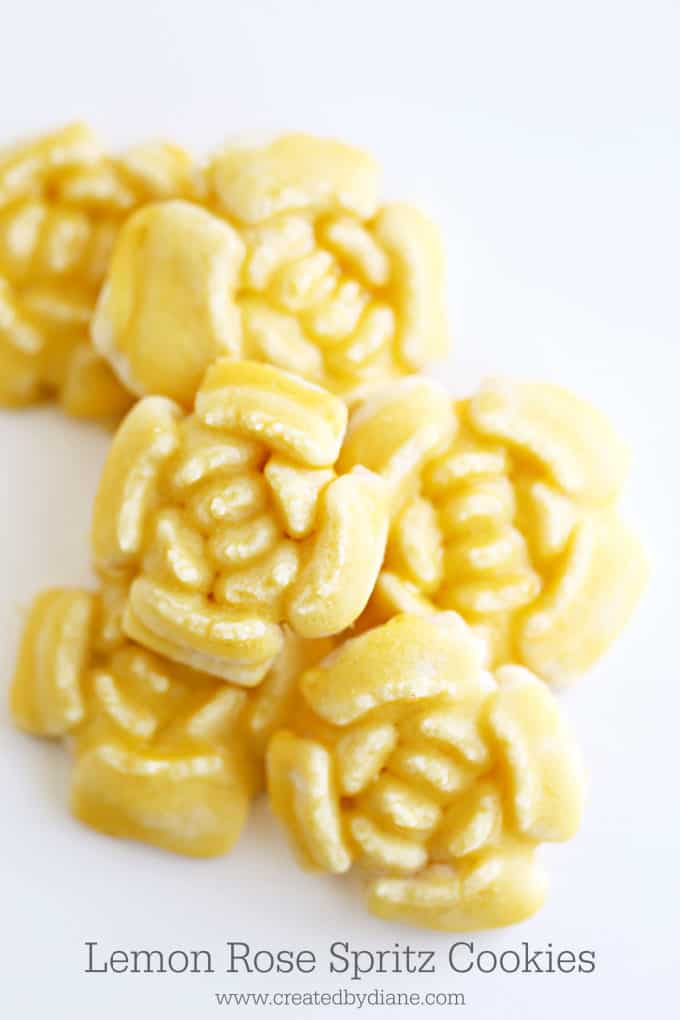 Lemon Glaze Iced Lemon Spritz Cookies.. OMG lemon, I just love lemon and these are so bright and cheery!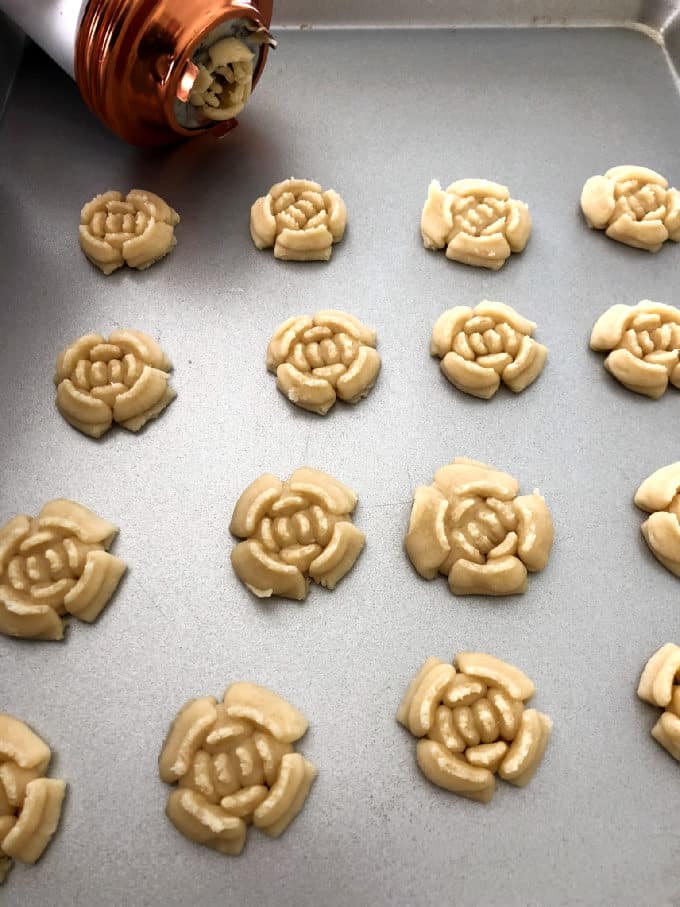 Spritz cookies are just so fun, in minutes you can have a whole tray of pretty cookies all spread out and ready to go in the oven.
They take only minutes to bake and are perfect on their own or if you're like me…
you like them GLAZED…
a sweet thin coating of icing flavored to match the cookie flavor. YUM!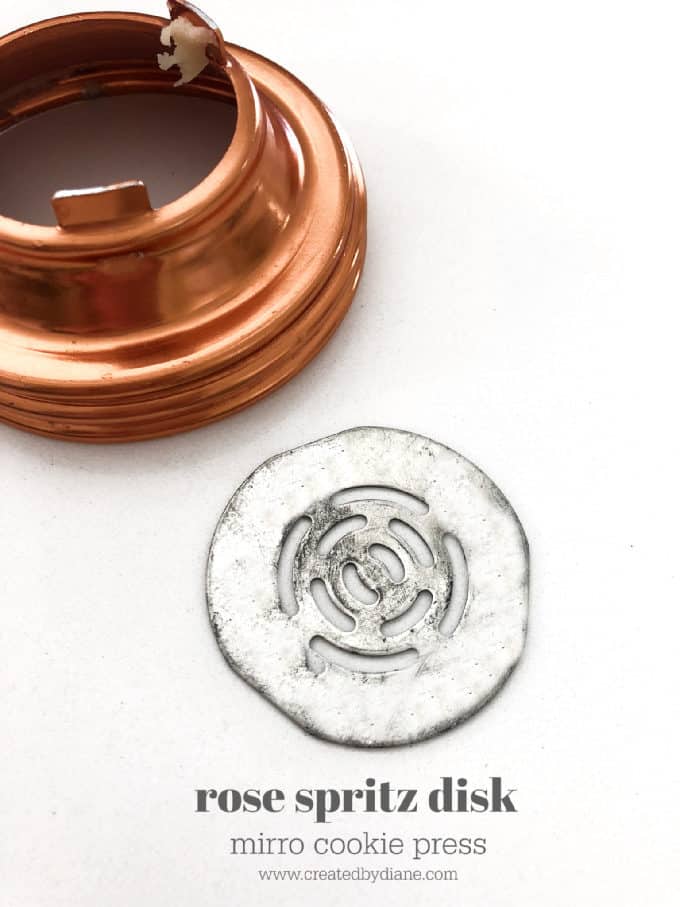 This is the roses spritz cookie disk. If you have any trouble finding it in your collection, ask a friend it seems everyone has a set of spritz disks or check out your local antique/thrift stores.
Other rose cookies and cupcakes:
Here are some popular cookie presses
Rose Spritz Cookies
Ingredients
1 cup unsalted butter
1/2 cup granulated sugar
1 egg
2 teaspoons vanilla extract
2 1/4 cups all-purpose flour
1/4 teaspoon salt
Instructions
Preheat your oven to 375°
In a larger mixer bowl beat butter with sugar, egg, and vanilla.
Slowly mix in flour and salt.
Once the cookie dough pulls away from the sides of the bowl it's ready. Don't overmix the cookie dough.
Overmixed dough will result in a dryer, tougher cookies. You want the dough to be tender so the cookies come out soft and not dry.
Place dough in the cookie press, with the rose attachment disk.
Press cookies onto baking sheets about an inch apart.
Bake for 7-9 minutes in the middle of the oven.
remove cookies when edges or bottoms are just golden not browned.
Allow cookies to cool completely before icing them.
thin glaze icing
Instructions
Mix the powdered sugar with water (warm tap water mixing easiest) add in corn syrup, extract, and color of choice. A little goes a long way this is a small batch.
Add more water to make it as thin as you prefer.
Over a cooling rack, place cookies and brush icing on with a silicone brush and allow icing to dry completely before stacking.
More info on cookie presses with history on the aluminum company that made the ever popular Miro press. 
The Mirro Aluminum Company was in business from 1909-2003 so even though they do not make cookie presses anymore, there are plenty of them still out there, just check your local thrift store or online like eBay. I have two presses and love how you can easily make batches and batches of delicious pretty cookies quickly!