This is the best carrot cake, the cream cheese glaze is just perfect, I'm sure this will become your go-to recipe! Say hello to my Carrot Cake Bundt Cake! With options to bake it in other pans as well.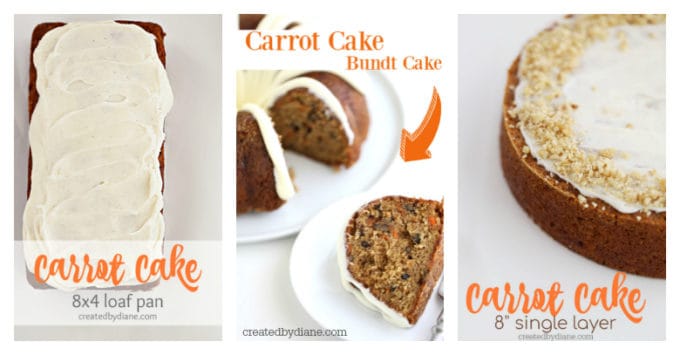 For as long as I can remember carrot cake has been one of my favorites.
I couldn't wait to make it into a Carrot Bundt Cake! I just love bundt cakes and I'm sure you'll love this Carrot Bundt Cake Recipe I've made. You can also print out instructions for an 8″ round cake or a 8×4 loaf cake, so many options, same great taste.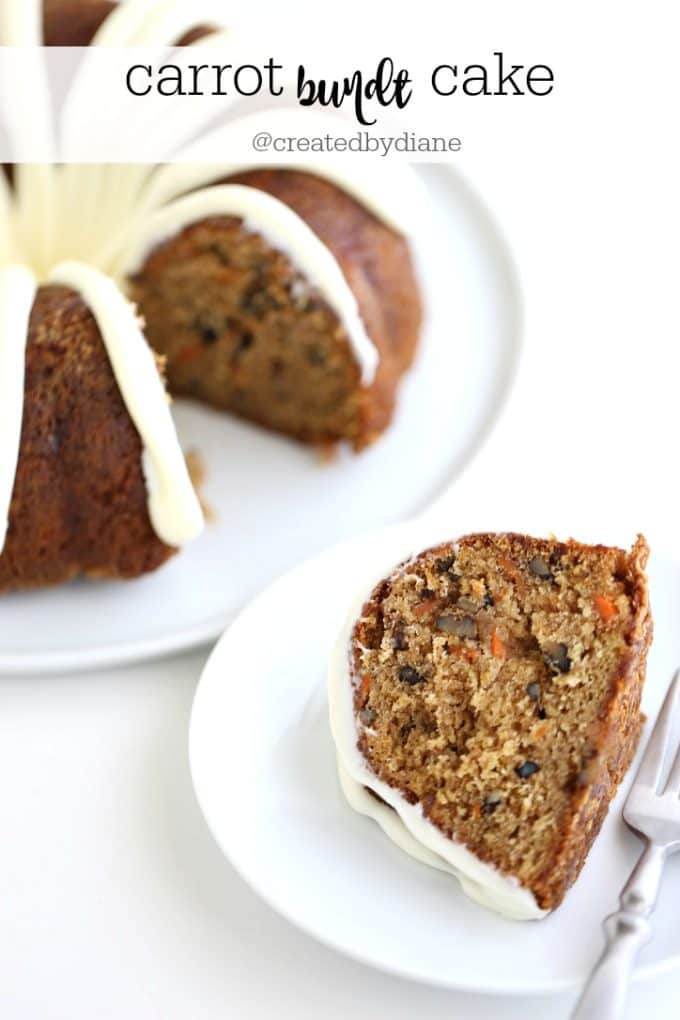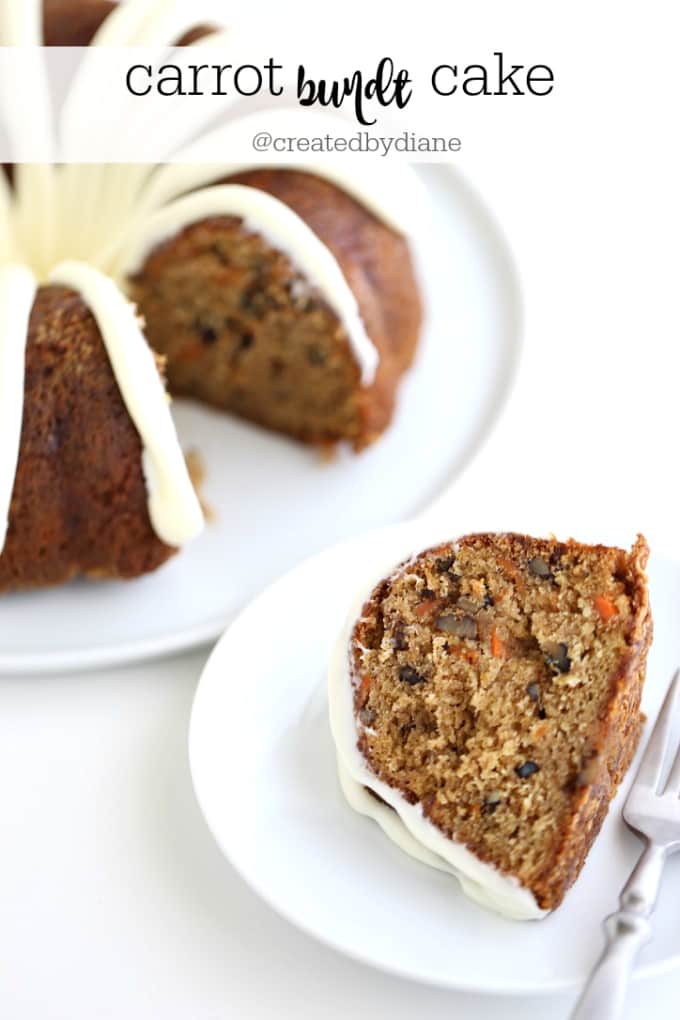 When I first got married, my husband baked me his grandmothers' carrot cake for my birthday. We remember it now, 20 years later. He even wrote happy birthday on the cake. It was not a perfect looking cake, but it tasted delicious.
Over time I've made carrot cakes, but none really had me dreaming about it after one slice, except THIS ONE!
It's now the go-to cake, and not just for Easter. (Is it the carrots and bunny theme that make it so popular in the spring?)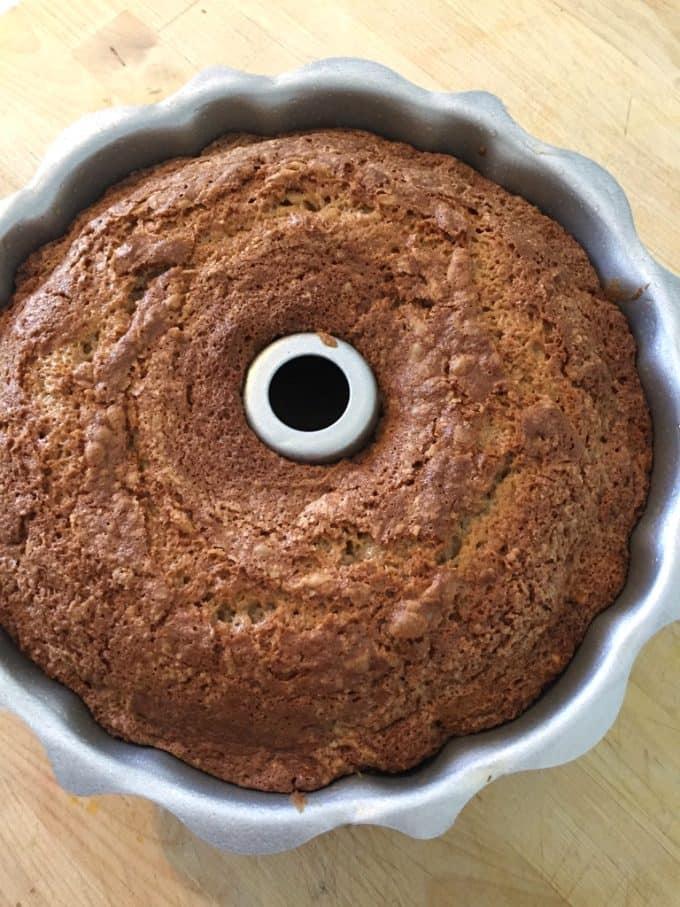 This cake is moist without being too moist, to gummy, which I don't prefer… I like a cake to have a great texture and everyone comments that this is that cake.
 My Carrot Bundt Cake Recipe has a moist texture and is topped with a tangy cream cheese glaze that compliments it perfectly.
I love a great Carrot Cake Recipe, and this is definitely the best one I've tried. I was dreaming about it after just one slice! This Carrot Cake in Bundt Pan is now my go-to, and not just for Easter.
Any celebration is better with a slice of this delicious cake! The silky cream cheese glaze that I top this carrot cake with is tangy and not too sweet. Everyone that tries this cake comments on it and asks for the recipe!
 it turns out PERFECT bundt cakes. Nothing sticks, as long as I prepare it with a nice baking spray. Baking sprays have oil and flour, that is the key to an easy release. An oil spray is just not the best. I'm sure there are many on the market, I buy Bak-lene brand if you can't find a baking spray, grease, and flour the pan well.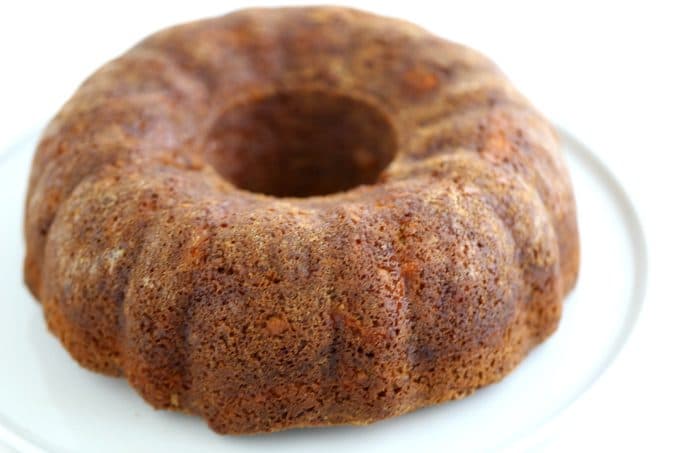 How Can I Prevent My Bundt Cake From Sticking to the Pan?
A bundt cake sticking to the pan is always a fear of anyone new to baking Bundt cakes. Thankfully, it is so easy to avoid! First start with a high-quality bundt pan, if it's a really thin pan it will heat fast and create more cake to stick. THIS is my favorite BUNDT PAN. For this Carrot Bundt Cake, I use a good quality nonstick Bundt pan and spray it with baking spray. The baking spray is not the same as a nonstick spray, as it has flour in it as well. If you can't find a baking spray, butter and flour the pan thoroughly, making sure not to miss any spots.
Do you see that great "crust" on the cake, oh it adds such a great texture without being too firm.
See, so nice, no missing pieces… no crumbs….. just perfect!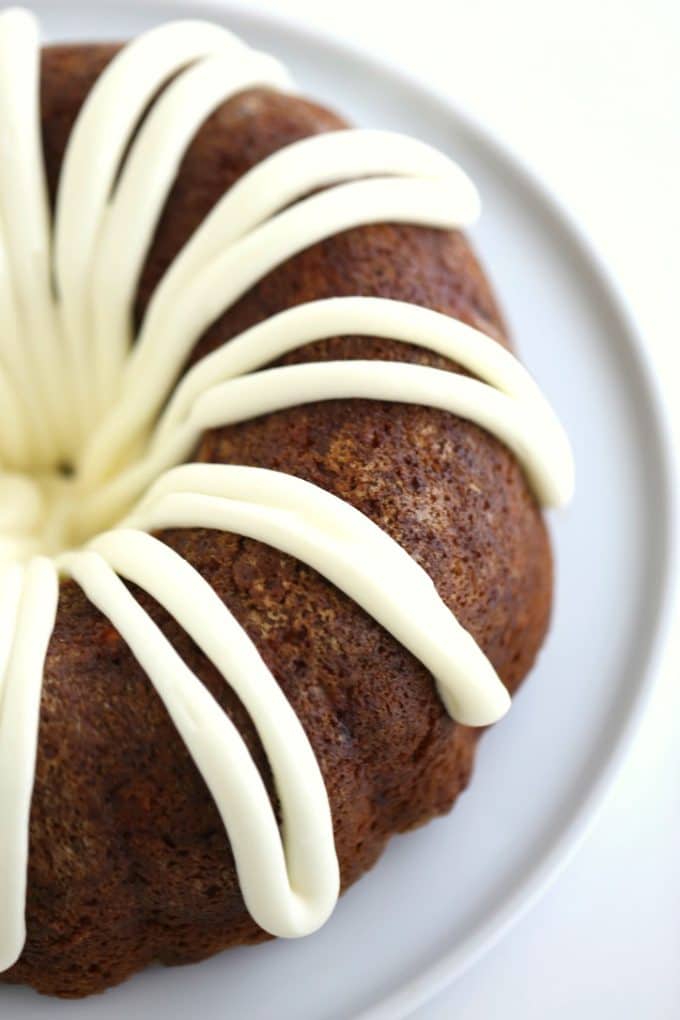 Mix up the glaze and place it in a piping bag and cut a hole in the end. The size you cut will determine the look of the icing, I used a larger hole I wanted it to look ribbon-like. It looks a little bit like a flower to me!
Simple and pretty, just what I think a bundt should be.
And DELICIOUS…. of course, it should be delicious.
I added nuts, we are a little nutty here… and love nuts. You can add them or leave them out, up to you. Everyone LOVES that there are nuts in the cake, just wanted to let you know. In case you were wondering.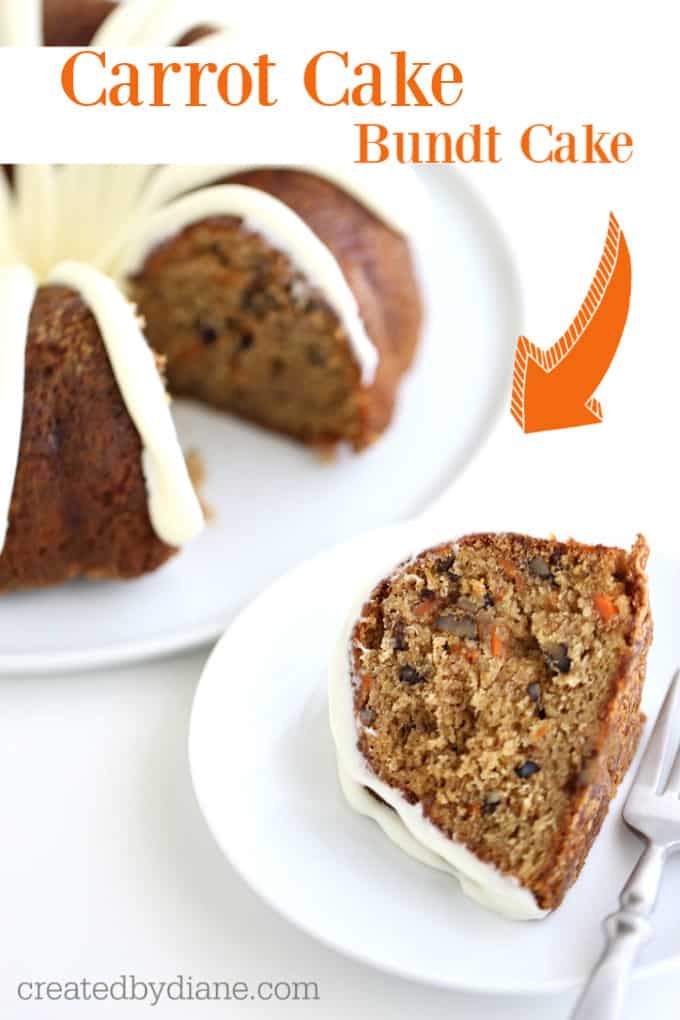 What Can I Add to Carrot Cake for More Flavor?
This cake is perfect and full of flavor as it is but feel free to add 1 cup shredded coconut
1 cup crushed (drained) pineapple

1 cup macadamia nuts or pecans instead of walnuts.

You can leave the nuts in or omit them.

1 cup raisins
2/3 cup apple sauce instead of the oil for a low-fat option
What is the Best Way to Glaze a Bundt Cake?
I have found that the easiest and prettiest way to glaze my Carrot Cake Bundt is to use a piping bag with the tip cut off. How large the hole will determine the look of the icing. I like to cut a big hole so that it pipes out in large ribbons. This makes the carrot cake look like a Spring flower! If you don't have a piping bag, don't make a special trip to the store. A resealable sandwich bag will work just fine – just cut off one of the corners and use a piping bag.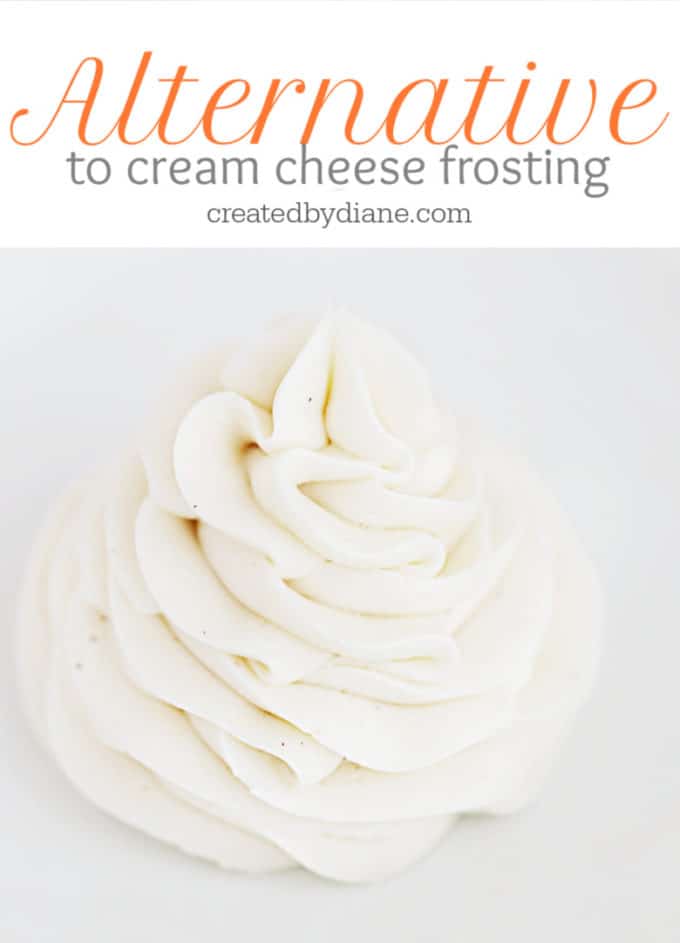 What to use if I don't have cream cheese for the frosting?
This has happened to me many times, and a great alternative recipe is 
1/2 cup butter (or butter alternative if you'd prefer it vegan)
1 tablespoon milk (or milk alternative if you'd prefer it vegan)
1 teaspoon vinegar (white, apple cider, rice vinegar)
1/2 teaspoon vanilla extract
1 teaspoon fresh lemon juice
1/4 teaspoon salt
2 cups powdered sugar
Whip it with an immersion blender or in a food processor, the vinegar and lemon will slightly curdle the milk and butter, if it seems grainy and not smooth, add a tablespoon of powdered sugar at a time to get it to mix smoothly. 
This is a small batch of frosting, you can double it or multiply it for a larger portion. 
This recipe tastes just like cream cheese frosting, it's soft and smooth. 
What other frosting recipes can I use for this cake?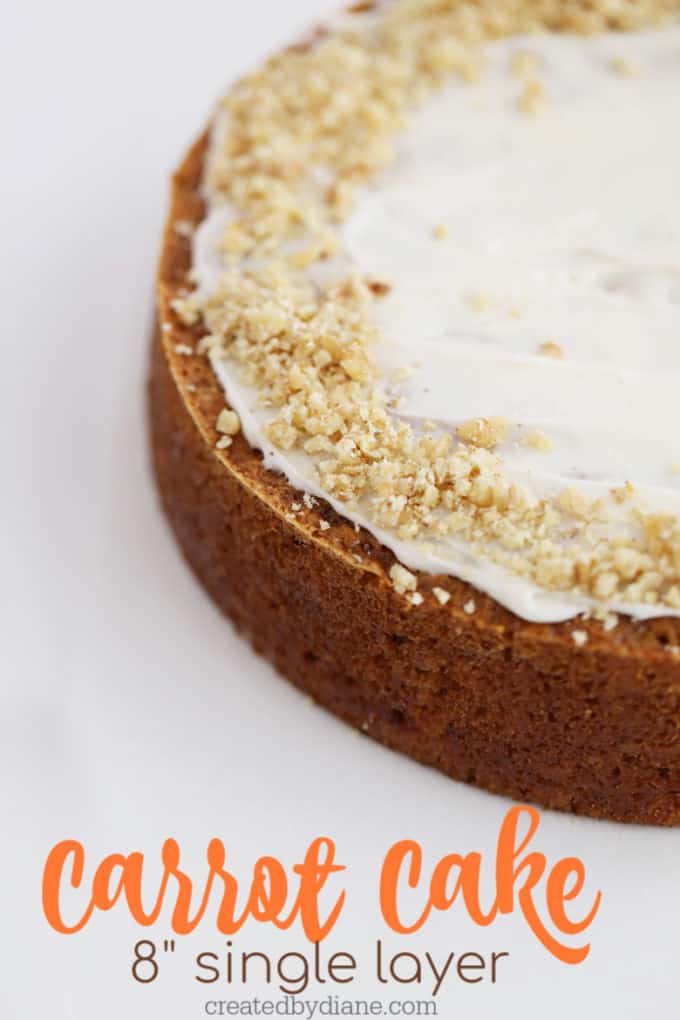 What other cake sizes can I make with this recipe?
 2- 8×4 loaf pans
2- 8″ round cake pans, serve as a layer cake, or enjoy one and wrap and freeze the other to eat at a later time, or give one to a friend.
or bake this recipe in 1- 8×4 loaf pan and 1-8″ round pan.
1- 13×9 pan for an easy sheet cake.
Whenever you adjust the pan size, you'll need to adjust the cooking time. Start timing at 30 minutes, the cake is done when a toothpick comes out clean.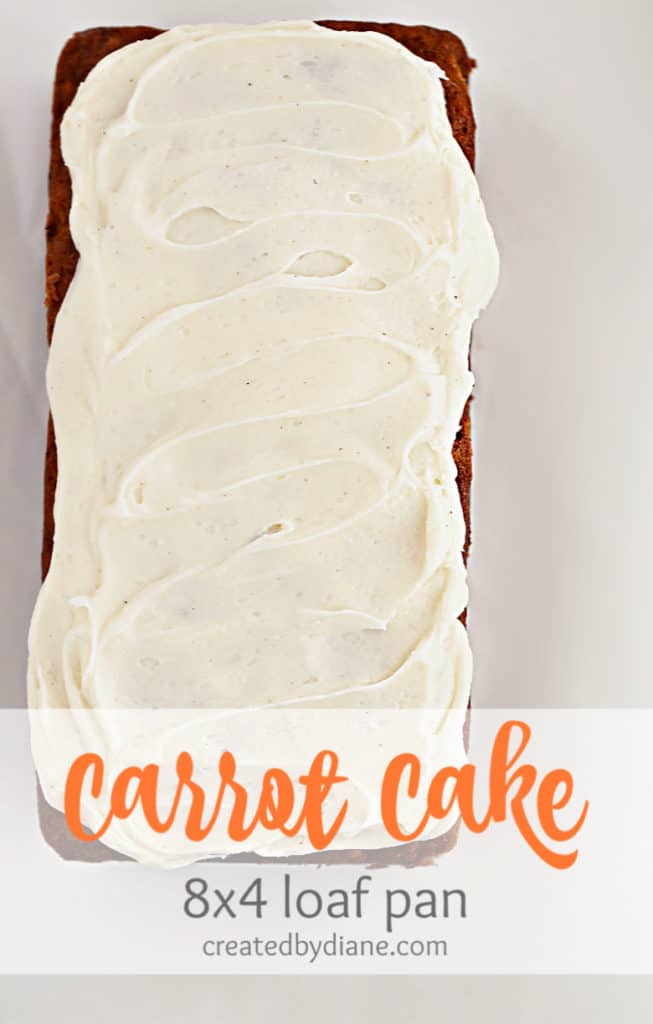 Can I cut this recipe in half and only make 1 8×4 loaf pan or 1-8″ round cake?
Yes, just reduce each ingredient amount in half to make this recipe a smaller portion.
How can I flavor the frosting differently for carrot cake?
Frosting flavor options that go well with carrot cake, coconut, maple, cinnamon, pineapple, lemon, or orange you can add some additional flavor to any frosting. With pureed items, or extracts, or dry cinnamon.
 This is my favorite bundt pan, the cake releases so nicely with prepared with a baking spray, the cakes cook evenly Cuisinart 9.5″ fluted Bundt Pan