This is the best carrot cake, the cream cheese glaze is just perfect, I'm sure this will become your go-to recipe!
It sure is mine.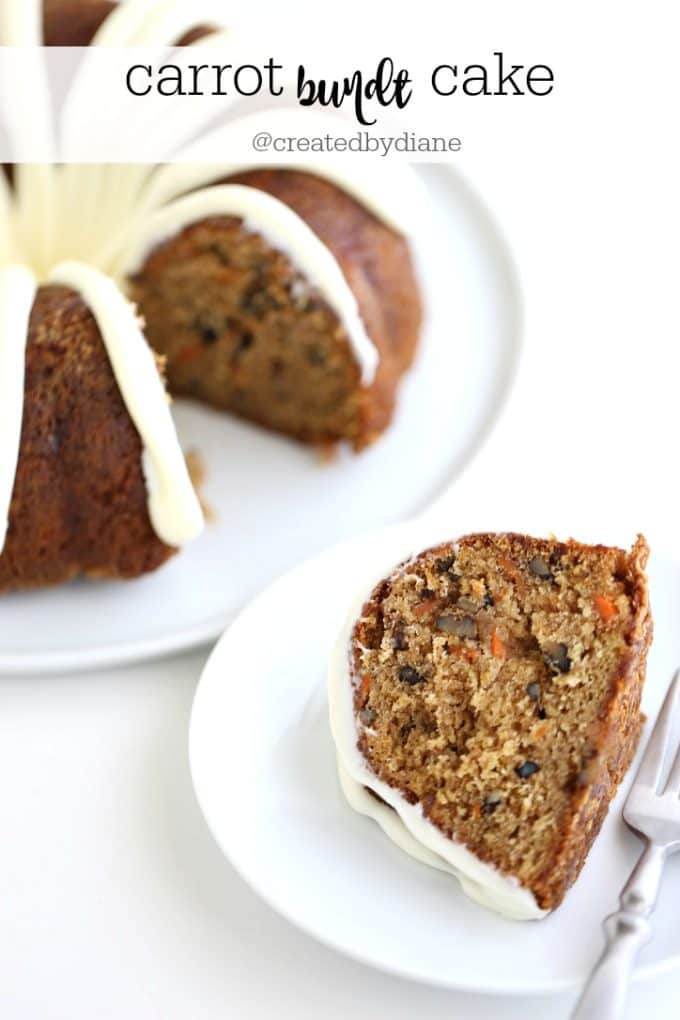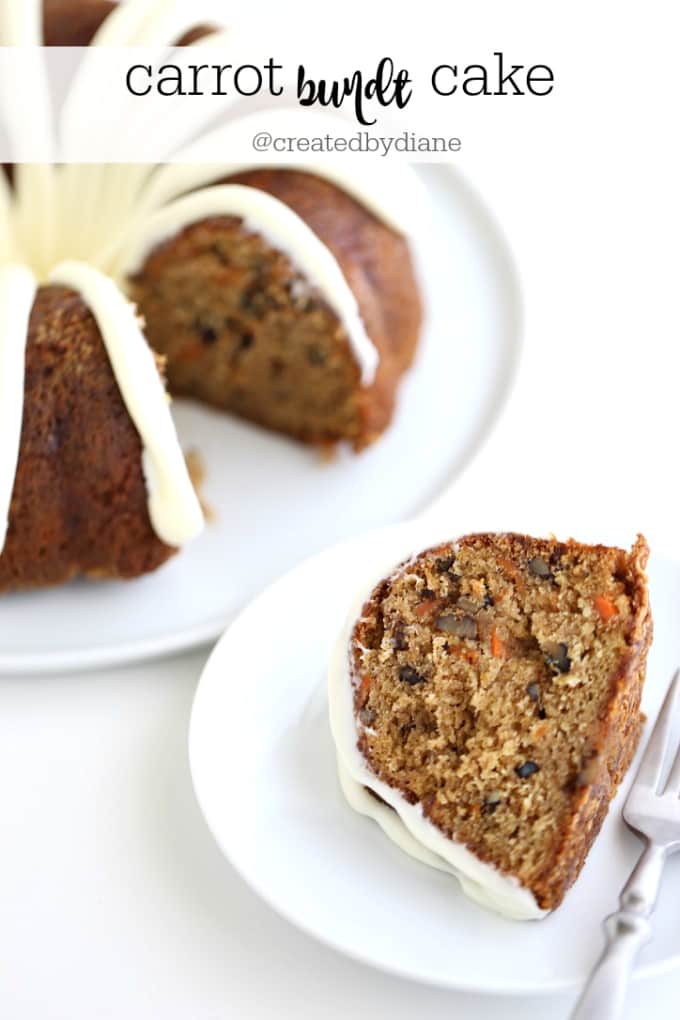 For as long as I can remember carrot cake has been one of my favorites.
When I first got married, my husband baked me his grandmothers' carrot cake for my birthday. We remember it now, 20 years later. He even wrote happy birthday on the cake. It was not a perfect looking cake, but it tasted delicious.
Over time I've made carrot cakes, but none really had me dreaming about it after one slice, except THIS ONE!
It's now the go-to cake, and not just for Easter. (Is it the carrots and bunny theme that make it so popular in the spring?)
This cake is moist without being too moist, to gummy, which I don't prefer… I like a cake to have a great texture and everyone comments that this is that cake.
Now the glaze.
It's a cream cheese glaze, that is not too sweet, but has a great silky texture and tang that compliments the cake so well.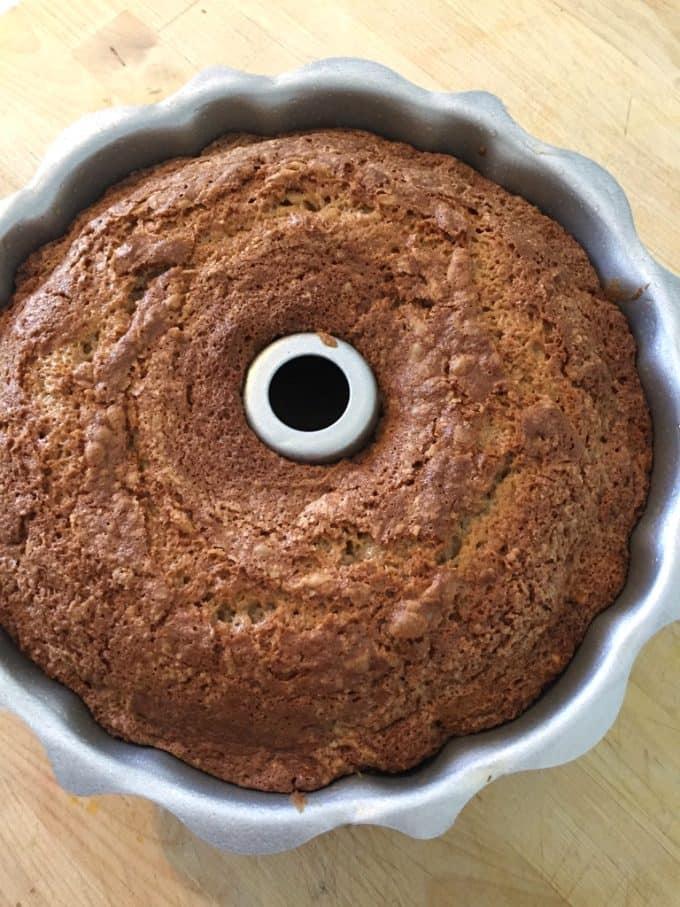 I LOVE this bundt pan, it turns out PERFECT bundt cakes. Nothing sticks, as long as I prepare it with a nice baking spray. Baking sprays have oil and flour, that is the key to an easy release. An oil spray is just not the best. I'm sure there are many on the market, I buy Bak-lene brand if you can't find a baking spray, grease, and flour the pan well.
Do you see that great "crust" on the cake, oh it adds such a great texture without being too firm.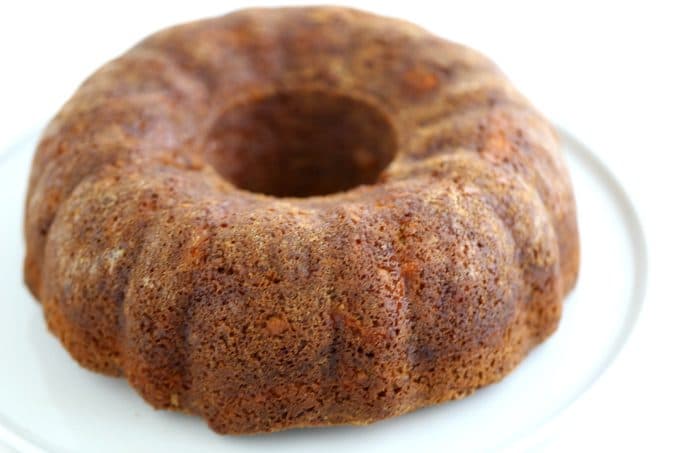 See, so nice, no missing pieces… no crumbs….. just perfect!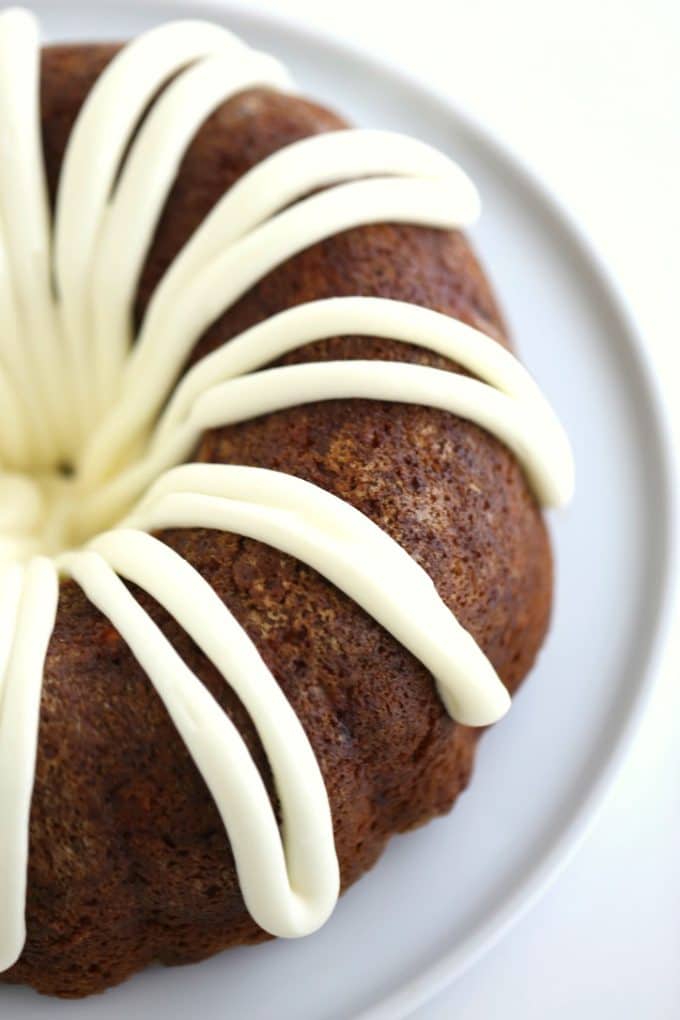 Mix up the glaze and place it in a piping bag and cut a hole in the end. The size you cut will determine the look of the icing, I used a larger hole I wanted it to look ribbon-like. It looks a little bit like a flower to me!
Simple and pretty, just what I think a bundt should be.
And DELICIOUS…. of course, it should be delicious.
I added nuts, we are a little nutty here… and love nuts. You can add them or leave them out, up to you. Everyone LOVES that there are nuts in the cake, just wanted to let you know. In case you were wondering.
Carrot Bundt Cake
Ingredients
2 eggs
⅔ cup oil
2 tablespoons vanilla bean paste
2 cups sugar
2 cups flour
2 teaspoon baking powder
1 teaspoon baking soda
½ teaspoon salt
1 teaspoon cinnamon
½ teaspoon nutmeg
¼ teaspoon ginger
1 cup whole milk
2 cups grated carrots (about 3 medium carrots)
1 cup chopped walnuts
Instructions
In a large mixer bowl, beat eggs, oil, vanilla, and sugar on medium speed until well mixed.
Add in flour, baking powder, baking soda, salt, cinnamon, nutmeg.
Slowly pour in milk and mix.
Stir in carrots and walnuts until well mixed.
Prepare a bundt pan with a good baking spray (not just an oil spray) or grease and flour pan well.
Pour batter into bundt pan.
Bake at 350° degrees for 50-55 minutes or until a toothpick comes out clean.
Allow bundt to cool for 15-20 minutes, then turn the bundt out onto a cooling rack.
Cool completely before icing.
Notes
Cream Cheese Glaze:
2 oz cream cheese
2 tablespoons butter
1/2 cup powdered sugar
1/2 teaspoon vanilla extract
approximately 2 tablespoons hot water
In mixer bowl, beat cream cheese, butter with powdered sugar, vanilla. Add in a little bit of hot water at a time until the icing is as think as you'd like to put on the bundt cake. Be sure cake is completely cooled before putting the icing on the cake.
 This is my favorite bundt pan, the cake releases so nicely with prepared with a baking spray, the cakes cook evenly Cuisinart 9.5″ fluted Bundt Pan