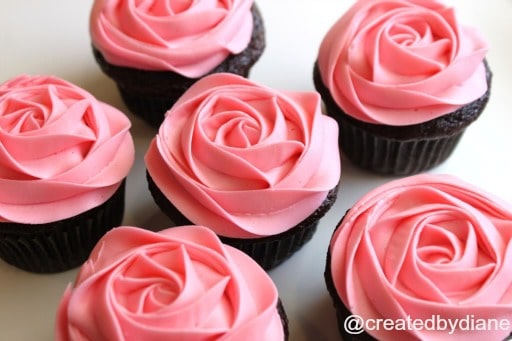 These are by far my favorite cupcakes
Here is my first video on how to recreate them:
Please do not use the image of my cupcakes without giving proper credit. We all learned in grade school, don't take things that belong to others. I was shocked and surprised to see a local bakery use my photograph for my cupcakes on their Ad Campaign. It's not flattering to see my work stolen.
I create recipes and ideas and I'd love for you to make them for yourself. Images and recipes are copyrighted, it's wrong to steal them.
Here is the link to the video I created. It's on you tube.
if you have trouble clicking on the link or it gives you an error, cut and paste link into browser.
Buttercream Frosting Recipe
Instructions
#instruction#
Ingredients
1 cup butter
4 cups powdered sugar
1 teaspoon vanilla
3 tablespoons heavy cream
Instructions
Beat butter until smooth add powdered sugar, vanilla, heavy cream.
Mix until smooth and creamy.
If it's HOT outside and I don't want to icing to flop I either mix 1/2 butter 1/2 shortening or all shortening.
Adjust powdered sugar if you add a lot of food coloring or extracts.
For WHITE frosting, use all shortening, and add a few drops of Americolor white food coloring.
Here is another video I did showing the cupcakes with the PINK frosting.
I used buttercream frosting with a 2D tip
More great cupcake and frosting ideas