This recipe is so easy to make and ready in minutes with cooked chicken or turkey leftovers.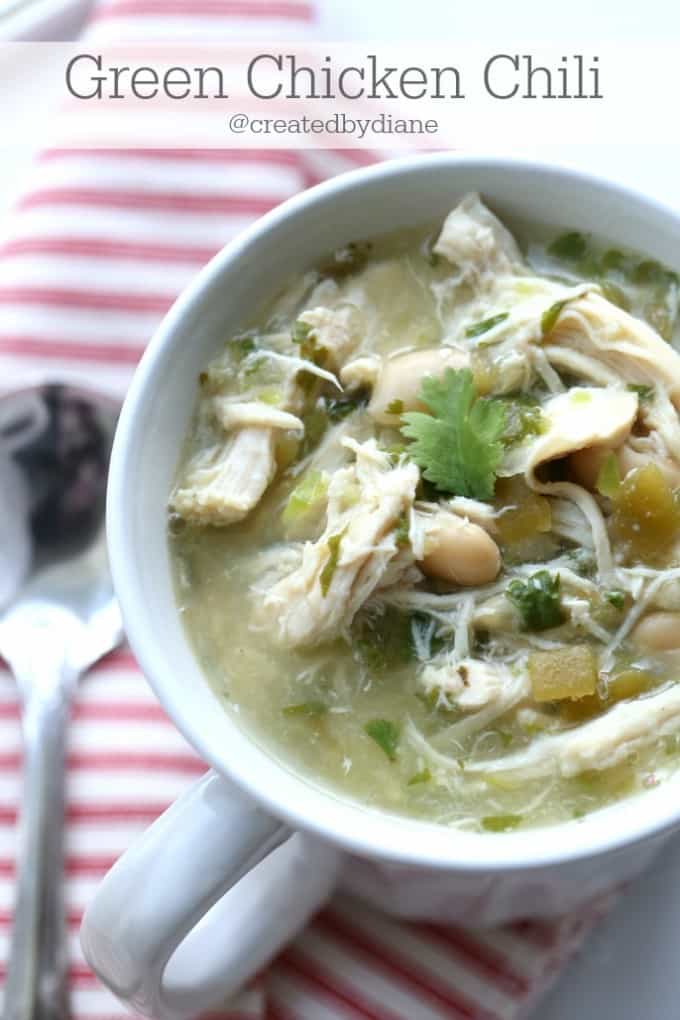 Green Chicken (or turkey) Chili
Don't miss one delicious recipe and get my FREE e-cookbook click
This is one of my families FAVORITES,
it takes minutes to make and is full of great flavor.
I just love dinners like this and you will too.
There is fresh lemon and cilantro and oh how I just LOVE those flavors.
This is one of our go-to meals when the weather starts to cool off and is perfect to warm everyone up!
So take out a pot, turn on the heat and get COOKIN'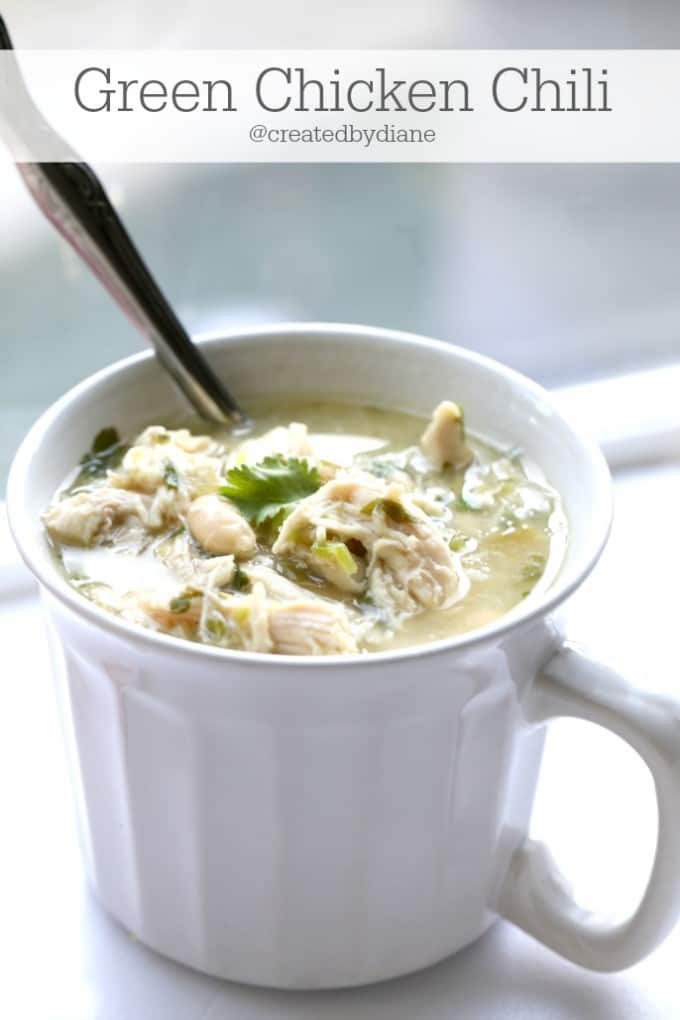 This recipe is really delicious and has such a great flavor without being overly spicy.
It's a real crowd pleaser and take a look below the recipe box, I show you how to make it in a SLOW COOKER!!!
Essentially this is white chili, but since the broth turns green with the addition of green chilis, jalapenos if using them and cilantro I call it green chili and it gives a nice Mexican-inspired flavor.
My favorite salsa is Salsa Verde (green salsa) with a similar flavor profile, you can call this green chili or white chili and both would be correct.
If you'd like a sweeter flavor in this recipe, add a 1-lb bag of frozen white corn. If you want a buttery flavor, add in a couple of tablespoons of butter. If you prefer a smokey flavor you can add some cooked diced bacon. If you want more spice add a diced jalapeno or two. If you want it creamier add some milk or heavy cream, top with sour cream, and finally if you want this dish cheesy add some white cheddar, Mexican Cotija cheese, or some Parmesan or Romano Cheese.

Green Chicken Chili (or turkey)
A delicious and easy chicken strew type of chili recipe everyone will enjoy! This recipe can easily be doubled or tripled.
Author:
Diane Schmidt, Created by Diane
Ingredients
*great recipe for turkey leftovers (or cooked chicken. alternatively cut chicken into small pieces and cook in skillet, slow cooker, pressure cooker until fully cooked) I use at least 2lbs of chicken for this recipe.
2 Tablespoons oil
1/2 medium onion diced
2 jalapeño peppers seeded
2 cloves garlic, minced
2 cups water
1 tub Knorr Homestyle Chicken Stock or 2 teaspoon (to1tablespoon) chicken bouillon
2 15 oz. cans cannellini beans drained and rinsed.
1 4 oz. can diced green chilies
2 cups cooked chicken or turkey
juice of 1/2 lime
1 bunch cilantro chopped
Instructions
Cook onion and garlic in oil over medium heat, add jalapeno.
Once tender add the water, chicken flavor, beans, chilies and cooked chicken or turkey.
Add lime juice and cilantro and season with salt and pepper.
Heat thoroughly.
*remember if you are not using pre-cooked chicken to cook the chicken first to 165 degrees, if you cook the chicken in the same pot as the rest of the j gradients cut chicken to 1-2" cubes, and do not boil it on high or chicken will not be tender. Simmer it on a medium low temperature for best result for about 40 minutes to ensure the chicken is tender. Or use a slow cooker, or pressure cooker for tender chicken. Alternatively cook the chicken in brother on a low temperature, then add the remaining ingredients.
Garnish with avocado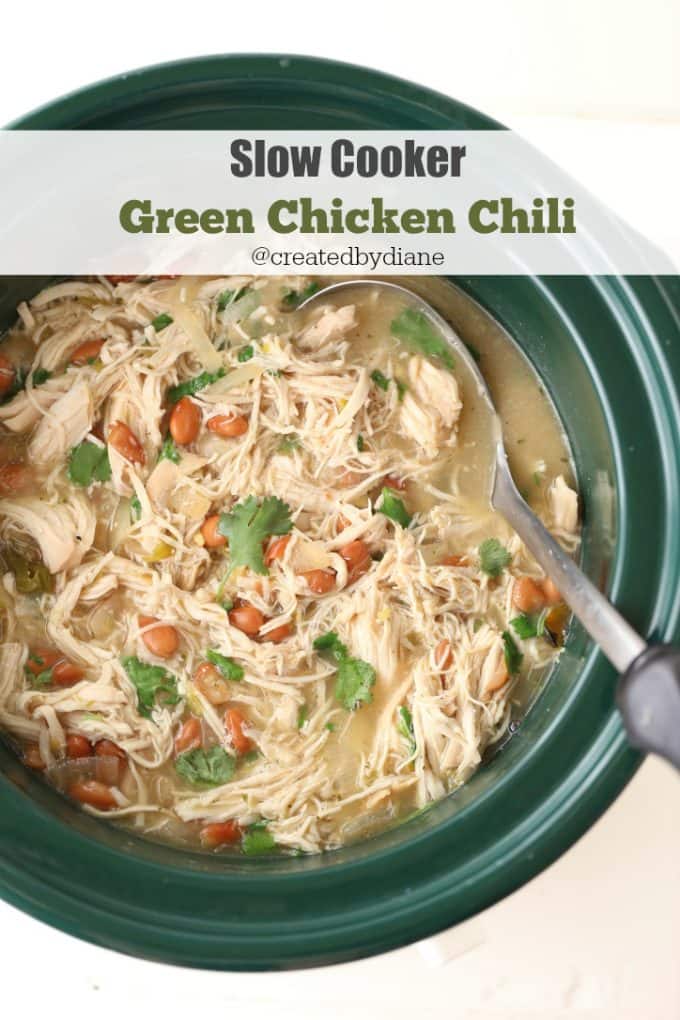 I've updated this post to show it made in a crock pot… beautifully!
I used the same recipe: but added 3 boneless skinless chicken breasts, and cooked it on high for4 hours, then added in the cilantro and lime juice.
I served it over rice and it was fantastic!
Here are some other recipes I use leftover turkey or chicken in you may like:
Cornbread waffle with turkey sandwich with Cranberry Aioli 
Thanksgiving leftover turkey pizza with roasted cranberries