This is one EASY and DELICIOUS Chili recipe!  It's the perfect comfort food. Great no matter what the weather. A bowl full of this is sure to put a smile on your face!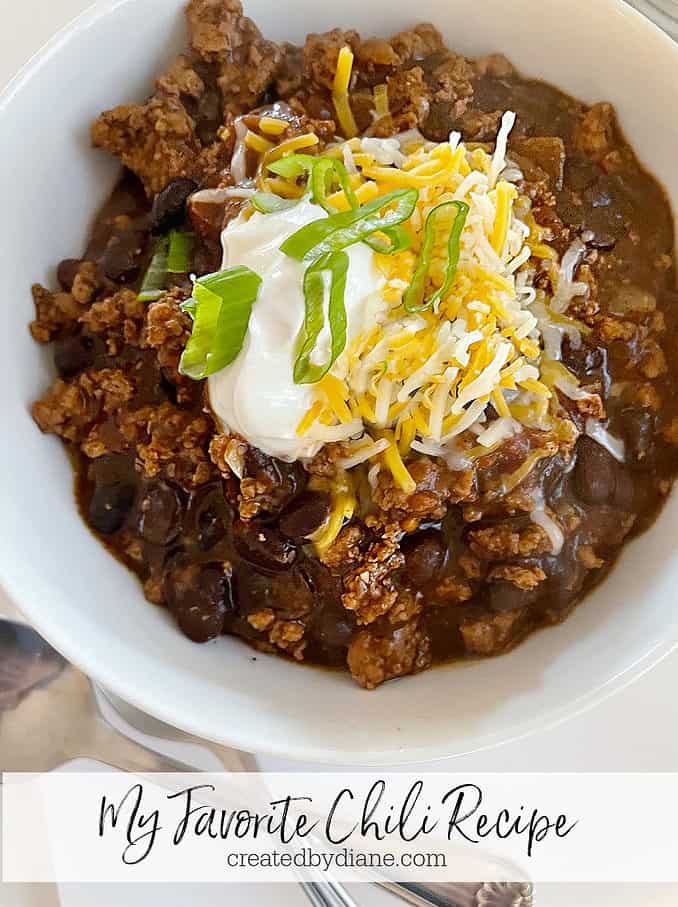 The nights are chilly…
and there is nothing better on a chilly night, than CHILI!
It's comfort food at its best.
This is my favorite chili recipe.
My husbands too!
I've made it for parties and it gets devoured.
Whether we are having a party or not I make a lot of Chili.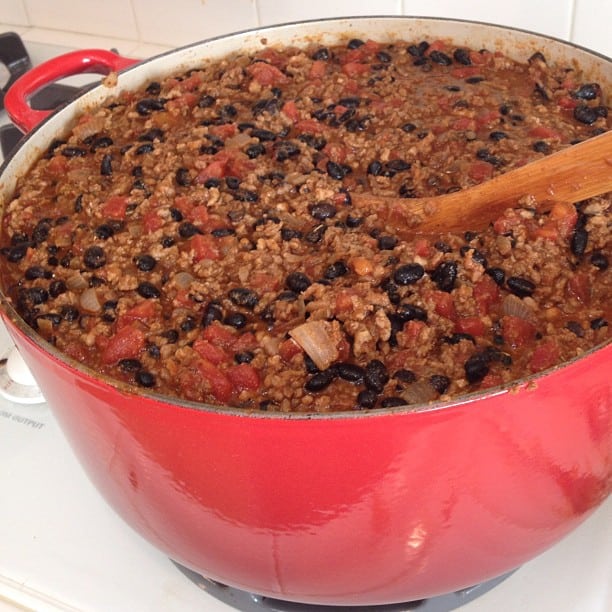 I either freeze some of it, or give some to friends. Perfect to bring to someone who needs some help with dinner. I'm sure we all know someone who would love the comfort of  a bowl of Chili right now. The circle of life brings births and deaths and illnesses and at those times comfort food is there to help.
I love Chili all year long, but especially when the weather get cool.
Pile it in a bowl,
pour it over tortilla chip,
pile it on a baked potato,
smother some on your hot dog,
believe me, it's ALL GOOD!
How do you like your chili served?
I love chili topped with cheese, onions, and a side of cornbread.
Can I use a different meat in the chili?
Absolutely, I've made this recipe with ground beef, ground beef with ground pork, and ground turkey… all delicious, use any combination you'd like. If you prefer chili with pieces of shredded beef, dice up your favorite cut of beef and slowly simmer the chili until the beef is tender. As far as chicken goes, I find ground chicken to be better with this chili recipe.
I make a large batch of chili for football games, parties, and Halloween dinners on the driveway with neighbors. This is a great recipe for sharing. Make a batch and bring some to a friend. I also have a smaller portion in the recipe card under the larger batch.
What other options to serve chili?
Chili is great served with a side salad, garlic bread, and cheesy garlic bread, and for a fun option, you can top it with some mashed potatoes or scoop it over potatoes, mashed or baked, over a bowl of rice or top it with some crispy tater tots!
There are two printable recipes, one for a large portion and one for a smaller portion.
You can add water to get the desired consistency you want, depending on the meat you use and how much liquid it provides.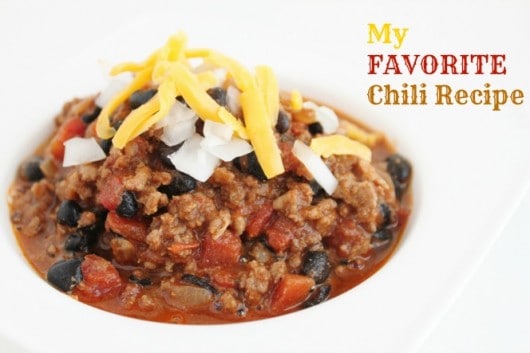 I've made this with ground beef and ground pork, and have also made it with ground turkey, which I added a cup of water to and then used some cornstarch and water (3 tablespoons cornstarch with 1/2 cup water) to thicken it nicely.
My Favorite Chili Recipe (LARGE PORTION 9QT)
This deliciosuly simple chili will have everyone wanting another serving. Use any ground protein combination you'd like, beef, pork, turkey, and chicken to make it perfect for your family.
Author:
Diane Schmidt, Created by Diane
Ingredients
6 lbs ground beef
2 lbs ground pork
6 lb can diced tomatoes
4 cans black beans, drained
6 small onions diced ( 2 large)
8 cloves garlic (pressed or chopped)
1/4-1/3 cup chili powder
3 tablespoons chicken bouillon powder ( I use Knorr)
2 tablespoons ground cumin
1 tablespoon smoked paprika
1 tablespoon dry oregano
1 tablespoon cocoa powder
optional, add a tablespoon of crushed red pepper flakes for some spice
Instructions
In a dutch oven ( I use a 9qt dutch oven and it fills it to the top-so you may want to use a larger pot or two smaller pots)
On medium heat, saute onion garlic, ground beef, ground pork until all meat is cooked.
Add tomatoes, beans, and spices.
Stir and heat on medium until it comes to a boil, turn on low for at least 1/2 hour and hour is even better.
Add in a cup of water mixed with 3 tablespoons cornstarch mixed well, drizzled into the boiling chili and give it a gently stir so it'll thicken the chili nicely.
Serve topped with cheese, sour cream, and green onions.
Notes
You can make 1/2 a batch or even a 1/4 batch depending on how much chili you need.

I like my chili topped with diced onion or scallions and cheddar cheese and sometimes diced jalapenos.
My Favorite Chili Recipe
small batch chili to make 4 servings, multiply as needed for the serving size you need. Enjoy this with ground beef, chicken, turkey, and pork. the perfect anytime chili.
Author:
Diane Schmidt, Created by Diane
Ingredients
1 lb ground beef
1/2 lb ground pork
1 lb can diced tomatoes
1 can black beans
1 onion diced
2 cloves garlic minced
2 tablespoons chili powder
1 tablespoon chicken flavor/Boullion or beef flavor/Boullion
2 teaspoons ground cumin
2 teaspoons smoked paprika
1 teaspoon dry oregano
1 teaspoon cocoa powder
add a 1/2-1 teaspoon of crushed red pepper flakes if you like it spicy
Instructions
In a 4 quart pot brown the ground beef and pork with onion and garlic.
Add tomatoes, beans and spices and simmer for 20 minutes.
Add in 1/2 cup water mixed with a tablespoon cornstarch to thicken the chili.
Top bowls of chili with jalapenos, cheddar cheese, green or white diced onions and sour cream.