This is one EASY and DELICIOUS Chili recipe!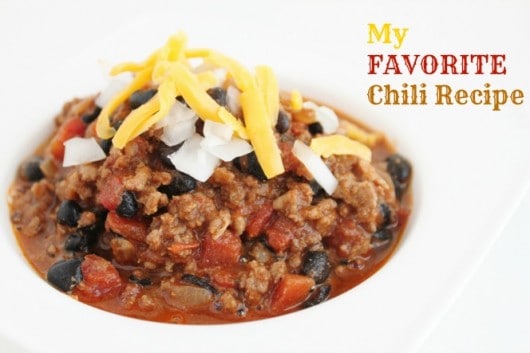 The nights are chilly…
and there is nothing better on a chilly night, than CHILI!
It's comfort food at it's best.
This is my favorite chili recipe.
My husbands too!
I've made it for parties and it gets devoured.
Whether we are having a party or not I make a lot of Chili.
I either freeze some of it, or give some to friends. Perfect to bring to someone who needs some help with dinner. I'm sure we all know someone who would love the comfort of  a bowl of Chili right now. The circle of life brings births and deaths and illnesses and at those times comfort food is there to help.

My Favorite Chili Recipe (LARGE PORTION 9QT)
Ingredients
6 lbs ground beef
2 lbs ground pork
6 lb can diced tomatoes
4 cans black beans
6 onions diced
8 cloves garlic (pressed or chopped)
1/4-1/2 cup chili powder
3 tablespoons chicken bouillon powder ( I use Knorr)
2 tablespoons ground cumin
1 tablespoon smoked paprika
1 tablespoon dry oregano
1 tablespoon cocoa powder
Instructions
In a dutch oven ( I use a 9qt dutch oven and it fills it to the top) On medium heat, saute onion garlic, ground beef, ground pork until all meat is cooked.
Add tomatoes, beans and spices. Stir and heat on medium until it comes to a boil, turn on low for at least 1/2 hour and hour is even better.
Notes
You can make 1/2 a batch or even a 1/4 batch depending on how much chili you need.

I like my chili topped with diced onion or scallions and cheddar cheese and sometimes diced jalapenos.
My Favorite Chili Recipe
Ingredients
1 lb ground beef
1/2 lb ground pork
1 lb can diced tomatoes
1 can black beans
1 onion diced
2 cloves garlic minced
2 tablespoons chili powder
1 tablespoon chicken flavor/Boullion or beef flavor/Boullion
2 teaspoons ground cumin
2 teaspoons smoked paprika
1 teaspoon dry oregano
1 teaspoon cocoa powder
Instructions
In a 4 quart pot brown the ground beef and pork with onion and garlic.
Add tomatoes, beans and spices and boil for 20 minutes.
Top bowls of chili with jalapenos, cheddar cheese, onions and sour cream.
If you like your chili spicier, add crushed red pepper.
I love Chili all year long, but especially when the weather get cool.
Pile it in a bowl,
pour it over tortilla chip,
pile it on a baked potato,
smother some on your hot dog,
believe me, it's ALL GOOD!
How do you like your chili served?