Peanut butter and jelly never tasted so good!   
Peanut Butter and Jelly Cupcakes
Don't miss one delicious recipe and get my FREE e-cookbook click here!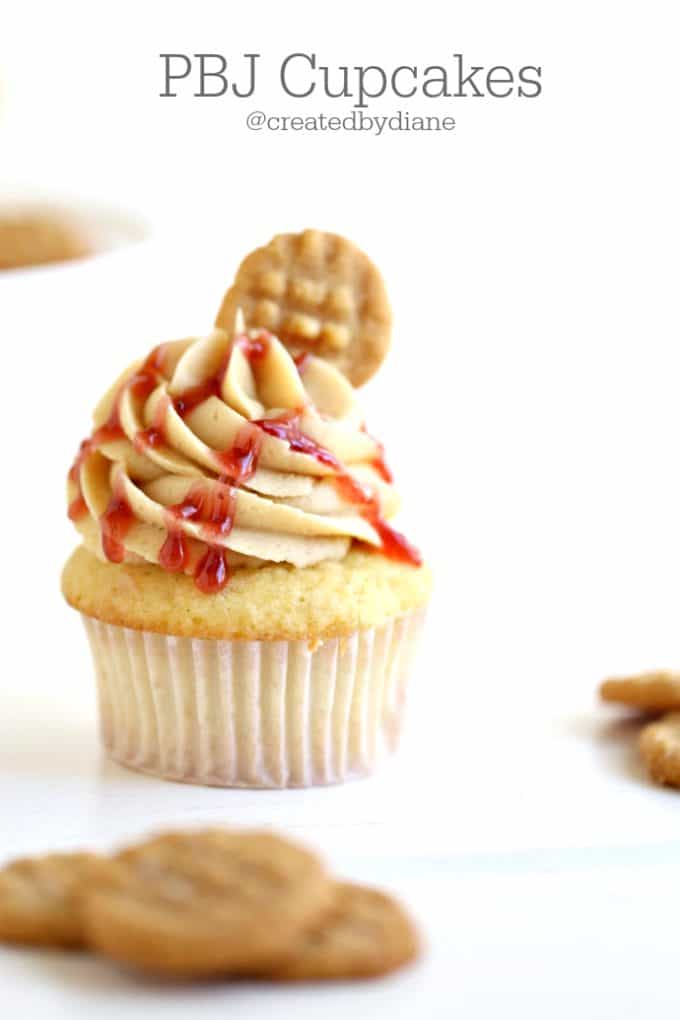 Whether you ARE or are NOT a PBJ fan, these are fantastic!
I just have to tell you how I love FILLED cupcakes, they are my truly my favorite.
It's no wonder these are at the top of my favorite list, and if you're a PBJ lover they'll be on the top of your list too.
Who CAN resist a good peanut butter and jelly sandwich, right?
I found myself eating them for lunch instead of a sandwich, I just couldn't help myself.
The cupcakes have a great peanut butter flavor, and the frosting is full of peanut butter goodness.
These MAY just be my most favorite peanut butter and jelly item ever!
I used strawberry jam for the filling and drizzle, if grape jelly is more to your liking, go right ahead and use it.
The flavor combo of peanut butter and jelly is undeniably one of America's favorites:
The average American eats 2500 peanut butter and jelly sandwiches before they graduate from high school.
Americans eat about 700 million pounds of peanut butter every year.
Here are some of my other favorite recipe including peanut butter:
Thai Peanut Noodles, Mini Peanut Butter and Jelly Cups, Chocolate Peanut Butter Cut Out Cookies, Peanut Butter Banana Bread, Chocolate Peanut Butter Chocolate Chip Cookies, Peanut Butter Chocolate Chip Ice Cream, Peanut Butter S'more Bars.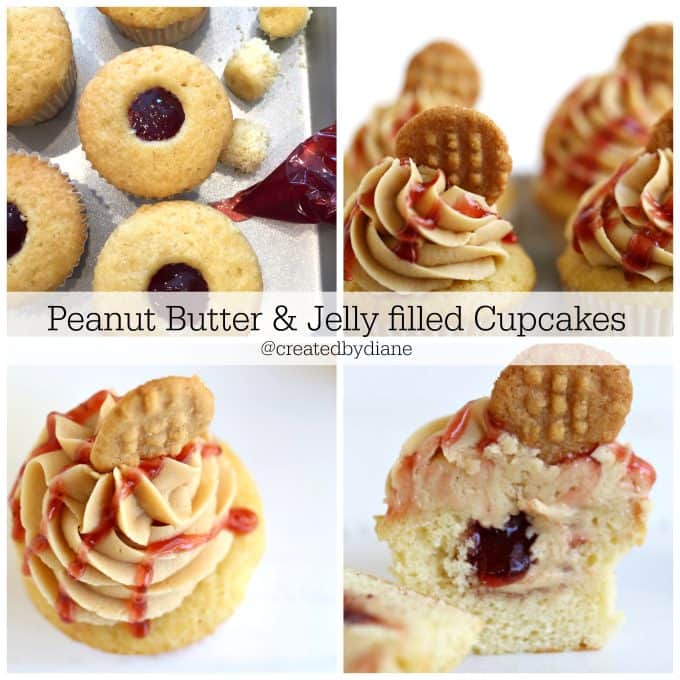 Use a cupcake corer or the end of a large piping tip to carve out the center of the cake nicely to fill the cupcakes. I've linked to the cupcake corer I use at the bottom. The cupcake corer is easy to use and releases the cake quickly, I use mine all the time to fill cupcakes.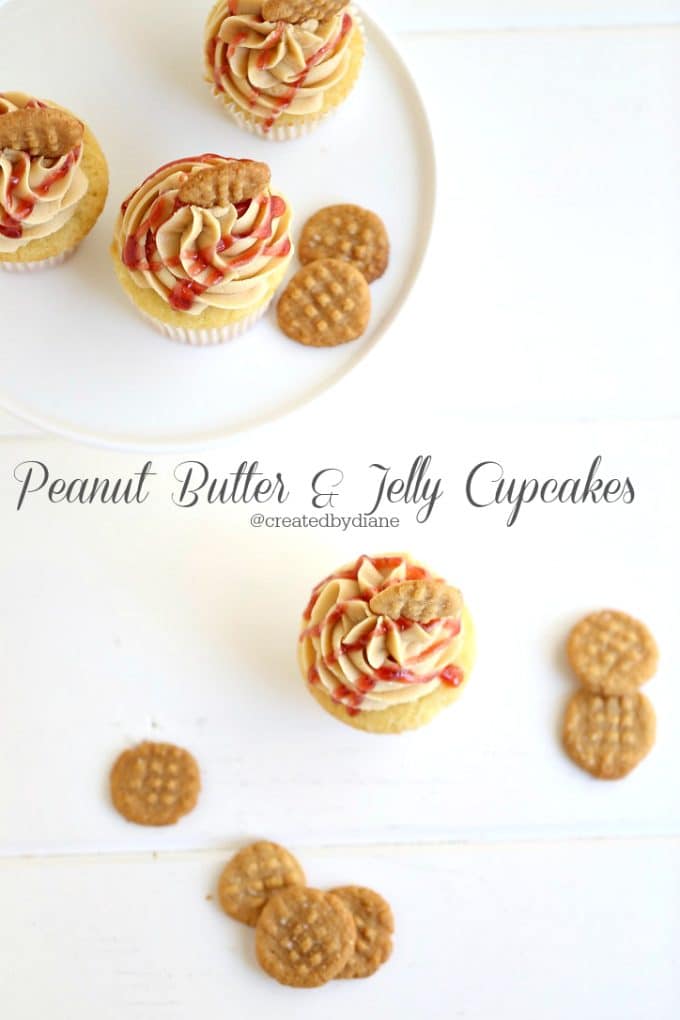 Now the mini peanut butter cookies are just the BEST addition to these cupcakes, not only are they cute!!!
They are super easy to make and delicious. Only 3 ingredients… take a look at my post-Easy Peanut Butter Sandwich Cookies for the recipe.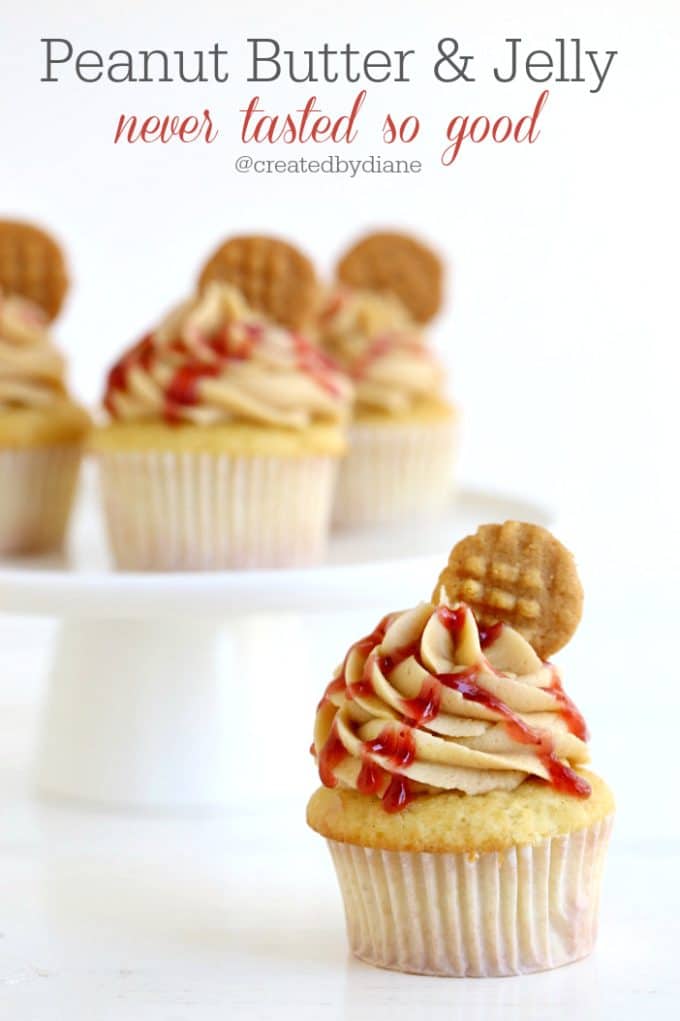 To frost the cupcakes I used an 857 frosting tip with peanut butter frosting then placed a small amount of jam into a plastic bag with an edge cut off to drizzle the jam over the cupcakes and topped each cupcake with a mini peanut butter cookie, you can find the recipe for the cookies HERE.
Now you can see why I've been eating these for lunch, right? They are totally worth making and enjoying and sharing if you don't devour them before anyone else has a chance to get their hands on one! (notice I said one)
Peanut Butter Cupcakes
Ingredients
1 cup sugar
2 eggs
1 1/4 cup flour
1/2 cup milk
1/4 cup butter (melted and cooled)
2 tablespoons oil
2 tablespoons peanut butter
1 1/4 teaspoons baking powder
1 teaspoon vanilla
1/3 cup strawberry jam
Instructions
Preheat oven to 350 degrees.
Place 12 cupcake liners into cupcake pan.
In large mixer bowl beat sugar with eggs.
Add in flour, baking powder, milk, butter, oil, peanut butter and vanilla mix on low until creamy.
Place 3 tablespoon of batter into each cupcake liner.
Bake at 350 degrees 18-20 minutes or until toothpick comes out nearly clean.
Cool cupcake pan for 5 minutes, then remove cupcakes from pan and allow cupcakes to completely cool.
Core out the center of the cupcake with a cupcake corer or the wide end of a large piping tip to make an area for the filling.
Place jam into the center of each cupcake.
Place a small piece of removed cake to cover jam.
Frost cupcakes (recipe follows for peanut butter frosting be sure to print both recipes)
then drizzle top of cupcakes with jam and add a mini peanut butter cookie RECIPE here.
Peanut Butter Frosting
Ingredients
1/2 cup salted butter
1/2 cup peanut butter
4 cups powdered sugar
2 tablespoons heavy cream
Instructions
In mixer bowl, beat butter for 30 seconds, add in peanut butter and beat to incorporate.
Add in powdered sugar and heavy cream and start beating on medium low then move to high once combined so the powdered sugar doesn't make a mess.
Place frosting in a piping bag fitted with a star tip, I used tip number 857.
Swirl frosting onto cupcakes.